I really care about women's health and sexual education and making sure that people feel comfortable about talking and learning about both, and so I'm super excited to announce that First Second will be publishing the book Go With the Flow, a middle school graphic novel by Lily Williams and Karen Schneemann, co-creators of the online menstruation-themed comic The Mean Magenta, about getting your period. The book comes out in 2019, but I'm excited to share with you some preview illustrations and an interview with the creators. Menstruation is something that many girls, women, non-binary people and trans men deal with on a monthly basis, and it's still swept under the rug and forcefully ignored by huge parts of American society, including the government.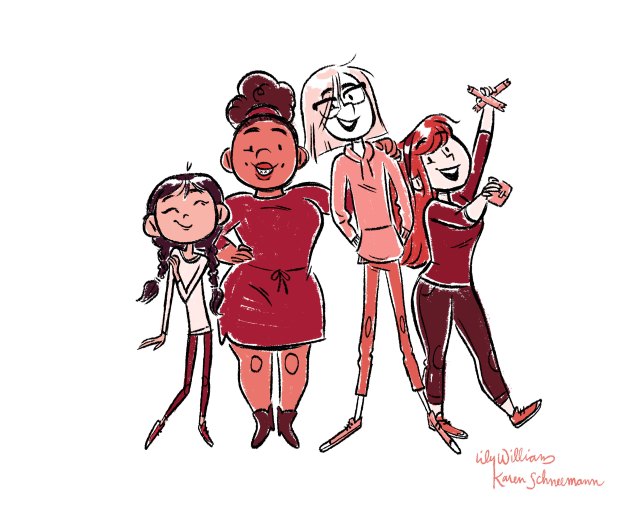 First Second describes the book as a story about a group of friends who are fighting against their society's refusal to treat their health as an important issue.
Best friends Sasha, Abby, Christine, and Brit are working their way through high school, navigating friendships, classes, first crushes, crushed expectations, and that pesky thing called a period. When Sasha gets her first period at school, friends Abby, Brit, and Christine rush to help only to discover that the school is out of products. On further investigation, they learn that the school, and none of the schools in the district, plan on restocking. Undeterred by the school's lack of interest in female health, the girls come up with a period positive plan that quickly turns into a menstrual movement, threatening to turn their school lives and friendship into a bloody mess.
Mey: Right now women's health is under attack from the government, can you talk about how the current political climate makes this book even more important?
Karen: For some reason women's health issues traditionally seem to have been minimized. This may be due to a stigma around blood or female sexuality or just a general discomfort talking about these issues. Regardless of the reason, we can't let women's reproductive health get sidelined. This is especially true in this political climate when there is increased discussion regarding limiting reproductive rights and access to health care. All people should be aware of their own bodies: what is normal and what could be a sign of a bigger health problem so they can be their own best advocate when it comes to their health care. Nothing could be more important or more personal than your own body and we all need to realize how critical that is. One of the goals of this book is to encourage awareness of your own body and also to acknowledge that everyone's experience is different.. No legislator should be making decisions which limit a person's ability to make crucial decisions for their own well-being.
Lily: Body autonomy is incredibly important always, but more and more important as politicians want to close the gap on a person retaining the rights to make decisions about their own body. Menstruation is arguably the first step to this. It's made clear when you go into any public bathroom and there is free toilet paper but no sanitary napkins, how tampons are taxed as "luxury items" in many states, or how birth control is constantly up for debate when many women use it as medication to regulate their periods, flow, hormone levels, ovarian cysts, endometriosis, and hormonal acne. However, these topics have been shoved into a box and considered a shameful thing to discuss. We cannot make any progress if we cannot even discuss periods. We are here to normalize period talk… and then we can go from there.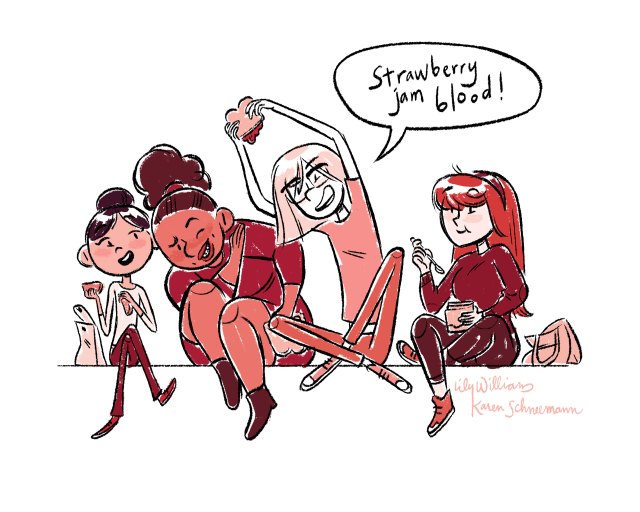 M: Your book looks fun, cute and accessible, why was it important for you to make it like that?
Lily: Thank you! Periods can be scary and can even sometimes be an emotional burden. Karen and I want to create a world centered around menstruation that feels anything but that. We feel it is important that people (of all ages) who menstruate can feel happy, supported, and encouraged to be empowered by their bodies and to accept their awesome selves.
Karen: We really wanted to make talking about periods an enjoyable experience. Fun characters in realistic situations with cute illustrations seems like the perfect way to show some likable role models talking about their bodily functions in a positive way. We definitely didn't want to scare anyone away or bore them with dry textbook discussions. Our hope is that this book helps people feel more comfortable and realize that there's a wide range of normal. If we can use our characters to normalize some of the crazy symptoms or situations that everyone thinks only happens to them, we can open up more conversations and help people to be less embarrassed about bringing issues up with their family, friends or doctor. Becoming more comfortable with your own body is the first step in taking control of your health.
M: If you could say one, quick thing to girls and other people who are getting their first period, what would it be?
Lily: Congratulations!! It's pretty nuts to think about all the women who have menstruated before you throughout history… thank goodness we have better ways to deal with cramps now than our poor medieval menstruators!
Karen: Your body is capable of amazing things. Listen to it. Take care of yourself and share your experiences with others. Share stories, laugh and learn from each other.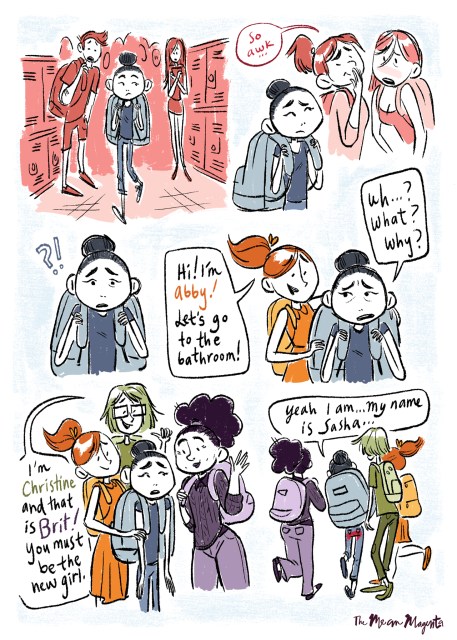 New Releases (March 29)
Supergirl by Peter David Book 2 TP
Wonder Woman & The Justice League of America Vol 1 TP
Adventure Time Vol 9 Brain Robbers GN
Saban Power Rangers Aftershock Movie GN
---
Welcome to Drawn to Comics! From diary comics to superheroes, from webcomics to graphic novels – this is where we'll be taking a look at comics by, featuring and for queer ladies. So whether you love to look at detailed personal accounts of other people's lives, explore new and creative worlds, or you just love to see hot ladies in spandex, we've got something for you.
If you have a comic that you'd like to see me review, you can email me at mey [at] autostraddle [dot] com.