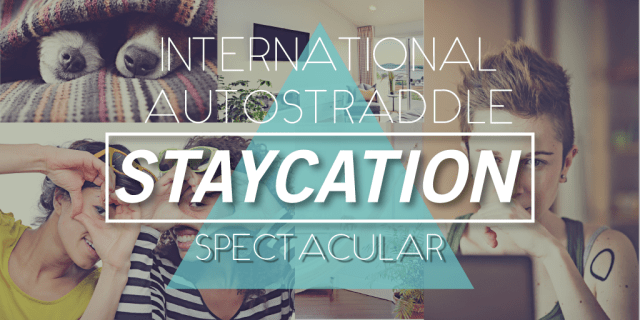 On March 14, we want our readers to stay in together as part of Autostraddle's International Staycation Spectacular! Follow along with everyone's hotel parties, spa days, and indoor picnics around the world with the hashtag #StaycationSpectacular, and join us on the day of for the A+ livestream!
---
Hello, beasts! I hope you're getting amped for your staycations. My plans for the day include making a cheese plate, watching House of Cards, deep conditioning my hair, and taking a long, decadent bath in the blood of my enemies.
Just kidding on that last one. But a fancy bath is definitely on the agenda, and since I haven't gone Gone Girl on anyone lately, there will be liberal use of bath bombs. Because when I staycation, I really mean it. I sit and I steam and I stay. Bath bombs. Go hard.
In preparation for some truly sumptuous soaking, I've been trying out different fizzy bath bomb recipes for the past month. After numerous trials, I've perfected my optimal mix. It has milk for moisturization. Lavender to aid relaxation. Corn starch to make the water nice and silky. Epsom salt to relieve sore muscles. Shea butter to smooth dry elbows and heels. Almond oil for shiny hair. Coconut oil for soft skin. And, oh yeah, look how soothing the fizzy bubbles are!
That's right, they're obscenely soothing. Bath bombs are the perfect treat to pamper your hot, filthy bod. Or filthy hot bod? Look, I don't know your life.
(A note for fellow nerds: The fizzing comes from an acid-base reaction. Remember as a kid when you made the classic baking soda and vinegar "volcano" for science fair? That's the same principle at work in bath bombs. I'm just using citric acid instead of vinegar here.)
Anyway, if you're all ready to get started, we're going to do this in two parts. First I'll give you the exact recipe I use, then I'll teach you how to make your own custom recipe. Because is there anything more badass than customized luxury bath goods? I mean, maybe, but just go with it.
Bombs away!
---
Badass Moisturizing Lavender Bath Bombs
Ingredients:
Equipment:
2 bowls
1 spray bottle
measuring cups & spoons
microwave
a mold (I used this fancy mooncake mold, but ice cube trays and muffin tins are also great)
Directions:
Mix dry ingredients (1/4 cup citric acid, 1/2 cup baking soda, 1/8 cup powdered milk, 1/8 cup epsom salt, 1/8 cup corn starch) in one bowl. Stir until well combined.
Mix shea butter, coconut oil and almond oil (1 tsp each) in another bowl. Microwave for 1 minute. Stir until well combined.
Pour wet ingredients into dry ingredients. Mix.
Add 10 drops of lavender essential oil. Mix well.
Put a small amount of water (I used 100 ml) in your spray bottle. Add food coloring (4 drops of blue, 3 drops of red). Put the top on and shake to combine.
Warning: food coloring will stain your skin if you put it directly on your body. Don't do that. But a few drops diluted by an entire bathtub full of water is just fine.
Spray the colored water over your ingredients while mixing. You only want to do a little at a time, so the chemical reaction doesn't start. If you hear the mixture fizzing, it's too moist. Stir, or quickly add more dry ingredients.

Keep going until your mixture is about as damp as you'd need sand to be in order to mold a good sandcastle. Check the consistency of your mixture by picking some up in your hands and squishing it to make a ball. Keep spritzing and stirring until you can make a ball that stays clumped together (rather than immediately crumbling apart).

Scoop the mixture into your molds. Pack it down tightly.
Put your mold in the freezer to set. Drying time varies depending on how much moisture you added, but I generally leave mine for at least half an hour. If you're patient enough to leave it overnight, that's even better. The dryer and harder the ingredients are, the better they'll hold their shape.
When the bombs are done drying, pop them out of the mold. If you've done it too soon and they're still moist, just crumble it up, remold, and wait a little longer. You can add more corn starch to the mixture if you think you really went overboard with the water. Or, if you didn't add enough water, just crumble it up, spritz some more in, and put it back in the mold to try again. Keep in mind that a crumbly bath bomb will still work; it's just not as pretty.
Put one or two in your bath and watch them fizz away. As you're steeping, take some time to reflect on your life and feel good about all the decisions you've made that have gotten you to this point.
---
Choose Your Own Adventure Bath Bomb
Remember when I said earlier that I'd teach you how to make your own bath bomb recipe? Of course you do, starshine, and that time has now come. Here's what you need to know.
Magic Bath Bomb Ratio:
1 part acid
2 parts base
1 part powdered ingredients
10-20% binding agent
Color, scent, floaty things as desired
As long as your concoction more or less follows this ratio, your bath bomb is going to turn out just splendidly. The stakes are very low here, so play around, have fun, and see which combinations you like the best!
To get you started, here's a list of possibilities.
Acid (select one):
Base (select one):
Baking Powder (although it has some acid in it already, so you'll have to adjust the ratio; this recipe turned out well for me, if you want to try it)
Powdered Ingredients (use as many as you like, as long as the total follows the ratio):
Bentonite clay
Honey powder or grain powder
Sea salt, Epsom salt
Binding Agent (select one):
Water
Tea, floral water, male tears, rainwater you've personally collected from the heavens via champagne flute, etc.
Cocoa butter, mango butter or shea butter (just melt it first, and be aware that the final mixture tends to comes out more crumbly)
Color, Scent, Floaty Things (go wild):
Lavender, rose petals, flower petals
Ginger, cinnamon, herbs
Coconut oil, olive oil, jojoba oil, almond oil, avocado oil, baby oil, etc. (just add more powdered ingredients if your mixture becomes too wet)
Cocoa butter, mango butter, shea butter (ditto)
Oatmeal
Lemon, Orange, Grapefruit
Sprinkles, Jell-o, sugar decorations (but go easy on this, because yeast infections!)
Honey
Again, these are just some possibilities. Dream big, and if you come up with something awesome, let me know.