There are a lot of reasons to get into D&D. With roleplaying games making a resurgence, queer people in particular have found countless opportunities for community, fantasy, and world-building within these incredible and diverse gaming platforms. We can be anyone that we want to be, giving ourselves magical powers, incredible strength, and whatever pronouns, names, and bodies feel right for us. It's truly a gift, and if you're lucky enough to find yourself a group of people that you can explore with, the temptation to stay in those worlds forever is very, very real.
But one of the most enduring pleasures of the game is a simple one — buying dice. Small, shiny, and so very pretty, RPG dice are infinitely collectible. Whether you want the resounding thud of a giant metal d20 or prefer the delicate grace of teeny tiny acrylic sets, whether you color-coordinate your dice to each character or keep them all jumbled in one giant bag that's large enough to store tools in, the craving for new sets never really goes away. And while I'm sure there are players out there that only use one or two sets and are able to somehow withstand the endless temptation to buy more, why would you deny yourself this one simple pleasure? Friend, you deserve some gorgeous dice to roll when you're storming the castle, arguing with a dragon, or flirting with that drow chick that your DM refuses to rank on a scale of hotness (but you're confident is an 11).
We all play a little differently. I'm the annoying one who wants to look into every nook and cranny, roll arcana checks every five minutes, and steal books. Heather likes talking to animals and is the only one in our party who manages to be nice to strangers; Nic is an absolute badass in combat and can take out powerful enemies with just a few hits; Smita refuses to share her clever warlock's rogue-like backstory but clearly has some juicy secrets; and Valerie takes meticulous and hilarious notes that have saved our asses on multiple occasions. No matter the adventure, dice are both mandatory for play and a constant source of delight. And no matter what kind of character you play or player you become, there's a set of dice out there that are perfect for you.
Behold, dice porn in the form of a vague personality test: dice for every kind of queer D&D player.
The Investigator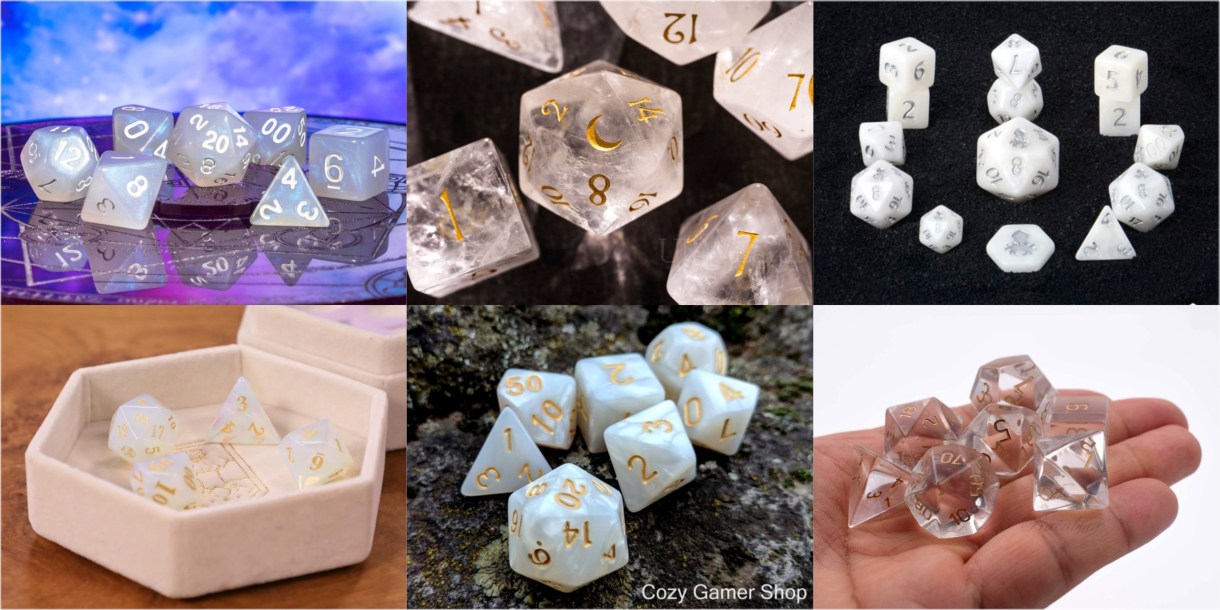 1 / Aurora borealis set 2 / Clear quartz engraved gemstone set 3 / Iconic white set  4 / Opalite gemstone set from Critical Role 5 / Pearly gates set  6 / Synthetic clear quartz gemstone set
Always thoroughly examining door frames, looking under beds, and checking for traps, this player relies on high perception and constant awareness to find every little thing that may be lurking. They also may be the best notetaker at the table. Clear or white dice are a great fit as these colors are associated with safety and protection, and clear quartz in particular specifically aids in manifestation and perception.
The Bleeding Heart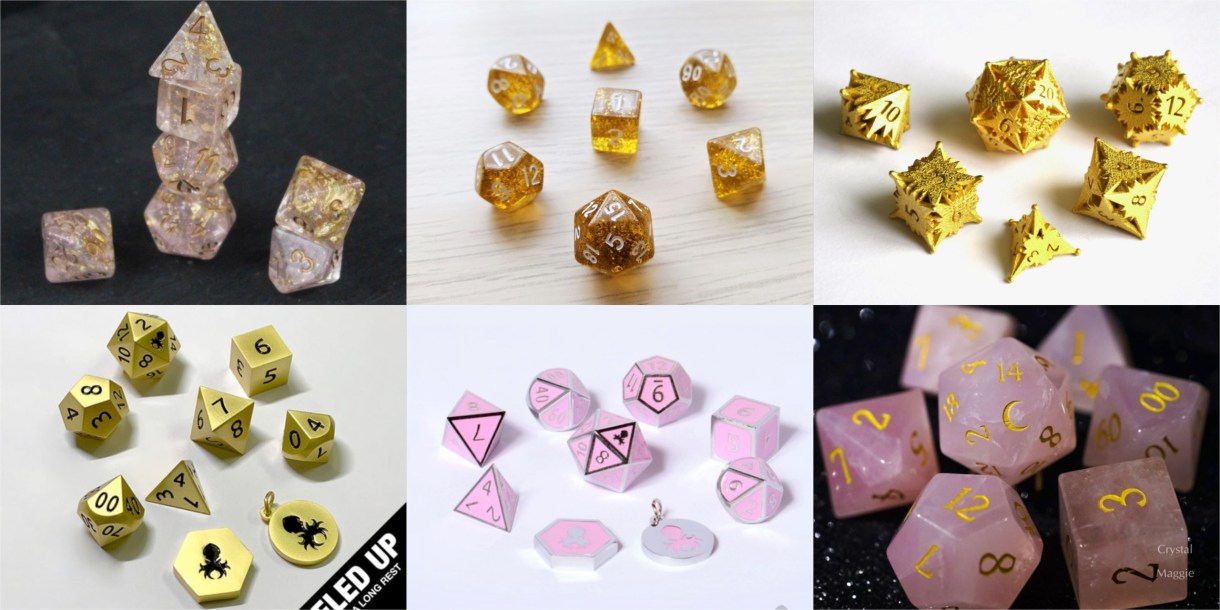 1 / Paladin's virtue glitter set 2 / Gold dust set 3 / Gold starlight set 4 / Dwarven satin gold set 5 / Lotus eaters pink metal set 6 / Rose quartz set
Ready to save every animal, child, and injured person they find, this player is known for their kindness and compassion, potentially both inside and outside the game. And while this tendency sometimes backfires, often this player encourages their group to form allies and build communities, leading to encounters that would never happen otherwise. Pale pink dice may help amplify love for the self and community, while gold dice can boost both compassion and courage. And if you're ready for a splurge, rose quartz dice are just about perfect.
The Hothead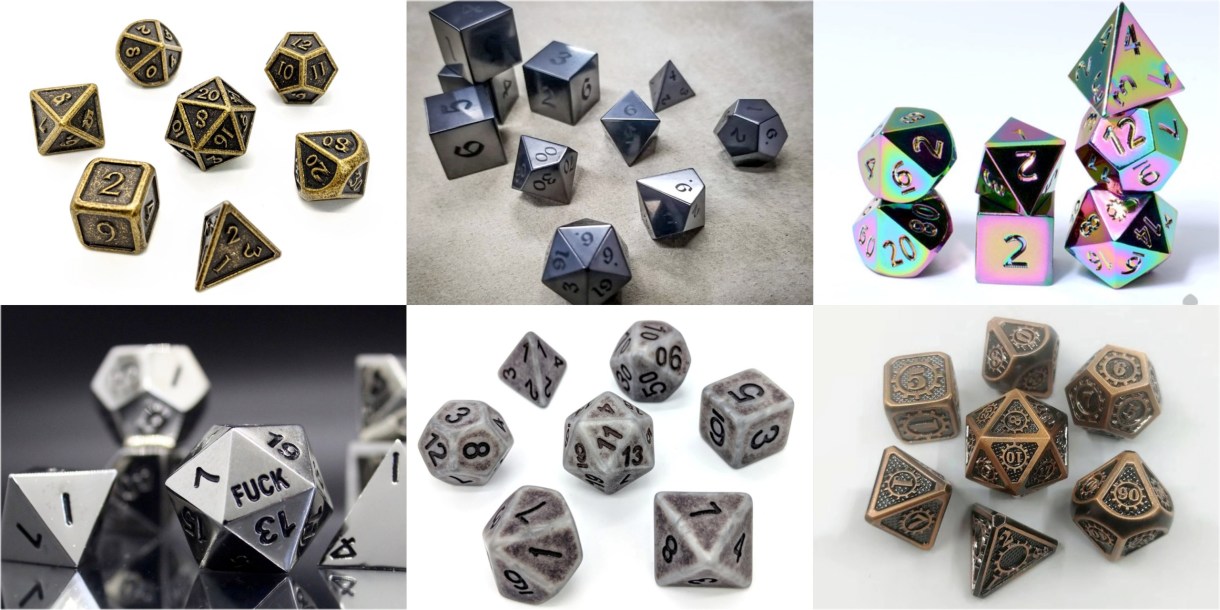 1 / Aged bronze metal set 2 / Graphite set 3 / Mini trial by fire metal set 4 / Critical failure set 5 / Ancient iron set 6 / Mechanical style set
More interested in throwing punches than asking questions, this is someone that isn't afraid to charge forward and get a little messy. They may be impulsive and could sometimes cause some conflicts or fights that shift the narrative, but they also get shit done and make strong, decisive character choices. Plus, it's always great to have someone on the front lines who isn't afraid to take a few hits. Go for heavy, metal dice that feel powerful and decisive, especially since iron is connected to physical strength and grey can bring a sense of stoic calm.
The Charmer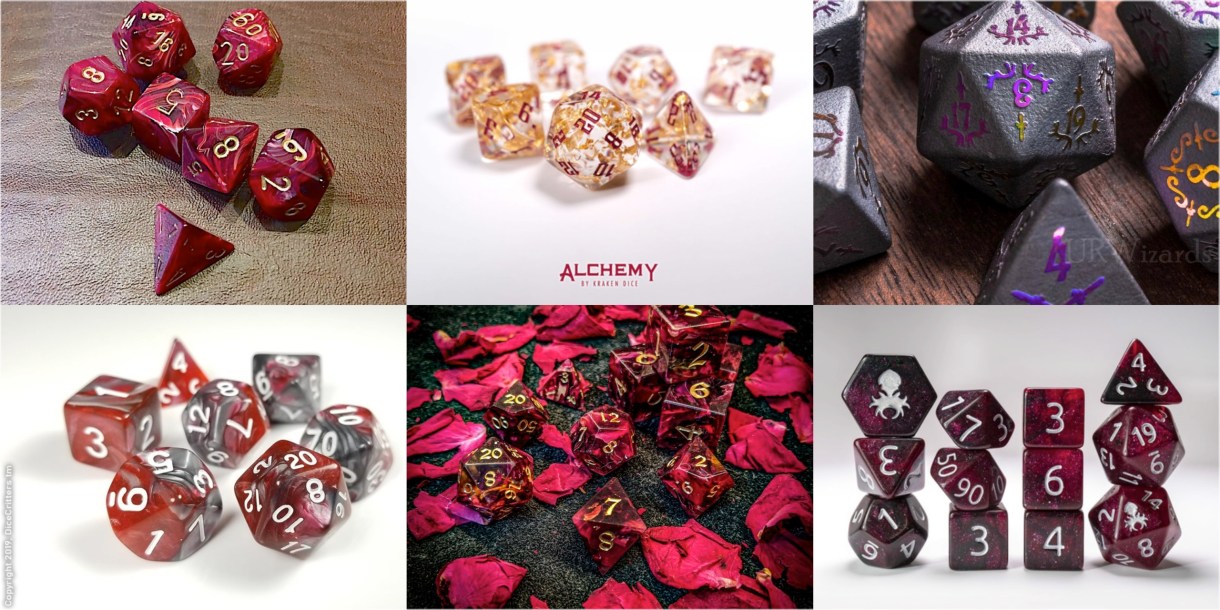 1 / Vortex burgundy set 2 / Fragments of the sun set 3 / Hematite gemstone set 4 / Molten core set 5 / Rose petal set 6 / Crimson midnight set
Regardless of their character building choices or final charisma score, this player is the first to speak up when an NPC asks a question, the one most confident in their ability to negotiate or persuade. Whether they're sharing jokes to lighten the mood or pouring on the charm and compliments, this is someone that can help smooth over difficult conversations and get even the most bristly character on their side. Utilize some distractingly beautiful or sparkly dice, especially if they're burgundy or maroon, colors that are tied to ambition and creativity.
The Newbie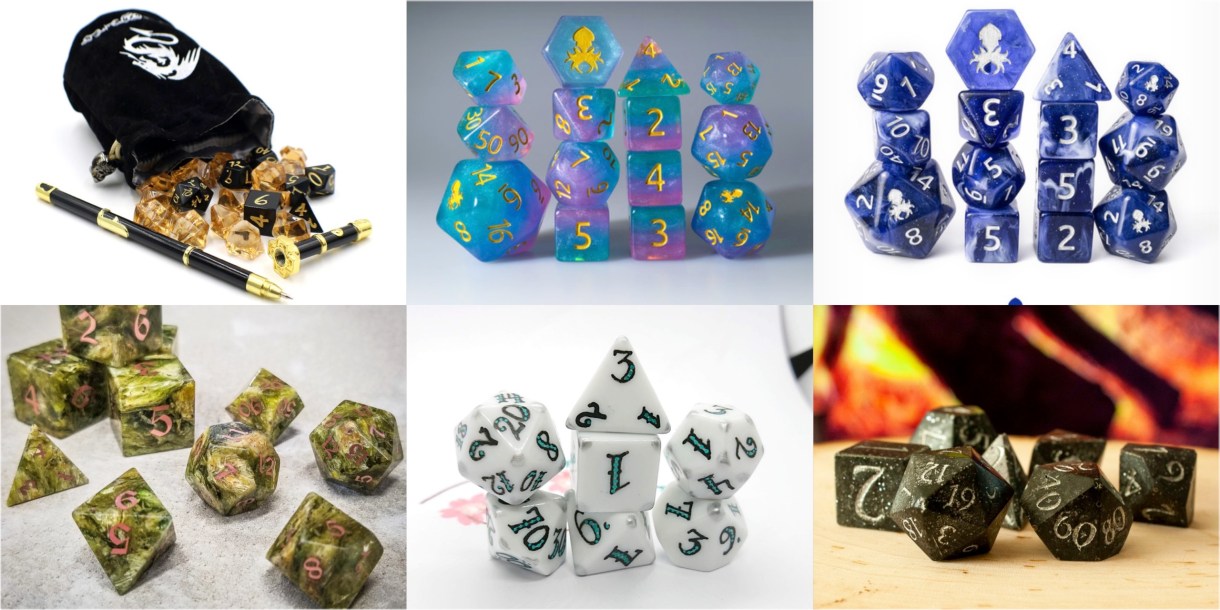 1 / Black and gold set with pen 2 / Mystic unicorn set 3 / Sapphire skies set 4 / Hops beer set from artisan dice 5 / Night circus set 6 / Shards of night set
Eager to use their newly discovered spells and anxious to prove themselves, newbies often fall into two camps: hesitant to make a mistake or eager to see exactly what they can do. Whether they're using brand new spells or double-checking their options during combat, it can be so much fun to watch someone realize just how much is possible during a game. Any dice color that makes them feel brave and empowered is perfect for newbies, especially sets that come with multiple D20s for advantage and disadvantage throws. (Warn them that constantly buying dice comes with the territory, and watch them excitedly reveal a new set at every session.)
The Creative
1 / Amethyst gemstone set 2 / Stone of the princess set 3 / Synthetic turquoise gemstone set 4 / Purple heart wooden set 5 / Ethereal phoenix set 6 / Sunset set
Utilizing spells in unexpected ways or coming up with surprising and delightful methods to outsmart NPCs and puzzles, this player approaches problems and conflicts in ways that showcase the brilliance of the game, encouraging others to think outside the box and try new things. Their ideas may not always pan out, but they bring delight to every table, and may cause your DM to laugh, sigh, or go diving for the PHB. Go for brilliant gemstones like amethyst that boost ambition, or orange dice that can provide extra warmth and determination.
The Strategist
1 / Cleric's domain metal set 2 / Center arc metal set 3 / Silver and blue metal set 4 / Cadet blue set 5 / Archimedes set 6 / Dragon red and black set
Drawing maps, asking thoughtful questions, and making plans for the future, this player is always thinking ten steps ahead of the current conflict. Brilliant with the structure of the game while able to think beyond RAW, the strategist is an invaluable part of any team. Also takes great notes, with special attention to detail. Framed out metal dice or another set that's easy to read are great for this player, with blue tones connecting to stability and red amplifying leadership and willpower.
The Storyteller
1 / Coral fossil set 2 / Holy weapon set 3 / Purple fluorite gemstone dice 4 / Faux coral set 5 / Freshly squeezed set 6 / Topaz black magic set

Creative, engaging, and brilliant at role-playing, this person fully sinks into whatever character they're playing. They spot hooks and clues, dialogue beautifully with other players, and help keep the narrative moving in fun and inclusive ways. If you're lucky, this person is also your DM. Yellow dice can bring a sense of joy and positivity, and coral dice can help with creativity. And for the fanciest game masters, don't miss these purple fluorite gemstone dice, which can aid in both balance and quick decision-making.
---
Which kind of player are you, and what types of players did I miss? What are your favorite dice to roll, and which sets are you lusting over? Let us know in the comments!