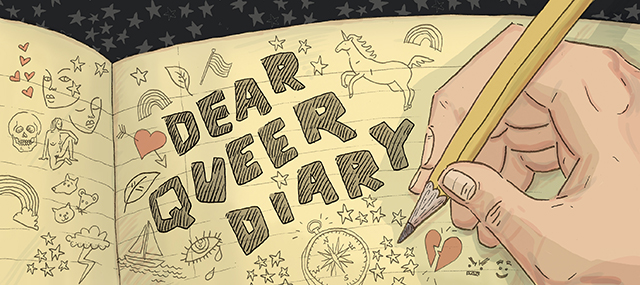 My stuffed rabbit has no fingers, which makes it nearly impossible for her to keep a conventional journal. However, on certain occasions in both her young life and mine, she has had great success with photo diaries, asking her human friends to snap photos of her as she engages in exciting activities such as eating carrots and taking a hop around the neighborhood.
Of course, the photo diary is equally loved by creatures with fingers — it's often used by journalists, such as in this depiction of Ramadan currently running in the national paper of the United Arab Emirates, and it was, obviously, a favorite of high school girls everywhere back in the golden days of the middle 2000s.
Although I have never kept a complete photo diary myself, I am keen to start one, especially in this age of constantly accessible cell phone cameras. I have a secret love of scrolling back through my Instagram feed, and the idea of a photo journal seems like it would be even better — a truer reflection of each day, unfiltered by LoFi or my desire to look cool to my seven or eight followers.
What does one document in such a journal? A wee bit of research has taught me that things that are growing and changing rapidly make for particularly enthralling photo journals—newborns/puppies/kittens are classics, but I can imagine a beautiful little photo diary of your succulent garden too! On an even more awesomely queer note, Against Me! frontwoman, Trans 100 member, and future online reality show star Laura Jane Grace kept a photo diary of her transition.
As in all things journaling, with the photo diary, there's the age-old question of analog versus digital. Personally, I'm torn. While I truly appreciate the tactile pleasures of paging through each day of a photo diary, at the same time, I like the idea of my carefully assembled images staying safe in the unlikely event that I set the apartment on fire trying to make quesadillas.
If you have the time/energy/cash moola to print your photos out and craft them into beautiful books, there are a million and five beautiful ways you might arrange them — scotch taping them into your word-filled journal in a thoroughly old-school manner or creating nicely captioned photo albums to show off to anyone and everyone who sets foot in your living room.
Conversely, if you phone is of the too-smart-for-its-own-good variety, you might be inclined to take a gander at some photo diary apps that will help you compile your images. Collect, which is free for iPhone, encourages you to caption photos and arranges them in an aesthetically pleasing calendar format. From there, you can view and/or export them, and ultimately print them if you are so inclined. I am particularly intrigued by the possibility of creating multiple diaries focused on different subjects—imagine one devoted to your breakfasts! The tree outside your front door! Your beautiful face! Your girlfriend's beautiful face!
You may have already read about the TED talk smartypants who decided to document his life by taking one second of video every day and editing it all together into one crazy video—now, he's got an app, so you can do it too.
Gimicky as all this may seem, the photo (or video) diary operates on the same principle at the good ol' pen and paper diary—remember, the word comes from the Latin root for "day." Whether I choose to document my day in words or images, I believe that the act of documenting allows me notice things I wouldn't otherwise notice, appreciate things I might otherwise take for granted, and remember things I might otherwise forget. Cheesy, yes. But I love cheese.
Have you ever kept a photo journal? If you had to pick an image to sum up your day, what would it be of? Or are you too busy snapping photos to leave a comment?
---
Dear Queer Diary is a column about the joys (and occasionally, the pains) of journaling. We crack open our tiny notebooks and break out the rainbow-colored pens on the regular, so get ready to limber up your writing hands and document all your beautiful feelings!
Header by Rory Midhani