Wanna help me pick apart this advice columnist's response to a 14 year-old girl who may or may not be gay or bisexual? Ok!
Dear Lizzie,
I am a 14 year-old female. I think that I might be a lesbian. I don't know if I'm a lesbian or I'm bisexual. I don't even know if this is just a phase that I'm going through.
I have liked boys, but I have also liked more girls then boys. I've told a few of my friends that I'm bisexual. They seemed OK about it.
What I'm worried about is going into high school and me being the only one who's a lesbian or gay. I don't want to stay in the closet forever.
I want to be able to tell my family that I'm gay or that I have a girlfriend. I don't know what to do please help me!!
– Worried, Connecticut
Dear Worried,
In the beginning you said you weren't sure, and then at the end of your question, you said you are gay. You seem a bit confused about where you stand sexually, and I think that's where the problem lies.
The fact is you are 14 years old. You are still so young. My advice would be to wait it out a bit.
You have plenty of time before high school begins. At your young age, this shouldn't be your main concern.
I know it may be in the back of your head, and you are starting to explore and learn about your body. It's OK to be young and be confused.
You shouldn't be telling anybody at school. Nobody needs to know about your private life right now.
If friends are pressuring you into telling them things, and badgering you about it, you don't need to give in to that. Peers at your age can be very cruel and misunderstanding about such important matters.
Just be yourself, and don't give in to peer pressure. You don't need to come out of the closet when you don't even know if you are in one yet.
I think at your age you should be worrying about homework, academics and sports.
Wait until you're older to get serious about it and worry about it.
If you grow up to be gay or lesbian, there's nothing wrong with it. You are still a person, and good for you for being yourself and following your heart.
The thing about high school is you would NOT be the only gay or bisexual student there. School can, however, be a rough time for a homosexual individual: There is bullying, friends may treat you differently, and there is an increased rate of dropping out.
But have no fear: A lot of high schools have gay and lesbian alliance clubs and anti-bullying programs. You cannot be treated differently because of your sexual orientation.
As far as approaching your parents about it, I'm sure they love you and will understand. If you are closer to your mom or dad, approach that parent one-on-one and open up. Your parent will be on your side.
Whoever you decide to date will come naturally. Don't force it or ignore it, as you are young and shouldn't be worrying about having a girlfriend or boyfriend.
I personally know a lot of people that thought they were gay or lesbian, and it turned out they were not.
Just enjoy being young and being happy. You will figure it all out on your own time at the right time.

I'm going to translate this for you into what everyone actually means. Please note that the bold emphasis below is my own, because that's a very important part.
Dear Lizzie,
I'm a 14 year-old female and I've been romantically interested in both sexes, but more girls than boys. I'm not sure if this means that I'm a lesbian or a bisexual or just going through a 'phase.' I've told some of my friends that I'm bisexual and they seem fine with it.
What I'm worried about is being the only gay person in high school. It seems like if I'm the only one, I'll never have a girlfriend. I want a girlfriend and also I'd like to be able to tell my parents about her. I don't want to stay in the closet forever.
Are there gay people in high school?
— Worried
Does this sound like a girl who's drowning in a sea of sexual confusion? Or a girl who wants a girlfriend and would like to know what her chances are re: getting one next year. B! It sounds like B!
But that's not what Dear Lizzie heard. She heard a girl who has no idea what she wants.
Also apparently Dear Lizzie heard a girl who lives in a pre-MTV world where no one under the age of 22 has ever heard of lesbians or knows what having a girlfriend would even entail and therefore would be totally content just hanging out with her little sister, reading some Sweet Valley High books and thinking about horses.
Fourteen is not "still so young." Patronizing much? The columnist, Elizabeth Mahoney, basically dismisses everything written after "I don't even know if this is just a phase that I'm going through" and chalks it all up to complete and total (but normal for her age!) confusion.
Do you think a lot of straight 14 year-old girls are wondering if they really like boys or if they might want to date girls? Because they're not. Only the queer kids are 'confused' about that, thanks to being raised in a predominately heteronormative culture where being gay is typically either something that only exists on the periphery, or is abnormal, disgusting or immoral enough to warrant total rejection or possibly death. I mean, who can blame a girl for weighing her options, really.
Mahoney then proceeds to shame this girl even deeper into denial / self-loathing with the classic "You shouldn't be telling anybody at school. Nobody needs to know about your private life right now." You know the deal: "We don't mind if you're gay, as long as you don't flaunt it." and "What you do behind closed doors is your business. I don't need to know about it." I'm pretty sure my mother still doesn't understand the ignorance of that last one.
Also, what the hell does she think teenage girls talk about? The stock market? No, they obviously talk about their 'private' lives. It's like, what they do. Mahoney feels like this teen should focus more on homework / academics. Hahahahhha yeah join the club, lady.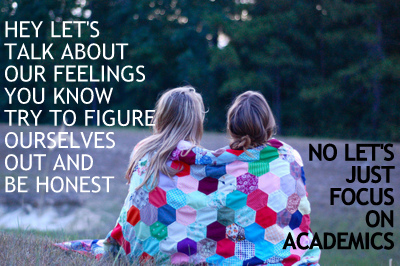 Lizzie redeems herself slightly by telling this woefully confused youth that there are other gay girls in high school, that it's good to follow her heart and that GSAs exist.
But then Mahoney makes the most absurd assumption of all by advising Worried to — if the need arises, of course — come out to the parent she's closest to first, because that parent will be 'on her side.' Mahoney tells her that her parents will understand and love her regardless. Wouldn't it be fabulous if we could hand out that guarantee with the birth certificates?
I feel like Elizabeth Mahoney meant well with this reply and probably felt like she was being super progressive to even consider the fact that this girl might truly NOT be just having a 'phase.' She took the time to cover almost every possible angle.
Except, of course, the one where you trust a young person's ability to know a thing or two about herself and the world.
Why do adults insist on equating adolescence with stupidity? Worried wasn't worried about being gay, she was worried about being the only one and worried about when in ones queer life cycle one must inform the others, which is a pretty common theme among gay youth. It's why we fight to keep And Tango Makes Three in school libraries and make It Gets Better videos and why Team Autostraddle even exists and why people say "visibility matters!"
Because it does! Because you're not alone out there.