Daytime Divas, a new VH1 program about the lives of five dynamic women hosting a daytime panel talk show called The Lunch Hour, is our new favorite trash show. It's based on Star Jones' behind-the-scenes book about her time as a co-host on The View, and stars Vanessa Williams as the show's host, Maxine; Chloe Bridges as Kibby, a bisexual and newly sober former child star; Camille Guaty as "serious journalist" Nina and, finally, Fiona Gubbleman as Heather, the "Elisabeth Hassleback" of the crew. Heather is the white super-conservative Christian and she's my favorite. Sure, I'm sort of obsessed with rich, mean, pretty, white Christian female characters (hello Quinn from Glee), but Heather's story is surprisingly complicated in other ways that appeal to me, too. Specifically, Heather has a transgender daughter, Ella. Heather supports and tries to help Ella despite the fact that her husband thinks he can "cure" her just by making her wear boy clothes and do "boy stuff." In fact, Heather's disappointment with his tactics and lack of support for their daughter is a huge part of why the couple is currently separated. This week's episode of Daytime Divas, with guest star Janet Mock, dug deeper into this issue and provided us with an all-too-rare uplifting trans story on primetime mainstream television.
Early in the episode, Heather is driving her kids to school and giving them advice on how to deal with questions about her very-public separation from her also-famous husband when Ella tells her Mom that her stomach hurts and she doesn't wanna go to school. Apparently this happens a lot — Heather gives her a nice try and Ella's sister Savannah asserts that Ella's just trying to skip school to avoid getting bullied in gym class or having to use the boy's bathroom, 'cause the school won't let her use the girl's bathroom like she wants to.
This brought me back to seventh and eighth grade, when I hated going to school every single day because for the first time in my life I was taking Gym class and I had to get undressed in a locker room full of boys and I had to use bathrooms full of teen boys. This is a nightmare for any girl, and when you also have to deal with dysphoria and bullying from your own Dad, it's even worse. When Heather finds out about Ella getting bullied, she's sad, but doesn't quite know what to do. She's not ready to let Ella be Ella in public and to fight for her right to be herself.
The episode takes a turn for the wonderful when Janet Mock shows up as The Lunch Hour's guest host of the week. She's gorgeous and brilliant and look at that smile!
As soon as Heather sees Janet, she's drawn to her. It looks like she's never met an openly trans person other than her daughter before and Janet Mock is one hell of a gorgeous and successful openly trans woman. Heather stammers out some words regarding Janet being beautiful and shock when she hears that Janet has her own show on MSNBC and then, during the taping, she jumps in: "Janet, are you happy? Would you say that you're a happy person?" to which Janet says, "Yes, I'm a very happy person." Heather is visibly relieved, like maybe she feels okay about her daughter's future for the first time. She blurts out, "That makes me feel better!… about you!"
The other hosts suspect something shady is going on with Heather — after all, she's a Conservative Christian who seems unnaturally obsessed with Janet Mock, and nobody knows about Heather's trans daughter. So it just looks like Heather's setting Janet up to slam her down. "Heather's making Janet think she's her BFF," Kibby confides to Nina. "But just wait — as soon as the cameras start rolling, she's gonna go all right-wing on her ass."
In the dressing room later that week, Heather's shocked again to hear that Janet is married, and then of course has more questions for Janet about growing up trans.
Heather: In school, did teachers understand what you were going through?
Janet: No, it was a different time. You know, Caitlyn hadn't transitioned yet and Transparent wasn't streaming then.
Heather: It must have been very difficult for you growing up.
Janet: Yeah, but you know I was lucky, I had parents who were there for me and wouldn't take crap from anyone. Their love is the reason why I turned out okay.
There are also these great moments where Heather's whiteness is full on display and she wants to touch Janet's hair, and Janet is like "hahaha, NOPE." When Heather tries for a second time, Janet straight up smacks her hand away. Janet Mock is incredible.
Once they get on air, the other hosts struggle to keep the conversation focused on Janet's book because Heather keeps interrupting to ask Janet questions about being trans. They're questions that seem cute if you know why she's asking them, but terrible if you don't — questions about surgery and if she has friends. Eventually, Janet says it sounds like Heather might be working out her own gender issues, with all these questions, and Heather immediately laughs, brushing it off: "Oh no no no I'm definitely a real girl." Not cool, Heather. Really not cool.
Janet calls her an idiot on air. Cool, Janet. Really cool.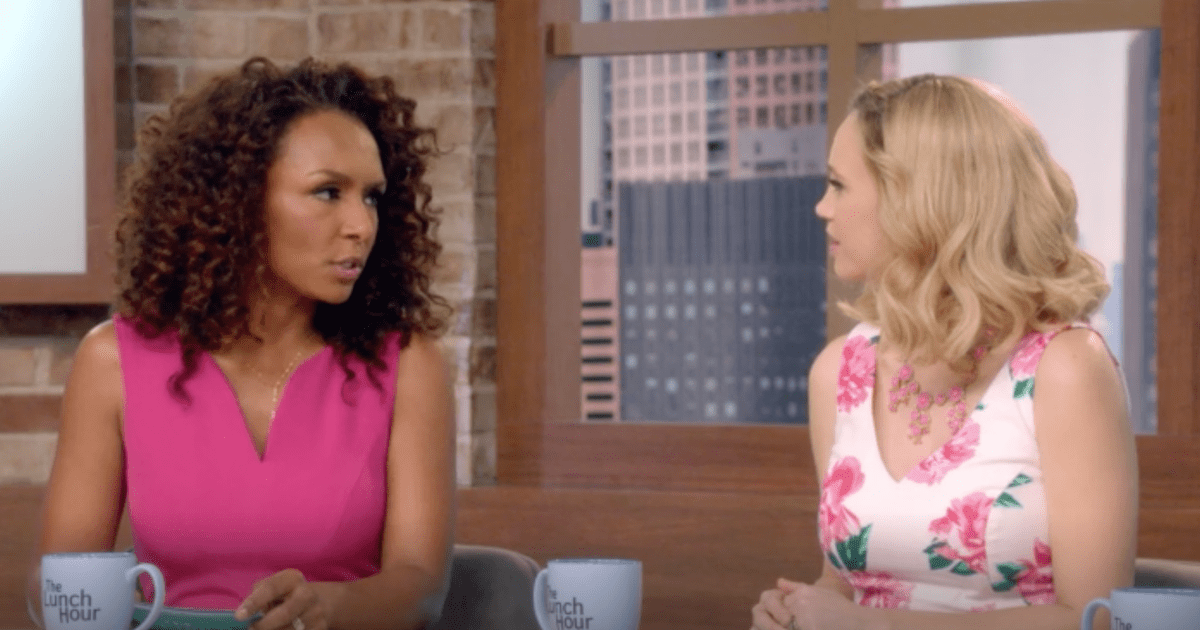 Heather spends the next day trying to find Janet to apologize. Janet, rightfully, spends the day avoiding Heather. Finally Heather gets her moment, says she's sorry, and then adds that she's "not judging" and "not transphobic," which inspires eye rolls from her co-hosts. Then, clearly struggling to find the words to say or even just to say the words out loud, Heather says that her daughter Ella is "a trans," and that's why she's been asking so many questions to Janet.
It's a really wonderful moment. It's also super real. So often parents of trans kids are trying really hard, but they definitely mess up a lot. So often they're afraid to publicly support their kids because they just don't know very much about being trans. Janet makes a really great point after Heather's on-air apology when she says, "Look, if we're too afraid to talk about things no one will ever talk about anything. Mistakes will happen. It's ok to be trans ignorant but it's never ok to be transphobic."
The episode ends on some really nice notes for Heather and Ella. Kibby puts her ongoing feud with Heather behind her and gives her a sparkly hair clip to give Ella, saying, "little girls love sparkly things to put in her hair." At that point I obviously started sobbing. Kibby had been calling Heather transphobic and bigoted, but now she sees a kindred spirit and her support of Ella is heartwarming.
Even more heartwarming is Heather's final scene in the car with her daughters, when she's just given Ella the hair clip.
Ella: It's so pretty!
Heather: Why don't you put it on?
Ella: But we're not at home!
Heather: Mommy's changing the rules a little. From now on you get to be you anywhere. And we're gonna start looking for a new school for you. And until then, Mommy's gonna homeschool you.
As far as I know, Ella's the youngest recurring trans character currently on television. Amazon Prime has had young trans kids on two of their shows, Transparent and Danger and Eggs, but so far those characters (both played by trans actors, which is also hugely important) have only appeared once. Plus, Daytime Divas is on VH1, a mainstream cable network. Steaming services have more leeway with queer storylines and have always been pioneers in that arena, so it's especially remarkable to see a cable network doing this work. It's so important to depict parents supporting their trans children in a recurring fictional storyline, and this is the first time I've seen that. It's beautiful. Parents will be watching this show. Probably some parents of trans kids or kids who will one day come out as trans. And maybe they'll think of this episode when that day comes.