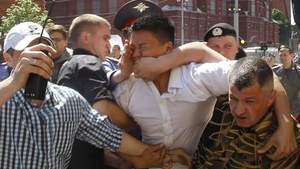 Dan Choi was among the 18 or more individuals arrested in at a Moscow pride parade this weekend. The group was attacked by neo-Nazis and police and taken to a nearby police station where the Russian protesters were held overnight while the foreigners were released. Among the arrestees were Chicago activist, Andy Thayer, French founder of the International Day against Homophobia, Louis Georges-Tin, and Russian organizer, Anna Komarova, who was being held for questioning about the event.
Choi wrote an open letter to Hilary Clinton, asking her to condemn the violence in Russia. "You have been a longtime friend of the LGBT community. We need your help. Please reaffirm the human rights of lesbian, gay, bisexual and transgender people in Russia and around the world." The U.S. Department of State has responded by releasing a statement from spokesman Mark Toner.

Concern about Freedom of Assembly in Russia
We note with concern that in Moscow on Saturday, May 28, a peaceable demonstration of Russians advocating for the rights of gays and lesbians, joined by international supporters, was forcefully disrupted by counter-protesters, and that Russian security forces then detained people from both groups, including American citizens. Some protestors were seriously injured according to media reports.
Freedom of assembly is a fundamental right all members of the OSCE committed to, including in the Moscow declaration and as recently as the Astana summit. As nationwide legislative elections approach, constraints on the ability of Russian citizens peacefully to gather and express their views will be closely watched in evaluating the integrity of the electoral process.  We call on Russian authorities to work with municipal officials to find better ways to safeguard these fundamental freedoms.
But not everyone is satisfied. Via Twitter, Choi pointed out that the statement left out bisexual and trans* Russians. John Aravosis from AmericaBlog has spelled out exactly what's wrong with the statement, namely that they seem to believe that the police were protecting the protesters from the neo-Nazis despite video footage that shows the police going after peaceful demonstrators and grabbing their pamphlets. While Clinton has still made no comment on the incident, Aravosis says he does appreciate that the State Department has said something.
LGBT rights in Russia are in some ways more progressive than in the U.S., with gays allowed to serve openly in the military and men who have had sex with men allowed to give blood. However, these rights are largely nominal. Public opinion polls show that around 40 percent of Russians support the re-criminalization of homosexual acts and, if this incident is any indication, anti-gay sentiment runs high.
You can sign Dan Choi's open letter at AmericaBlog.