Hey moonbeans, here's some news for you!
Order in the Court
+ U.S. Marine Joseph Scott Pemberton, who's charged with the murder of Filipina transgender woman Jennifer Laude, testified in court on Monday and admitted to choking Laude unconscious but says he didn't kill her. Pemberton's lawyer Rowena Flores said Pemberton and Laude checked into a motel to have sex and while in bed Pemberton found out Laude was transgender and pushed her away. Laude allegedly slapped him and then Pemberton punched her and choked her until she was unconscious. Pemberton then dragged her to the shower to revive her. Pemberton says she was still breathing before he left the motel room.
There's been a horrific crime committed here against a trans woman and the coverage is fucking garbage — I'm looking at you, NBC News. (They used "transgender" as a noun, used Laude's former name, among other things.) It looks like the defense attorneys are going to try to use a "trans panic" defense. I just want to point you in the direction of Mari's very relevant piece on how the media still refuses to grant trans women dignity even in the wake of their tragic deaths:
"Almost as frequently, the trope of trans-people-as-deceivers will be trotted out, and in that moment, we are transformed from victim to perpetrator. It will be said that those who assaulted us were victims of our 'trickery,' and it will be implied that the violence we endured was deserved and justified. And there, in the recitation of that tired trope, the beautiful authentic lives we've carefully carved out for ourselves are transformed to artifice for all those who read or hear the media's story. The apocryphal identities we've worked so hard to shed are forcibly pressed back upon us as they were at birth. In a few short lines of text or seconds of news story, we're stripped of our dignity for the terrible crime of daring to be ourselves too close to someone who was made uncomfortable by it. And just as quickly, a seriously misogynistic and transmisogynistic crime becomes a justifiable action."
+ The ultra-Othrodox Israeli man who stabbed several people at Jerusalem's Pride parade and killed a teenage girl has been charged with murder, along with multiple attempted murder charges. Yishai Schlissel had been released from prison a few weeks prior to the crime; he had served time for stabbing people at Jerusalem's 2005 pride parade.
+ On Monday, Ferguson's new municipal judge, Judge Donald McCullin, ordered the withdrawal of all arrest warrants issued before the end of last year. He also reinstated driver's licenses that were suspended solely because the driver failed to appear in court or pay a fine. These changes may affect thousands of Ferguson residents who've racked up debt because of traffic violations and minor offenses.
Think Progress reports the city has a history of fining and criminalizing the poor, which mostly affects black citizens; mentioned by Think Progress is a report from ArchCity Defenders that estimates there were an average of three outstanding warrants in every household in Ferguson. A Justice Department report "revealed the city relied on its police force to raise revenue, even explicitly asking the police chief to step up traffic enforcement for financial reasons."
+ A South Dakota state lawmaker has proposed a law that could require "visual inspection" be used as part of a process to officially determine a person's gender. The proposal arose after a high school athletic group enacted a policy that allows students to decide which team they will compete with. Some lawmakers weren't happy about it. The proposal from Rep. Roger Hunt would rely on official birth certificates and "visual inspections" for determining gender rather than allowing people to decide and declare their gender on their own.
---
Trans Youth and Science
+ In April, the Texas Tech University Health Sciences Center in El Paso, Texas opened the Children & Adolescent Gender Clinic that specializes in transgender youth. The team of doctors have worked with 16 patients since the clinic's opening, but they think the number will double after opening their services to adult patients in the coming months.
"We never had anything like this in El Paso before," Skip Rosenthal, a long-time LGBT activist, said. "If you were transgender in El Paso, you would probably not be under a doctor's care at all. You would have to go to Juárez [Mexico] and get hormone shots or you would have to ingest them. You would see a lot of people in hormone therapy but not under a doctor's care and that's not really healthy."
+ The New York Times published an op-ed by Richard Friedman, a professor of clinical psychiatry at Weill Cornell Medical College on gender identity scientific research. And he got it all wrong, especially the parts where he talks about practices involving trans kids. The Vox debunks the column by pointing out that Friedman conflates gender identity and expression, that he incorrectly suggests that gender-affirming surgeries aren't successful in treating "excess morbidity and mortality" among trans people, and "that parents and doctors might be right in letting children suffer from severe dysphoria just in case something changes down the line — and implies that conversion therapy (or "reparative therapy," as he calls it) may be okay for trans children."
---
Black Lives Matter
+ Black Lives Matter organizers across the country will hold rallies today to bring attention to the murders of black trans women which have skyrocketed this year. Aaryn Lang, a black trans woman based in New York who called on the Black Lives Matter chapters across the country to organize the rallies, said that cis black people need to stand up for black transgender lives.
"Black trans women have been strategizing with the leaders of this movement but when we get killed there's no outrage. Now is the time to shut it down for black trans lives," said Lang in a telephone interview on Monday.
Currently five cities are participating: Houston, Dayton, Nashville, Chicago, Columbus, and Washington D.C. You can also participate on Twitter using the hashtag #BlackTransLivesMatter.
+ Ferguson protestors and activists DeRay Mckesson, Johnetta Elzie, Brittany Packnett and data scientist Samuel Sinyangwe launched Campaign Zero, "a comprehensive plan to end police violence," last week. The campaign offers ten policy solutions to tackling the problematic structures that have plagued police violence for so long. They include: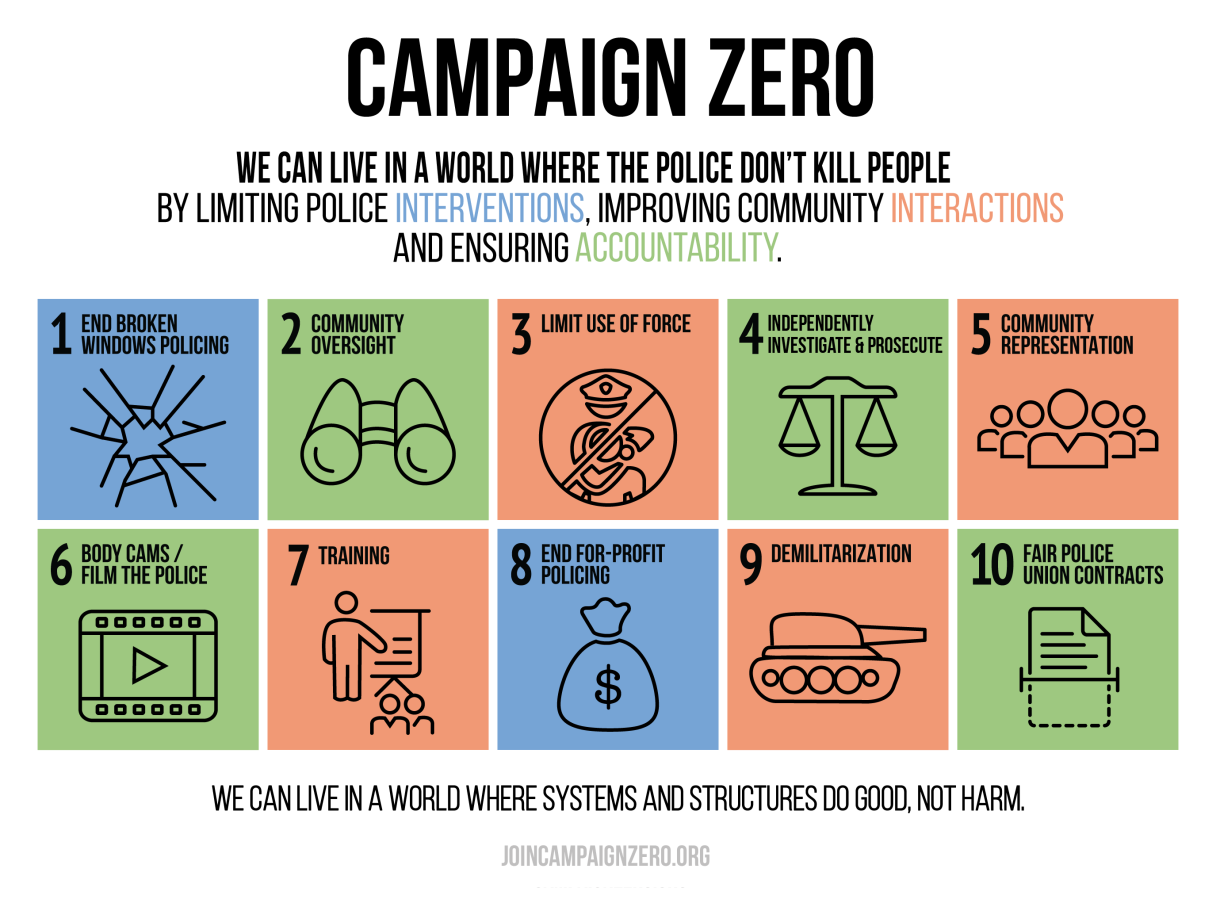 Their website also includes a tracking tool on where the 2016 presidential nominees stand on their policy solutions. Read more about Campaign Zero's solutions on their website.
---
Grab Bag
+ Starting September 1st, a new Texas state law will guarantee all public employees, including state and county workers and public school teachers, accommodations to pump breast milk in the workplace. Those accommodations include sufficient break times and a private room where employees will be able to pump breast milk. Federal law already requires employers to provide accommodations for hourly workers but not for salaried workers.
+ Some freshman dude at Duke University refused to read Alison Bechdel's award-winning graphic novel Fun Home, saying it compromises his Christian beliefs to read it. Fun Home was selected as the freshman summer reading book. I mean, I want to say a lot of things like wtf, you're in college, you're there to learn, ok, dude but he's probably going to believe all the garbage his conservative parents taught him for the rest of his life unless he has a truly, transformative learning experience at said university but he can't do that unless he's open to reading a goddamn beautiful graphic novel by a lesbian.