Hello, welcome to your weekly pop culture fix, I am your biweekly host who just watched the entirety of Empire at once and just wants to think about it forever. I want Cookie to be our CEO. Speaking of, look at Taylor Swift with Tiana!
https://instagram.com/p/2DGJZrDvEz/?taken-by=taylorswift
Okay, let's begin!
---
Kristin Stewart Related "News"
+ Kristin Stewart is on the cover of Harper's Bazaar UK's June 2015 issue, which means she's from the future. In the article, she talks about things like sexism in Hollywood and how much she hates being famous because fame is the worst. "Fame is the worst thing in the world," said Kristen Stewart. "Especially if it's pointless. When people say. "I want to be famous" – why? You don't do anything."
Here's what you can do, though: you can wear this outfit:
---
The Teevee
A lot of the news this week falls into the category of "I Don't Care About The Future," but we're rolling with it!
+ Logo recently premiered a new Russell T. Davies project from across the pond: Cucumber and Banana. Banana is the part of the series about gay ladies and I think you might really enjoy it:
From the writer of Doctor Who and Queer as Folk, Russell T. Davies, comes Logo TV's two newest series: Cucumber and Banana. The two interwoven drama series will explore 21st century gay life in all its powerful, witty, dark and uplifting guises through the lens of two disparate generations. The hour-long Cucumber will explore the lives and misadventures of Henry Best and his long-suffering boyfriend of nine years, Lance Sullivan. The half-hour Banana will follow the individual lives of younger characters orbiting around Henry's world, telling stories of modern love – the romantic, the obsessed, the hopeful, the lonely, the lost, and the lucky.
+ Orange is the New Black made promotional posters out of your tweets. Wasn't that nice of them?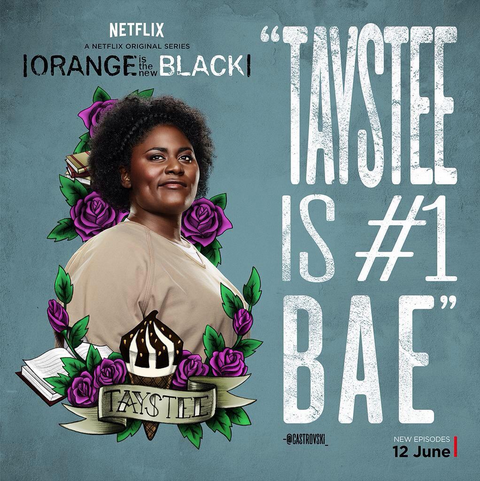 + Comedy Central has picked up a female basketball comedy based on the basketball league currently privileged to support the talents of Autostraddle's own Brittani Nichols and Carly Usdin. Jeremy Konner, Amanda Lund, Maria Blasucci and the good folks from Jack Black's Electric Dynamite are teaming up for the ensemble comedy, which "revolves around a group of misfit women in LA who find new leases on life through their less-than-stellar all-girls basketball team." Hopefully it will be as funny as Brittani and Carly are!
+ The Bold and The Beautiful has cast an actual trans person to play a trans character — Scott Turner Schofield will play the "mentor" to transgender female character Maya (who is played by a cis woman). Schofield connected with TBATB folks when they reached out to him asking for his recommendations of transgender actors to help 'flesh out' their story. They ended up inviting him to take the part.
+ Viola Davis will play Harriet Tubman in an HBO biopic.
+ New York Magazine says that "Jenny Slate is reteaming with Obvious Child director Gillian Robespierre and writer Elisabeth Holm for an FX pilot about female friendship." I don't know who any of those people are, but Heather linked me to it and I trust her.
+ My best friend Law & Order SVU is already planning an episode about a transgender teenager for Season 17, according to this article which presents the concept as if Law & Order hasn't already bungled a solid number of transgender stories in the past! Apparently this is newly relevant because Bruce Jenner. I will obviously tune in for it, as I tune in to every Law & Order SVU unless there's a new Criminal Minds on at the same time.
+ Broad City's Abbi Jacobson and Ilana Glazer honored Amy Poehler at GildaFest '15 on Monday, and Vulture has their speech for ya, which ponders the topic of "8 Reasons."
---
People Talking To Other People and Also About Things
+ Did you want to read some words that Cara Delevingne said on a number of topics? You can!
"I'm a big, big, big believer in male and female equality. I want to do more in the future (to promote) feminism all the way. Men and women's bodies are beautiful and should be completely equal. Subjects like female oppression should be taught at school and boys should know about it and learn to respect it."
+ Did you want to see Tig Notaro interview Andrea Gibson? You can!
NOTARO: You were in a cow suit?
GIBSON: I was in a cow suit.
NOTARO: That does sound vaguely familiar.
+ Did you want to read Carmen Esposito write about her first kiss with a lady? YOU CAN!
My sophomore year I spent Spring Break on a solidarity trip to inner-city Kingston, Jamaica with a group of other social justice-y kids. We offered our time at a leper colony, a home for abandoned children, and a school. Probably nothing I did during that time had a lasting effect on the lives of the people I met, but the trip had a lasting effect on me. One of the social justice-y kids I traveled there with became my first girlfriend.
+ Did you want to read out writer Gina Sobol of "The Returned" talk about the show and its queer storyline and also how there are SO MANY QUEER WOMEN ON THE TEEVEE SET these days? YOU CAN!
I just wrapped on a show called Extant on CBS, which is also just like a kick-ass show for women, and now I'm reading all of the pilots of what is coming up next season. There are so many gay characters and queer characters—and I mean main characters or side characters—and I feel like we've moved into this new phase where it's not a big deal: It just is, and we don't have to do these big coming out stories.
+ Did you want to read Queen Latifah talk about the Bessie Smith film and also read her views on LGBT equality as if she has no personal stake in the matter? WELL NOW YOU CAN!
I've never done that before. It was a little odd but it was also a quiet, relaxing thing. Sometimes she was so alone, and it was a moment for Bessie to acknowledge her vulnerability, which I can completely relate to … I don't find [this nude scene] any more uncomfortable than kissing a girl in Set It Off and sticking to the script. You have to take your mind off of yourself and honor that character. Respect Cleo, respect Bessie."
I have loved Queen Latifah since I was first introduced to her at the Earth Day Concert in Boston in 1991, I bought "All Hail The Queen" on cassette the next day at the mall. I am ready for this Bessie Smith movie STAT.
---
ETC
+ A bunch of websites with fifty billion times more money than we have are using that money to make new video series for you, so that should be neat.
+ Laura Jane Grace covers Michael McDonald and The Cure IN MICHIGAN, MY HOME AND NATIVE LAND!
+ The Dissolve has a 2015 Summer Movie Preview for June. The Dissolve is my favorite website about movies, so.
+ Ten Groovy Facts About "The Jackson Five" Cartoon Series
+ Forever Alone: How Midcentury Movie Magazines Sold Marriage to Women: "Now we understand advertisements as subtly, subconsciously making people feel insecure so they'll buy some solution. Back then, marketers were just discovering the buyer's inner life, and they decided the surest way to reach it was to attack the outer self."
+ Mattel has created a special edition Barbie of Ava DuVernay, the director of Selma! BUY ONE FOR YOUR DAUGHTER RIGHT NOW.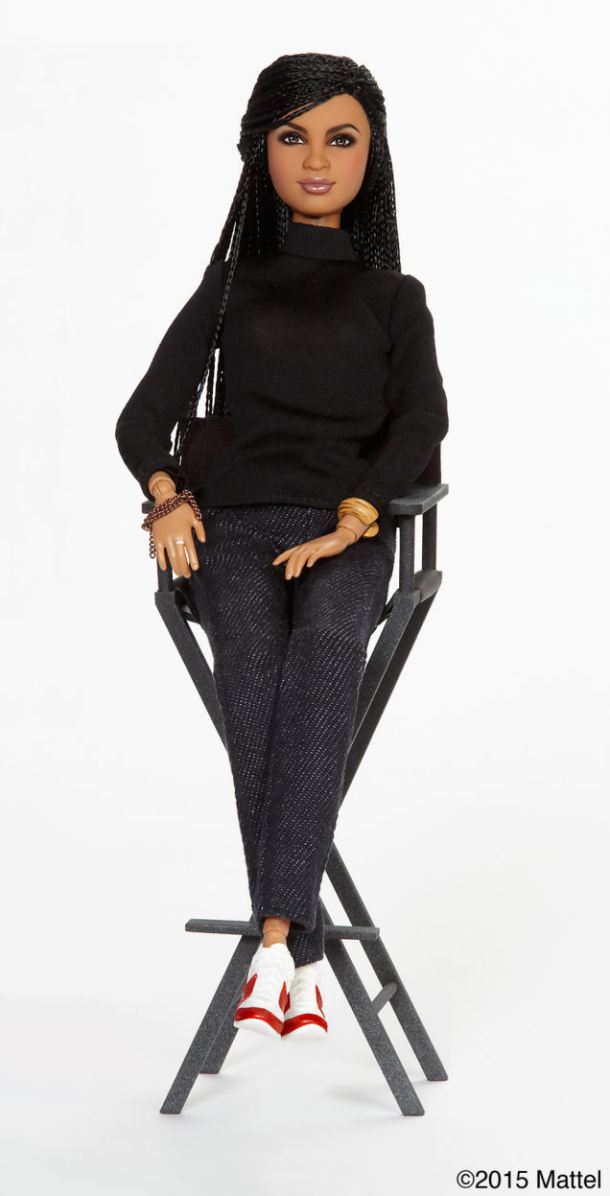 + And, finally — the entire Beyonce discography, performed by only one man, Todrick:
---