Hey bluebonnets! I really want to text everyone a brown princess emoji but that means I have to update my phone but I have no space for the update. Womp. Does this mean I have to dump all my photos on my computer and delete them from my phone just to make room?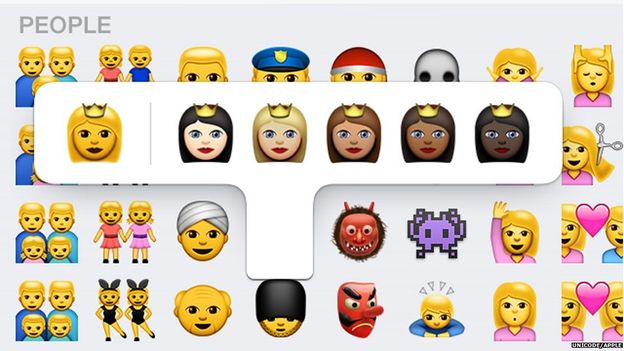 This Police State
+ An audio recording released by The Guardian shows Michael Slager, the South Carolina police officer who killed Walter Scott, laughing with a senior officer shortly after the fatal shooting. Slager, who is being charged with murder, was laughing about his adrenaline pumping.
A senior officer is heard explaining the procedures to Slager after a police officer murders a black man, which he talked about nonchalantly like it happens all the time, just like pesky paperwork: "We'll get you up to headquarters, we'll probably once we get you there we'll take all your equipment, take your crap off, take your vest off, kinda relax for two or three. Once they get here, it'll be real quick. They're gonna tell you you're going to be off for a couple days, and we'll come back and interview you then. They're not going to ask you any questions right now. They're going to take your weapon and we'll go from there. That's pretty much it." The senior officer advises Slager to jot down his thoughts on what happened once he got home and once the "adrenaline quits pumping." "It's pumping," Slager said laughing.
The Guardian couldn't confirm with the South Carolina Law Enforcement Division if it was Slager in the audio. Thom Berry, a spokesman for SLED said, "It appears that way. I have not been able to independently confirm it."
+ Over at Vox, Anand Katakam created an interactive map using data from Fatal Encounters, a nonprofit trying to create a database with police killings. It shows law enforcement have killed at least 5,600 people since 2000.
"D. Brian Burghart, head of Fatal Encounters, estimates that his organization's collection of reports from the public, media, and FBI only captures about 35 percent of total police killings."
+ Eric Harris was killed in Tulsa on April 2 by Reserve Deputy Robert Bates, a 72-year-old donor to the police department who was on a ridealong when Harris was arrested (it appears that Bates' donor status gave him the role of reserve deputy, a position which gave him many of the same powers as a regular deputy, including carrying a firearm). In a video that since been widely shared, Bates talks about his taser but in fact reaches for his gun and shoots Harris, who was already pinned to the ground by police officers. Harris can be heard saying "He shot me! He shot me, man. Oh, my God. I'm losing my breath," and another officer responding "Fuck your breath." Harris died about an hour later in the hospital, and Bates has been charged with manslaughter, although the Tulsa police department maintains that he committed no crime. Bates' attorney is referring to Harris's death as an "excusable homicide."
+ Natasha McKenna was killed in February at Fairfax County jail via the use of stun guns. This week, incident reports revealed that the mentally ill McKenna was already restrained by shackles and several officers when she was tasered with the four 50,000 volt shocks that killed her.
Fairfax County Sheriff Stacey Kincaid declined to comment on the case but defended the use of a stun gun on a restrained prisoner, saying it was "a means that is often useful to ensure the safety of a person" rather than using physical force to gain compliance. She said stun guns were used "occasionally" on prisoners who are already restrained.

But four law enforcement experts interviewed by The Post questioned why a Taser was used on a restrained woman, how many times she was shocked and whether handling a mentally ill person with such force was the best approach.
Sad News
+ A lesbian couple was involved in a fatal pile-up crash on Interstate 30 in Fort Worth on early Sunday morning. Veronica Gonzalez and Ely Alba-Gonzalez were coming home from their own engagement party when they stopped, along with others, to help someone who had hit the median. Moments after the initial accident, an 18-wheeler struck the parked cars and the good samaritans. Veronica was one of the five people who died as a result of the accidents and Ely is in critical condition at the hospital.
+ Taylor Alesana, a 16-year-old trans girl from California, died by suicide on April 2. She faced constant bullying online and in school and reported it to her school counselor but nothing was done about it. She had a Youtube channel where she would post makeup tutorials and talked about trans issues. Alesana's death is the 7th reported trans youth suicide this year.
A Grab Bag of News
+ For the first time ever, a Wiccan priestess, Deborah Maynard, led the Iowa legislature in prayer last Thursday to many lawmakers' disdain. Rep. Liz Bennett invited Maynard to lead the prayer in an effort to show Iowa is diverse and inclusive. Unfortunately to Bennett's disappointment, more than half of the representatives skipped the opening prayer while the ones in attendance were offended by the blessing. Rep. Rob Taylor turned his back to Maynard telling reporters this is what Jesus would've done, "Jesus would be in the chamber, from my perspective. He would passively protest." One paster, who was in the audience, led his own prayer for Maynard's salvation. I thought Maynard's prayer was nice, especially this part: "We call this morning to spirit, which is ever present, to help us respect the interdependent web of all existence of which we are a part. Be with this legislative body and guide them to seek justice, equity, and compassion in the work that is before them today."
+ Last year, the U.S. Equal Employment Opportunity Commission filed a lawsuit against an eye clinic in Florida for discriminating against a transgender employee. Last week, the clinic agreed to pay their former employee $150,000 in backpay and damages and to adopt a new policy that protects transgender employees from harassment and termination based on gender identity and to implement gender identity nondiscrimination trainings for their employees.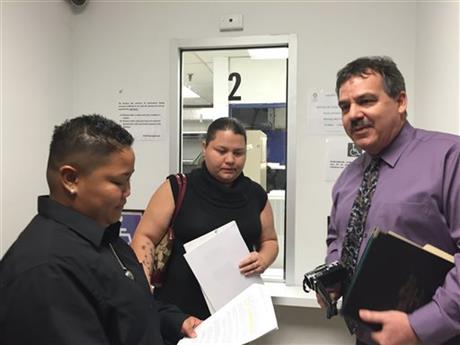 + A lesbian couple in Guam was denied a marriage license because the U.S. territory doesn't recognize same-sex marriage. Loretta Pangelinan and Kathleen Aguero were the first to same-sex couple to apply and now they plan to take their case to federal court.
+ The state of Indiana has a hired a global PR firm to help rebrand their image in the wake of the criticism they received from their new "religious freedom" riff raff anti-gay bill. The plot thickens! The Indiana Economic Development Corporation has hired Porter Novelli to brand the state "as a welcoming place to live, visit and do business."
+ A married lesbian couple is suing the state of Utah in order to automatically recognize them both as the parents of their newborn child. Angie and Kim Roe gave birth to a baby girl in February; she was conceived via donated sperm. Under Utah laws governing "assisted reproduction," only husbands of wives are automatically recognized in the child's birth certificate. The couple wants the state to do the same for them instead of having to go through state courts to obtain a second-parent adoption, which would allow for both the parents to be on the birth certificate.
"A same-sex spouse and a different-sex spouse whose wife conceives through donor insemination are similarly situated in all relevant aspects," the ACLU argues in court papers. "The purpose of the statutes is to immediately establish parentage for a spouse who has consented to bringing a child into the world, whether or not that spouse shares a genetic relationship with the child."
+ Here's Audrey with a news brief about Obama's executive order protecting LGBT workers:
Last week, an executive order went into effect prohibiting employment discrimination based on sexual orientation and gender identity by the federal government as well as by organizations and companies with federal contracts.
President Barack Obama signed the order on July 21 and didn't include exemptions for religious employers, despite heavy urging from Evangelical and other leaders.
The administration predicts the order will protect about 1.5 million Americans from discrimination in the workplace, according to an Advocate column by senior adviser Valerie Jerrett.
"The billions of taxpayer dollars that federal contractors and subcontractors receive to supply goods and services for government agencies will not be used to discriminate against people on the basis of sexual orientation or gender identity," Jerrett said. "This will effectively prevent any company that does business with the government from firing an employee based on who they are or who they love."