Much to the surprise of, I guess, John McCain, the wildly expensive Pentagon-commissioned Survey of the Troops has revealed that the average foot soldier spent $400 dollars a year on home electronics and an average of nearly $1,000 on domestic leisure travel. WAIT WRONG SURVEY.
IT'S THE DON'T ASK DON'T TELL SURVEY!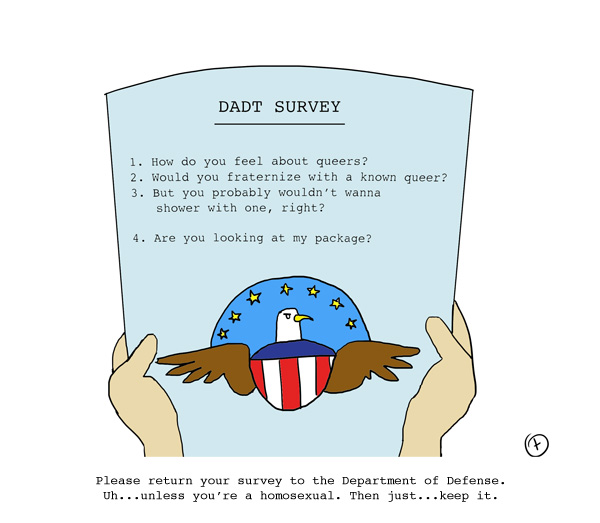 Yes! Our much-anticipated very very important Survey of the Troops. About 115,000 of the 400,000 active duty/reserve troops who received the survey responded to it, along with 42,000 military spouses.
+
Some Important Statistics
+ 70 percent of service members believe a DADT repeal would have little or no effect on their units.
+ 69 percent of those responding reported that they had served with someone in their unit who they believed to be gay or lesbian. Of those who did, 92 percent stated that their unit's ability to work together was very good, good, or neither good nor poor, according to the sources.
+ 89 percent of Army combat units and 84 percent of Marine combat units saying they had good or neutral experiences working with gays and lesbians.
+ 30 percent of those surveyed overall — and between 40 and 60 percent of the Marine Corps — either expressed concern or predicted a negative reaction if Congress were to repeal DADT (roughly the same as it is in America as a whole, according to recent findings from CNN/Opinion Research Corp. and the Pew Forum).
+
Some Important Sections of the 267-page report
The people afraid of the homogays are just misinformed! :
In the course of our assessment, it became apparent to us that, aside from the moral and religious objections to homosexuality, much of the concern about "openwp_postsservice is driven by misperceptions and stereotypes about what it would mean if gay Service members were allowed to be "openwp_postsabout their sexual orientation. Repeatedly, we heard Service members express the view that "openwp_postshomosexuality would lead to widespread and overt displays of effeminacy among men, homosexual promiscuity, harassment and unwelcome advances within units, invasions of personal privacy, and an overall erosion of standards of conduct, unit cohesion, and morality. Based on our review, however, we conclude that these concerns about gay and lesbian Service members who are permitted to be "openwp_postsabout their sexual orientation are exaggerated, and not consistent with the reported experiences of many Service members.
Another section addressed the fact that most of the troops probably wouldn't come out anyhow — only 15% of the gay servicemembers surveyed would want everyone in their unit to know their sexual orientation:
In today's civilian society, where there is no law that requires gay men and lesbians to conceal their sexual orientation in order to keep their job, most gay men and lesbians still tend to be discrete about their personal lives, and guarded about the people with whom they share information about their sexual orientation. We believe that, in the military environment, this would be true even more so.
Oh and they're being dumb about that bathroom-sharing thing too — firstly, they recommend against requiring separate bathroom and shower facilities for gay men and lesbians:
Most concerns we heard about showers and bathrooms were based on stereotype— that gay men and lesbians will behave as predators in these situations, or that permitting homosexual and heterosexual people of the same sex to shower together is tantamount to allowing men and women to shower together. However, common sense tells us that a situation in which people of different anatomy shower together is different from a situation in which people of the same anatomy but different sexual orientations shower together. The former is uncommon and unacceptable to almost everyone in this country; the latter is a situation most in the military have already experienced.
Furthermore:
The creation of a third and possibly fourth category of bathroom facilities and living quarters, whether at bases or forward deployed areas, would be a logistical nightmare, expensive, and impossible to administer. And, even if it could be achieved and administered, separate facilities would, in our view, stigmatize gay and lesbian Service members in a manner reminiscent of "separate but equalwp_postsfacilities for blacks prior to the 1960s.
asdSd+
What Happens Next?
The Department of Defense reports that "[Mullen] recommended repeal of the law during testimony before Congress in February, and he called for research into how best to do this. "For the first time, the [service] chiefs and I have more than just anecdotal evidence and hearsay to inform the advice we give our civilian leader."
From The Washington Post:
"The risk of repeal of Don't Ask, Don't Tell to overall military effectiveness is low," said the report's co-authors, Defense Department General Counsel Jeh C. Johnson and Army Gen. Carter F. Ham. While ending the ban would likely bring about "limited and isolated disruption" to unit cohesion and retention, "we do not believe this disruption will be widespread or long-lasting," they said.
Defense Secretary Robert M. Gates, who requested the report, echoed their sentiments: "This can be done, and should be done, without posing a serious risk to military readiness."
"Now that we have completed this review, I strongly urge the Senate to pass this legislation and send it to the president for signature before the end of this year," Gates said. "I believe this is a matter of some urgency because, as we have seen this past year, the federal courts are increasingly becoming involved in this issue."
+
John McCain Wanted Answers, John McCain Got Answers, Unfortunately John McCain CAN'T HANDLE THE TRUTH!
John McCain, however, is sticking to his guns. From independent research I've gathered that John McCain's "guns" are the Remington New Army Revolvers he used in the Russo-Turkish War of 1686.
On CNN's State of the Union on Sunday, John McCain made this sort of irrelevant, distracting, Derailing-for-Dummies style comment:
"The system is working. The military is at its highest point in recruitment, in retention, in professionalism, in capability. So to somehow allege that this policy has been damaging the military is simply false."
John McCain is now claiming that the Survey currently being discussed is "the wrong survey." Asked about this in  Defense Secretary Robert Gates and Joint Chief of Staff Mike Mullen's press conference today, he said he respected and admired John McCain but "in respect to this, he's wrong."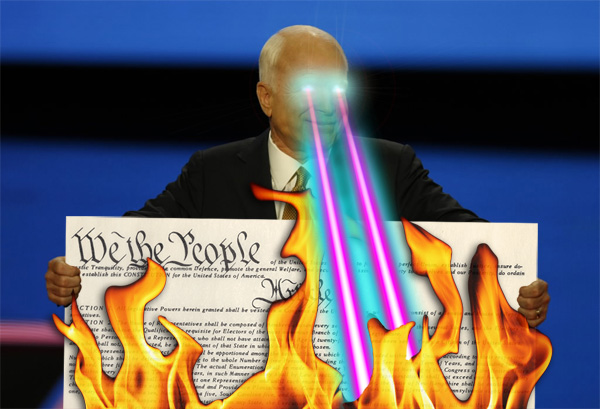 +
Also, Lady Gaga
In closing, we'd like to gift you with this lovely video from Lady Gaga. She made it for you yesterday. That's right, just for you! Lady Gaga says, "We have to end this law because it re-enforces discrimination and it's setting a bad example."