Welcome to Crystal's Track Stop, where every week (or so) I bring you a selection of the raddest tracks from my record collection and also from the internet.
Header by Rory Midhani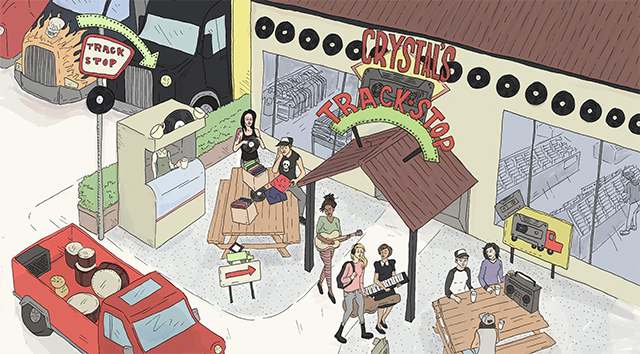 ---
"Polly Got Away" – Clinical Trials
Clinical Trials – the electro-grunge band featuring The Real L Word shining star and A-Camp Intern 2013, Somer Bingham and tower of drumming power, Stacey Lee – has released a new music video! It's for the bangin' single "Polly Got Away," which you'll particularly dig if you like your music hard and fast and with a huge smacking of badassery.
Somer was telling me about how the video came to be; basically one of the field producers from The Real L Word is a rad chick who likes CT's music and so she recruited her camera-person slash husband Pete to film and this friend of hers to write, direct and edit it so that lightning comes out of the model's eyes. And that's the exclusive scoop on how magic happens.
"Magpie Ladies" – Sparrowhawks

Last week the Welsh alt-folk-pop band Sparrowhawks, who we adore and write about often, released a music video for one my favourite songs of theirs, "Magpie Ladies." In said video, singer/guitarist Sophie Ballamy wears an Autostraddle 'You Do You' t-shirt. How great is that. We didn't even have to pay for it.
This particular track features on the stellar Sparrowhawks EP, which you can download for free on BandCamp.
"Heart Machine" – Lila Rose
To continue this stream of rockin' music vids by talented queers, here's a superbly crafted video for "Heart Machine," a song by Canadian born, San Francisco based musician and Almost Famous superstar, Lila Rose. The track comes from a killer 2012 indie/rock/electro record of the same name which's packed with hooky jams and has an overall sound once aptly described as "Florence + The Machine meets Radiohead."
https://www.youtube.com/watch?v=jlgF7mM1htk
"The Way We Are" – Kate Boy
Electro-pop act Kate Boy have been around for a while now and I've been missing out. Maybe you have too? Carly, who knows allll the great music, described them to me as "Aussie lady vocalist, Swedish boys making beats. Gorgeous videos. Very andro vibe" and there wasn't much to not love about that. Check out the latest single, "The Way We Are."
"Northern Lights" is also highly enjoyable.
https://www.youtube.com/watch?v=raqxctNC04k 
---
Want to tell me about a great track you've heard? Shoot me the link via @trackstop or crystal at autostraddle dot com (please write "track stop" in the subject line).