It recently came to my attention, while trawling youtube for Det. Kate Beckett fan montages during my lunch hour, that I am addicted to any television show, movie franchise or book series that features a gun-toting badge flashing power suit-wearing female crime-fighter who hunts down baddies for a living.
Fictional female crime-fighters have become an obsession of sorts, and here are some of my favorites. I'm gonna go ahead and anticipate your protests by noting that this is a celebration of women who kick human being ass, not supernatural or extra-terrestrial ass. All you Scully and Starbuck fans should check out The 11 Hottest, Most Gun-Totingest Women of Sci-Fi or, you know, 39 pictures of Starbuck.
+
Top 10 Fictional Female Crime-Fighters
+
10. Detective Jane Rizzoli & Inspector Lindsay Boxer
Played by Angie Harmon in the TV series Rizzoli & Isles and The Women's Murder Club.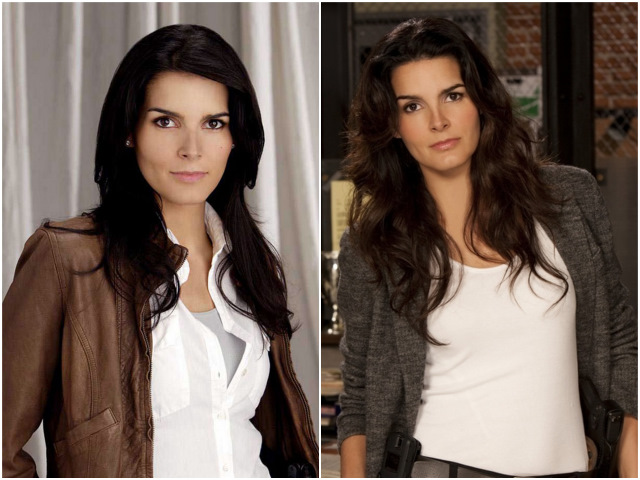 Rizzoli's talents include looking fine in tailored suits and leaping fearlessly in front of bullets to save her very special friend, Dr. Maura Isles. She enjoys sensible footwear, field hockey and putting her job before relationships with men. I'm pretty sure Rizzoli & Isles' lesbian fan-base is the only reason this show is still on the air.
Inspector Lindsay Boxer from The Women's Murder Club, is pretty much the same character but with different baggage and slightly better detective skills. She remained relatively kick-ass despite the fact that her show was THE WORST and didn't live up to the novel series by James Patterson (and that bar wasn't set overly high).
+
9. DS Sam Murray
Played by Heather Peace in the TV series Lip Service.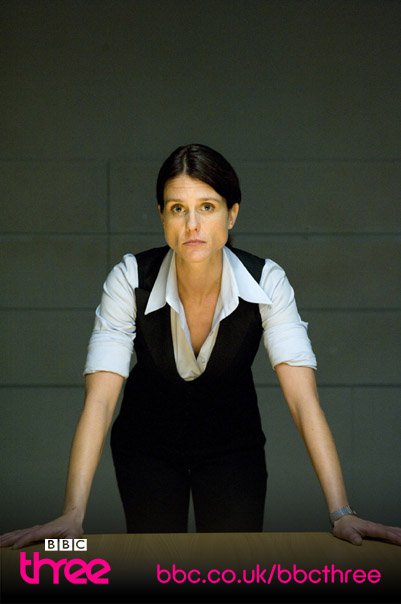 DS Murray, one of the butchiest butches in Glasgow, didn't exactly fight any crime during Season 1 of Lip Service. However, she does look smokin' hot in a vest and so that's really the reason she's made it onto this list – detective vest hotness.
+
8. Agent Ziva David
Played by Coté de Pablo in the TV series NCIS.
Ex-Mossad operative Ziva David can kill someone 18 different ways with a paperclip, which is impressive and also possibly the one thing that Olivia Benson cannot do.
+
7. Officer Amelia Sachs/Donaghy
From the Jeffery Deaver novel The Bone Collector. Also played by Angelina Jolie in the film.
Patrol officer Amelia Sachs was my first full-blown police woman crush. I fell in love with her first when she was words on a page and then again when Angelina Jolie gave her a face for the screen. This is where I should probably write something about Sachs' dedication to hunting down the Bone Collector but honestly all I can think about right now is how hot Angelina Jolie looks in uniform.
+
6. PI Kinsey Millhone
From Sue Grafton's Alphabet mystery series.
Of the female gumshoes that became popular in the 80s, Kinsey Millhone is by far one of the toughest. Kinsey went from pot-smoking delinquent to police force drop-out to private investigator who solves crimes and always seems to be on the run from the mob.
Kinsey's a two time divorcee who wears jeans and turtlenecks exclusively, cuts her own hair with toe-nail scissors and is a little in love with her 81 year-old landlord, Henry. What's not to like.
+
5. Kalinda Sharma
Played by Archie Panjabi in the TV series The Good Wife.
Kalinda doesn't carry a weapon or a badge, nor does she necessarily always work for 'the good guys.' However, every now and then her top notch investigative skills keep innocent people from going to jail which is admirable if you forget about the criminals she helps let off the hook.
Things Kalinda enjoys include wearing leather, kissing girls, kicking ass, taking names. What I'm saying is that she's my 'type'.
+
4. Lieutenant Eve Dallas
From author J.D. Robb's In Death series.
Dallas is a supreme badass homicide detective who cleans up the streets of New York City in the future, the year 2060. She's a fighter who grew up on the mean streets and if you touch her candy stash or fuck with her friends she will cut you.
The great thing about Dallas is that her creator, J.D. Robb, churns out approx. 500 books per year and so you never have to wait too long for her to come back into your life.
+
3. Lisbeth Salander
Played by Noomi Rapace in the Swedish Millennium film series.
If I could be a panther I'd want to be Lisbeth Salander, all dark and sleek and deadly. I didn't know it was possible for me to feel intimidated by a fictional character until I saw Noomi Rapace's portrayal of Lisbeth in the Swedish Millennium movies. I was in awe.
+
2. Detective Kate Beckett
Played by Stana Katic in the TV series Castle.
Det. Kate Beckett solves crimes in New York City with the help of Richard Castle, a famous fictional crime novelist who is inspired by Beckett's many talents, which include (but are not limited to) the ability to chase down bad guys and evade vicious tigers while wearing highly impractical footwear. Beckett is not only all about The Job, she's also on a personal quest to solve her mother's murder and it comes at the price of her personal life.
I've got it bad for Beckett. I enthusiastically ship her budding heteromance with Castle nonetheless because if we can't be together, I want her to find someone who can make her happy. That's how serious it is.
+
1. Detective Olivia Benson
Played by Mariska Hargitay in the TV series Law & Order: SVU.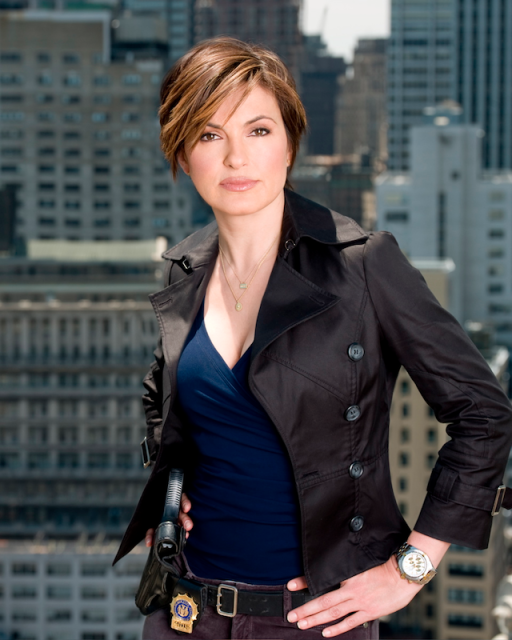 Every person I consulted with during the compilation of this Top 10 list asked, "Benson is gonna be #1, right?" as if there was ever a question. There is no question, not ever. Benson is #1 in my heart, in your hearts and in fictional law enforcement. Remember that time Benson was nearly raped in prison by a corrections officer and then she fought him off and asked "who's the bitch now?" Yeah. Everyone else can take a seat.
(Although an honorable mention goes to Lt. Van Buren, who kicked ass in more episodes of Law & Order than a person can watch in one lifetime.)
So readers, who is your favorite fictional lady crime-fighter? Who did I miss? Maybe you should think on it while watching this video.