For years Disney has been trying to play both sides of the gay rep game, releasing rainbow Pride pins in the shape of Donald Duck while refusing to allow any substantial LGBTQ+ content in any of their films across any of their properties: regular old Disney, Pixar, Marvel, etc. They've cut already filmed queer storylines from Black Panther, hidden behind the showrunners like The Owl House's Dana Terrace who've been relentless in their fight to keep their animated TV characters queer, teased audiences with throwaway dialogue about characters' queer sexuality, and relied on actors and directors to say things like "Oh I played that character bisexually!" after yet another movie has been released with no gay content. But refusing to take a stand against Florida's Don't Say Gay Bill, while also continuing to donate big money to Republican politicians, was the final straw for most fans and employees, and Disney has been backpedaling and free-falling ever since.
So far there has been one good thing to come out of this mess: Pixar previously cut a scene from the Toy Story prequel, Lightyear, in which a lesbian astronaut named Hawthorne, played by Uzo Aduba, kisses her wife. And now it's not only back in the movie, according to the film's director, but also Pixar screened the first half-hour of Lightyear for critics yesterday at CinemaCon and they have confirmed with their own eyeballs that it is a real thing and Disney's not pulling another stunt.
From The Hollywood Reporter: The movie opens with Buzz — in his iconic spacesuit — along with his best friend and the commander of the mission, Alicia Hawthorne, played by Uzo Aduba, leading the investigation of a distant planet with a sign of life. But the mission goes wrong and they are stranded. With an escape plan in the works, Buzz launches in a Space Shuttle-like craft and inadvertently time travels — multiple times — seeing Alicia engaged then starting a family with another woman on their mission.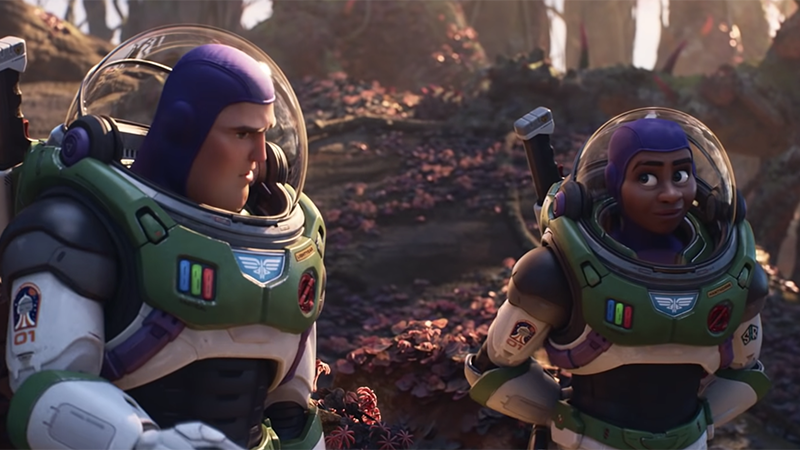 From Indiewire: [We] can confirm that Buzz's commanding officer Hawthorne proposes to her same-sex partner and the couple welcomes a son together. The two characters share a kiss at their 40th anniversary party, as time doesn't pass for Buzz Lightyear while he is away in space.
Unfortunately in all the confirmation posts I read this morning, no one had the nerve to make a Time Hump Chronicles joke, one of Uzo Aduba's lasting televisual legacies! Fingers crossed Disney doesn't punk out at the last minute. It already looks like they've straightwashed America Chavez and simply made her moms gay, which will be revealed in a 12-second scene of dialogue only. Mickey Mouse has got further to go than Fievel ever did.