2021 will hold a significant anniversary for some music fans — it will be the 21st anniversary of Craig David's 2000 album Born To Do It, which officially makes the album grown. The album featured hits such as "Fill Me In", and of course, the hit single "7 Days". On a recent listen to the song, I thought to myself and tweeted that it pretty perfectly described the lesbian dating process.
I was only eight years old when the album was released, but those songs were on heavy rotation in my household from watching them get spun on MTV. "7 Days" is a Spanish guitar-heavy bop that chronicles a meeting between a man and a woman on a normal Monday. The chorus is particularly addicting and impossible not to sing along to.
How can a MAN describe the lesbian dating process you might ask? Well, let me make my case by examining the lyrics…
---
Queers always tend to live in close proximity to one another, so it makes sense that the friends are only a couple of blocks away. What gets me here is the attention to detail. It was a quarter past three, the subway smelled wet and the sun hung low in the sky. In the lesbian dating process, we always remember very minuscule details about the exact moment we met a beautiful honey with a beautiful body. I remember the very specific conditions leading up to almost every hookup, so I feel seen in this moment in the song.
Next, we have an exchange between the listener and David himself:
I'm just imagining a beautiful Black blushing femme being hit on by another very forward, very confident woman and it's making ME blush. Cinnamon queen? Yes, we love to see it! As a Black woman that primarily hits on other Black women I totally see myself here, and not to brag on my flirting skills but I'm very talented in that arena when the attraction is strong. This moment is very reminiscent of the recounting with your girls when you met a fine femme at Trader Joe's, or in line at your local coffee spot and then are bombarded with shouts and questions.
Now, the chorus is the central point to my thesis, it's just rich: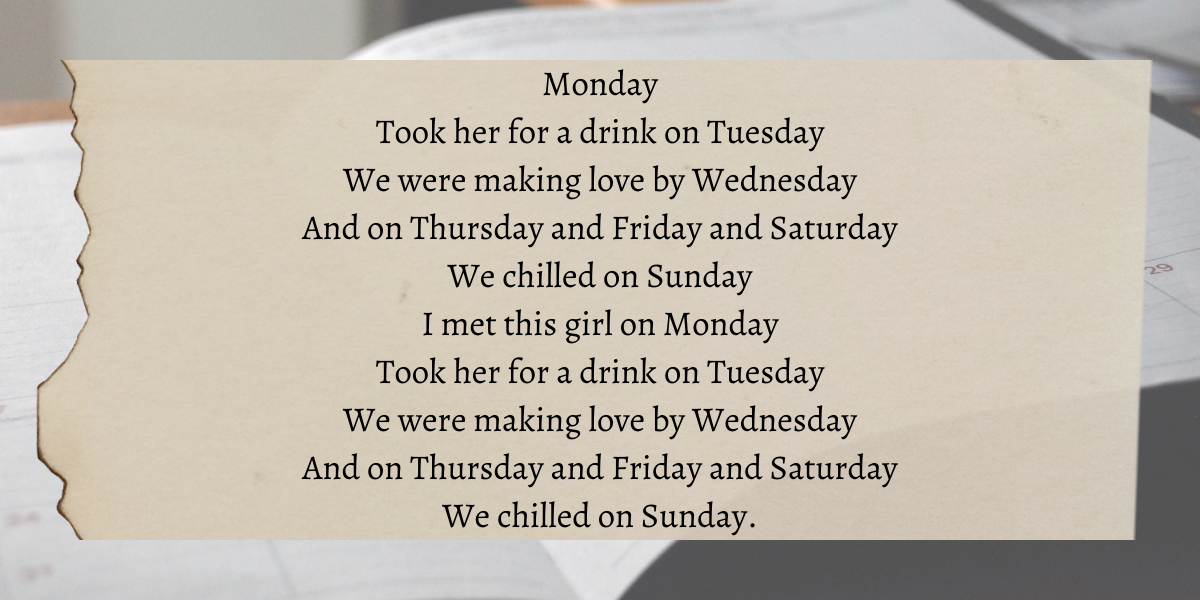 Let's break this down when it comes to lesbian dating —
1. We meet on Monday, grab the digits, schedule a date for the next day. Because who can wait a whole week to see a beautiful woman again.
2. Took her for a drink on Tuesday: in my personal reality that no longer includes drinking, this would be the date where sex happens. I know, I'm a slut. Not every date though, some women like to take it slow and I respect it. Let's say on this date after the drinking, this is where a kiss happens at the least. You end up talking all night and it's suddenly very late. She asks if she can crash with you for the night and so you excitedly share your bed with her and fall asleep facing each other like two lil' sweeties.
3. We were making love by Wednesday: Okay so now sex is happening, maybe y'all both woke up at midnight so it is now technically the next day and you start kissing and things heat up and shirts come off and nipples get touched. You're also heading into day two together, which is pretty typical for a lesbian affair. Unless someone's gotta work tomorrow or the chemistry isn't right, the two of you will be spending lots of time together over the next couple of days.
4. And on Thursday and Friday and Saturday: I'm laughing because having a sex marathon is just so dykey. Like, y'all spent over an hour just pleasing each other — but that's not enough. You must continue for three days straight and maybe never see the light of day until you pop out of the bedroom to grab the takeout you ordered.
5. We chilled on Sunday: Of course, the Lord's day, a day of rest. Maybe y'all just went to a farmer's market, had brunch together, or went to the bookstore to pick up some erotic reading for the next time you see each other. Sunday is the day you will part because you can't live in lesbian sex bliss forever. In typical lesbian dating fashion, you'll be sending her a text about how you miss her lips in no time.
The chorus repeats twice so you can really get an air for just how gay it is. Really gotta hammer it home. I'm gonna skip around a bit and land on the really gay part of the song: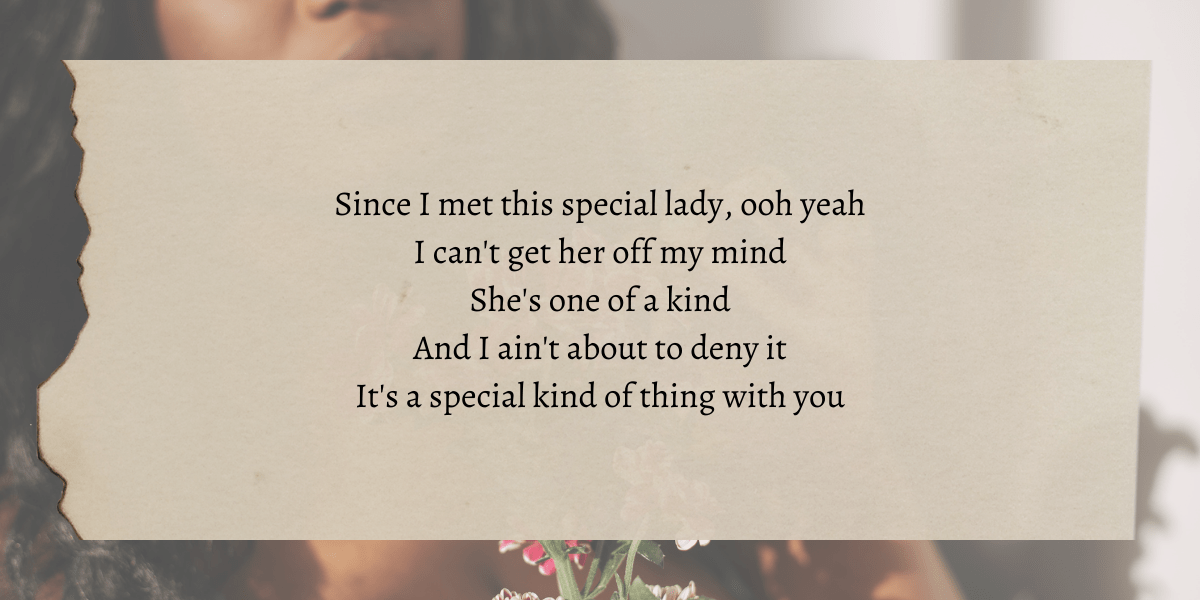 I have fallen for someone approximately three times over the past four months and each time I keep telling my friends, "she/they might be it!" and they never are. I get so excited and invested only for the fizzling out to come within a matter of weeks. I say this to say, it's a lesbian dating trait to be like "this one is special guys I swear" — for that to then go absolutely nowhere. I laugh to keep from crying. Just kidding I can't cry on my meds!
I think for women that date other women, the stakes are so high because it's rare to find another woman that dates women that isn't off-limits for a number of reasons — ex of a friend, ex of an ex, a friend you hooked up with that was ill-advised — etc. When you do find someone that you have some chemistry with, it feels especially poignant and revelatory. This isn't to say that lesbians can't have casual sexual relationships, it totally happens and people can do it without developing feelings for one another. But boy do we love a love affair that is both sexually and emotionally intense!
---
I've listened to this song so many times now that I sing it in my head when I fall asleep. It ends with the chorus repeating until the guitar fades out. I'm sure Mr. David didn't set out to write a Black lesbian dating anthem but this is where we are — where I am — in regard to this timeless banger. I can't wait for my next 5-day date that ends with passionate kissing on my porch only for us to immediately get on the phone and start texting about how much we miss each other already.