dapperQ is baaaaack with our 16th edition of He Said/We Said (HS/WS), featuring masculine gender bending style that will stop you dead in your tracks. Only a set reminiscent of a Dexter crime scene would suffice in capturing the killer outfits we have for you this quarter.
For a quick refresher on the HS/WS series, check out creatress mastermind Anita Dolce Vita's plan behind the HS/WS magic:
"The models fashion their very own looks – I give the inspiration, they give the interpretation. They come to the shoot camera ready: hair, make-up, their own clothes, accessories and props. I didn't want the series to reflect how to recreate menswear from an individual stylist's point of view. It's always a wonderful surprise to see what each model came up with and all of the different translations of the same inspiration."
Photographer Allison Specketer, along with Anita Dolce Vita, selected the Peter Jensen 2014 resort menswear line as inspiration. Here's what Specketer had to say about the inspiration and overall experience:
"I'm incredibly grateful for the opportunity to have taken these images for the He Said/We Said series. I enjoyed meeting and working with so many gracious and wonderful people. It's truly inspiring to be around so much creativity and positivity.

Peter Jensen's Spring 2014 collection really caught my attention as I was trying to decide which collection to use as inspiration for the shoot. His pairing of bright yellows and reds with neutral tones and intricate patterns on classic men's fits really struck me. To coordinate well with the models' choices in outfits, I wanted to create an atmosphere that was extremely bright, minimal, and generally uniform with small pops of color. Jeremy, our set designer, did an amazing job utilizing existing props and inexpensive materials for the set."
Inspiration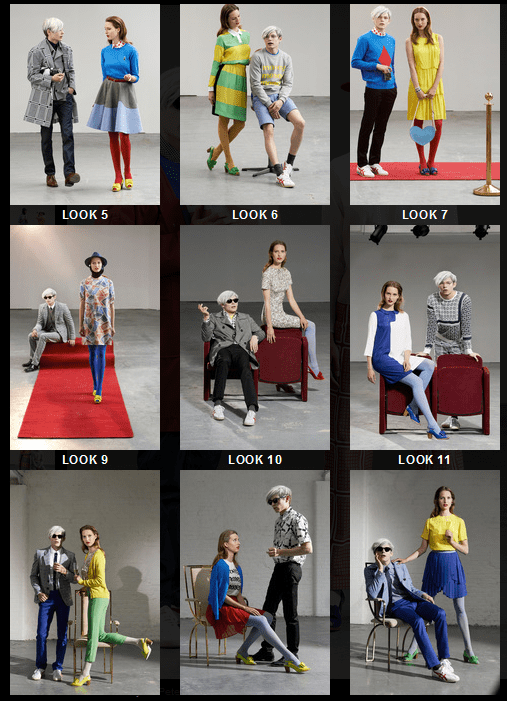 Interpretations
---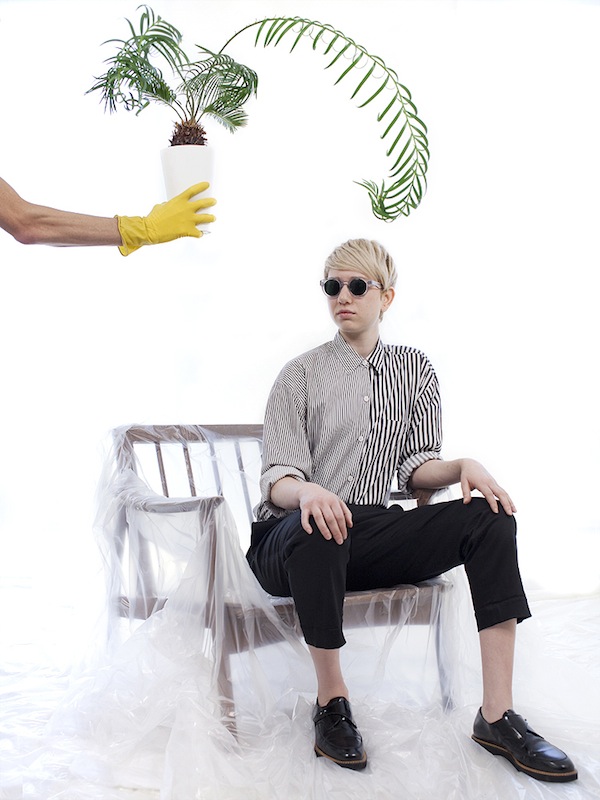 Hannah Peyser
Age: 25
Preferred Gender Pronoun: She/her
Occupation: Graphic designer for a multi-label fashion showroom, The News; Production assistant for their in-house vintage and menswear inspired brand called 6397
Outfit: Sunglasses, Moscot. Shirt, thrifted. Pants, 6397. Shoes, Woman by Common Projects.
Outfit sobriquet: Beetlejuice Warhol
Song that best describes your look:
"The Only Place" by Best Coast. I'm married to New York but feeling a sunny LA vibe in this look.
Whose wardrobe would you raid?
Tilda Swinton. She has impeccable style.
What accessory/article of clothing can you not live without? Why?
A good leather jacket because it's classic and you can put it over anything. And some form of gold chain necklace.
What were your favorite moments from the shoot?
I think the playful and avant-garde vibe of the set lent itself to funny moments and an overall fun shoot. It was hilarious seeing Maria getting strung to the walls to get a great action shot. Mid shoot we took a snack break and Jeremy, our set designer, came back from the deli with a loaf of bread. I went to open it to make a PB&J but was stopped with, "No, that's a prop!"
---
Storm Thomas
Age: 24
Occupation: Performance Poet, MFA Candidate Sarah Lawrence College
Outfit: Blazer, H&M Premium Collection. Shirt, H&M Premium Collection. Pants, Express. Bow tie, Nordstom.
Song that best describes your look:
Ghost" by Beyonce- BEYONCE
Whose wardrobe (celebrity or otherwise!) would you raid?
I would raid the closet of both Bradley Cooper and Kerry Washington. Put those two styles together and you could make a real impression.
What accessory/article of clothing can you not live without? Why?
I absolutely cannot live without a clean white collared shirt. It goes with everything and always stands out!
What did it mean for you on a personal level to be involved in a project like He Said/We Said?
To be involved in this project was important to me because we represent women who don't conform to how society has tried to hold us all to be 'feminine.' We've stepped out of that and created our own path and this project shows it with style.
---
Maria or M
Age: 31
Preferred Gender Pronoun: I don't really have one, but I do find it nice to hear the other pronouns besides the usual she/her.
Occupation: After years of working in the legal field, I am exploring my creative side and working on a collaboration on my best friend's blog, GlamYork, where I will be covering masculine style. I am also considering pursuing a master's in sports psychology to compliment my study of martial arts.
Outfit: Blazer, Kenneth Cole. Shirt, Macy's. Tie & Pocket Square, Jackthreads.com. Tie bar, street vendor from Houston. Watch, Invicta. Pants, J. Crew. Belt, borrowed from friend. Shoes, Ryz.
Outfit sobriquet: Blue Steel
Whose wardrobe would you raid?
Joseph Gordon-Levitt. He always looks perfectly dapper in a vest and tie, or also very put together in just a t-shirt and jeans: an almost effortless style that is versatile for a day in the park or a night on the town.
What accessory/article of clothing can you not live without? Why?
I do love my bowties, especially the self-tying ones. I'm proud of how well I can tie them and love all the compliments I receive.
What did it mean for you on a personal level to be involved in a project like He Said/We Said?
I've never really been crazy about being in front of the camera. Participating in this project was a big step out of my comfort zone, but one that I am incredibly glad to have taken. I have come away from it empowered by the realization of how far I have come in my journey towards self-acceptance. Only over the last couple of years has my personal style really come together and developed into a much more confident (and dapper) me. Before I discovered how to best express myself, I would see all these stylish queers and feel as if I had no way to reach out to them. That is, until dapperQ, which I stumbled upon while searching for a community that embraced the more masculine style to which I aspired. I'm so happy and proud to contribute to He Said/We Said, and to take part in a much needed forum for all queers looking to get more in touch with their masculine side and become comfortable in their own skin.
---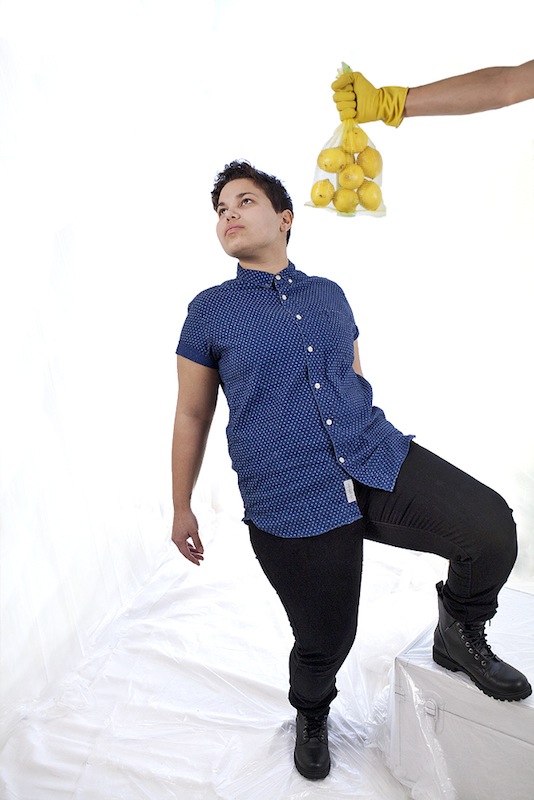 Rosaly Ruiz/ Ro Valmont
Age: 24
Occupation: Health Information Management Technician
Preferred Gender Pronoun: Grown ass woman [laughs]
Outfit: Crew Sweatshirt, H&M. Button down, H&M. Jeans, H&M. Boots, H&M. Watch, Style & Co.
Outfit sobriquet:  After Work Dapper
Song that best describes your look:
"Backseat Freestyle" by Kendrick Lamar
What accessory/article of clothing can you not live without? Why?
My gold chain. It's thin with a small crucifix on it that looks like the Claddagh symbol.
What did it mean for you on a personal level to be involved in a project like He Said/We Said?
I was truly grateful. We were given the opportunity to represent what's currently happening in fashion today — a fashion revolution. I am a part of this revolution and for that I'm proud.
---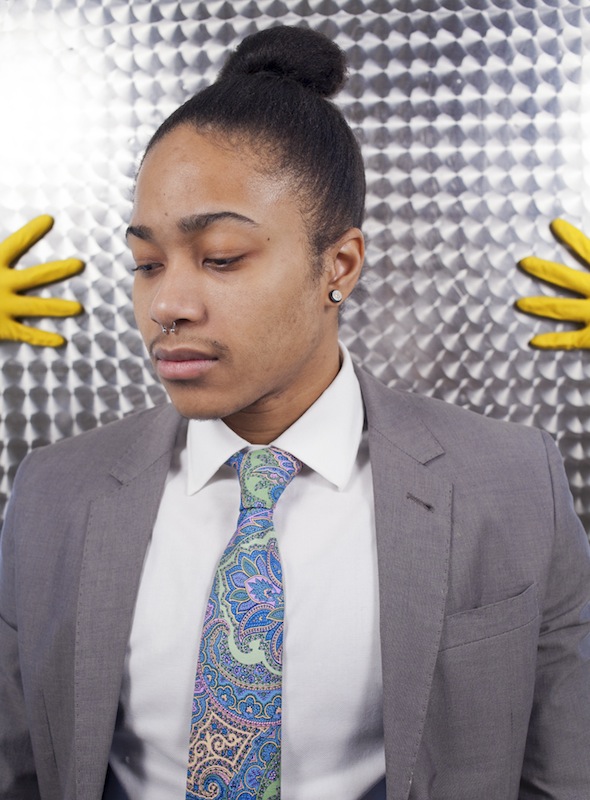 Devin-Norelle
Preferred Gender Pronoun: I identify as male but prefer the gender neutral pronouns Ze/zim/zir.
Occupation: Fashion Enthusiast; Blogger
Outfit: Blazer, H&M. Dress Shirt, Banana Republic, Pants. Macy's. Shoes, Giorgio Brutini.
Outfit sobriquet: Waves of Neptune
Song that best describes your look:
"Summer Madness" by Kool & The Gang
Whose wardrobe would you raid?
I've coveted Brad Goreski's wardrobe for quite some time. I stumbled upon him while perusing Pinterest. Our styles are almost identical. He isn't averse to wearing a mix of bright colors or loud patterns.
What accessory/article of clothing can you not live without? Why?
I love blazers, dress shirts, shoes, and ties, but I couldn't live without a watch. Watches serve a dual purpose. Watches compliment and spruce up any outfit, but they also tell the time. Time mesmerizes me because of its ability to govern the universe, yet remain beyond human control or manipulation. I am a huge day dreamer. I sometimes like to convince myself that watches are embedded with the faculties to control the time and by wearing one, I am in control of my own destiny.
What did it mean for you on a personal level to be involved in a project like He Said/We Said?
I'm very grateful to have been involved in this project. I've pored over previous He Said/ We Said publications and have admired the styles of the models in these shoots. The project challenged me to explore other creative outlets that enlivened and better projected my style. While the inspiration for the shoot seemed simple, I had to think outside of the box to harmoniously fuse my style to the inspiration. Additionally, I met some pretty rad people because of this project.
---
Credits:
Allison Specketer, Photographer
Jonathan Paul Hamilt, Wardrobe Styling
Jeremy Correnti Wood, Set Designer