Remember DeAnne Smith's totally cool podcast Questionable At Best? I know you do, because I know it fills you with the fuzzies – especially this week, when DeAnne asked Autostraddle's own Brittani Nichols to answer the question we've all had on our minds: what the fuck is it like to be you. You guys, this podcast gets REAL. Like, really really really REAL.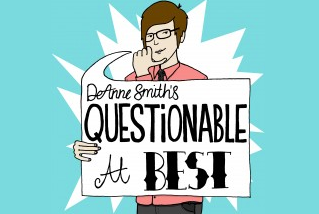 DeAnne's choice of Brittani Nichols is a sure sign of genius, considering Brittani is the single-handedly most amazing person on Earth. I mean, Brittani, a self-described "no one," is quite possibly the most perfect human on Earth. I like, sit around wishing I was Brittani Nichols. So really, this whole situation is what we all need to feel complete. Especially me.
Brittani went on for a long time about herself on DeAnne's magical mystery tour of a podcast, with topics including her tweeting-while-crying habit, improv and experiencing yourself (in a platonic way), how to inspire fear in white people, anxiety and failure, and her radiant smile. It's absolutely amazing, because you can never know Brittani Nichols well enough. (She seems to think she talks about herself a lot in life, though, which is weird because I feel like when I visited her in Los Angeles I sat around wishing I knew her entire life but all I could really absorb in the middle of how starstruck I was was that she needed a new quesadilla maker.)
The point here is that everything is hilarious – like B herself, have I ever told you B really is hilarious? – and deeply moving in this week's Questionable At Best. And you should, like, totally get into it.