Hello and welcome to another edition of Autostraddle's College Lesbianage: a glimpse of college life through the wide eyes of six freshly fallen snowflake first-year queers. This month's update finds our Lesbianagelings settling into their respective establishments of higher learning, where cute girls mill around campuses being cute and rugby teams practically fall into people's laps. Also, it becomes increasingly clear that writing for Autostraddle while attending a university is basically a one-way ticket to Getting Luckyville. Glad we could help, girls.
---
Sunny
Ithaca College
Where do I begin? I've lost track of time and things are progressively getting gayer every day. From the incredibly cool girl in my photography class to the cute librarian who helped me find "Chekhov: The Four Major Plays," I've been bumping into a whole lotta gay. As one of my friends here told me, "you can assume someone is gay until they correct you otherwise."
Perhaps it's the fact that I've been getting my foot in the door to a lot of LGBT-related activities. The LGBT Education, Outreach and Services here is prolific with events, including one I attended called Chocolate in the Chapel. It was literally a chocolate buffet in the school's chapel.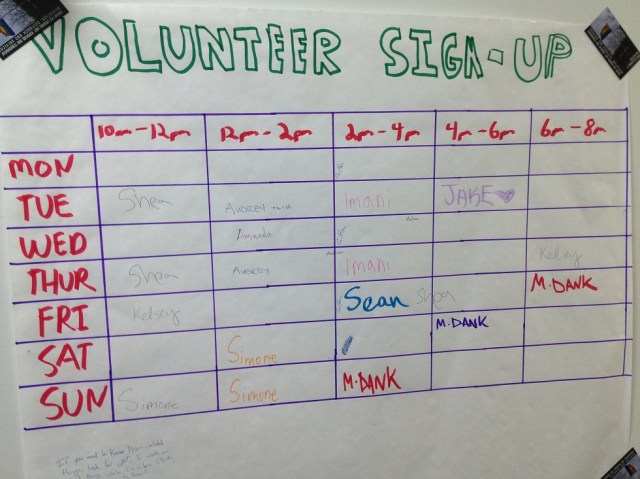 Last week, I was on the school's new online radio show called Lesbihonest; it consists of two hosts talking about lesbian, identity and sexual issues in general. I went and talked about my coming out story and I felt a ridiculous happy-high realizing how open and accepting everything here is. I was in a room with the hosts who were squealing about me telling an audience how my best friend and I came out to each other over ice-cream. It was — simply put — heartwarming.
In other news, I got my head properly shaved for the first time ever. I didn't shave my whole head, just the sides and back; the closest thing I can name it as is a "half-shaved pompadour." Here's a before (me and the sophomore who shaved my hair in the girls' bathroom) and after shot:
After the cut, I had to run to my first fashion club meeting. It isn't a big deal to anyone else, but I'm head-over-heels merry to be an out lesbian on the writing and photography team for the club, seeing as people tend to identify fashion with fierce, straight women and fabulous gay men. I had to go through an interview where the club executives sat across from me at one end of an oval table, drilling me with questions like, "What caught your eye in New York's Fashion Week Spring 2013?" I walked in with a black vest, a cream blazer and a grey scarf, feeling happier with how I looked rather than getting anxious about the interview. I think that the confidence I've gathered to be a part of this club shows just how willing I am to be a part of things I've always wanted to try but was too afraid of before. I would not have had the guts to join a fashion club in high school, much less admit that I liked being a tomboy who was interested in fashion.
I have no problem with treating the weekdays like weekends, always finding excuses to procrastinate (and here I am cramming 100 pages worth of reading for my midterm). I've kept my free time busy, doing things like watching a marathon of The L Word, going to my first roller derby game, hanging out with some sweet and goofy queer upperclassmen and eating at the first American diner I've ever been to (not kidding).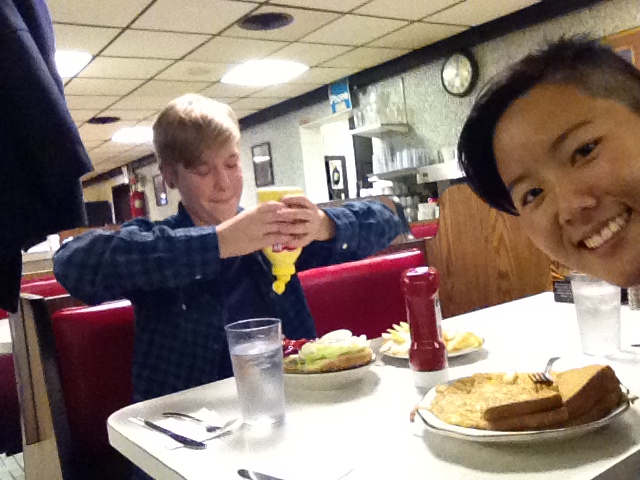 As for the upcoming fall break, I'll be staying in Manhattan at a friend's. She promises to take me to the Big Gay Ice Cream Shop (she sent me this photo) and assures that we will have a great gay time in New York . Cheers.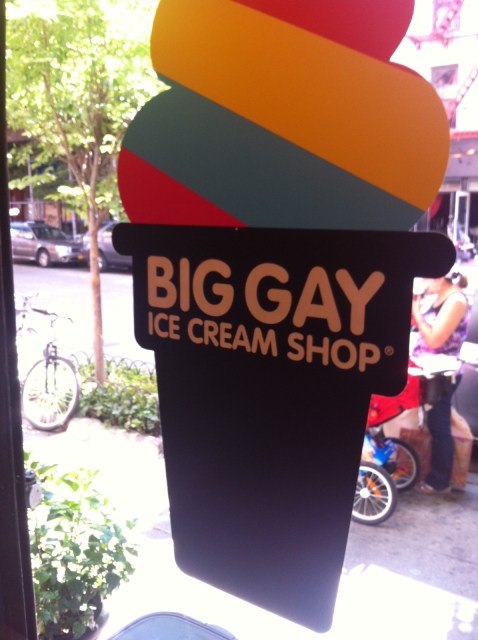 +
+
Lillian
Vassar
I was sitting on the plane when the captain announced the final descent into Los Angeles. This is where I live; I'm home for October break. But that was when it finally hit me: this was the longest time I had been outside of the Vassar bubble in the last month and a half. I never realized how far I had been sucked into it until suddenly I found myself sitting at home on the couch with my family, away from all my new friends and away from Vassar.
The Vassar bubble is a phenomena which I believe happens at all small liberal arts schools. It's a great bubble to be stuck in, don't get me wrong, but when you suddenly have to leave and enter the "real world" it feels somewhat like what I imagine postpartum depression to feel like.
It is bittersweet to say the least, being at my real home. It's nice to see my family and to be back in Santa Monica. I missed waking up to the waves breaking over the ocean. I missed my mother's cooking as well as the abundance of good food LA has—the fancy cheeses and desserts so good you could cry (note: this happened the other day while eating salty caramel butterscotch pudding. I just have a lot of feelings, deal with it). Since I've come back, it's like I'm the only one that's changed. My family still has the same trivial drama; my home friends still talk about the same things we talked about in high school. It's totally expected I guess. I've moved onto a different part of life while everyone back in LA has generally stayed the same.
While coming home may be a bit of a shock, my life in the bubble has been absolutely fantastic. I've been super active with QCVC (Queer Coalition Vassar College) and was made Freshman Representative along with my other friend. The two of us recently led a discussion on queer relationships. It was very interesting to hear what people had to say and weird at the same time especially since it was apparently my one month anniversary with K and she was in the room with me. One month and things are going well. We went to the Autumn Reception together which was held for LGBTQ students and faculty. There were lots of fancy free hors d'oeuvres (win!) and I got to bust out a Bar Mitzvah casual outfit.
Anyway, speaking of relationships, I've somehow managed to create a group of queer ladies, two of which I now fondly call my "Lesbros." It's great; we help each other out with girl trouble and our weekly (or sometimes daily) freak outs about girls or life or whatever. Oh snap, I forgot to mention that I went to this Queer Lady party which was super fun and jeez I've never seen so many likeminded ladies. So as strange as it sounds to me, I'm starting to settle in and become a real Vassar student.
The last few weeks have been great but also filled with many "Ah-oh my god, what is my life?" moments. In my "Civilization in Question" class, we've learned the importance of reading texts objectively and being able to step away from a situation. I'm finding myself more and more able to do this with my own life whenever I'm having one of those moments. I say, "Check yo self before you wreck yo self" and honestly this tacky motto has been helping me a lot. I think about how lucky I am to go Vassar and how I should stop trying to control everything and just let things happen. It's really strange how much I'm learning about myself. I thought when I got here that was one thing I truly knew.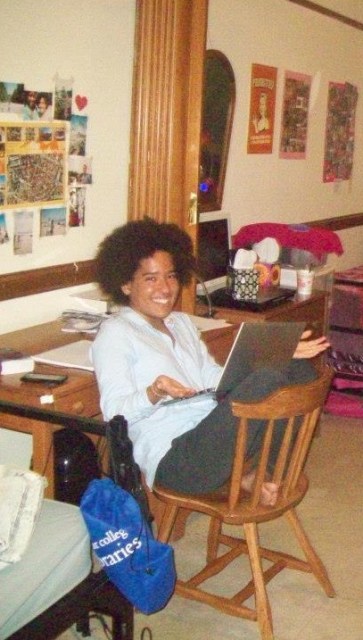 +
Kelsey
Bryn Mawr
As I've been settling into Bryn Mawr, I've finally had time to explore one of the most unique parts of queer life here — Philly's gayborhood. On my first trip there, I went to an 18+ night at a gay club with some queer friends from Bryn Mawr. Unlike parties I attended at nearby colleges, where I was too aware of the heteronormativity to truly enjoy the experience, I was just able to dance with my friends and watch the awesome drag show. I was much less aware of my queer identity at the gay club than at the college parties, probably because it didn't feel abnormal to be queer when I was surrounded by other queer people. That night made me realize, once again, how wonderful and important all-queer spaces are. Being around people with similar experiences and knowing that you won't be judged, even if all you're doing is dancing, is one of the most liberating feelings in the world.
On my second trip to Philly's gayborhood, I went with my friend from rugby on a gayborhood field trip organized by the Rainbow Alliance, Bryn Mawr's queer group. Although we could only stay for a few hours, I got to buy a Virginia Woolf book at Giovanni's Room, eat gay pizza (which, not surprisingly, tastes the same as regular pizza), and see Philly Aids Thrift's humorous attempt to prevent shoplifting. Having such a vibrant off-campus queer community to compliment Bryn Mawr's on-campus one makes me feel like I belong here even more.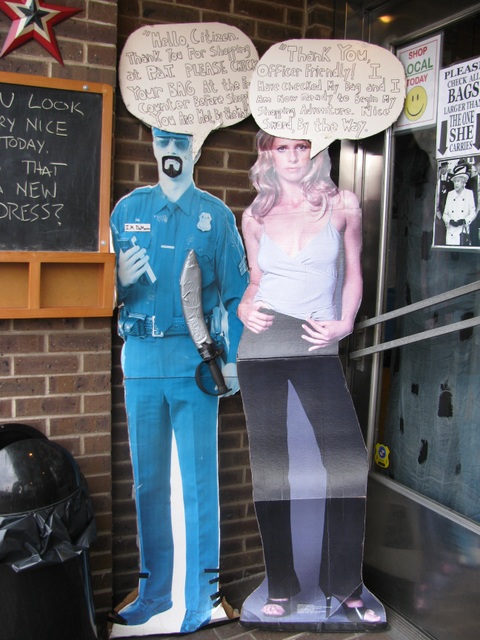 One of the highlights of my month was meeting Alison Bechdel. I have to confess that, before I came to Bryn Mawr, I didn't know who she was. But, when I learned that Bryn Mawr was bringing her to campus as our freshman seminar speaker, and that my freshman seminar wouldn't be covering her work because it wasn't related to our topic of Western and Middle Eastern relations, I decided to read her work on my own. I devoured Fun Home in a day. The combination of queer and feminist themes, along with compelling storytelling and literary references, made it irresistible.
During her presentation, Bechdel read us excerpts from Fun Home and Are You My Mother? and then Bryn Mawr's director of creative writing asked her questions about her work and her college experience. At the end, when she discussed her writing process, she quoted from The Content of the Form: Narrative Discourse and Historical Representation by Hayden White. "Narrative becomes a problem only when we wish to give to real events the form of a story. It is because real events do not offer themselves as stories that their narrativization is so difficult."
The week before Bechdel's presentation, I had been frantically working to finish a piece for my Creative Nonfiction class, in which I discussed my experience visiting my sick great grandmother last June. After one and a half drafts, I realized that the overarching idea I really wanted to focus on in my essay was narrative, specifically my desire to frame my experience with my great grandmother as a story and in the process distance myself emotionally from it. I wasn't under the impression that this idea, this preoccupation with the contrast between narrative and reality, was original, but I also wasn't sure if it was an idea worth exploring. I had felt confident in my academic work in high school, but this was college; were my ideas worthy of discussion in such an elite setting? But here was a famous author, quoting from a published book, discussing her thoughts about the very idea I was considering. The sense of validation I felt was overwhelming.
During the reception after the presentation, I told Bechdel that I wrote for Autostraddle and asked for a picture with her for my column. She agreed, so here it is!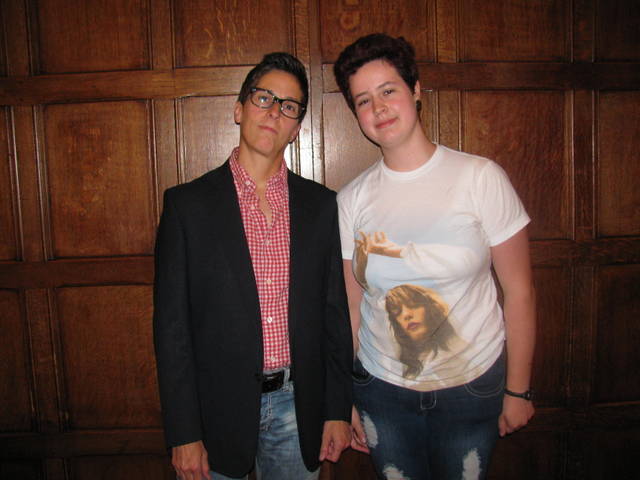 And so college continues — late-night homework sessions, visiting another dorm with friends just because I can, pulling a muscle at rugby practice and walking around for the rest of the evening with an ice pack wrapped around my leg. It's not home yet, but I'm starting to feel like it soon will be.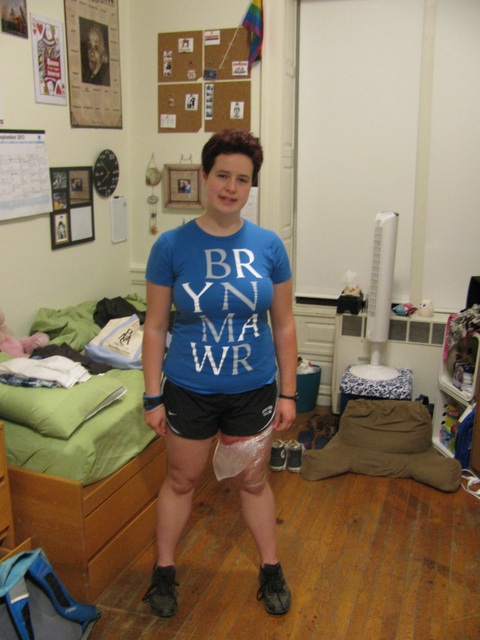 +
Next: Nita, Kate & Claire
Pages: 1 2See entire article on one page