I have a song stuck in my head and it starts with a kick drum. It's called Limb from Limb, a punchy track from all-female alt-rock quartet and CMJ Music Marathoners, Vanity Theft.
Despite having a band name and song title fitting for a Californian thrash metal band, these girls look and sound like anything but.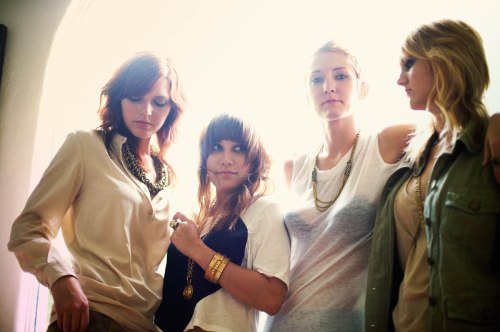 Vanity Theft are Alicia (vocals/keyboard), Brittany (guitar), Elyse (drums) and Lalaine (bass), four talented young women hailing from Springboro, Ohio. Right now these girls are wowing crowds across the United States on a lengthy tour with with label-mates Sick of Sarah, no doubt fueling anticipation for their October 26 release, The Anatomy EP.
Go Magazine's Emily Hall Smith describes Vanity Theft as "electric guitars, lipstick, and attitude. The Anatomy EP showcases the band's talent with both pop-tinged alt-rock and ethereal ballads. Sexy, coy, and confident songs with smart lyrics and melodies that won't leave your head. And two great remixes by Lefse Records artist HOUSES." The Rainbow Report is similarly impressed.
Vanity Theft will play a CMJ Music Marathon showcase at The Studio @ Webster Hall, NY, on Oct. 20. Full US tour details are here. Check out their latest music video, Limb to Limb, below.