SEXUAL ABUSE:
The pedophilia and sexual abuse scandal in the Catholic Church just keeps getting bigger and more awful. The evidence of a cover-up is rampant, not just in Ireland, but in Germany, too. In the past few weeks, the Vienna Boys' Choir has seen eight accusations from former choristers that they were abused by teachers, and there have been hundreds of similar allegations in Germany itself. German officials are looking into accusations going back almost 50 years, and they might even extend the statute of limitations for these cases.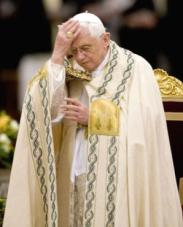 The Atlantic has a fantastic column analyzing the reason why the Church has covered up these scandals. The crux of the matter is that the Church viewed the actions of the offending priests as sins, rather than crimes — as acts that required atonement and forgiveness, not punishment. The discussion of repressed sexuality is particularly interesting.
Imagine you are a young gay Catholic teen coming into his sexuality and utterly convinced that it's vile and evil. What do you do? I can tell you from my own experience. You bury it. But of course, you can't bury it. So you objectify sex; and masturbate. You cannot have sexual or even emotional contact with a teenage girl, because it is simply impossible, and you certainly cannot have sex with another teenage boy or you will burn in hell for ever … so you have sex with images in your own head. Your sex life becomes completely solitary. It can be empowered by pornography or simply teenage imagination. Some shard of beauty, some aspect of sensuality, some vision of desire will keep you sexually energized for days.
Now suppose your powers of suppression and attachment to religious authority are also strong – perhaps stronger because you feel so adrift you need something solid to cling onto in your psyche. And you know you cannot marry a woman. But you want to have status and cover as a single man. If this is the 1950s and 1960s, it's into the Church you go. You think it will cure you. In fact, it only makes you sicker because your denial is buttressed by their collective denial. And the whole thing becomes one big and deepening spiral of lies and corruption. (@atlantic)
More and more groups around the world are asking how much the Pope knew about the abuse and what he did. The AP reports that the answers to those questions will almost certainly determine his legacy as a pope and could even posthumously tarnish the reputation of Pope John Paul II. The article has an in-depth look at how the Vatican has treated cases of abuse in recent years. Usually, punishments have been light and in some cases, they have stepped in to stop trials.
Of the 3,000 cases the Vatican has received since 2001, only 20 percent have gone to a full canonical trial, the Vatican's chief prosecutor Monsignor Charles Scicluna said. Disciplinary sanctions were imposed in 60 percent, such as priests being ordered to live a retired life of prayer and not celebrate Mass publicly; in only 10 percent were the accused priests defrocked.
MADDOW:
Rachel Maddow has taken out a full page ad in the Boston Globe in response to Scott Brown's weird fundraising email claiming she planned to run against him in 2012.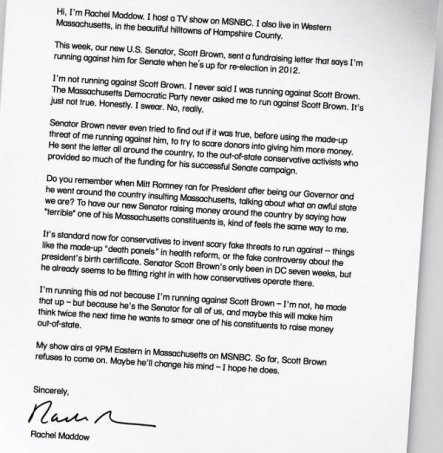 Maddow had rejected Brown's claim on air. (@maddowblog)
OBAMA:
Have you seen this new poll about Obama? It asked Republicans, Democrats and Independents a series of questions about the president, and basically the results are terrifying. No poll is perfect, so take it with a grain of salt, but these numbers still show just how deeply divided this country is along party lines and how misinformed people are. Here's a chart of the full results.
Twenty-four percent of Republicans think Obama might be the anti-Christ. And 57 percent of Republicans think he is a Muslim.
These are real things that people think! It's ridiculous! One Harris poll employee said: "It means that very large numbers of people are misinformed not only about President Obama but many things in modern life." No joke, dude!
DADT:
Ana Marie Cox has some thoughts on Don't Ask Don't Tell in the wake of the tougher requirements for a discharge under the policy. With the exception of recusing the testimony of those whom servicemembers should expect to keep their confidence, these changes don't lessen burden of living a lie. Instead, they just bump it up the chain of command. Basically, it is still illegal to be an openly gay soldier, but if you are, you can involve more of your comrades in your deception — they don't really bear the responsibility of enforcing the law. … Rather than making illegal to be an openly homosexual soldier, make it illegal to be an openly homophobic one. (@gq)
VIRGINIA:
Virginia isn't doing so hot with non-discrimination policies lately. Weeks after the attorney general told the state's universities to stop including extra protections against discrimination, the governor has declined to include such protections for state workers in an executive order. He says: There really isn't any rampant discrimination on any basis in Virginia. If you're going to have a law, it needs to actually address a real problem. Wait, Virginia doesn't have discrimination?? Why didn't anyone tell me sooner! We're moving Autostraddle HQ there. (@advocate)
COULTER:
Oh, Ann Coulter. She's a riot isn't she? Yeah, Queerty thinks so, too. She went on Bill O'Reilly's show recently about an uproar at a college in Canada, that silly backwards country. It's cute how O'Reilly is all concerned for her safety, and then she talks about how when she says racist things, it's ok because they're amusing! Here's the clip, if you feel like raising your blood pressure.
HOLOCAUST:
A video installation monument to gays persecuted in the Holocaust it is going to include images of lesbians kissing, and people are a bit upset about it. The monument usually features an image of two men kissing, and the image is rotated out every 6 months. Some groups are unhappy with the choice to use lesbians because apparently the Holocaust targeted gay men much more then gay women, and they want the monument to reflect historical accuracy.
But the people in charge of the monument make a good argument: The intent of the monument is to end discrimination of any kind and supporters of the lesbian display believe that it does not matter that Hitler may not specifically have targeted lesbians, as explained by a plaque on the memorial. (@lezgetreal)
HARVARD:
A conservative student paper at Harvard recently ran an editorial about why the university doesn't need curriculum changes that reflect more diversity. As Racialicious says, this guy "just lets the racism fly." He thinks that the current canon, which focuses almost exclusively on the work of dead white men, is just fine. And obvs an African studies department is a ridiculous idea!
Egypt is a worthwhile subject not because it is an African civilization, but because it represents an incredibly sophisticated and important ancient civilization that happens to be African—let alone the fact that the Egyptians pharaohs, with the exception of 75 years of Nubian rule, were about as "African" as Ian Smith. Harvard should have an Egyptology department, or at least devote some of its resources to the study of a civilization which has had such profound influence on the world. It need not offer a course on African civilizations if there is none worthy of study.
These guys must think you have to have dark skin to be African. I suggest they look at a map. They probably have some of those at Harvard. (@racialicious)