Recipe for Disaster is the type of book Bette Porter might have on her coffee table during a very lesbian dinner party. Visually striking and slightly weird, this curated collection by Alison Riley has nearly as many photos as short essays. The contributors are familiar names from the film, food, music, literary and fashion worlds who each share a story about a low point in their lives — and the bomb-ass food that accompanies that memory.
I'll be honest, when I first opened this book I was worried the recipes would be terrible. I am a celebrity cookbook skeptic. I own only one — Sophia Loren's Recipes and Memories and her fried pizza is supremely sexy. Interviews with famous people about food often contain voyeuristic descriptions of their restaurant meals, but rarely do we see a superstar actually cook something. So I was pleasantly surprised to connect with many of these stories of grief, missteps, and comfort snacks. The stories are short enough to allow a reader to flip through until they find an arresting image or a story that speaks to them.
Going through a breakup? Samatha Irby has a chicken stew recipe for you that is seasoned with the salt of your tears.
Did your friend die when your life was already shitty? Perfectly scrambled eggs comforted food writer Laurie Woolever during a deluge of tragedies.
Just generally feeling down? Try actor Justin Vivian Bond's crispy, hot, salty potatoes.
Did the COVID pandemic make you want to make a salad vinaigrette? Yes? Then you must be Alice Waters.
Singer Emily King's witty recollection of an impromptu performance at Radio City Music Hall stood out for me. It ended in public humiliation when she didn't recognize the song she was asked to sing. She never really explains how the failure connects to her Banana Walnut Chocolate Chip Muffin recipe, but they sound delicious anyway.
Despite the name — this is not a standard cookbook. Many of the contributors to Recipe for Disaster talk about an important meal without providing a recipe. For example, Chef Kia Damon aka @Kiacooks fell in love with food again by devouring Popeyes chicken sandwiches during a bout of unemployment and depression. Her story reminded me of the time I was being bullied by a coworker and found myself struggling to eat and wracked with anxiety before each workday. I met a sympathetic friend at a cafe to swap stories of working while Black, and had a transcendent cup of rose-scented hot cocoa that lit up the pleasure centers of my brain like fireworks. Chef Kia needed something delicious to remind her of her talent and worth. Like her, I needed that cocoa to remind me that I deserved joy as the first step in charting a path to a new job.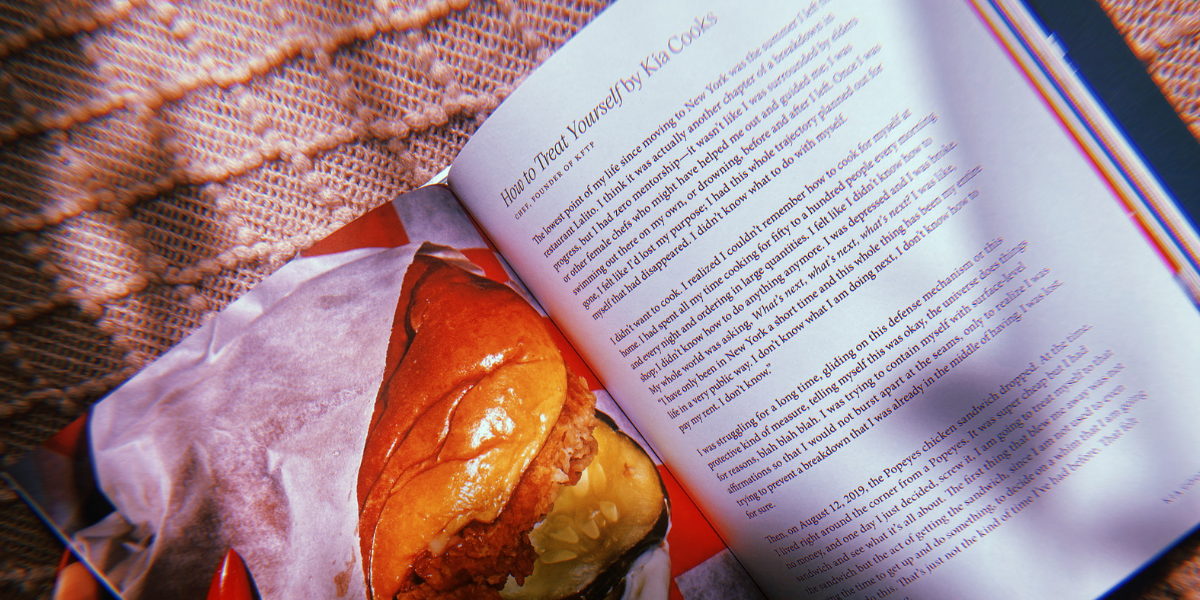 Recipe for Disaster reminded me that when you're going through a tough time, it helps to hear from someone who's been there. Some of the book's disasters are grand in scale — 9/11, the AIDS epidemic, preemptively celebrating Hilary Clinton's election in 2016 — while others are intimate, like LinYee Yuan's story of making congee to mark the death of her pet. The queer authors seemed disproportionately likely to offer a story about a breakup, which made me wonder —are we more likely to eat after being dumped or are we just more dramatic about splits?
The stories also vary wildly. Some are poignant and self-deprecating, while others verge on being forgettable. Many of these celebrity creatives are unlikely to be well-known outside their niche fields. Angelo Baque runs a creative agency and the clothing brand Awake New York which I am both too femme and not cool enough to know, and Damani Baker is a filmmaking professor whose documentaries are tempting now that I've read his Aunt Shirley's Red Velvet Cake recipe. The notoriety of the contributors didn't matter when the stories were compelling, I'd never heard of journalist LinYee Yuan, yet her grief over her pet was moving and relatable.
I will admit to fangirling over icon Meshell Ndegeocello's story about getting shafted by a racist record label. I'm sure I was only slightly influenced by my adoration of Ndegeocello and her music but her careful, cutting essay is one of my favorites in the book. Ndegeocello had already completed her second record when her label decided to fire her producer and re-record. She describes a series of demoralizing negotiations where the label picked apart her music, her Blackness, and her marketability. Her language is spare and direct, making the story at first emotionally devastating to read, and later heartwarming as she heals.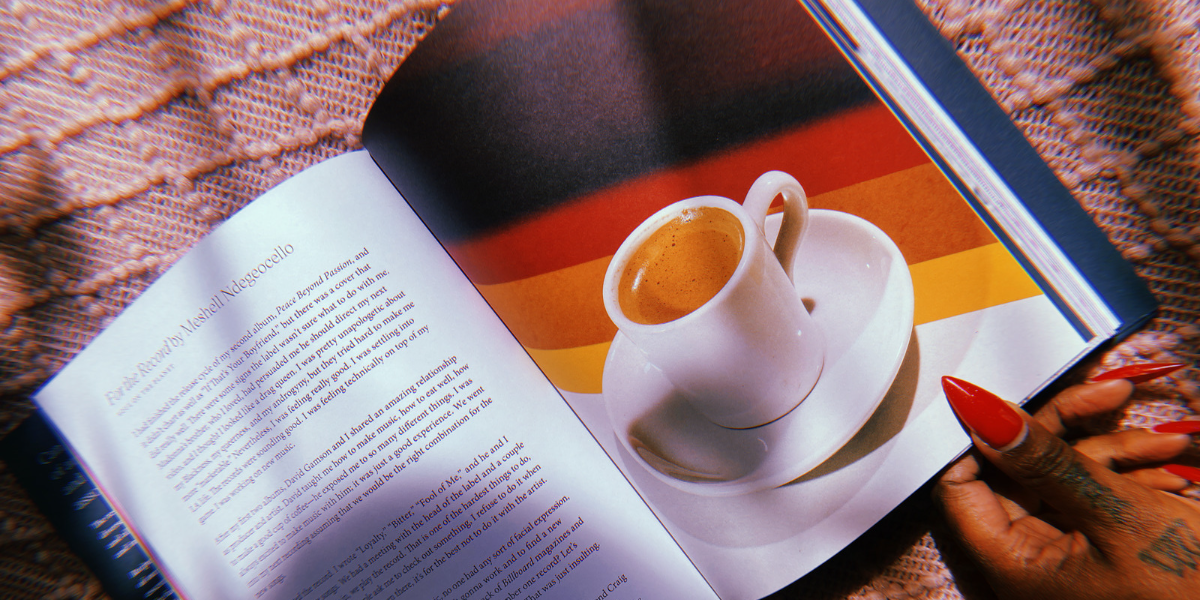 Like most anthologies, Recipe for Disaster had a handful of stories that didn't resonate with me. I found myself bored by some of the less emotionally vulnerable pieces, particularly those by men. I side-eyed the man who had no memory of a low point, or the guy who'd never had a broken heart. I rarely read books by cis men, so when I do, I need them to be exceptionally good.
There was one exception, I adored Bowen Yang's story about learning to love the imperfection of his mother's too-dry Mapo Tofu. He made me appreciate the layered relationship we have with the caregivers who cook for us. I found myself thinking about how some of my favorite comfort foods are the Midwestern casseroles I turned away from in my teens. I thought fettuccine alfredo was more sophisticated than my Mom's chicken tetrazzini and spent years trying to make fancy versions of pasta in cream sauce. But when my partner developed a chronic illness, I pulled out my handwritten copy of Mom's tetrazzini recipe and made it just as it was written, bathing the warm spaghetti with garlic, half & half, and cremini mushrooms.
The photography in this coffee-table-ready book is something that has to be mentioned. The vibrant images pop off the page, making a neon avocado look like pop art. Many photos obliquely reference the emotional aura of the story, like a messy pile of half-squeezed limes alongside a story about scrounging for food and gin & tonics. Recipe for Disaster is half picture book, but there are few photos of the finished recipes. Instead, we get an artistically arranged block of tofu, a naked person's back, and brightly painted nails squeezing the life out of a dead octopus. The photos are beautiful, but sometimes unsettling; evocative of food but rarely inspiring me to eat, making it a book I would keep in my living room rather than the kitchen.
Readers looking for a traditional cookbook may be disappointed by the unconventionality of Recipe for Disaster, but I enjoyed its quirky format. The book isn't designed to be queer, but I always want to make books 100% queer. I would have loved an explicitly queer recipe — like a cake in the shape of a carabiner. But I happily settled for inclusion like Fran Tirado from Food 4 Thot, and comedian Becca Blackwell. Recipe for Disaster offers touching and occasionally humorous stories on how people soothe themselves during hard times. I would buy this for my stylish friend who always cries at the sad backstories on Top Chef and honestly — I might be that friend.
---
Recipe for Disaster by Alison Riley is out now!