It's Sunday Funday, and you know what that means! If you're hungry like a hungry hungry hippo for a decent serving of qt queer news, you've come to the right place.
Brittney Griner Balls So Hard
Brittney Griner's just tryin' to play a good game — and she's not gonna take bullshit about her uniform or her sexuality from anyone. Check out her interview with Mother Jones!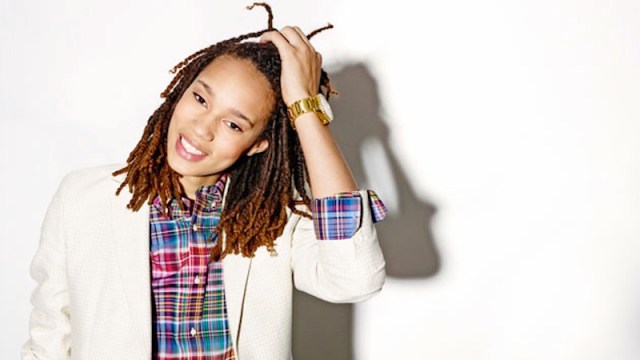 MJ: When the WNBA proposed tighter-cut uniforms, how did you react?
BG: I was just running in slow motion, saying, "Nooooooo!" I play basketball. I need a jersey and I need some shorts that I feel comfortable in. I'm trying to hoop, not go to a fashion show on the court. Short shorts are not for everybody. I'm not trying to wear capris, but I got a lot of leg. I need to cover it up a little bit. They want more male attendance, and for us to change our uniforms to "sleek and sexy" takes away from what we're trying to do on the court. I want you to come watch my game, not the uniforms. If you wanna come just because we look sexy, then I really don't want you there. I feel like we need to get away from that.
Gabourey Sidibe Is A Confident and Badass Bitch
When Sibide spoke at the Ms. Foundation's gala, her message was expectedly powerful.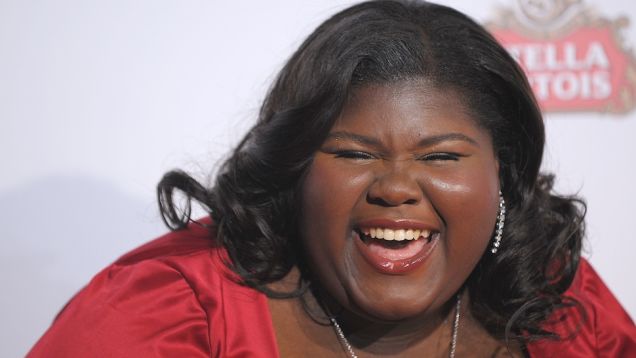 "Gabourey, how are you so confident?" It's not easy. It's hard to get dressed up for award shows and red carpets when I know I will be made fun of because of my weight. There's always a big chance if I wear purple, I will be compared to Barney. If I wear white, a frozen turkey. And if I wear red, that pitcher of Kool-Aid that says, "Oh, yeah!" Twitter will blow up with nasty comments about how the recent earthquake was caused by me running to a hot dog cart or something.  And "Diet or Die?"[She gives the finger to that]  This is what I deal with every time I put on a dress. This is what I deal with every time someone takes a picture of me. Sometimes when I'm being interviewed by a fashion reporter, I can see it in her eyes, "How is she getting away with this? Why is she so confident? How does she deal with that body? Oh my God, I'm going to catch fat!"

What I would say, is my mom moved my brother and I to my aunt's house. Her name is Dorothy Pitman Hughes, she is a feminist, an activist, and a lifelong friend of Gloria Steinem. Every day, I had to get up and go to school where everyone made fun of me, and I had to go home to where everyone made fun of me. Every day was hard to get going, no matter which direction I went. And on my way out of the house, I found strength. In the morning on the way out to the world, I passed by a portrait of my aunt and Gloria together. Side by side they stood, one with long beautiful hair and one with the most beautiful, round, Afro hair I had ever seen, both with their fists held high in the air. Powerful. Confident. And every day as I would leave the house… I would give that photo a fist right back. And I'd march off into battle.
You're Invited: This Week's Gay Marriage Roundup
+ 13 wedding photographers tell Buzzfeed what gay marriages have taught them about life, love, and their craft: "What I've learned about working with same-sex couples is that gender has absolutely nothing to do with love."
+ The New Yorker is putting the "mothers" back in "Mother's Day."
Well, okay. In the spirit of openheartedness and what life is really all about, I'll go so far as to say that the fear of others may mask some deep-seated desire to understand, and maybe even to love. Because really, what is there to be afraid of? Few people today don't know — or have in their families — at least one loving couple who are raising children, same-sex or not. And it's really just the loving part that matters. That same-sex marriage could go from its preliminary draft of "diagnosablewp_poststo the final edit of "so what?wp_postsmust indicate some positive evolution on the part of the larger human consciousness. My wife, being a biology teacher, puts it even more succinctly: "Why are all these people so worried about who everybody else is sleeping with, anyway?wp_posts(Score two for Moms.)

So, a final draft: happy Mothers' Day, moms. We are grateful to, and love, you all.
+ North Carolina's clergymen are taking a stand for gay marriage.
Mary Yu Makes History
Meet the first-ever lesbian judge on the Washington state Supreme Court.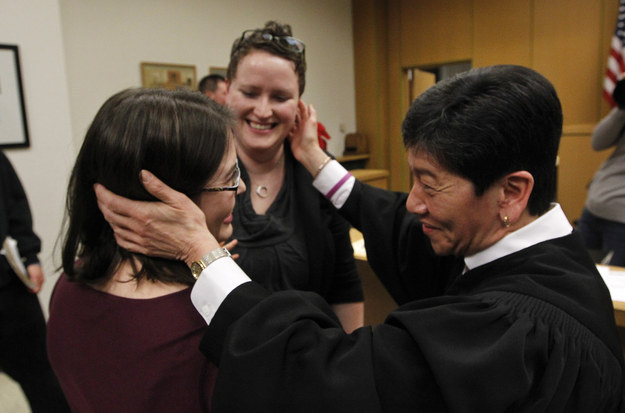 The Bollywood Star Behind the UN's Push for Global LGBT Rights
Bollywood actress Celina Jaitley is the UN's newest goodwill ambassador – and she's bringing a new rhythm to their efforts for gay equality.
Cara Delevingne Will Make You Her Schnoyster
Cara Delevingne, everyone's favorite totally gay model and make-out artist, hath dubbed Sienna Miller her "schnoyster."
Tiny-Ass Deer