When Executive Editor Laneia told the Senior Editors at our Monday morning meeting, "our schedule for Tuesday is anemic," I thought to myself, "wow, I hope there's some breaking Kristin Stewart news between now and then so that we'll have more posts to publish on Tuesday!" Little did I know (I knew) that breaking news was about to happen in my very own home! A beloved inanimate object, possessed by a sci-fi situation that'll one day inspire a Freeform series that'll get cancelled after two seasons, was about to give birth to its own self, but alive! That's right: Autostraddle mascot and beloved companion Tinkerbell, having just turned ten years old last week, has been cloned and turned into a real dog, which basically means she's come to life!
Some background: in January of 2008, a small dog/purse named Tinkerbell was born in Miami, Florida, where I was vacationing with Autostraddle co-founder Alex, our friend Haviland, and our ex-friend, a liar pretending to be from a rich family who did things like plan an imaginary vacation to a private island for Haviland's birthday, vanish on the day we were due to to depart on said vacation and, then, when we tracked her down and demanded to know what the hell happened, distracted us by buying us a real trip to Key Biscayne. Not the worst way for everything to shake out, we know.
Another thing she did was buy me a $50 dog/purse from the Ritz-Carlton gift shop 'cause I'd said it reminded me of Paris Hilton's dog Tinkerbell and wouldn't it be funny if I had a dog purse and called it Tinkerbell. I believe I picked it up and made a joke and then looked at the price tag and then put it back. The next day, she'd bought it for me. While Haviland attempted to talk our friend, who vehemently opposed returning things as a general practice, into returning Tinkerbell (because fifty dollars for a stuffed dog is bananas), I was, quite honestly, falling in love.
I knew Tinkerbell was going to be a 'star.' (I'm using scare quotes because being a star within the world of my 2008 blog readership and YouTube channel is probably about the same as being the star of a very small cult operating out of a former vacuum store in a one-stoplight town disconnected from major highways and the culture at large.)
I was correct. Before long, Tinkerbell's star had eclipsed my own, which radiated with the glowing force of a vibrator trying to tell you that it's dying right before it dies.
The fact that Tinkerbell was, ostensibly, a stuffed dog, and that I am, ostensibly, a grown woman, did not seem to take anybody by surprise. She was invited to blogger meet-ups:
Her pouch was used as a ring-holder for a lesbian wedding at A-Camp: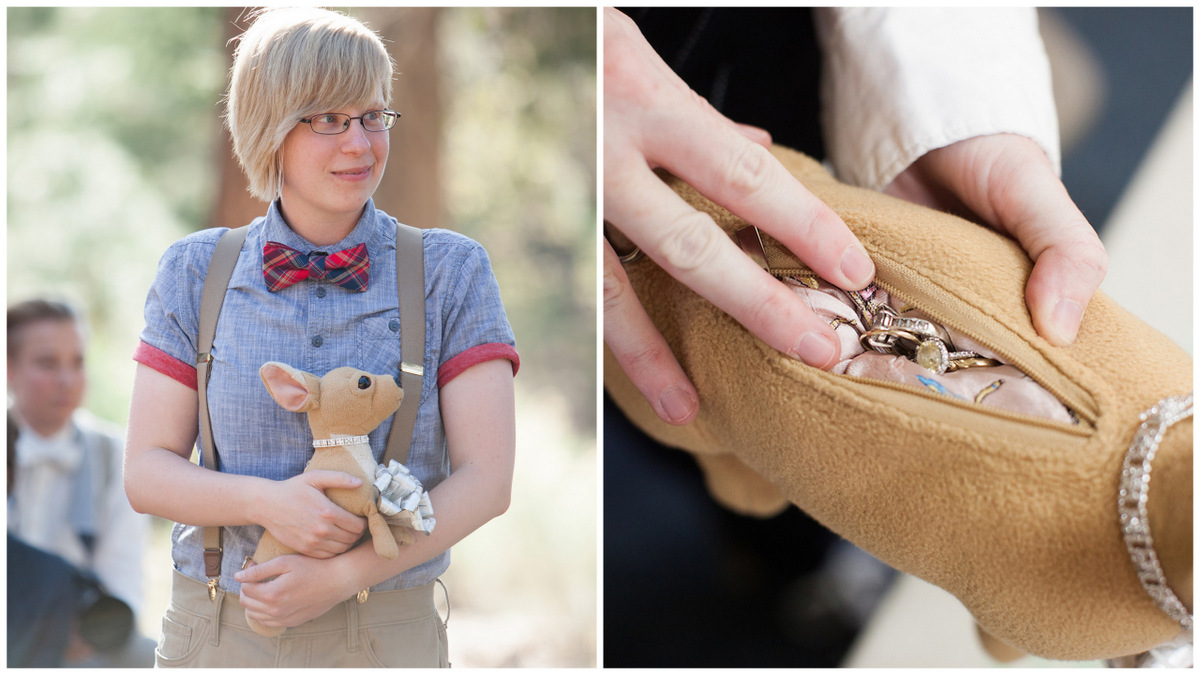 She was a legal attendee of the annual "Dinah Shore" event for lesbians who enjoy day-drinking, music and go-go-dancers with nice butts: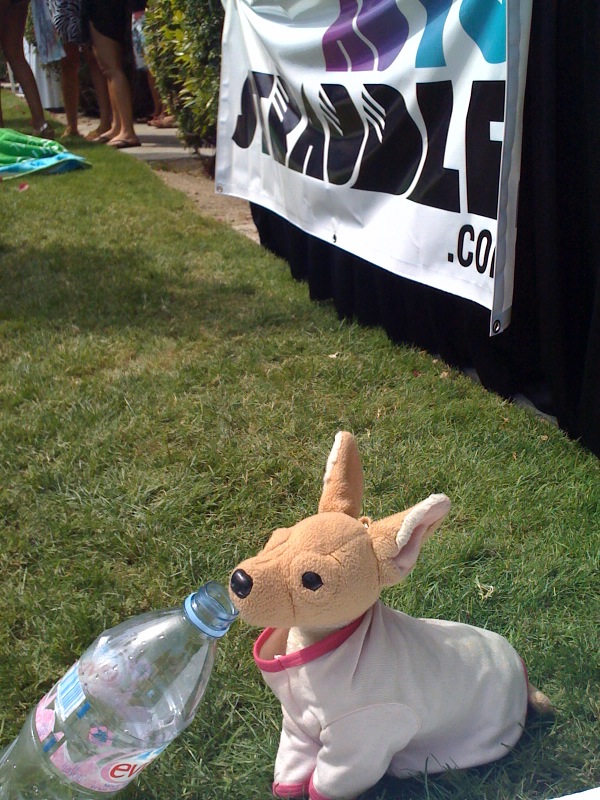 She made friends with major celebrities:
She had her body autographed by Leisha Hailey and Cam Grey of Uh Huh Her after appearing in a prize-winning Uh Huh Her video at SXSW:
She became a trusted advisor of president Obama:
She appeared in numerous L Word recaps:
She was featured on a pin:

She even inspired an A-Camper to make me this incredible potholder!!
Furthermore, she hung out with semi-famous humans at the NewNowNext Awards, appeared in numerous semi-popular YouTube videos including the AfterEllen series "Alexi's Closet," was almost eaten by another dog, and, eventually, truly found her voice as a writer for Autostraddle.com. (Although honestly her greatest hits were often buried in early Autostraddle roundtables.)
Perhaps she even gave you advice once upon a time: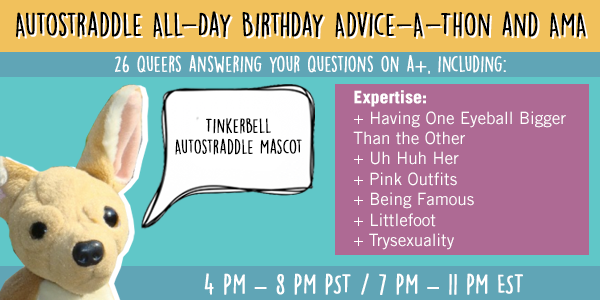 Honestly, though, at some point Tinkerbell did start feeling real to me. I'd gaze into her eyeballs (one of which is bigger than the other) and say, "I wish you were real, Tinkerbell!" This affection isn't without merit. According to Pacific Standard Magazine, "from the worship of idols to an animistic worldview, various cultures from around the world have long believed that material objects either contain spirits or possess some kind of special connection to supernatural beings that act on their own accord." So I'm not crazy. (Well, actually, I am crazy, but not for this reason specifically.)
Still, as I hope any Real Doll owner could tell you, at some point you really start to need the real thing, you know?
On Saturday my girlfriend Sarah and I went to the North Central Los Angeles animal shelter, where apparently they are so low on space that the chambers set up for three small dogs each are currently carrying 5-6 dogs each. One compartment held five small dogs — mostly Chihuahuas, which are abandoned at epidemic-levels in California — and they were yelping and jumping at the bars and scampering around to get our attention but behind them, in the back corner, all curled up on a little pile of blankets, totally uninterested in the chaos that surrounded her, I saw Tinkerbell! The shelter worker got her out and took us into a side room and I held her and Sarah held her and she was shaking for a long time before she realized everything was okay, and then she became mine: Carol Aird, a tiny whisp of a dog with a passion for glove lunches.
She still needed to get spayed, so we didn't get to take her home right away. So Monday Erin and I went to the vet to pick her up and take her back to our apartment, all wrapped up in a flattering conehead she was really excited about:
We won't really know Carol's actual personality until she recovers from her surgery and gets used to her new life, but I think she's gonna be pretty fancy and also low-key, although Chihuahuas are famous for being high-key and a little aggressive, so who knows! For now she's a little groggy, just trying to get comfortable despite all the stitches, going through that weird part of life where the anesthesia wears off and nothing feels quite right.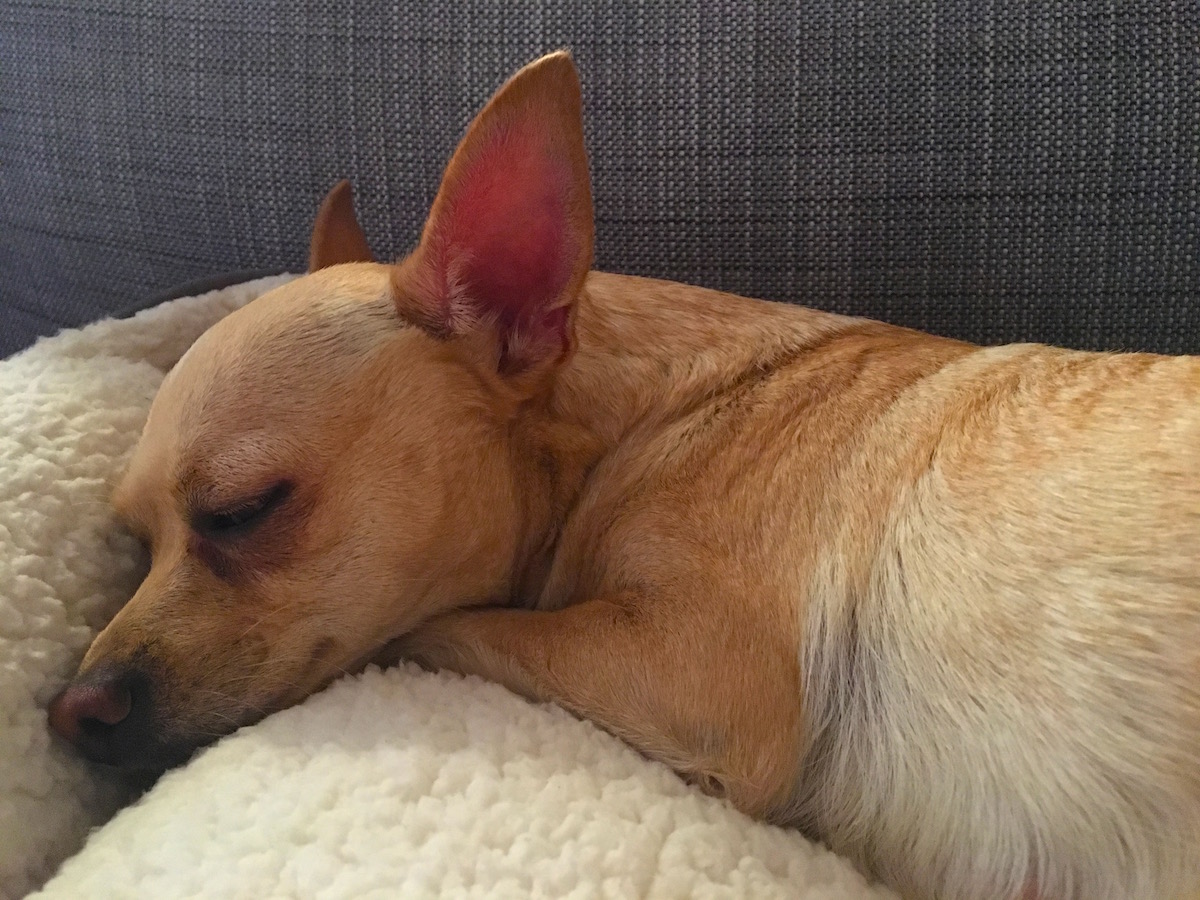 To be honest, I was a little nervous to introduce her to her Alpha, Tinkerbell, because most dogs when they meet Tinkerbell, try to eat her. My little druggy Carol however possesses no such aggression. After a sweet photo sesh, I put Tinkerbell to the side of Carol's bed so Carol would feel comfortable developing her own sense of self without worrying about measuring up to Tinkerbell. But then she stretched her little legs and scooted her little body back over to the other side of her bed and stuffed her little nose right under Tinkerbell's. Starpower, ladies and gentlepeople:
UPDATE: Carol remains adorable!