Grab your consoles and handheld gadgets, we're traveling back in time!
Chrono Trigger was released in 1995, and it forever changed the future of role-playing games. Most fans and awards recognize its multi-era storyline, nuanced side quests, humor, gorgeous music, memorable NPCs and an incredibly diverse set of playable characters. It's so canonical, that Square / Square Enix has released it for six different platforms over the span of 16 years. You can still buy the Nintendo DS cartridge for your handhelds. Or you can download the official app for $9.99 for Android or iOS.
But Chrono Trigger's revolutionary approach to gender representation and non-traditional storytelling makes it stick out to me. It's no secret that the current video game industry suffers from a severe lack of equal gender representation. When I first played Chrono Trigger, I never imagined that it would break common gaming tropes with super queer moments and lead characters that really challenge binary gender structures. And we'll get to revisit those awesome moments together!
---
My Time Leap to Chrono Trigger
My own education in video games was very piecemeal. Like Chrono Trigger, it didn't follow a linear progression. My family started out with a Sega Genesis, then I jumped around the Game Boy handhelds. I went to neighbors' houses for intense NES and SNES sessions, but I rarely dipped my toes into RPGs because they required long hours of continuous solo play, which doesn't really work if you're visiting friends.
Finally, I got my hands on a PlayStation console. And thus began my love affair with RPGs by Square / Square Enix. The atmospheres were so intensely moody, and the music seemed to sync perfectly with my adrenaline chills and trigger twitches. Parasite Eve, Threads of Fate and a curious used game called Chrono Cross. And oh, the music was sublime.
Then my gamer friends pulled me aside and said, "Hey, you're doing it all backwards! Chrono Cross is the sequel. You have to play the first game, Chrono Trigger because it'll change your life." It's like when an NPC gently pushes you back on track when you get lost in a game.
And I am so glad I played Chrono Trigger. Let's take a look at those queer characters and moments, shall we?
---
Lucca, the Gadget Whiz
We start with a solo teenage male protagonist, Crono. His mom yells at him to wake up, a trope that can be found in multiple future games, like Legend of Zelda. But Crono wouldn't be able to get ANYWHERE without Lucca, a purple-haired genius who builds time machines and combat robots with her father.
Lucca as a tech role model in video games is so extremely important. Why?
Unfortunately, it doesn't look like she took a class in human experimentation ethics, because she accidentally teleports a celebrity princess (Marle) and Crono back to The Middle Ages while trying out a device. Whoops!
But Lucca totally owns up to her mistake. She joins Crono's party in their time-leaping adventure. And what does she say when they come across a broken Robo?
"It appears to be a humanoid robot. Incredible… I think I can fix it!"
Bam. Lucca's demonstrates phenomenal confidence in her technical abilities in the face of adversity.
However, she certainly had moments when she questioned herself and her passion for electronics. We get an emotional sneak peak at a journal entry from her younger years:
---
Ayla, Warrior Princess
When I first saw Ayla in 65,000,000 BC, I totally rolled my eyes. Her character suffers from Ridiculous Female Armor Syndrome. Ya know, when female characters run into battle wearing metal bikinis and strings. And as female gamers, we have to cross our fingers and hope that our avatars are immune to bullets, swords and magic spells that hit exposed boob-tops, faces, arms, midriffs, or thighs.
In comparison to:
But guess what? Despite her fur bikini, Ayla still demolishes gender stereotypes as a playable character.
She is no Damsel in Distress like Princess Peach — she's out commanding a village as the Ioka Village chief and running around with a time traveling gang. In fact, rescues her husband Kino after a tribe of Reptites kidnaps him. Then she tells her Kino to stay at home and take care of the tribe while she's out having brawls.
Speaking of, Feminist Frequency does a stellar job of recapping a sad history of the Damsel in Distress:
She's the only party member who fights unarmed, relying on brute physical power to smash her foes. This deviates quite a bit from gaming stats that beef up male characters with high strength stats and delegate weakness, agility, or magic to female characters. But Ayla? She is RIPPED. Her starting power stat is twice as high as the muscular Crono. Super legit.
---
(Diva) Flea
This villain utters my hands-down favorite line in Chrono Trigger.
"Male, female, what's the difference? Power is beautiful and I have the power."
I'm so sad that Flea is our nemesis, because damn, he's rocking some serious style and sass. He's one of three evil cronies that work for Magus, a trio that contributes a whole lotta camp to this game: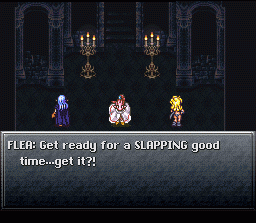 His gender presentation is extremely noteworthy. Here's what he wears during the game:
A bustier, which Ayla CHARMS off Flea's body. I am not even kidding.
A red skirt
A flowing cape
When you encounter Flea later in the game, he goes super saiyan and turns into Diva Flea, blowing little hearts in your direction. I don't want to hurt you, Flea! I love you too. Please join my party! Also this gif is wee and there's nothing we can do about it but YOU NEED TO SEE IT.
Flea's continually referred to with male pronouns. No one cracks jokes about his ambiguous gender presentation, and he's just as formidable as the other Magus cronies, Ozzie and Slash. It's difficult to tell how Nintendo intended to depict Flea's gender identity. There is an unfortunate history of trans* and gender-nonconforming characters being omitted, silenced, revised, especially between Japan and US releases.
---
Magus, Goth and Fabulous
This nemesis turned ally will brood his way into your queer heart.
Magus doesn't walk. He glides.
His backstory is completely tragic, one that fits his antihero persona so well.
Here are some of his alternative lifestyle fashion choices:
Gloom helm
Gloom cape
Doom scythe
Records by The Cure
Okay, so I made that last one up. While Magus doesn't explicitly say things to make players question the gender binary, I feel like his aesthetic breaks him away from the traditional hypermasculine villain trope.
---
To Infinity … And Beyond!
For many gamers, Chrono Trigger represents a golden era of nostalgia. The music alone will have you day dreaming in 16 bit. Chrono Trigger has a great replay value, since there are 13 different endings to honor the backstories of your favorite party characters.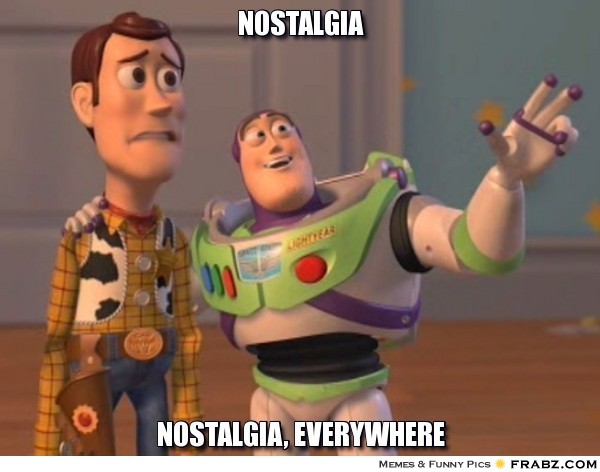 Straddlers, have you played Chrono Trigger? If so, what did you think of it? What other games inspire the same type of nostalgia and awe?
Thanks for traveling back in time with me!
---
This has been the eighty-third installment of  Queer Your Tech with Fun, Autostraddle's nerdy tech column. Not everything we cover is queer per se, but we talk about customizing this awesome technology you've got. Having it our way, expressing our appy selves just like we do with our identities. Here we can talk about anything from app recommendations to choosing a wireless printer to web sites you have to favorite to any other fun shit we can do with technology.
Feature image via Zerochan.
Header by Rory Midhani