Allow me to warmly welcome you back to Boob(s On Your) Tube, the place where we talk about all the queer stuff happening on our teevess. Did you check out GLAAD's Where We Are on TV report that was released earlier this week? It's a doozy. The short story is that LGBTQ TV got a lot better in 2016, except for lesbians who mostly just got murdered. Valerie Anne brought us another week of recaps about the CW's DC lineup, most notably MAGGIE AND ALEX. Ashley, whose Queen Sugar review will be ready for you next week, got us psyched for the forthcoming web series Brown Girls. And Stef is keeping us up to date with what's happening on the shows that are too bloody for me to watch:

Here's what else happened on TV this week.
---
Jane the Virgin
Mondays on The CW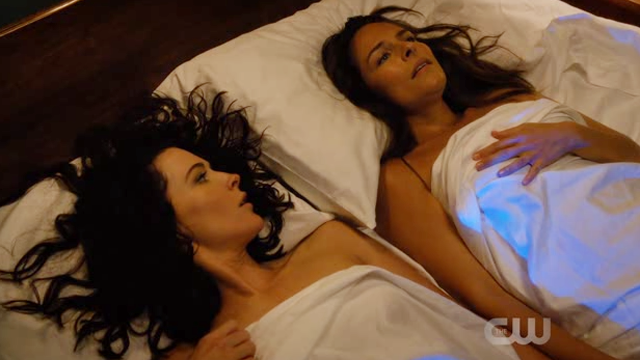 Jane lost her virginity on this week's episode of Jane the Virgin and I honestly cannot believe how well the show handled it. (Which says more about how many times I've been burned by TV I love than about Jane the Virgin, the most consistently well-written feminist show on TV.) Jane had a crisis because she lost a part of her identity that she'd been clinging to ever since Alba showed her that perfect flower when she was just a little girl, and then crumpled it up to illustrate sex. What Jane didn't have was an orgasm. In fact, she faked it. Which is brilliant. On a show that always splits the difference between a romance novel and a telenovela, the heroine finally made love with the man of her dreams and she couldn't get off. And even after she told him, and they tried other stuff, she still couldn't orgasm. She and Michael talked about it and talked about it and he even watched the sex tape they accidentally made so they could walk through what worked and didn't work. When Jane finally got there, at the end of the episode, it was an animated trip around the world, into space, down into the sea, into a whale's mouth and then out his blow hole. It was the most perfect straight people sex I've ever even heard about.
In the time it took Jane to arrive at her destination once, Rose and Luisa circled the Great Barrier Reef 153 times. The animated "Great Barrier Reef" is maybe the funniest sight gag Jane has ever done, and that's saying something.
As much as Luisa loves Rose and loves circling the Great Barrier Reef with Rose (both metaphorically and literally in her submarine lair), she's having a hard time moving past the fact that Rose murdered her father. And wore a mask and a voice modulator and made Luisa fall in love with her as another person. A person who also shot the husband of her brother's ex-girlfriend. Rose thinks she can get past it if Rose will just let her see her murder list (which, Rose helpfully notes, is longer than the list of people she's slept with). But Luisa can't. The submarine surfaces and she finds an email from Rafael wishing her a happy birthday, so she goes home to Miami and tells him everything.
OR DOES SHE? Maybe she's playing a long game with Rose! I don't know! Either way, Rose and Luisa's hot as hell totally dysfunctional relationship got more screentime than ever this week and I love how the show continues to juxtapose them with Michael and Jane. It's so fucked up and so very watchable.
---
Grey's Anatomy
Thursdays on ABC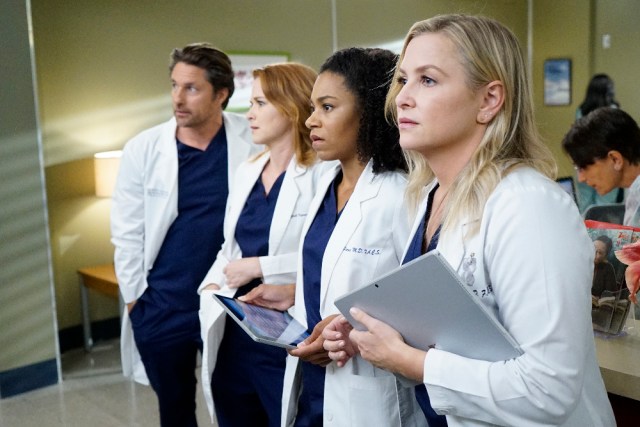 All my worrying last week was for naught! Arizona does have a new love interest but it takes the form of Dr. Eliza Minnick, a residency program Fixer who has arrived at Bailey and Catherine's behest to make Seattle Grace's teaching system functional again. Minnick isn't a hit with the attendings right out of the gate because she keeps barging into surgeries and forcing them to let their students do stuff. Maggie definitely borrows (steals) Minnick's notebook, which includes a list with most of the doctor's names on it. They assume it's something she's compiled to rank them from best to worst. Maggie gets a jolt when her name is at the bottom. Arizona gets the biggest jolt because her name isn't even on it.
So you know what Arizona does. You know what she's going to do before she even does it. She rushes Minnick in the elevator when she's leaving for the day and tells her she is "a rare, exotic bird" because she's one of the only fetal surgeons on earth and if Minnick leaves her off the list and doesn't let her teach, the whole planet is going to suffer due to her extinction. "I may be the last of my kind!" Arizona yells. It's so wild and awkward, so classic Arizona, I almost burst into tears when she started in on her new lady love. It gets even better, though, because Eliza tells her it's just a list to help her remember people's names.
"Arizona Robbins. That name attached to that face. No, that's not one you forget."
Arizona's eyeballs get so big when Eliza says it! The elevator door shuts in her face and as it's sliding past you can see her still standing there in a stupor.
---
Rosewood
Thursdays on Fox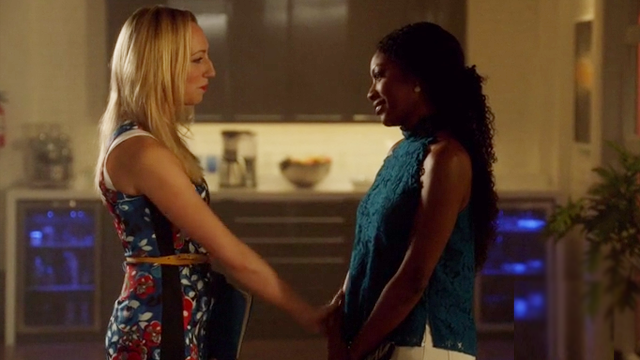 Aww, y'all. Pippy and TMI are dating other people. LOL, JK, they're obviously dating the same person. They find out in an awkward moment that turns sweet when this girl TMI went out with two weeks ago shows up at the office and TMI's like, "I don't remember emailing you back?" And Pippy's like, "Right. She's here for me." The girl leaves them alone and they're a full screen apart but they keep getting closer and closer as TMI calls out Pippy for going for this girl just because of her shoulders in her profile pic on Tinder, and then warns her the girl doesn't pay on dates. They tell each other they're both tough acts to follow. They touch each other's arms. They look in each other's eyes and then they look away. Sigh. I love them. It's so weird that I started loving them! I hope they keep that slow reconciliation burn going. It feels good to my heart.
---
Younger
Wednesdays on TV Land
Well, well, well, Maggie's got herself a real girlfriend. Her girlfriend is Jewish and her girlfriend's ex-girlfriend (now best friend) is also Jewish. For some reason, Maggie gets it into her head that a mikvah is just like a bath house situation so she recruits Liza and they hit it up on a Friday night and as soon as the Jewish women in the bath see Maggie's crucifix tattoo, they evacuate like it's a shark (they way it's filmed is the funniest thing that has ever happened on this show) and drain the water. Maggie's new girlfriend tells her not to worry about it but that she does want her to attend this whole other ritual with her on Friday night. It's the ritual of lesbian softball in Prospect Park. Maggie goes because Maggie is in loooooove. It's the first time we've seen it. I want more of it.
---
Masters of Sex
Sundays on Showtime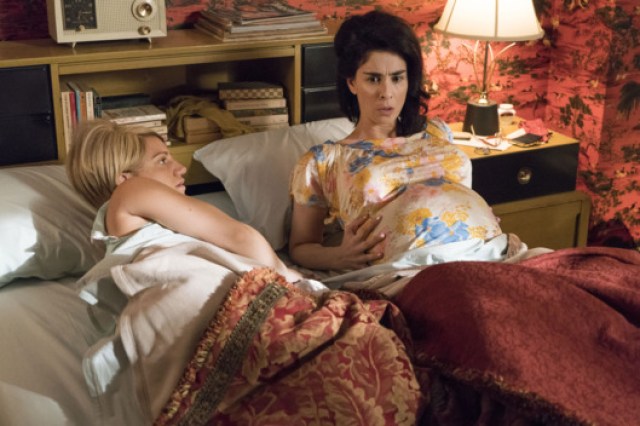 Written by Stef
Since Helen's parents have taken her baby with Betty and are trying to force Betty out of her life, Betty finds good ol' Austin (the baby's biological father) and presents the exact harebrained scheme all the commenters last week assumed she would concoct: she and Austin will get married, they'll fight for custody of the baby, and then they'll divorce, since Austin is clearly an unfit parent. This whole charade is predictable and lame, and Betty deserves better than this.
In the meantime, Dr. Masters has started working with Al as his partner instead of Nancy, and Al brought up a fascinating concept he'd learned about at the Kinsey Institute: the Kinsey scale. Dr. Masters has never considered there being anything in between homosexuality and heterosexuality, and this whole idea has blown his research wide open. Will it matter? I'm not sure how much of this show is still even pretending to follow the actual story of Masters and Johnson and their actual research at this point, and I'm not actually sure it matters. If it were not for Virginia, Barton and Betty being so damn charming, I would have stopped watching this show two seasons ago.