The TV drought continues, but we're not giving up! This week, Valerie Anne recapped the last episode of Legends of Tomorrow's fifth season. Carly and Riese dropped another episode of To L and Back. Natalie shared her list of top ten favorite lesbian movies. Drew shared some of her favorite trans web series to watch after Disclosure. And Sue Bird and Megan Rapinoe joined the call of Black athletes for racial justice at the ESPYs.
Notes from the TV Team:
+ The season two finale of DC Universe's animated Harley Quinn series dropped today, and it was SO GOOD. I'm going to write a full post about the whole season on Monday, since I've missed so many blurbs because I was out of the office. You can join DC Universe for a free 7 day trial and watch all of season two. You should! — Heather
+ I'll have a full recap of The Chi's new season after I've seen a few more episodes… but this week's premiere (which you can watch in its entirety on Youtube) is a jarring showcase of the juxtaposition of black pain and black joy. This, of course, is the black joy: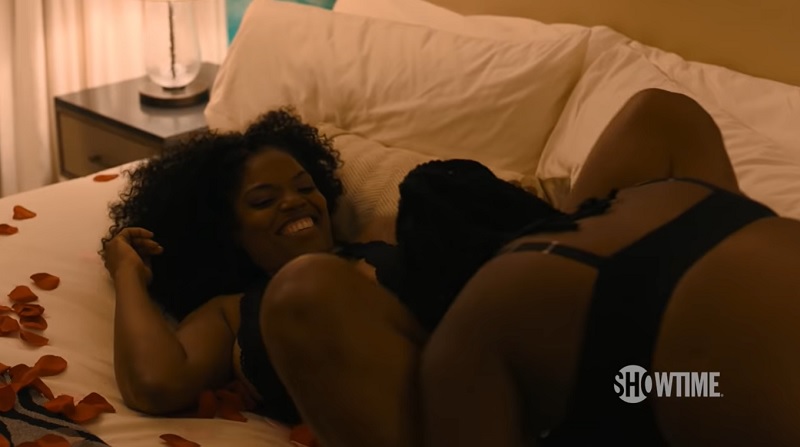 The black queer joy. — Natalie
+ The queer fan convention QFX is having their virtual Cloud Con this weekend. Panels for Marvel's Runaways, One Day at a Time and Utopia Falls already happened, and this weekend will have panels for Wynonna Earp and more. All past and future panels will be on the QFX Cloud Con Twitch! — Valerie Anne
+ Apparently there's "no such thing" as a recap of a trailer so here I am in the notes section of Boob Tube to because I couldn't NOT tell you that WYNONNA EARP IS COMING BACK. They finally, finally, finally, after two years of fighting and hoping and wishing and dreaming, finally released a Season Four trailer. And it. is. glorious.
The trailer is everything I dreamed in more, showing old faces and new, hitting all the right beats, and making my Earper heart soar all over again. In it, Nicole Haught says, "God I've missed you, Waverly Earp," and so much same but about all of them. Season Four officially starts again for six whole brand new episodes on Sunday, July 26th. ONE MONTH FROM TODAY! My recaps and I will see you there. — Valerie Anne
---
It's a wrap — literally — on Kat's time in the loft; she's packing up her stuff and moving in with Jane. As they are wont to do, the move brings up a lot of memories: the couch that she bought after her first promotion and binged The L Word on when she was questioning her sexuality (#relatable) or the table from which she launched her campaign. The girls wrap her up in bubble wrap and dissolve into laughter as they embrace.
At work, Kat's finding ways to utilize the skills she honed at Scarlet into promoting The Bell: after hearing about one member's work with a domestic violence shelter — which she left a lucrative gig in finance to take — Kat wants to share the story with a wider audience. She pitches the idea for a podcast to her boss who seems skeptical, but greenlights a pilot episode. Excited about the development, Kat rushes to share the news with her best friends. After tossing out puns that might work as podcast titles, Sutton recommends that Kat reach out to Alex for his advice on how to make it into the podcast game.
Can I say: it makes sense for the activist within Kat to come to the fore, irrespective of where she's working, but I wish they'd taken another tact with it. The Bold Type has always struggled to give Alex something to do other than being of service to our three main characters… and, with one notable exception, his venture into podcasting has been the only storyline that's just about him. But here we are, ten episodes later, and Alex's is back, using his knowledge to provide help for Kat. Ugh. Do better The Bold Type, do better. But I digress…
Alex schools Kat on all things podcasting, even recommending the proper microphones to buy, but Kat's short on cash. He offers to buy them for her or even let her borrow some of Scarlet's extra equipment, but Kat declines his offers. He pushes to find out what's causing Kat's cash flow issues and discovers that she's paying $300/month to store her furniture. Alex recommends that she recoup her storage fees and sell her stuff instead.
"I can't do that, I already lost Scarlet and my apartment and my 401(k) and…," Kat admits, pausing to collect herself before adding, "The only thing I do know is that I can't lose anything else, so selling my stuff is just not an option."
But when she donates some old clothes to the domestic violence shelter, Kat comes to appreciate the need for reinvention and reconsiders her decision to sell her things. She calls Alex for help and, with his assistance, she's able to sell all her furniture and earn enough money to get her podcast off the ground… and, thanks to Jane, Kat's beloved couch has a new home in their shared apartment!
---
I feel a little bad about complaining in the last Boob Tube that Jess was gone because they made up for it this week, and we spend the first bit going over where Jess and Sterling were during the events of the last episode. Mostly, to be honest, Jess and Sterling were just lazing around in bed.
But then when Jess is out buying tampons, Sam bursts into Sterling and Jess's apartment and threatens her ex, forcing Sterling to leave with her. But Sterling maces Sam and gets away, stealing Sam's car and hearing a voicemail from Nia on Sam's phone about Murphy and Felix being in danger. So she goes to pick up Jess, who is horrified to learn that Sterling worked for Nia and that the one person left in her life who hadn't betrayed her did just that. Jess says SHE'LL go help Murphy, and tells Sterling not to follow her in a clear, firm voice we've never heard her use before.
After we get to the part we already saw, Jess saving Murphy, Murphy lets out this sad, apologetic, "Jess," and Jess finally lets down her steely walls and wraps Murphy in a big hug.
The team ends up burying the bodies in the woods, which just never goes well, but these kids haven't always been the best decision-makers. The whole time, Sterling leads the charge, clearly no stranger to the hiding-a-body game, but everyone is so cold because they hurt their Jess. Murphy is mad, Jess is mad, Sterling is annoyed. But in the end, Jess thanks her for helping them and says a somewhat amicable if not permanent sounding goodbye.