Hello, waterlilies. I'm sorry I'm a day late with this column this week. Orphan Black's return complicated my Monday schedule. I'd never recapped it before. It takes a lot of time! I'm restructuring some things so I'll be back on scheduled with Boob(s On Your) Tube next week. There actually wasn't too much going on, queer TV-wise, last week. The Good Wife is on hiatus. Nyssa didn't appear on Arrow. There's no bisexual stuff on Weird Loners yet. There were a few conversation starters, though, so let's shake 'em down.
---
One Big Happy
Tuesdays on NBC at 9:30 p.m.
Last week's One Big Happy fell back into that pilot pattern that kind of drove me bonkers, with Lizzie and Prudence spending the whole episode fighting over Luke. Who knows Luke better? Who loves Luke the most? What should Luke spend the weekend doing: Hanging out with Lizzie at the farmers market, like always? Or skydiving with Prudence because she's his thrillseeking wife? The three of them work it out in the end, with Pru and Lizzie agreeing that they each love Luke and can share him, before embarking on a family journey up to the Hollywood sign to (illegally) watch the city at night. (Obviously Lizzie did not know it was illegal.)
After pulling in 5.4 million viewers with the pilot, One Big Happy's ratings have leveled out around 3.5 million viewers per week. NBC only ordered six episodes of the show, and while the ratings have been just okay, that may be enough for a second season. NBC's comedy slate has been in trouble for a while now, and it's not like they have another 30 Rock or Parks and Recreation in the queue. The places that track these things seem to be giving One Big Happy about a 35 percent chance of renewal. Fingers crossed. The first season of all sitcoms is almost always rough.
---
Younger
Tuesdays on TVLand at 10:00 p.m.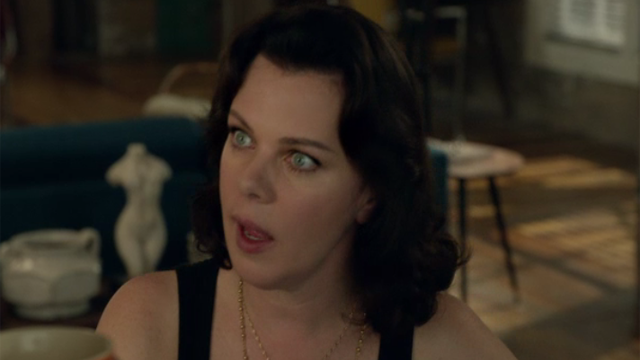 Maggie only made two quick appearances on Younger last week, both times as a sounding board as Liza worked through her early days relationship jitters with her new boyfriend. But this show is always passing the Bechdel Test because it features three super career-focused main characters who are women, so I've always got office hijinks to report. Last week, Kelsey's awful shitbird boyfriend peer pressured her into getting drunk the night before a big meeting, so Liza had to give her new workplace gal pal a stern talking to about owning up to her problems and fixing them. Kelsey fixed the work thing, but she's still dating the awful boyfriend. (He doesn't "do Brooklyn," whatever that even means.)
---
Newlyweds: The First Year
Tuesdays on Bravo at 10:00 p.m.
On this week's Newlyweds, Laura and Sam celebrate Laura's birthday at Fantasy Castle Strip Club. You'd rather watch that than see me type about it, so here you go:
---
Bold and the Beautiful
Weekdays on CBS
I have reached the point where I feel gross about giving CBS my one-person ratings to stay caught up on Bold and the Beautiful. They are absolutely mangling this trans storyline. It's terrible. Everyone in the world is finding out Maya is trans because all of her friends and enemies are running around whispering it to each other like it's the most titillating piece of information in the world, but Maya hasn't told her boyfriend yet because she wants to wait until they're engaged. The language is inciting. They keep calling it "Maya's shocking secret" and whatever. And her sister is still blackmailing her by threatening to out her. According to the spoilers I read, Maya is going to get engaged next week and make plans to come out to her fiance. Black trans women are the most persecuted queer people in this country, and this storyline is just reinforcing dozens of completely untrue and damaging stereotypes. I want it to be over.
---
Lost Girl
Fridays on Syfy at 10:00 p.m.
Lost Girl finally landed in America for its final season on Friday night. I have been trying to figure out a way to fully recap this show for y'all because I know you love it so much, and it really is one of the best shows w/r/t bisexual representation in the whole history of TV — but there's so much to cover right now! Pretty Little Liars and The Fosters are both back in a little over a month, which means they'll be overlapping with Orphan Black, and you know Orange Is the New Black's third season is landing soon too, and Riese and I will be co-recapping that for you. If only I had a Time-Turner! So, I think what I am going to do is keep you updated here, and write a couple of longer, more comprehensive articles about Lost Girl as the season progresses.
In episode 501, Bo climbs up a giant rock formation, singing "She'll Be Comin' Round the Mountain," to retrieve the mythical hellshoe she needs to teleport to Valhalla to rescue Kenzi. Bo pops by Lauren's new hospital to have sizzling chemistry and exchange longing looks, and while her One True Love is prepping the medical equipment to monitor Bo's body while her spirit romps around Valhalla, Bo goes ahead and slips her foot right into the hellshoe.
Valhalla is very Kurbickian. It's a literal hotel. Bo seduces a maid, steals her uniform, and wanders willy-nilly around the hotel, skirting the Valkyrie. She finally does track down Kenzi, who keeps receiving these weird, breathy, threatening phone calls in her hotel room, and their reunion is the sweetest thing. Hey, and guess who else is in Valhalla? Hale! So Kenzi arranges to marry him and stay here forever, but at the last second, she decides she'd rather go on home with Bo. But the Valkyrie aren't just going to let Kenzi leave! So, Tamsin shows up with a soul to trade (after literally telling Lauren to "eat a sack of tits" when she presented her with the soul-trading idea), and Kenzi is freed.
Unfortunately, Bo is not. She gets sucked into a portal that is maybe taking her to the depths of hell to finally meet her Big Bad dad.
While all of that is happening in the otherworld, Lauren and Dyson are teaming up(!) to crack the Valhalla code and bring Bo back home.
---
The Lizzie Borden Chronicles
Sundays on Lifetime at 10 p.m.
Riese tells me there was no new queer stuff on Salem this week, but that there is lesbian stuff on Lizzie Borden. I am juxtaposing those two things because of all the blood and how I can't watch them. A quick Tumblr search confirms that: Yes! Women were smooching on the mouth on Lizzie Borden! The woman Lizzie kisses is named Adele; she's a sex worker Lizzie rescued when Lizzie found out she was being abused by a client. But then, apparently, this other guy tried to rape Adele in Lizzie's house, so Adele stabbed him in the gizzard with a pitchfork, and when that didn't kill him, Lizzie went ahead and chopped him into about a hundred pieces. But then Adele got buried alive in a box. You can watch the kiss here. It's terrifying and also really hot? And Adele is maybe dead but maybe alive? We'll see how it goes. (And by "we," I mean Riese.)
---
Supernatural
Wednesdays on the CW at 9:00 p.m.
Felicia Day's lesbi-nerd returned to Supernatural last week, after acquiring The Book of the Damned. Some henchmen tracked her down once she landed in Des Moines, and she escaped with the book, but got shot in the process. She phoned up her old buddies Dean and Sam to tell them about the book, and about how it might hold the key to removing the Mark of Cain from Dean. She met up with the brothers and they worked together to crack the book's code (it was written in cipher in Sumerian, obviously). They didn't have time to translate it before some bad guys showed up, guns blazing. Charlie killed one and Dean and Sam killed some other ones, and Dean was forced to burn the book in holy oil to keep the bad guys from getting their hands on it to use for their own nefarious purposes.
After a hard day of battling demons, they all retired to the bunker to drink beer and eat pizza with Castiel, who healed Charlie's gun shot wound and her carpal tunnel. It's nice to have an angel around sometimes!
---
Team TV coverage you may have missed
+ Orphan Black Episode 301 Recap: Clear Eyes, Straight Hair, Don't Care
Delphine ramps the misandry up to eleven, and also breaks Cosima's poor heart.
+ Grey's Anatomy Episode 1120 Recap: On The Wings Of Love
Another day, another plane crash.
+ Clone Club Group Text: Tatiana Maslany Is Every Emoji on "Orphan Black"
Season three lands on Saturday, y'all! It's time to get psyched!
---
I'm still catching up on The Returned, but I'm happy to report I'm only two episodes away from being completely in the know about Person of Interest! So we'll be talking about both of those things soon.