Boob(s On Your) Tube is a twice-weekly round-up of all the queer shenanigans happening on your TV. The column runs on Tuesdays and Fridays.
---
Survivor's Remorse
Saturdays on Starz at 9:30 p.m.
SPOILER ALERT!
Survivor's Remorse ended a strong second season in sudsy dramatic fashion by killing Uncle Julius in a car crash. It was such a departure from the more lighthearted drama this show usually tackles (or the real world drama it takes on in a satirical way) that I actually didn't believe it was the real deal. But a quick peek at IMDB reveals that the actor who plays Julius is heading up an Uncle Buck reboot, and no showrunner can resist the urge to smash a character to bits when the actor is exciting the show anyway. And so. Uncle Julius, your one-liners will be missed!
This was another fantastic season of one of the most under-watched, underrated shows on TV and I'm so psyched it's coming back for at least another year. The first half of this season was really M-Chuck-heavy, but the last four episodes swerved into rom-com territory as Cam fell in love with a nurse named Allison who actually might be his soulmate. In only ten episodes, season two explored domestic violence, reproductive health, the perpetual racism of upward mobility, disproportionate employment opportunities for black actors, entrenched homophobia in the church, and, as always, the bond of family.
M-Chuck remains of the most refreshing queer characters on primetime and if I had one wish for 2016, it would be that Starz would make it easier to watch their shows so everyone could see Survivor's Remorse. (And the unshakable queerness of Black Sails, too, if you're gonna have Starz anyway.)
---
Lost Girl
Sundays on (Canada's) Showcase at 9:00 p.m.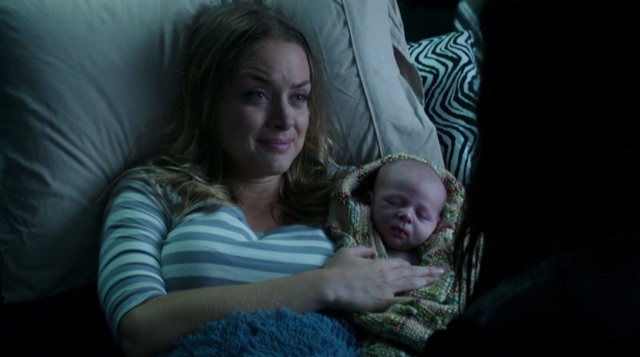 After five seasons, Lost Girl — the genesis of Canada's top notch lesbian TV exportation and one of the most consistently queer shows on television — has finally bid us adieu. The series finale aired on Sunday night. The plot was so convoluted during the final season (especially these last eight episodes) that I won't even try to hammer it out for you. If you're still watching, you got it as much as you're gonna get it; and if you're not still watching, you only want to know one thing: Did Bo and Lauren end up together?
Yes, reader, they did.
I actually enjoyed the symbolism of the finale much more than the plot of the finale: A bisexual succubus who spent most of her life alone in the world and afraid of her own power finally faced off against a father who wanted to enslave her and control her sexuality so he could control the world. (Patriarchy anybody?) But with the help of her found family, which included two other queer women, she defeated his evil ass and pledged to help her new sister (Tamsin's baby) fight him off, too, until he was conquered for good. And while she was working toward that, her found family decided to work toward smashing this whole Dark/Light binary the fae foisted upon them when they were just young whippersnapping superheroes.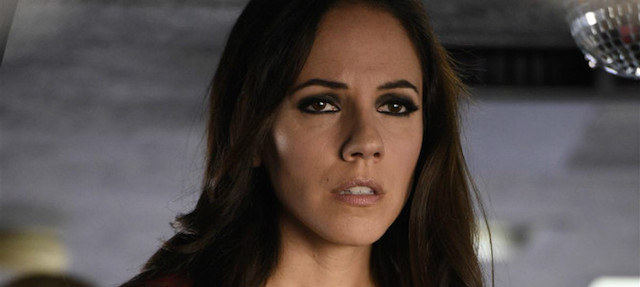 And Bo and Lauren, they practically got married. After Bo's final battle with Hades, and after sending Tamsin off to Valkyrie heaven and Tamsin's baby off to live with Kenzi, Bo hopped up onto the hood of a hot rod with Lauren and:
Lauren: I, human, Lauren Lewis, want to spend the rest of my life with you, succubus, Bo Dennis.
Bo: I always thought because of who I am, I couldn't have a relationship — let alone with a human. And you broke my heart.
Lauren: A mistake that I made twice, and one that I would never make again.
Bo: Lauren, we are messy. We're complicated. That hasn't changed.
Lauren: And I hope it never does. Do you think we can do this?
Bo: I do.
Doccubus: SMOOOOOOOCCCCCCCCH.
Lost Girl's ratings tanked over the last two seasons, but queer women really stuck with this thing, and it's so rare to be rewarded for that loyalty. Lost Girl arrived on the scene when there were very few women kissing on television — and almost no women having sex with each other, especially with the lights on — and it so it was part of a core group of shows (including Glee and Pretty Little Liars) that shepherded in a new kind of lesbian and bisexual representation on TV.
Lost Girl wasn't without its problems, particularly it's unbelievably transphobic season three premiere episode. I'm so happy with so much of the legacy of this show, but that storyline is a blight on it that I'm never not going to think of when I fondly remember the revolutionary queer stuff it did really well. (And you'll notice the other two shows I mentioned up there, Glee and PLL, have been similarly reckless and irresponsible with their trans storylines. Like how hard it is to not use the "deceptive trans person" trope? It's not hard at all! It's so easy! Just don't do it!) (At least Lost Girl apologized? Unlike Glee and PLL?)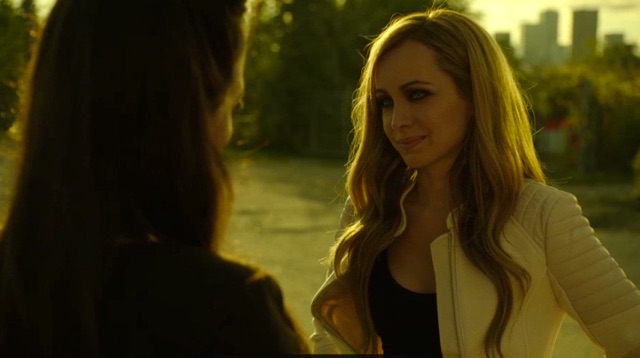 Lost Girl gave us a happy ending I honestly didn't see coming. I thought for sure Lauren or Bo or both of them were going to have to throw themselves into the hellmouth or whatever to save the world at the end of the day, but I'm glad they survived and decided to ride off into the sunset together. It's so rare to see a male-female-female love triangle end with two women together. And, you know, Lost Girl is a show that lasted five seasons with a bisexual lead character. That's a huge deal. Here's one last smackeroo for the road.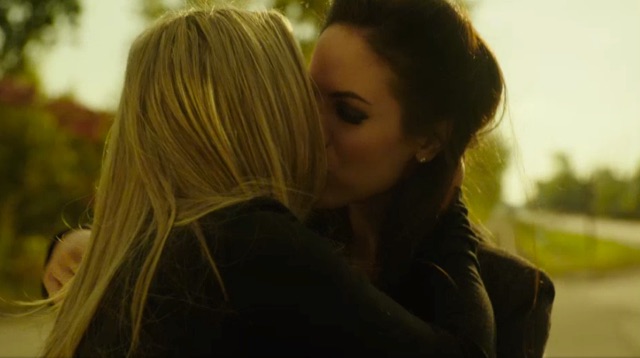 ---
Jane the Virgin
Mondays on The CW at 9:00 p.m.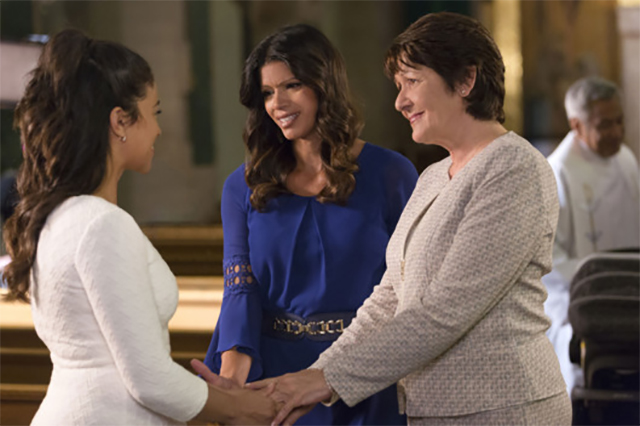 Last night's episode of Jane the Virgin was one of my all-time favorites, which is saying something on account of this is one of my most beloved shows on TV. "Chapter 24" centers on two stories: Jane's struggle to Have It All, a thing that includes leaving Mateo much earlier than she intended to take a pre-requisite class that will allow her to start grad school; and Mateo's baptism, an event that is framed beautifully with Villanueva family traditions started by Alba because she left nearly everything behind when she moved to the United States in search of a better life for Xiomara. During Mateo's baptism, Jane reads a letter Xo read at Jane's baptism, and that Alba read at Xo's baptism. It's beautifully acted and directed, and a two-minute scene that showcases some of the very best things about this show. These strong, vulnerable, determined Latina women whose bond with each other is their comfort and their strength.
And because of that bond, both Alba and Xo are able to convince Jane that they'll handle Mateo together — the three of them — so that she can pursue her grad school dreams.
Gina Rodriguez is putting on an acting masterclass this season. I will be furious if she doesn't get another Golden Globe nomination.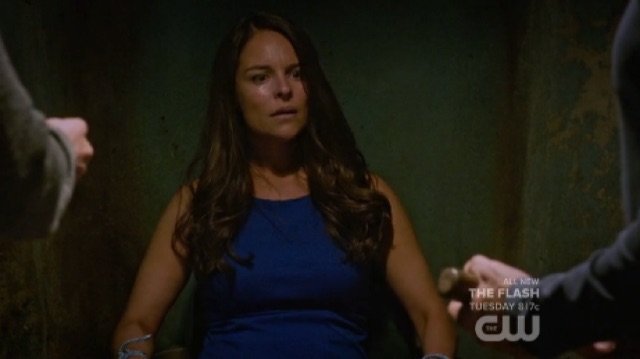 In one of the other fifty-seven amazing plots, Luisa has been kidnapped and is being held in a bunker by a couple of German guys. She recognizes their language because she spent a summer getting drunk and sleeping with a lot of women in Munich. Luisa is terrified at first, crying and begging for them to call her brother, but then she decides it's Rose who has captured her, so she hilariously monologues her internal conflict about whether or not her situation is infuriating or romantic. And she also starts demanding things from her captors, like room temperature water. In the end, though, it turns out Rose isn't the one who had her kidnapped, and in fact whoever did kidnap her is trying to ransom her to Rose. In German she starts yelling things like, "I'll sleep with your wife!" but the brutes holding her wallop her in the shin and take a photo of her shrieking to send off to whoever is paying them.
Maybe it's Rick! (Lachlan.)
---
American Horror Story: Hotel
Wednesdays on FX at 10:00 p.m.
Hotel really brought it with the gothic pseudo incestuous desire this week.
Chloe Sevigny (giving an understated performance as the suffering, logical, non-supernatural Dr. Alex that is really grounding the mayhem) reveals in voice-over that she was perhaps unreasonably obsessed with her son Holden (his head smelled like lavender?), and loved him more than her husband or daughter. Now that the entire family has spotted the missing boy at the Cortez, will they attempt to liberate him, and can that go anything other than very badly? Meanwhile, Kathy Bates (Iris) really wants her son Matt Bomer (Donovon) to love her as much as she loves him, even though all he does is scream hateful things at her. She tries to escape into death, and he feeds her his virus blood.
Angela Basset finally arrives as '70s blacksplotatian star named Ramona Royale, who was then spurned by Lady Gaga's Countess. I guess I didn't really explain last week that the Countess, Donovon, and maybe the creepy blonde kids, aren't vampires; they have a virus that keeps them young and makes them crave blood. A good friend of mine in the bleeder community informed me that Ryan Murphy has proclaimed that the ancient blood virus is "a form of hemophilia in a way." The NHF is up in arms!
The Countess has apparently spent the 20th century feeding hotties her blood virus, living in murderous femme decadence for a few decades, and then discarding them when they decide they'd prefer Netflix and chill to hunt and kill. She and Ramona split when Gaga murdered Ramona's male rapper lover, Prophet Moses in the '90s.
Here are two issues I have with the Prophet Moses. Not the name. Great early '90s hip hop name. First of all, the opportunity was right there for an alternate history conspiracy theory about the Countess being responsible for Tupac or Biggie's murder. Second, and more importantly: while I am always happy to see bisexual characters, Ramona struck me as "only lesbian for the supernatural appeal" which is definitely a tired problem. Femme-on-femme desire is not something that only exists as a metaphor for otherworldly hedonistic indulgence.
That being said! Their affair was an excuse for many delicious period looks and make out sessions. In the '70s scene, Gaga looks exactly like Hedwig when she gets in the car crash with Tommy Gnosis! Gaga also has a move on this show where she gets in female superior position and wears a thong during sex and her ass just looks absolutely perfect. It is very difficult to wear incredible outfits and pose well. We often deride or dismiss this skill precisely because it is something we typically ask women to do.
Going back to the Mommy Issues theme, we see both Gaga and Basset feed the blood of eternal life to her lover from her breast during sex. When we see Donovon turning his mother, he opens his wrist. Like I said, this is some classic Gothic Literature shit made hammy as hell and in case it's not clear I love it.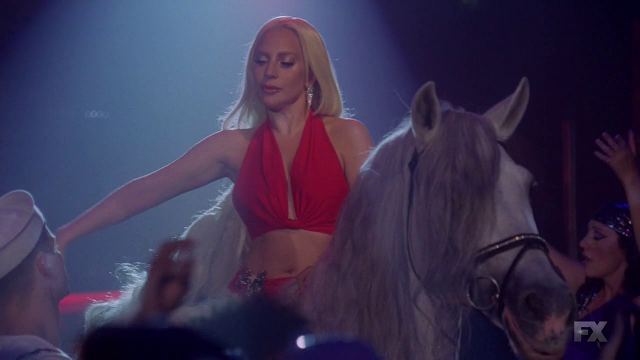 Hotel might be trying to say something interesting about bisexuality. Both Tristan (who reminds me so much of my entitled junkie ex-roommate it's truly scary) and the Countess attempt to seduce Will Drake, but interrupt one another. Drake tells Gaga he's definitively gay, followed by this cringy sentence; "I feel the same way with you as I did when I kissed my first man." Gaga straddles him, and when Tristan interrupts she exits, purring, "By the way, you're hard."
So many questions still unanswered: Will Liz Taylor's character evolve beyond tasteless pencil skirt jokes? What does it mean that notorious serial killer James March is a Scorpio? Will Hakim arrive to rescue Naomi Campbell?
---
Team TV coverage you may have missed
+ Faking It Episode 219 Recap: You're Not That Kind Of Girl OR ARE YOU
This week on Faking It, the world decides to have a party at Lauren and Amy's house and nobody brought finger-foods, just beer. It was okay. A lot of stuff happened. You should probably read this.
+ Lesbian Kisses On American TV: The Definitive History Of Everybody Freaking Out Over Nothing
We've come so far since same-sex kisses on television only happened once in a show's entire run, rarely involved lesbian or bisexual characters and generally were obscured by somebody's hair!