It's a light week for queer teevee on account of The World Series taking up three thousand hours and preempting all of the good stuff on Fox (and also the bad stuff on Fox; take that, Scream Queen) — but hey, How to Get Away With Murder aired a really revolutionary trans storyline, and there's other stuff we need to talk about, too.
---
American Horror Story: Hotel
Wednesdays on FX at 10:00 p.m.
If you, like me, spent your teen years obsessed with the horror-fantasy comic Sandman, you'll remember an issue about a "Cereal Convention." In a generic hotel, serial killers (get it?) gather to get nerdy about murders and executions.
This week's episode of AHS reminded me of that story a lot; except instead of a convention, "Devil's Night" is a party at the Hotel Cortez where everybody dances to Velvet Underground covers. And while Neil Gaiman invented a bunch of fictional killers, AHS invites the ghosts of real-life infamous people. This creep factor is one of my favorite things about the show; even when surrounded by supernatural monstrosities, nothing is more depraved than what humans do to themselves and one another.
We need to talk about Lily Rabe as Aileen Wuornos. As a beloved recurring cast member (personally, my mood can always be improved by clips of her as Satanically-possessed Sister Mary Eunice humping the bed to "You Don't Own Me," or as swamp witch Misty Day twirling to "Rhianon"), Rabe's appearance signals a special characterization. The real-life Wuornos was definitely a psychotic killer, but is also seen by many as an outlaw misandrist hero.
For a moment, in Rabe's first scene at the bar, I was excited that we were seeing a vision of Wuornos as a woman who had the nerve to fight back against the abusive patriarchal circumstances of her life. But when drunk John Lowe invites her to his room (believing her to be a horny girl in a very realistic Wurornos costume) Liz Taylor hisses at him, "You're too drunk to see how ugly that woman is." Lowe says "I'm too drunk to care." This really pissed me off. Who thought this was a funny line? Who calls people ugly, especially a real life butch lesbian?
In Lowe's room, Wuornos goes full psycho, cuffing him to a chair and accusing him of a bunch of shit. Though Rabe gave Wuornos some dignity by just being such a goddamn good actress, the show was sort of undermining her heroic reputation. The switch suggests that she invented the stories of attempted rape by posing as a prostitute and luring men to their death before shooting and robbing them. I cannot deny that Wuornos murdered men, even if it was in self defense or justifiable rape vengeance. But if you're going to create a fictional story in which real serial killers have a glamorous sexy powerful club, it's definitely a misogynist move to portray the female as the ugly, lying, out-of-control one.
That quip aside, I thought this episode was gangbusters. This morning (which happens to be October 30th, the real Devil's Night), I was biking to work and an older gentleman in Carharts crossed my path wielding a six-foot tall bloody scythe. "Cute!" I said, instead of "WTF?!" The Halloween joke, "That is such a convincing costume!" never loses its luster because our sense of danger really is blurred when everyone is masquerading as something spooky. That mindfuck is what I love about Halloween and AHS.
Notes on random excellence:
This week it was Chloe Sevigny's turn to drink the ancient blood virus from Lady Gaga's breast, mama to mama.
I appreciated that the businessman brutally sacrificed to the serial killers was introduced making whorephobic comments about girls in sexy Halloween costumes.
John Carroll Lynch, who played Twisty the Clown last season, as John Wayne Gacy, the real life inspiration for Twisty, was another stroke of stunt casting genius.
Predictions:
I am fully Team John-Lowe-is-the-Ten-Commandments-Killer. The blackouts we never see flashbacks to. The guilt over losing his child. His inclusion on the guest list of serial killers. His "late hours at the office." The fact that March seems to know something about him…
Iris is going to become the most vicious killer of all and we are gonna get fucked-up Kathy Bates with blood all over her face going full Misery and it's gonna rule.
Alex is going to break in her new blood craving on bad mom Shelly from Twin Peaks, sending a warning to anti-vaxxers everywhere.
---
Arrow
Wednesdays on The CW at 8:00 p.m.
Sara is still alive on this week's Arrow. Well. "Sara." But Laurel is the only one who seems to think her sister's soul is still alive in her sister's resurrected body. They've got her chained up in the basement and she doesn't recognize Laurel or her dad or pictures of anyone in her family. And one time she kind of sort of tries a little bit to strangle Laurel to death. My friend Valerie called her a "feral kitten," last week, which is just about the truest thing I've ever heard. I think Lauren thinks so too, so she returns to the dungeon to feed Sara a sandwich and sit on the floor and not make eye contact with her — the first step of socializing all feral cats — but Sara has escaped.
Whoops.
---
How to Get Away With Murder
Thursdays on ABC at 10:00 p.m.
This week's How to Get Away With Murder case of the week is about a trans professor who teaches with Annalise. Her name is Jill and she's played by out trans actress Alexandra Billings. Jill is trapped in an abusive relationship with her husband and finds that the only way she can get out is to kill him. She hasn't been watching this show, so she doesn't actually know how to get away with murder. She makes the rookie mistakes of using a landline and faking some witnesses and setting up a crime scene. Luckily she's dear friends with Annalise, who is the best of the best at what she does and also knows what it's like to be in an abusive relationship, so she doesn't get convicted.
Our trans editor, Mey Rude, and TV intern, Sadie weigh in with their thoughts below.
Mey's Thoughts
First of all, I was really excited to see Alexandra Billings in this role. Not only is it good to see that they actually cast a trans woman to play a trans woman (unlike Law & Order, another show that recently aired a "trans episode"), but also she's been a working actor for a while, blazing trails for other trans actors, and it's nice to see her getting more roles. Also, it's nice to see a trans woman in a role on a tv show about murder where she's not playing a dead victim who repeatedly gets misgendered by the people trying to solve her murder.
The cops were predictably gross, telling her "you lied to your husband" and that it was rational for him to freak out when "he found out what you are." But the show stepped up its game by actually having not only Billings' character call him out right there (way to not take any abuse any more) but then also have the star of the show, Annalise Keating, say that the transphobic cop added to her trauma by verbally abusing her after she was attacked by her husband. Annalise shout-asking "How is it not a hate crime?" is something I find myself doing all the time when trans women are murdered and the police decide not to investigate it as a hate crime.
They actually talked about Cece McDonald! How awesome is that!? And they didn't just drop her name, they had a trans woman tell her story, talk about what happened to her. That was amazing.
Finally, Annalise and Jill talking about love and bonding over the relief they feel now that they're out of abusive relationships was terrific. Jill saying "I believed him when he said he was the only one who could ever love me" stabbed me right in the heart. That's something that we, as trans women, hear all the time, from society, from the men we sleep with, from the women we sleep with, from all around us, and here was a trans woman who finally fought back against that and broke free of that mental abuse. I think this was the best Very Special Trans Episode of a show that I've ever seen.
A few other notes:
"Old ladies can like vag too." That line made me throw my head back and laugh.
I really like that not only is Annalise on Jill's side in this case, but they're old friends. It shows that trans people are a part of her life and that her fighting against the transphobic husband and cop wasn't just for show.
Sadie's Thoughts
I thought Alexandra Billings was a fantastic choice for this show and I almost expect to see her take the lead on a show of her own within the next few years (which, as an avid teevee watcher, I really couldn't find myself saying not that long ago). Trans characters on shows like this are often time relegated to angsty teens who are convinced or often forced backwards or a tragic older person with no one at all on their side. Because of this history one of my favorite aspects of this episode was that Jill and Annalise were already friends to begin with, and that meant every transphobic comment was met with a rebuttal rather than being used as a cheap joke at the trans person's expense. I'll be honest, I was worried about how this would go down considering Shondaland doesn't have a super great track record, with some of the missteps made in Grey's Anatomy, alongside the fact that this storyline breaches into trope territory (femme fatale trans women murders husband), but it was incredibly refreshing to see that kind of thing turned on its head by showing just how much Jill and Annalise have in common.
All and all I thought the storyline itself was a little thin but it was handled expertly.
Heather's Thoughts
When I downloaded Sadie's screencaps, they made me laugh so hard.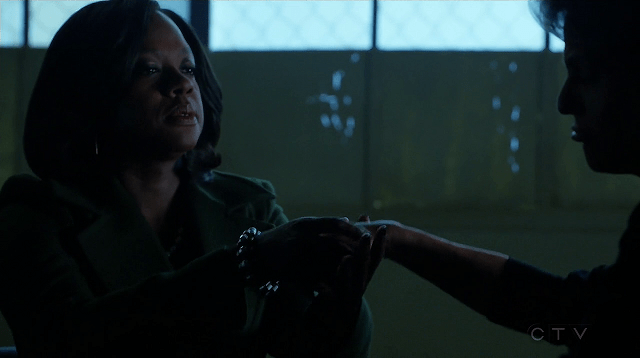 ---
Carmilla
Tuesdays and Thursdays on YouTube
Written by Karly
This week Carmilla, Perry, and Mel agree that their missing periods is related to students all over campus acting like farm animals and magic is involved. Like seasons 1 and 2, the main plot takes a backseat to the characters interacting with each other. Mel is so shy, Perry is like a mix of Hermione Granger and Professor Trelawney, and Carmilla is trying to be the aviator-wearing guard in Cool Hand Luke.
In present day, Laura is taken aback that Carmilla threatened to break so many fingers and Carmilla shrugs, like "Stop forgetting I'm a vampire." Then they tease each other and it's adorable. I missed Laura in episode 3, but she made up for it all in that one scene.
But back on the VHS tapes, Carmilla doesn't use thumb screws on Perry. Instead she stomps on Perry's attempts to cast spells, telling her the OtherWorld doesn't reveal itself to muggles. You can see the sparkle leave Perry's eyes. Words can hurt worse than thumb screws.
Next week maybe they find a clue or they could just play Clue on that giant awesome table. I would watch either.
---