Welcome to a mega Boob(s On Your) Tube. I'm sorry we missed last week's column; we had some wrinkles to iron out but they're smooth as better now and we're ready to talk about the good and bad (Empire, what the fuck?) of queer TV this week! Apparently, Code Black, The Vampire Diaries and Blindspost have offered up some queer shenanigans these last few weeks. I'll spend some time catching up on those shows this weekend and talk with you about them on Tuesday, when I also catch up on the minor characters from Grandfathered and Rosewood, and with Eve and Annalise on How to Get Away With Murder. 
---
Empire
Wednesdays on Fox at 9:00 p.m.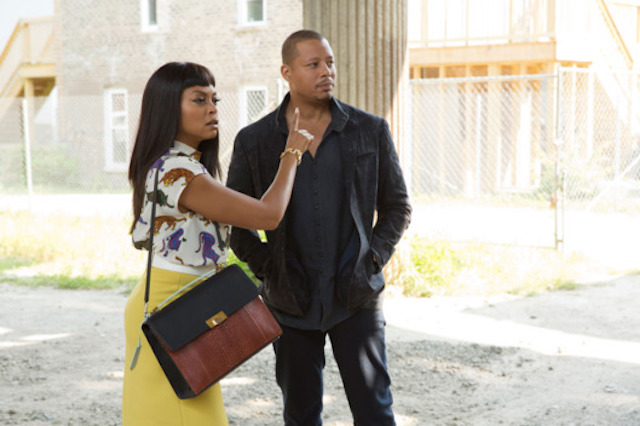 Episode 206: "A High Hope for a Low Heaven"
Becky got her some booty last week and the whole world went insane. Memes were created. Blogs were written. But mostly we were so happy to see a fat, black, fierce woman get some love on network TV. That was the high of "A High Hope for a Low Heaven."
The rest left me with a whole bunch of questions. Cookie and Lucious find out that Hakeem has been kidnapped. Lucious figures that Cookie is being shook down because she is the new kid on the block. Suddenly Hakeem is released and then he is at Boo Boo Kitty's house hooking up with her. I have no idea where that came from. They haven't hooked up since last season; now he is running to her house after he gets released from kidnappers?
Jamal has been in the running to book Staples Center, but the say he is too narrow of an artist to fill their venue. To give you context of how huge that is: The Staples Center is where the Lakers play. He finds out that he has been rejected and he lights Lucious up because Empire is only marketing him to gay audiences. He brings in yet another one of Lucious' nemesis, a guy named Jameson to help him break out of the LGBTQ market.
Hakeem is having problems being back in the real world. He won't admit to anyone that he is having crazy anxiety that's making him more angry and aggressive, plus his vision and hearing is impaired. Lucious offers him a song that he wrote and Hakeem flat out refuses to do the song and they have a fight outside of the performance venue. Andre and Jamal manage to calm Hakeem down and he admits to feeling weak for not fighting back against his kidnappers. It looks like he is questioning his hard hip-hop persona since he couldn't even defend himself. He still ends up having a panic attack right there on the stage.
Andre interviews each of the artists on Gutter Life Records to find the depth of their character. Most of them don't have much to say but he does discover that J Poppa, Becky's cutty buddy, is a church kid who may be open to infusing more spirituality into his lyrics. Later the label has an artist showcase at Leviticus, where J Poppa shows off his new style. I think this was a play on the new genre of music called Trap Gospel. I may be wrong. I hope it is because Empire doesn't have the chops to take on Trap Gospel. The track was hot, though! After J Poppa, Freda Gatz comes through spitting fire! I said on Twitter and I am saying again here: Bre-Z is the future of hip-hop music. She is the most talented musical artist on Empire. Her career in real life is going to blow up! Her career on the show may have been in jeopardy when she kicks a heckler in his damn throat. Freda Gatz is not a joke. Lucious offers her the track that Hakeem rejected. It's like he is drawing her in like the son he never had. He says she reminds him of himself when he was a kid. His treatment of Freda vs. Jamal is still so suspect. I'm honestly afraid of how this is going to play out.
Cookie takes Laz's advice to hire Hakeem's kidnappers as the new Lyon Dynasty security team. She and Hakeem meet with them at the same warehouse that they kept Hakeem in. When they arrive, Hakeem pulls a gun on his attackers. Although Cookie is able to talk him out of pulling the trigger, she grabs the gun and holds it on them herself. She may be afraid but she ain't stupid. Later she goes to thank Laz with a little loving. As they are tearing each other's clothes off, we get a good look at his back and find that he has the same bird figure tattooed on his back as the guys that kidnapped Jamal. The enemy is now on the payroll. That's bad news for a lot of people.
Episode 207: "True Love Never"
I promised everyone on Facebook that I would start this Empire recap with a little bit of truth. When this season started, I was so excited for every new episode of Empire. I have now officially gone from excitedly forcing myself to stay awake and watch to being mad I have to stay awake and watch. I have slid that far off of the Empire train. Alas, I do love my Straddlers so here is my Empire Recap.
Cookie is literally sleeping with the enemy. She is spending her days and nights working in bed with Laz, who is secretly setting her up for a huge shakedown. I won't lie: I found their bed sessions in a sexy lets-lay-up-under-each-other-naked kinda way. I'm pretty positive I have a boi crush on Adam Rodriguez and we all know Taraji P Henson is fine. I really wish it was them in the final scenes of this episode, but hold on we haven't got there yet.
Cookie is planning on throwing an "old school cookout." I seriously doubt how old school it will be. Will they be doing the wobble or have a Soul Train line? Will there be a Spades or Dominoes table? Who is gonna make the potato salad? For these and all other requirements for an old school cookout please refer to the Caucasians Guide to Black Cookouts. Well, this is still FOX so I would bet they won't adhere to all the rules. But I digress. Laz convinces Cookie that she should hire the guys that kidnapped Hakeem to protect the venue. I'm sorry, Cookie is an old school hood dope runner. Why would she be so open to hiring the same guys who already tried to shake her down once?
Both Freda Gatz and Jamal are working on new tracks in separate sessions. Jamal hits Cookie up while she is laid up with Laz for advice on his track. She reluctantly agrees and gives him a few pointers via text. Meanwhile, Freda is working with Lucious on this damn "Boom, Boom, Boom" song. We went from "Drip Drop" to "Boom Boom Boom." Lesigh. She is spittin' hot bars but Lucious pushes her to dig deeper and "not be afraid of the beast." He tells her that he is taking the track to music mogul Huey Jarvis to see if they can perform it at his regular industry shindig called The Living Room Sessions. But when he takes it to Huey the old dude basically gives him the same advice he gave Freda: stop being afraid of the beast and dig deeper.
Cookie and Hakeem have a party to announce Cookie's Cookout featuring a performance by Merage A Trois. Cookie determines that Laura is not a star and that Hakeem needs to make Carmen the lead. Hakeem is determined to bring the star out of Laura and recruits Tiana to help him. This pisses Cookie off but Hakeem keeps trying. He finally takes Laura out on the streets to have her sing in public and make people stop and to listen. Apparently Ryan Murphy must have written this episode because it a total Glee moment.
Lucious and Mimi call a board meeting where they go back and forth about the dip in Empire's numbers on Wall Street. Mimi suggests that they merge with streaming service Swift Stream. Andre objects but Lucious doesn't really care much about what Andre has to say these days. Oh, but he does want him to go see the Deputy Mayor to get a gang injunction lifted from Freda's record. Apparently, Andre has a special way with her. Meaning they used to sleep together. This is in conflict with Andre's new found religion, so he revisits the studio where he tried to commit suicide before. This time he is accompanied by his pastor, who encourages him to find another way to pursue her to work with him. There is something really sinister about this pastor. The way he talks when he tells Andre he is the chosen one. I don't know but I feel like it's foreshadowing something big and maybe violent down the road.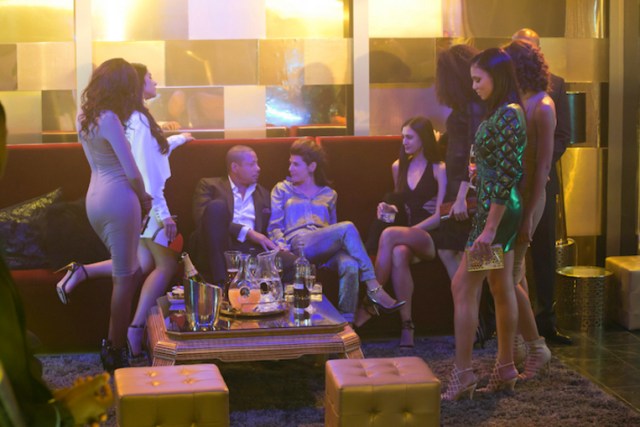 Jamal finds out that he has been asked to perform at Huey's Living Room Sessions. Lucious congratulates him but he quickly gets that jealous I'm up to something look in his eye. I expected him to do something to sabotage the session but he doesn't. Instead he has Mimi over to celebrate the merger they negotiated by basically drugging the owner. They're drunk as hell and they've brought a woman from the club to celebrate with them. Lucious proceeds to threaten Mimi's girlfriend on the phone because clearly big bad alpha male Lucious needs to save her from her destructive girlfriend. Then Mimi, Lucious, and the girl they picked up at the club proceed to have this horrible threesome that literally made me throw up in my mouth. Like seriously if you haven't already watched this episode you plan on doing it, avoid that scene at all costs. It will make you want to gouge your eyes out.
The pistol tattooed on their partner's leg triggers a memory of Lucious' mom trying to kill herself much in the same way that Andre did in the studio. Lucious then decides that what his song needs is the effect of a real pistol chamber spinning and pulling the trigger on the empty gun. Um, okat?
I am scared for what's coming up next week. I don't mean that in a good way.
---
American Horror Story: Hotel
Wednesdays on FX at 10:00 p.m.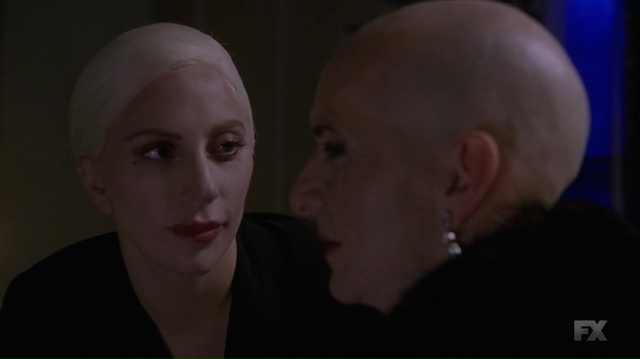 On last week's American Horror Story: Hotel, "Room Service," we found out that the character of Liz Taylor was designated male at birth and presented as a man until the mid-80s, when Lady Gaga arrived at a hotel where Liz was traveling for work. Lady Gaga christened her Liz Taylor and taught her how to do makeup and fashion things. On this week's episode, "Room 33," Liz confirmed that she is a trans woman. Ryan Murphy's history of writing trans characters is truly terrible, and our Trans Editor, Mey Rude, has some really complicated feelings about Liz's story. Rather than hashing out the details in this column, we're going to work on a longer form article that examines Liz's story and juxtaposes it with Murphy's other writing about trans characters. As Mey pointed out to me today, between Glee and AHS, he has written four trans characters, maybe more than any other TV writer working today. That is a real life horror story.
---
Arrow
Wednesdays on The CW at 8:00 p.m.
Hey, good news: Sara Lance got her soul back! It took a full week of her rampaging her way through the city trying to kill bot bad guys and all the women who look like Thea (who technically killed her), and a lot of Laurel being like, "She's gonna be okay, you guys, she just needs some hugs. Some hugs and some naps." Turns out what she needed was for Constantine to guide her back through the gates of hell so her gently feisty soul could return to her bloodthirsty body. He was happy to help. After Sara got her soul and called her mom to tell her about the resurrection, she suited up and went out on the town to do some crime-fighting. Unfortunately, the Lazarus Pit gave her The Bloodlust, so she was less about containing the bad guys and more about snapping their necks. At the end of the day, Sara decided she should probably skip town for a while and have a think and figure out how to best fit in on DC's Legends of Tomorrow. She never even said Nyssa's name. :sad sigh emoji:
---
Grey's Anatomy
Thursdays on ABC at 8:00 p.m.
Written by Aja
Episode 1206: "The Me Nobody Knows"
In the wake of the worst, most triggering dinner party ever, things are awkward as ass in the Haus of Sister Lady Chiefs.
At the hospital, Penelope finds Callie already in the lift when the doors slide open. Callie offers up some encouraging but emotionally distant banter, but Penelope demurs and I inwardly groan because I cannot abide a martyr. Callie's understandably confused about how to move forward; not about her feelings for Penny (she's crushing hard), not whose side she's on (obvs Team I Wish You Hadn't Killed Derek), but how to make the two coexist, and whether or not they even can. The fact that Grey isn't speaking to her doesn't help. It's tough on her all around.
Penelope is treated pretty icily by the other residents so far, and elsewhere Bailey is breaking it to Mere that Penelope is in fact on her service, kindly offering Webber as a replacement if she'd like. But she declines, saying it's the job. (Way to adult, Meredith!) Not so fast! Meredith is way harsh to Penny, who's kind of a fuckup at this point, I'm not gonna lie. She's morose and tremulous and everything she says and does is halting. Who has time for all that?! Should Meredith perhaps abstain from setting sadistic little surgical traps for Penny to walk into? Probably, but frankly Penny should be relieved she didn't get the sister. She needs to wake the hell up; if this is the emotional toll the situation is going to take on her, she can't succeed at Grey Sloan Memorial. She may have reopened the wounds of those Derek is survived by, but this should be two years behind her, give or take a month or two. Life is full of tough calls, especially when you're a freaking surgeon. Girl needs a Come to Jesus before she kills someone again.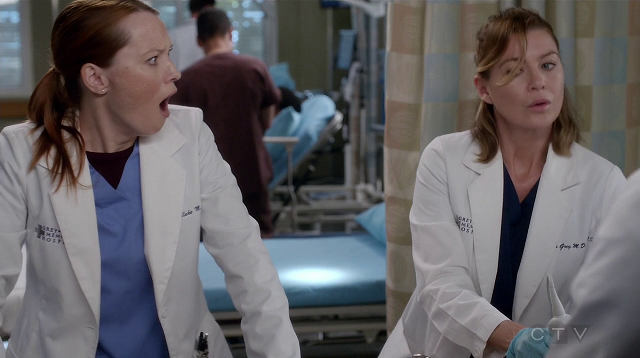 Meanwhile, Maggie and Webber are clumsily wading through who they are to one another and how on earth to talk about it after old family friends of Richard's land in the ER after a minor car accident. (Webber, by the way, knew about Penny all along. Yikes. Meredith reacts like a betrayed child, which is more or less appropriate, emotionally speaking.) In the end, Webber tells his old friend the truth, that he's ashamed of the mess he made and how badly he hurt and humiliated his late wife, and how he never imagined any good could come of all that…but that now he couldn't be more proud of his daughter (without naming her — he thinks Amelia should have some agency in that, but it clearly meant a lot to hear him say those very tender things). That isn't all! He finds Meredith to confess that he didn't want Blake at the hospital, but because he'd been accused of coddling her before he didn't want to inadvertently continue on that path. He also says that he didn't want her there way back when, that he struggled with having to look at her every day and be reminded of his affair. It's far from a perfect parallel — after all, watching your spouse die is a far cry from choosing adultery — but his point stands: We cannot imagine how life can and will change and shift around what our tiny linear pea brains believe is ahead of us. Our detours define us far more than our final destinations do.
Meredith is a strong woman, capable mother and above all, an outstanding surgeon, but can she teach this person without desecrating the love of her life? That is a monumentally difficult question that cannot be neatly parsed out or compartmentalized. Derek can't answer that, Webber can't answer that, Amelia can't answer that, Grey herself cannot yet know the answer.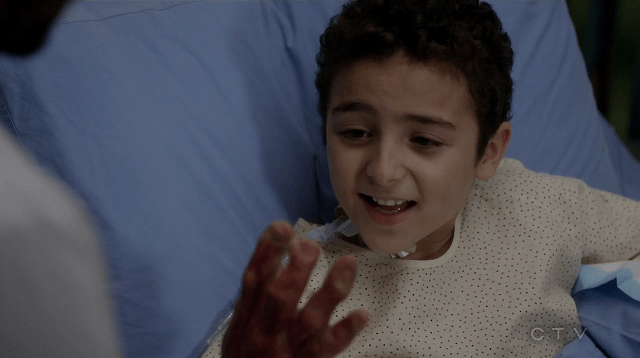 In other news, since April lost her one baby she wins the Manipulation Award of the Year for bringing an orphan all the way from Jordan to partake in the sacred, self-serving American tradition of dragging children into a messy, godawful divorce. Thanks to her, Avery now faces the daunting, maybe impossible task of removing massive precancerous tumors from the boy's hands without amputating. April is on some Disney ass fairytale shit, but I loved when Riggs, the new cardio surgeon, was all, "Yo, this kid's entire family was murdered in front of him, he lost his home, his giant deformed tumor hands are the only reason he's not a child soldier and now he might lose those, so maybe god DGAF about your inconsequential pedestrian divorce. Just saying." I mean, I know you're not supposed to compare human suffering but a little perspective is perfectly acceptable.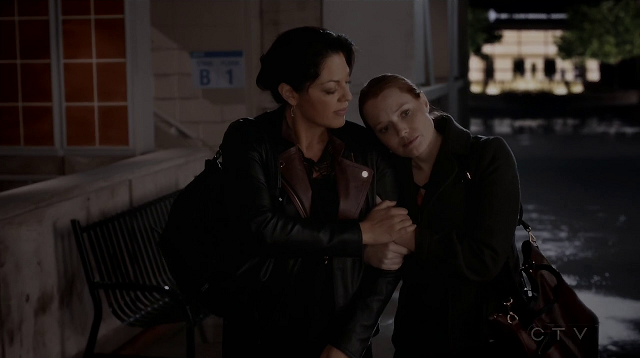 After telling Meredith to quit being such a small-minded bully (woof), Callie joins Penny on a rainy bench outside. I'm not entirely sold on this whole, "Hey, I just met you, and this is crazy! You killed my friend but it's okay, maybe?" thing. It's possible that I simply haven't noticed Callie is always overprotective of her lovers, or maybe this is going to be one of those nightmarish lesbian rebounds that drags on far longer than any rebound should. The show clearly needs fresh meat, though, so this is what we've got to work with! In any case, Callie assuages Penny's doubts with her forgiveness and a kiss, which is interrupted by a text from Grey confirming that Penny is to remain on her service for the remainder of the week.
The episode ends with Grey teaching her class, a cadaver's rotted lungs suspended behind her on a screen. "Don't let your shame rot you from the inside out," she says, looking directly at Penny. Whether she's talking about her own or Penny's, one thing is clear: SMOKING KILLS, PALS.
Episode 1207: Something Against You
The episode begins with varying degrees of morning sexytimes playing out all through Seattle. Alex is trying to get it on with Jo, who gets a page (text? I don't know her life) about a well-loved, long-time patient of hers, Mr. Jaffe. She leaps out of bed and calls Grey, sleepy/crankypants mother of three who lights up when she hears Mr. Jaffe's name, and then suddenly we're in Callie's bed with a very sleepy pretty Penny. The poor dear is falling asleep but Callie's doing that pawing-at-your-partner thing where someone's like, "Look how sexyflirtycute and supportive I'm being about your needs, can we please please please just have sex now?" but it's all for naught, because Grey summons her to the hospital leaving an unsated Callie all alone.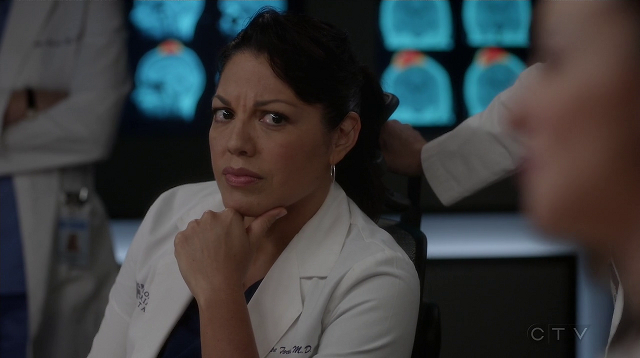 When Callie arrives at the hospital, she goes straight to Webber to tattle on Grey for running her girlfriend ragged, while Amelia oozes revulsion from the nearby couch where she and Maggie can overhear everything. Webber tells Callie that Penny's a big girl who is more than capable of expressing her own concerns all by herself, and that's that. Meanwhile, Grey is trying to take it easy on Penny, who's doing her best deer-in-the-headlights impression while standing around with her hands in her pockets and her shoulders all scrunched up. When the team runs into a snag with Mr. Jaffe's kidney transplant, Penny's excluded from a hail mary pass picked up by Jo and Edwards, fueling Callie's indignance over how she's being taught by Grey.
Callie confronts Grey, who says she can't seem to do right by Callie — either she's too hard on Penny or isn't giving her enough to do. When it's time for the patient's surgery and Penny's made to sit it out, things escalate when Callie confronts Grey again, this time yelling accusations that get real personal, real fast. Penny tells Callie to shut up and stay out of it, and then turns to take Meredith to task. When Mere finally gives her a shot in the OR, it's at the expense of Jo's personal best, unfortunately. After treating Mr. Jaffe for years and ultimately coming up with a brilliant solution to cure his cancer and get him a long-awaited kidney all in the same day, Jo is forced to share her well-earned moment of glory with a relative newcomer who's contributed next to nothing to the patient's outcome. Penny is showing visible wear at being constantly reminded that she is taking from others — taking Derek's life, taking too much or not enough. CAN PENNY JUST LIVE, YO? Edwards is feeling magnanimous and invites Penny out for drinks. Nice save, Edwards.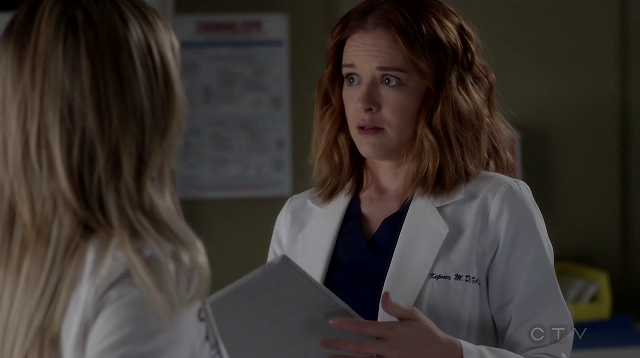 Arizona's feeling frisky but shy and invites April to be her wingwoman at a lesbian bar. "Women don't buy drinks for sad loners," Arizona says, like she doesn't know full well that the only thing worse than a sad loner femme at a lesbian bar is a sad loner femme and her straight girly sidekick, lol. April can't go because she's got a dinner date with her ex, who's like, "Cool, now that you seem more chill, can we get back to our divorce?" Arizona switches up her approach and invites Karev to "trivia night," which of course he rebuffs and an adorably meddling and trivia-dropping Webber accepts (even though he wasn't invited to begin with). At the (swank) lesbian bar, Arizona is in full smart hottie mode and confesses that she hates trivia and is just trying to get her lez on to poor Webber, who changes tack from trivia buddy to wingman like a boss and cuts to the chase: "What do you like? Glasses? You into tattoos? I'll be right back. Sit up straight!" I love this new buddy comedy!
And finally, this isn't gay but it's important nonetheless and I'm gonna talk about it. Back at the Haus of Sister Lady Chiefs, Maggie vents to Amelia, Alex and Mere about Riggs, the overly cocky New Zealand surgeon hired under her. "It just means I'm going to have to train another alpha male not to pee all over the place," and the gals all nod along (Karev is oafishly perplexed). "And then there's the…other thing," she says, "I thought I was done with that here." She's talking about racism, of course, and it's Amelia's turn to be oafishly perplexed. "I can't believe that," Amelia scoffs, to which Maggie replies "that's because it's not your thing." In the OR, though, Riggs goes out of his way to make it clear that he specifically sought her out as someone he has a great deal to learn from; he's read all her papers, knows everything there is to know about her career trajectory and makes his admiration and respect for her plainly known. Amelia manages to make things about her white guilt and good intentions (including an awkward chat with Edwards, who tolerates it – but only just), and shows her ass to Maggie on the way home in the parking lot resulting in this exchange:
Amelia: "And then…I'm afraid I might have been racist. God, I hate his day!"
Maggie: "OK, OK, back it up."
Amelia: "Oh! Good, I can talk to you about this! I am worried I offended Edwards. I need you to tell me."
Maggie: "Why me? Because I'm your sister, or because I'm your sister?" (You can see Maggie start to put those defenses up again, even as she carefully measures what Amelia's saying, what Amelia means and what Amelia isn't saying, how Amelia is scanning her reaction as well. It's painful.)
Amelia: "No, this is exactly what I was worried about, okay–"
Maggie: "What do you think you did?" (At this point, Maggie's made herself into a brick wall.)
Amelia: "I don't think I did anything, but I think she thinks I did."
Maggie: "Amelia, Use. Your. Words. Did what?"
"One piece of advice that I can give you, that I think we would all agree with, is that if you feel uncomfortable having done it, check your white privilege and don't do it again."
Amelia: "Sided with Wilson over her because she's black, which I didn't do. I think? God, I hate that this is even an issue all of a sudden." (YIKES.)
Maggie: "Well, it's not an issue…for you. And it's not all of a sudden. I mean, okay, it's not Mississippi Burning or anything, but it's…all over. It's when people assume I'm a nurse, or when I go to get on an airplane with my first class ticket and they tell me that they're not boarding coach yet. It's like a low buzz in the background, sometimes you don't even notice it and sometimes it's loud and annoying. And sometimes it can get dangerous, and sometimes it is ridiculous, like right now."
Amelia: "It's not funny! I mean, if I'm doing it and I don't even notice it–"
Maggie: "THEN NOTICE IT. Look, did Edwards tell you that she's okay?"
Amelia: "Yes."
Maggie: "OK, then don't give her the extra work of having to make you feel good about it."
Amelia: "Right…okay, but how do I know she's rea–"
Maggie: "Because she knows you, so listen to the words that are coming out of her mouth and believe them, this is not a small thing. And I'm glad that you feel like you can talk to me about it, but I don't speak for all black people. I am not the spokeswoman, no one is, and it is kind of annoying to be asked questions like I am. But one piece of advice that I can give you, that I think we would all agree with is that if you feel uncomfortable having done it, check your white privilege and don't do it again. I don't think you're racist."
See? Important.
Miscellany: Ben finally gets rid of Avery so that he and Bailey can have sex again in their own home. Good man! Unfortunately, it lands Avery back in April's bed with no divorce talk and immediate ex-sex regrets. Bailey forgot to tell folks that she hired Riggs, who triggers Owen's PTSD so hard he ends up in a dark on-call room shaking and muttering nonsense, covered in sweat and tears, confronts Bailey in front of the other chiefs, almost attacks an intern and shuts Amelia out. We'll have to wait until the next episode to find out what the hell is going on there, but at least he has Mere on his side. She won't let him get dark and twisty!
---
Carmilla
Tuesdays and Thursdays on YouTube
Written by Karly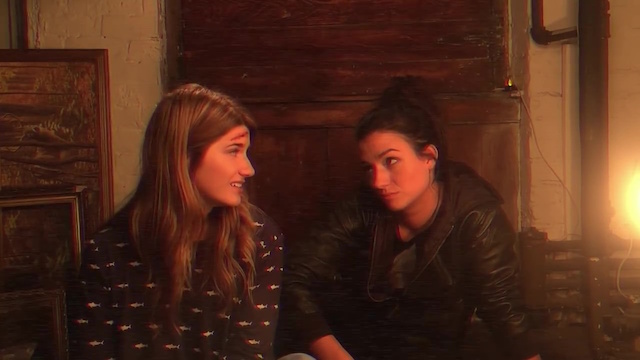 Carmilla season zero isn't gay enough!
After crushing Perry's spirit, this week Carmilla reassures her that she's not a muggle, but she is stupid for being an optimist. "Nobody has ever turned out better than expected, shortcake." Oh, Carmilla, do we have a tiny gay surprise for you later!
Carmilla also informs us that more students are turning into animal-human hybrids. Perry and Carmilla figure that some human got in too deep with magic, and the Zetas are definitely not behind it because they are idiots.
Maybe at this point Carmilla realized earnest, mystery-solving nerds were her type. In the background Mel progressively loses her shit. I bet she's the one who's responsible and she's cracking under the pressure. Carm tries to leave to tell the dean these aren't the nerds she's looking for, but she can't open the door. Even with vampire strength. Ruh roh.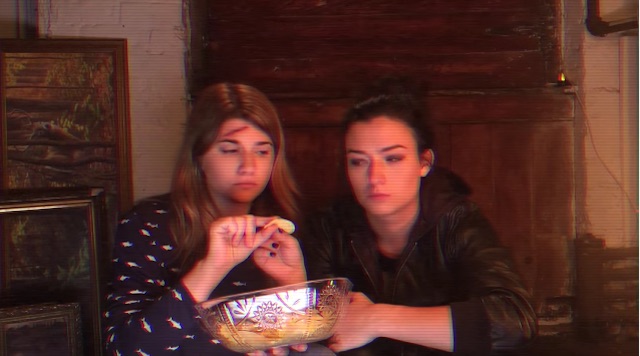 When the tape pauses, Laura looks a little shocked and upset. "Where's the angst? Am I projecting chemistry between Carmilla and Perry, or is it really there?" Oh wait, that's me. Laura is shocked though about how different everyone is now and she brings up Kirsch specifically which is odd, as I don't see any difference between 2013 Kirsch and 2015 Kirsch. But now she's thinking they should be plotting instead of VHS and chilling.
As Laura downward spirals about the campus, Carm suggests they just watch more of the mystery. And then they kiss. Just kidding! But wouldn't that be great?
This week, Kirsch turns into an ass. Ok, he sprouts donkey ears on his head. Then, even with her super strength, Carmilla can't open the door to get out of there. She's sealed in with Perry and Mel.
In our weekly dose of Hollstein, after Laura and Carmilla adorably grab the same potato chip, Laura can't help but notice how great Detective Carm is. I agree. But Laura says this case doesn't seem scary at all. Carmilla practically huffs. Dames, am I right?
Back on the tapes, Carmilla interrogates Mel and Perry some more. Turns out Mel went to that swim party to impress the Summer Society, but they didn't want her. Carmilla rifles through Perry's bag, finds a black…something, and makes a quip about maybe Perry cast a kinky love spell. (This is the spiciest part of this whole affair. Sigh)
Carmilla gets the Dean on the phone and finds out it's an old enemy behind these attacks. A powerful enemy, because the Dean herself is trapped in her office and her body is slowly turning to stone from the feet-up. Take that for horror, Laura!
---