BoJack Horseman is my second-favorite TV show about depression. (Nothing will ever compete with Buffy, for me, in that arena.) I hardly ever write about it or talk about it, though, because BoJack is a classic narcissist who — through a cycle of untreated mental illnesses and addictions — destroys every relationship he comes close to having. As the daughter of a BoJane Horsewoman, it's a little too real. What I love about BoJack, though, is it doesn't let its protagonist off the hook for his misdeeds, and it doesn't shuffle the characters he hurts to the background (like, say, Mad Men or Breaking Bad). In a world that's becoming increasingly polarized in its lowest-common-denominator shakedown of good vs. evil, BoJack Horseman refuses to give easy answers to hard questions. BoJack's not a bad guy, but he's certainly not a good guy.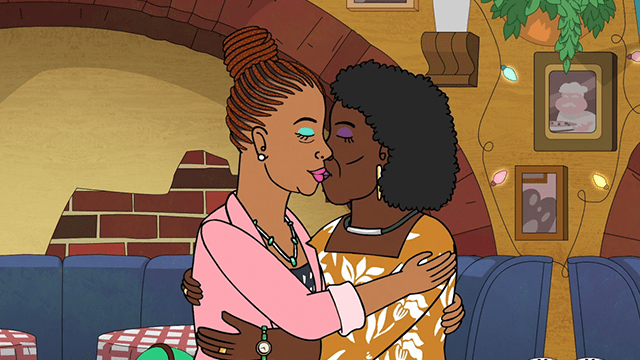 This season's best episode, "INT. SUB," was also the brightest — and it was anchored in place by Wanda Sykes and Issa Rae playing a lesbian couple. Rae is Dr. Indira, Diane's (and now BoJack's) therapist, who made her first appearance in "The Dog Days are Over." Sykes is Mary Beth, a mediator maven who's settling a dispute between Todd and Princess Carloyn. The episode opens with them meeting for dinner, smooching right on the lips, and settling down to retell us season five by talking about their days, crafting aliases for each of the characters for professional reasons. It's a clever framing device that gets more meta and weird and hilarious as it goes on.
BoJack Horseman becomes The Angsty Zebra. Mr. Peanut Butter becomes Mr. Chocolate Hazelnut Spread. Diane becomes Princess Diana ("It's so tough being Princess of Wales. Like, I can't be all things to all whales!"). Gina even gets a gender-flip and a mustache. Flip is Flippy the Dolphin. Todd is Emperor Fingerface. And Princess Caroline is Tangled Fog of Pulsating Yearning In The Shape Of A Woman.
If you watch BoJack, I don't want to spoil the episode for you. If you don't watch BoJack, there's no way I could explain this episode to you in a way that makes any sense. But I do want to point out two very excellent things about Dr. Indira and Mary Beth's relationship.
Firstly, it's so authentic. It feels like a real live lesbian couple who have been together a long time and easily relive their days over dinner like a favorite pair of pajamas. Their banter is great, the seamlessness with which they switch from one story to another, their inside jokes, it's all so organic. There are too few lesbian relationships like that on TV, and hardly ever between two black women (there are hardly ever relationships on TV between two black women, period). It's a refreshing change of pace, especially on a show where every other relationship is dysfunctional in many-tentacled ways.
Secondly is the fact that BoJack season five tip-toes right up to the edge of Hollywood's current cultural crisis. The season was finished before the Weinstein story broke (and all the stories that came after it), but #MeToo was in full-swing and BoJack's writers acknowledge it by assuming there's no way BoJack, himself, isn't complicit in the kind of scandals that of course he would have been involved in at the height of his fame. The show doesn't exactly punish him for it, but it doesn't let him off the hook, and it definitely doesn't ask the viewer to feel sorry for him. He is, again, not a good guy.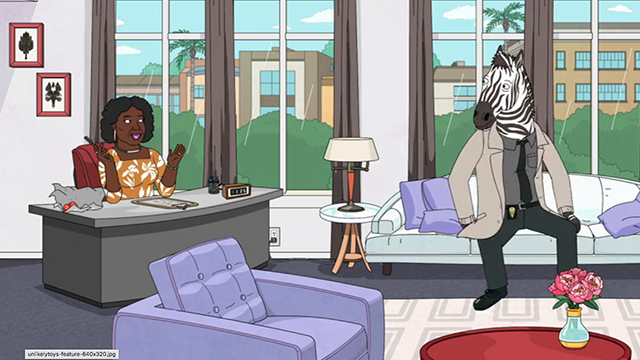 "INT. SUB" does what Hollywood itself should be doing right now. It zooms out on the #MeToo narrative and allows two women of color to parse the situation and provide the commentary on it. We see BoJack and all of his friends through their eyes. Symbolically, it's powerful. Literally, it's necessary.
During dinner, Indira tells Mary Beth, "I'm sure you helped them in ways you'll never know!" It's the truest thing this very real show has ever said.