+ A video has surfaced of Ben Fields, a school resource officer at Spring Valley High School in Columbia, South Carolina slamming and dragging a black female student out of her desk. The confrontation happened on Monday because supposedly the student refused to leave class when she was told she was under arrest. WISTV, a local news station reports: "Richland County Sheriff's Department spokesperson Lt. Curtis Wilson, the female student and a male student were arrested for disturbing the peace." A group called Richland Two Black Parents Association is calling the video "egregious" and "unacceptable." Superintendent Dr. Debbie Hamm released a statement and said the district is deeply concerned with the videos and are working the the sheriff's deputies for a complete investigation. Mother Jones investigated and found school cops use violent excessive force too, which has contributed to seriously injuring 28 students and killed one student in the past five years.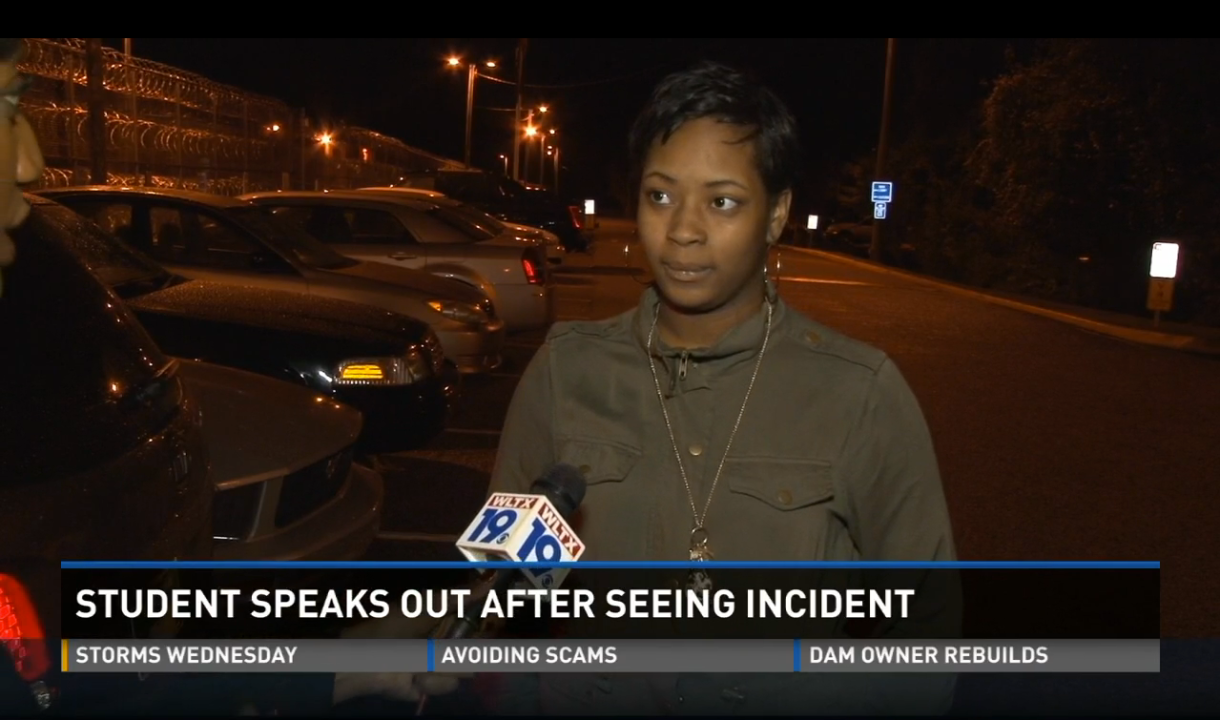 Niya Kenny, a student who filmed the altercation, stood up for the assaulted girl when she witnessed what happened. As a result, she was arrested too for disturbing school.
+ Democratic presidential candidates Hillary Clinton and Bernie Sanders disagreed over the motives for enacting the Defense of Marriage Act, "a 1996 law that barred federal recognition of same-sex marriage," came to be. In an interview with Rachel Maddow, Clinton said President Bill Clinton's motive for signing DOMA was to prevent other harmful legislation from happening.
"I think what my husband believed — and there was certainly evidence to support it — is that there was enough political momentum to amend the Constitution of the United States of America and that there had to be some way to stop that," said Hillary Clinton. "In a lot of ways, DOMA was a line that was drawn that was to prevent going further."
At the annual Jefferson-Jackson dinner in Iowa, Bernie Sanders called Clinton's comments a "rewrite" of history and it was "not the case" that worse legislation was to follow. Other gay rights advocates agree.
"It's ridiculous. There was no threat in the immediate vicinity of 1996 of a constitutional amendment. It came four years later," said Elizabeth Birch, who was executive director of the Human Rights Campaign from 1995 to 2004. "It may be that she needs to revisit the facts of what happened."
+ Jackie Hatton-Hesketh, a 44-year-old woman from Wales, was assaulted in a hate crime while out with her partner by a group of men in July. The group of men were verbally abusing her partner when she intervened and that's when they called her a "dirty lesbian" and began beating her up. Hatton-Hesketh curled up in the fetal position while her partner called the police. Two men were arrested and only one was convicted of assault and got away with only a small fine and a curfew. The attack has caused more damage and much more costs to Hatton-Hesketh. She's lost money as a result of her injuries since she took time off to recover and can't work her at her shelf-stacking job. The stress from all of this also contributed to breaking up with her partner.
+ A few days after Texas announced it would end Medicaid funding for Planned Parenthood, state health department investigators raided Planned Parenthoods in Dallas, Houston, San Antonio and Brownsville and ordered the centers to give them thousands of pages of patient information and records information.
"It is completely outrageous that Texas officials are using thoroughly discredited, fraudulent videos to cut women off from preventive health care, including cancer screening, H.I.V. testing and birth control," Dawn Laguens, executive vice president of Planned Parenthood Federation of America, said in a statement.
+ Two weeks after "murderer" was spray-painted onto a New Hampshire Planned Parenthood facility, an intruder destroyed property including phones, medical equipment and computers with a hatchet at the same location. No one was hurt during the vandalism and police caught the juvenile who was responsible for the damage. This is one example of the attacks Planned Parenthood has received since Center for Medical Progress released deceiving video footage alleging PP illegally sold fetal tissue for profit.
+ Here's something to cheer you up. Mary Numair, a woman from Portland, single-handedly broke up a anti-Planned Parenthood protest by chanting "Yeast Infections!" alongside the protestors. Numair was at work when she saw a group of protestors gathering a block away at a Portland Planned Parenthood. She crafted a sign out of discarded cardboard praising PP for "treating her chronic yeast infections [when she was] in her early 20s and uninsured" and clocked out of work early to make a point to the protestors about the work PP does beyond abortions.
Hey I just single handedly broke up a planned parenthood protest by chanting the words "yeast infections" pic.twitter.com/SKvnIi30TB

— Mary Numair (like new-mare) (@MaryNumair) October 25, 2015
+ Hillary Clinton agreed to stop accepting contributions from lobbyists and PACs for private prison companies and promised to donate any previous donations from them to charity. Civil rights groups and immigrant rights groups including ColorofChange, Black Lives Matter, Get Equal, Presente, and United We Dream pressured Clinton to stop accepting money from private prison companies. People of color and immigrants are disproportionately targeted and their lives are profited off of in private prisons.
+ April Miller and Karen Roberts, the lesbian couple who is suing Kentucky county clerk Kim Davis for denying them a marriage license despite an order from the Supreme Court, celebrated their marriage over the weekend with a formal ceremony.
+ Bhumika Shrestha, transgender activist from Nepal, became the first citizen from her country to travel abroad with a passport marking her gender with an "O" for other instead of "M" or "F."
+ Last week in this column, I reported that five predominantly black churches have been burned in the St. Lois area since October 8th. That count is up to six now, with a seventh church — which wasn't predominately black but located in a predominately black neighborhood — also set on fire. Police say the fires are linked. All the blazes began at the entry or door of the church.
+ A school district outside of Chicago could lose up to $6 million in federal funding after defying federal regulations to give equal appropriately gendered locker room access to a trans girl. A federal decision is expected to come in soon on whether Township High School District 211 violated a student's rights. The school allowed the student to change in a private room area instead of the girl's locker room.
+ Processed meat like bacon and salami can increase your risk of developing cancer just like cigarettes or other carcinogens, according to an international panel of scientists that advises the World Health Organization. The scientists pointed out "the risk of developing cancer from meat consumption still remains relatively small," so you don't have to freak out over occasionally eating bacon.
+ New York Governor Andrew Cuomo announced his administration will extend the New York State Human Rights Law to protect transgender people from discrimination in housing, employment and more.