I buy and test out a lot of makeup. Perhaps, too much. As I look at my makeup desk I think to myself, yes, we are bordering on too much of this stuff. So, I've tried a lot of different products and different brands.
Black-owned brands used to be few and far between, but now, they are fairly easy to come across. And they cover a wide range of makeup styles, so if you're looking for full coverage glam or a light natural look, Black-owned beauty has got you covered.
I'm here to recommend some products to you, and no, you don't need any of them. But if you like makeup or are trying to get into it for whatever reasons you have, here is a good place to start. We'll cover a few categories, namely foundations and concealers, lip products, cheek products, and eye products.
It is the last day of Black History Month, so what better time to support a brand headed and founded by Black folks, especially Black women. I know many of us are currently in an anti-capitalism state of mind, but sometimes you want to get dressed up and do your makeup! I think it's important to acknowledge that buying things will never be tied to liberation, especially for Black people, but I'm also grounded in reality and know that people have worn makeup for a long time and will continue to… for a long time.
A note about accessibility: I've tried to include a mic of luxury and drug store brands. So if you can afford high end stuff, there's something for you. If you can't, there's also something for you. I have a $40 foundation and a $14 one that works just as nicely. Having enough money should never be a barrier to anything, looking and feeling beautiful included.
I've also tried to include links to the items on Sephora or Ulta so you can one-stop shop. With that in mind, you'll see a lot of repeat names in the different categories because a. There's not a lot to choose from and b. I wanted to include products that I have tried so I could vouch for their quality.
Okay! Enough of me.
Let's jump in!
---
Foundations and Concealers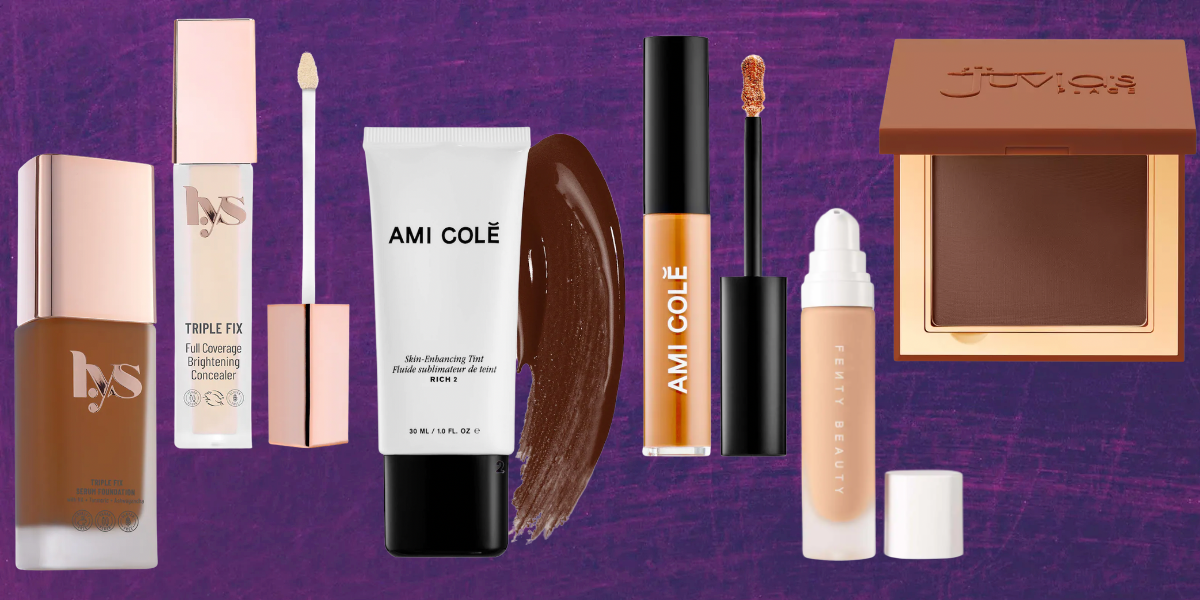 1. LYS Beauty Triple Fix Serum Foundation: a lightweight, medium coverage, serum foundation that comes in a range of shades. Unscented, vegan, and cruelty-free. ($24)
2. LYS Beauty Triple Fix Brightening Concealer: a creamy, medium coverage formula that resists creasing and covers everything from acne to scars. Unscented, vegan, and cruelty-free. ($19)
3. Ami Colé Skin-Enhancing Tinted Moisturizer: Six shades of a medium coverage tinted moisturizer that leaves skin hydrated with just the right amount of pigment and glow. Vegan and cruelty-free. ($32)
4. Ami Colé Skin-Enhancing Concealer: a medium coverage concealer that works great on dark circles or dark spots. Comes in more shades than the tinted moisturizer. Vegan and cruelty-free. ($24)
5. Fenty Beauty Pro Filt'r Soft Matte Longwear Liquid Foundation: a full coverage, long-wearing foundation that suits oily, combo, and normal skin types. ($40)
6. Juvia's Place I am Magic Powder Foundation: a full coverage powder foundation that suits light to deep skin tones and hydrates with a long-lasting finish. ($18)
Cheek Products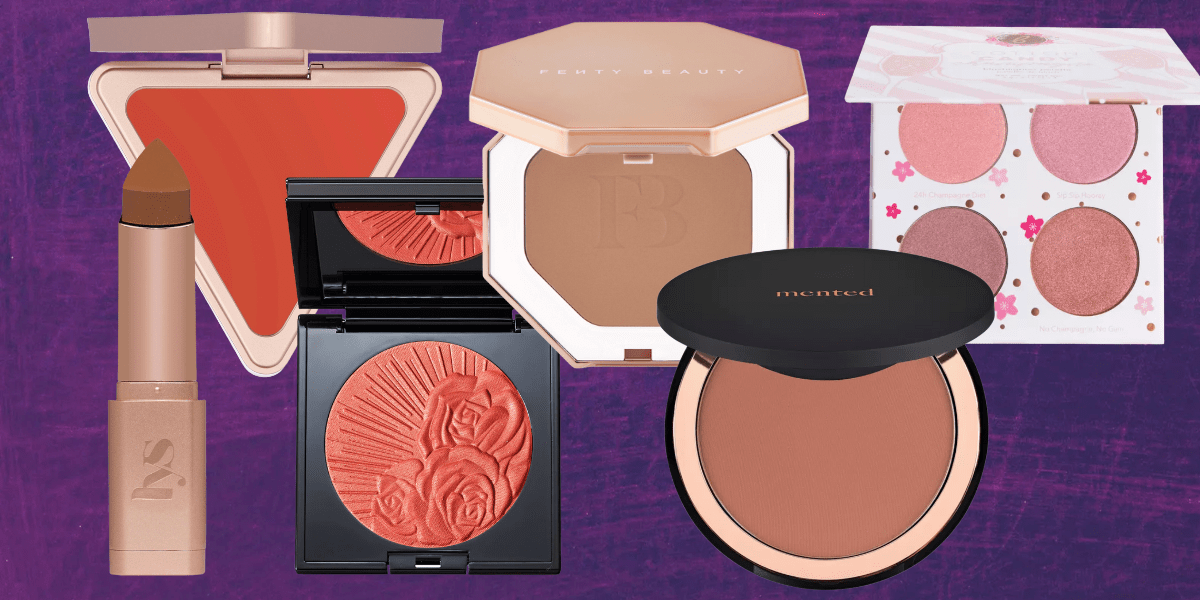 1. LYS Beauty No Limits Cream Bronzer and Contour Stick: an ultra-pigmented, creamy formula that blends away seamlessly. A natural finish. Vegan and cruelty-free. ($20)
2. LYS Beauty Higher Standard Satin Matte Cream Blush: a pigmented, creamy blush formula that dries down with a unique satin matte finish. Unscented, vegan, and cruelty-free. ($18)
3. Pat McGrath Labs Skin Fetish Divine Powder Blush: luxurious, high-quality blush with just a bit of shimmer. ($39)
4. Fenty Beauty Sun Stalk'r Instant Warmth Bronzer: a cult-favorite, matte finish powder bronzer that is long-wearing. Vegan. ($34)
5. Mented Cosmetics Sunkissed Bronzer: a matte finish bronzer that provides a sunkissed glow year round. ($22)
6. Beauty Bakerie Cotton Candy Champagne Blush Palette: four shades ranging from coral to a mauvy-bronze, with a flushed shimmer. ($38)
Lip Products
1. Pat McGrath Labs MatteTrance Lipstick: a matte finish lipstick that won't leave your lips dry and dehydrated. ($39)
2. Fenty Beauty Gloss Bomb Heat Universal Lip Luminizer + Plumper: a high-shine gloss that plumps the lips. ($26)
3. LYS Beauty Speak Love Moisture Matte Lipstick: a moisturizing matte formula that is packed with skincare ingredients. ($20)
4. BLK/OPL Liquid Matte Lipstick: an affordable, ultra-whipped matte lipstick formula. ($12)
5. Ami Colé Lip Treatment Oil: all the shine of a lip gloss with lip-nourishing ingredients. ($20)
6. Juvia's Place Silky Whipped Gloss: a unique color-spun formula with a whipped texture. ($14)
Eye Products
1. Pat McGrath Labs MTHRSHP MEGA Celestial Nirvana Palette: 18 richly pigmented eyeshadows with minimal fallout, a mix of shimmers and mattes. ($82)
2. Danessa Myricks Beauty Mini Lightwork Vol. III The Experience Eye & Face Palette:
8 shimmery shades of varying hues in one palette. ($85)
3. Juvia's Place The Nomad Eyeshadow Palette: a yellow and neutral palette perfect for everyday wear. ($17)
4. Fenty Beauty Flypencil Longwear Pencil Eyeliner: a matte or glitter finish eyeliner in many shades that goes on easily and stays on throughout the day. ($23)
5. BLK/OPL True Melanin High Impact Eyeshadow Palette: an all neutrals palette perfect for day or night wear. ($17)
6. Pat McGrath Labs DARK STAR Mascara: in four shades: classic black, cobalt blue, vibrant turquoise, and vivid pink, this mascara gives your lashes lift and eye-catching color. ($34)