Do you love girls? Do you love Canada? Do you love Canadian girls? Do you watch television? Are you still crying into your bloomers about the cancellation of Bomb Girls? Are you still pissed off that Ilene Chaiken killed Jenny? Just me on that last one, maybe. Anyhow, if you answered yes to most of those questions, you'll be pleased to hear this big news from Lost Girl showrunner Emily Andras about Season Four:
Huge casting news for #LostGirl season four! Mia Kirshner! Ali Liebert! Did we mention George Takai? Argh!! #LGBTnerdsplsion

— Emily Andras (@emtothea) May 31, 2013
In a press release released this morning, the Lost Girl crew announced that iconic gay-for-pay actresses Ali Liebert and Mia Kirshner, along with actually-gay actor George Takei, will be participating in a season of "big name guest stars, dynamic story lines and high-quality production." Furthermore, the press release promises that "the Showcase original will have fans on the edge of their seats." I love the edge of my seat! It's my favorite part of this chair.
The press release also ensures that Lauren, Kenzi, Trick, Hale, Vex, The Morrigan and Dyson (womp womp) will return for the physically dangerous Season Four. Also:
 In the upcoming season, fate casts a wide shadow over the Fae world. With Bo's return, we see the lines between Dark and Light Fae blurred causing Bo to venture into a journey of discovery. Bo and company will ultimately realize that regardless of the challenges and enemies they face, they're stronger when they face them together.
"The season three finale was our biggest climax ever. The follow up is going to be epic," said Jay Firestone, Executive Producer.
Although I'd argue that the season three finale was, in fact, specifically lacking the kind of climax I appreciate in my queer television, the fact remains that the addition of these queer-friendly actors to the cast is a  clear sign that Lost Girl knows its audience and is ready to pander to it. The only thing I love more than a nice queer pander is a nice queer Panda and the edge of my seat.
And, regardless of your feelings about Jenny Schecter, I think we can all agree that Mia Kirshner was born to play Dark Fae.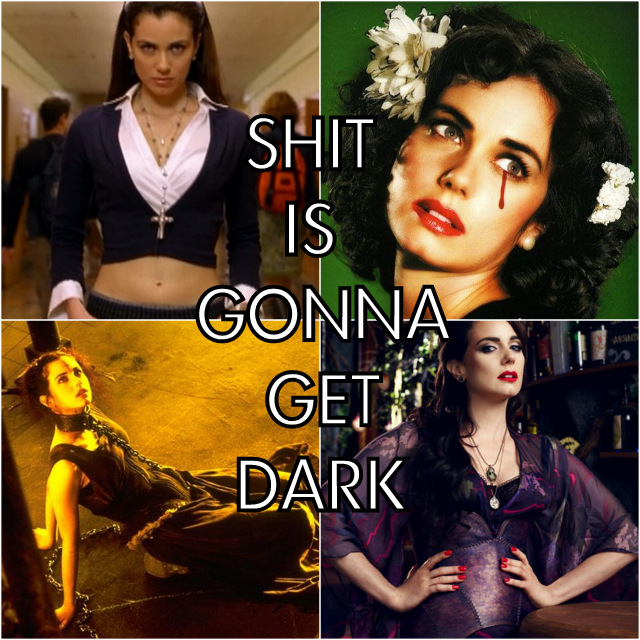 In conclusion, I hope Season Four involves a lot of orgies.