This morning I was contacted by two intrepid Bomb Girls fans, TeeJay and Yolanda, who were attempting to ensure a third season of our favorite historical television drama and hoping to enlist the support of this website, the first lesbian media outlet to notice or write about the fan-fucking-tastic program. TeeJay and Yolanda informed me that  "the ratings were very good considering the amount of total viewers from Canada AND an immeasurable number of overseas fans who are (unofficially) watching the show from all around the world." Obviously we were prepared to throw our entire selves into this effort.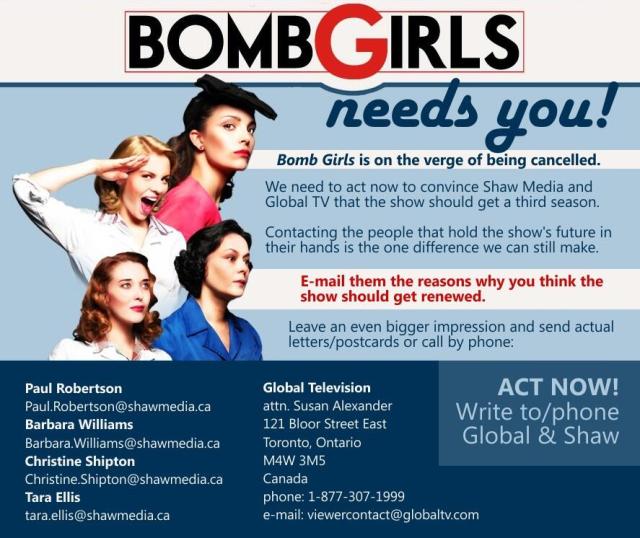 But only moments after reading that email, one of our Contributing Editors informed me that today, Bomb Girls was officially axed. They will finish the season and then that will be the end of the show.
The bright side is that Global will conclude the series with a two-hour movie event! See:
Global is honoured to have been able to bring the award-winning and critically acclaimed Bomb Girls to audiences across Canada.  This truly unique original drama series illuminates the life-altering experiences of brave Canadian women who risked their lives working in a munitions factory during the Second World War. We are pleased to share that we will be creating a Bomb Girls two-hour TV movie event to premiere winter 2014 which will conclude the rich storylines and the amazing journeys of these beloved characters which have strongly resonated with the show's loyal fans.
Needless to say, this remains an immense loss for all of lesbiankind. Although her style vacillates and is largely constricted by the time period, Betty McRae is as close to a lead masculine-of-center lesbian character we've got on television right now (arguably Brienne of Tarth in Game of Thrones is another contender, although as far as I can tell — and I can't tell much because Game of Thrones confuses the living fuck out of me — her sexual orientation hasn't been discussed), and Betty's one of a few queer female characters to make it into a historical television series ever. It's so incredibly rare that we're granted a glimpse of pre-1990s lesbian life in a television program like we are in Bomb Girls. (The BBC's adaptations of Sarah Waters novels are billed as miniseries/made-for-tv movies, not TV shows.) We were blessed with Lana Winters, the lesbian lead of American Horror Story, this year, and her story, while hardly rooted in historical fact, did take place in the 60's. But besides that it seems like every journey back in television time grants us at least a few leading homos, but it's aways men: Downton Abbey's Thomas, Game of Thrones' Renly Baratheon and Loras Tyrll, The Borgias' Michelotto Corella, Mad Men's Salvatore Romano, a few of the guys on The Tudors and some of the dudes in Spartacus. (Yes, some of those shows, like Mad Men, have had little lesbian parts, but not leads.)
It wasn't until I saw Betty McRae that I knew I'd never seen anything like her. Bomb Girls got me interested in learning about lesbian history — I was interested in the kind of lesbian culture that was able to thrive in wartime due to the absence of men and the ease with which women were permitted to enter the workforce. Fast forward several history books and a few months later, and we were launching Autostraddle's Summer of Lesbian History, The Way We Were/The Herstory Issue, an article series which included the madly viral and widely talked-about gallery 150 Years of Lesbians. That never would've happened without Bomb Girls.
But it's not just lesbian representation that makes Bomb Girls so special, it's its exemplary feminist leanings. Rosie O'Donnell's guest spot as a journalist two weeks ago was perhaps the show's most explicitly feminist episode, as the expose her character did on the factory revealed the enormous pay gap between men and the women who were doing the same, if not more, work. This was a revolutionary conversation to have during a time when middle-class white women weren't allowed, let alone expected, to enter the workforce in the first place and were only in the Bomb Factory to begin with because all the men were overseas. But even cooler and more feminist than that is the character of Vera, who has blossomed this season into a delightfully promiscuous sex-positive woman of the world.
These were full female characters I could've followed for seasons upon seasons to come. I mean, they just introduced the first black female character! Like five episodes ago! And now it's almost over? I was looking forward to seeing how the girls would adjust to post-wartime life, when mainstream culture did its very best to put middle-class working women like them back in their place (the kitchen!). With few men around, two women going out to a bar together wasn't seen as suspect, but that would change in the 50's.  There's just so much to work with there, so many stories to tell, and I feel like we'd barely gotten started with this one. Are Betty and Kate gonna hook up or what.
The movie is a consolation, to be sure, but damn I'll miss this show (and, of course, Kate's recaps). If anybody has a billion dollars laying around they'd like to donate to Autostraddle, we'd be more than happy to air the show right here every day, forever and ever.
** tweet with the #savebombgirls hashtag to make @Global_TV change their minds!! **