Every day I wake up and think: oh, to be blessed with another opportunity to take a selfie. It's an empowering task to take selfies. They are a visual record of the days you work hard to feel your best. They are a collection that allows you to look back and remember what you felt, what you were afraid of, and what you were hopeful for, in the moment of growth that you took the picture. Selfies are a labor of self-love. But I don't just love my selfies, I love everyone's selfies. It's important to see people who deserve to be celebrated — especially queer people and POC — using selfies to celebrate another day for themselves. We want to see your face out there, so we've put together some advice to help you be your best self(ie).
---
Cecelia's Tips
The process behind a good selfie can take hours. Sometimes it takes years. For most of my life, I had really severe acne which made liking my face hard. When my skin cleared up, taking selfies was really healing and affirming. Learning how to take good selfies healed the part of myself that felt embarrassed to have people witness my face. It's amazing now that people ask for my advice on how to take selfies, when just a year ago I didn't have the strength to look at myself in the mirror.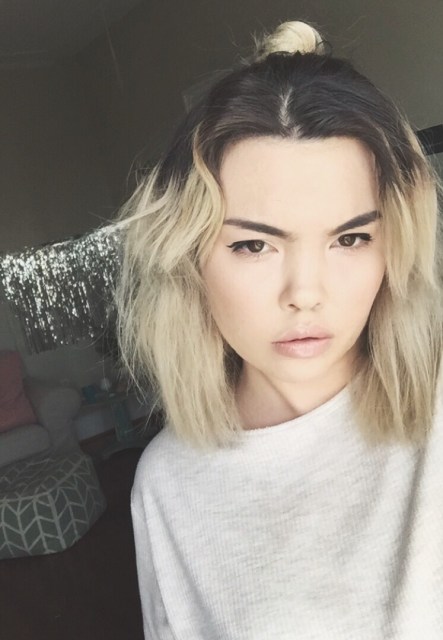 When I decided to be a Selfie Queen, I studied other selfies and realized that a few solid makeup investments help the cause. If you're going to invest in makeup, there are only three needs: good eyebrows, a good highlight, and matte lipstick. I've spent buckets of money attempting to perfect each category so that you don't have to (you're welcome and I'm sorry, wallet). These are the best options on the market right now in each category, all in different price ranges.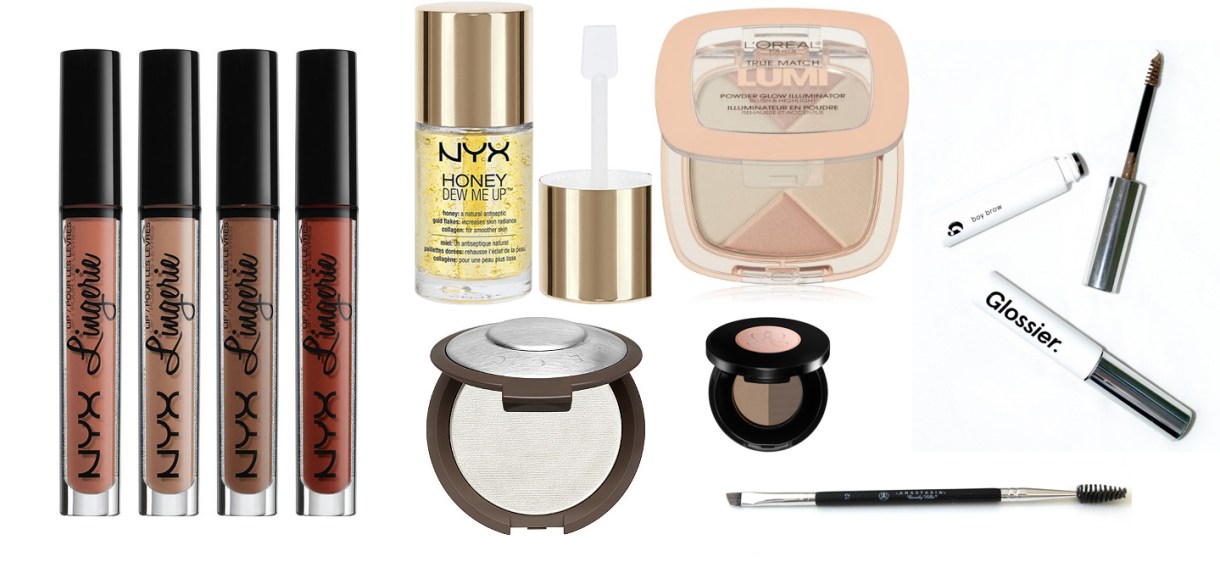 Becca Shimmering Skin Perfector in Moonstone
This highlighter is so good and easy it feels like cheating. You just swipe it across your face with a brush and then go about your day looking like a magical sparkling ray of light.
L'Oreal Paris True Match Lumi Powder Glow Illuminator in Rose
This is the best budget highlighter money can buy. It takes a few more taps of the brush to glide across your face smoothly, but it looks great in selfies.
If you don't like how shimmery highlight powders make your skin, this primer has a more natural, dewy look.
Anastasia Beverly Hills Brow powder Duo
Just buy this, it's the way that people are getting their eyebrows to do that thing everyone is doing with their eyebrows in selfies. It's pricey, but this tiny jar will probably last the rest of your life.
Anastasia Beverly Hills Mini Duo/Angled Spooley
You'll also need an eyebrow brush to do that thing that everyone is doing with their eyebrows in selfies.
This is the subtle version of the intense eyebrow. It makes your brows look full and soft, and it's a good alternative if you're looking for something more natural.
This is the dupe lipstick for the Kylie Jenner Lip Kit. They come in a million shades, and I bought five of them. I do not regret buying five. It does not matter which shades you choose. Seriously, I spent an hour in CVS deciding between just five, but I really think you could just walk in there and close your eyes and grab a handful and they would all look amazing. This is the cheap, good quality matte lipstick we've all been waiting for.
If makeup can't do everything you want in selfies, don't be ashamed to use photo editors. Even though my acne is gone, I still have pretty intense scarring from where it used to be. The app Facetune has a "smooth" feature that naturally smoothes over the scarring on my cheeks while still making my skin look natural. My friend also suggested an app called BeautyPlus, which is free and automatically does the skin perfecting work for you! For general photo editing, the most popular apps on the market — VSCO and Afterlight — work just fine for me.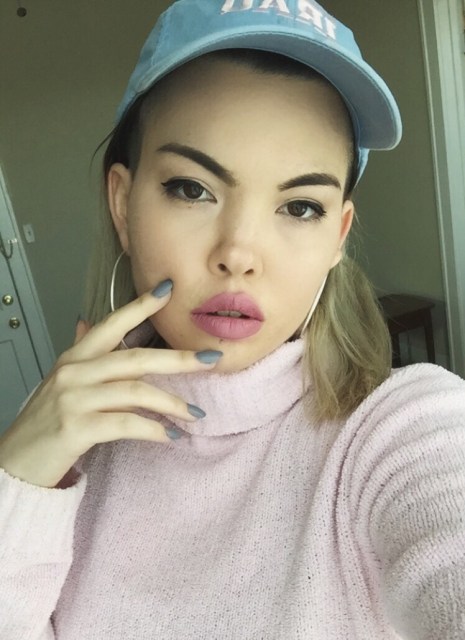 Take selfies in natural light. The sun will catch any highlight on your face and make you look impossibly radiant. Also, try using your hands to frame your face. I've heard this trend is called "T-Rex Arms," but I promise it feels elegant and regal in comparison to floppy dinosaur limbs.
Use the snapchat lenses. The puppy one makes everyone look cute.
Consider taking selfies without any of the fancy things and post them anyway! Sometimes I take selfies without makeup or after a sobbing marathon. It's especially empowering to remind people that these selfies are just as authentically you as the selfies you take hours getting ready for.
---
Audrey's Tips

There are a few elements that made this my most liked social media post in history. First, I had a hook. It was Halloween, so any holiday-related posts were sure gold. Second, I compensated for the shitty lighting in my kitchen by making it black and white and boosting the hell out of the contrast. Filters are your friends, they add drama. Third, apparently several of my friends thought this was actually a picture of the Biebs for several days. So, if you can make yourself look like a celebrity you're SET.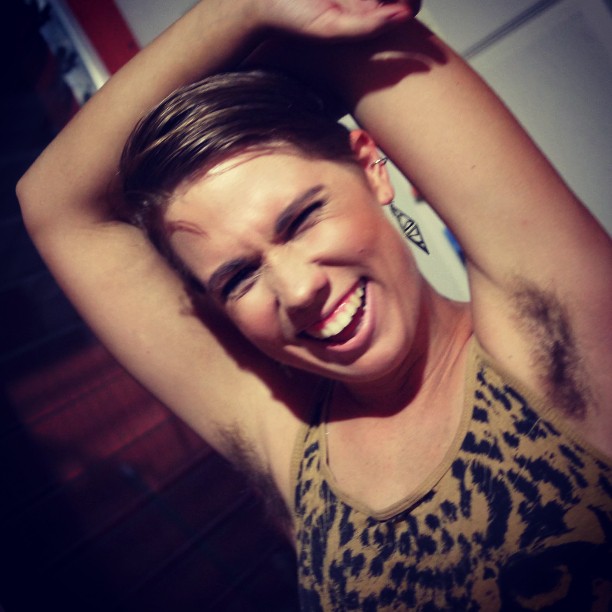 This is what I like to call an assisted selfie. Did I actually take it? Obviously not, my arms are doing that thing. But I think it still falls into selfie category because don't we all have a friend we can make take pictures of us? It still has other characteristics of a selfie: a deliberate expression (in this case mid-laughter), brows for days, and a hook — in this case I think it was my armpit hair.
THE MIRROR SELFIE. Y'all, I used to disdain the mirror selfie because I was rude and naive. In fact, it's the ultimate selfie, the one you take when you know you look good and not even your chunky phone case can take that away. This is an especially worthwhile way to display an especially on-point ensemble or the weird or pretty room you're in. The hook, by the way, is talking about my girlfriend in the caption. The caption can be at least half the selfie if you believe in yourself.
---
Raquel's Tips
Like many people, I have a very contentious relationship with my face. Growing up, I dodged photographs expertly, the last thing I wanted was a permanent snapshot of some awkward visage. Selfies, then, struck me as singularly masochistic, until I realized—you can take control of your own image. And then I was obsessed.
One of the main and most important lessons I learned from watching way, way, way too many episodes of America's Next Top Model instead of going to class in college was find your light.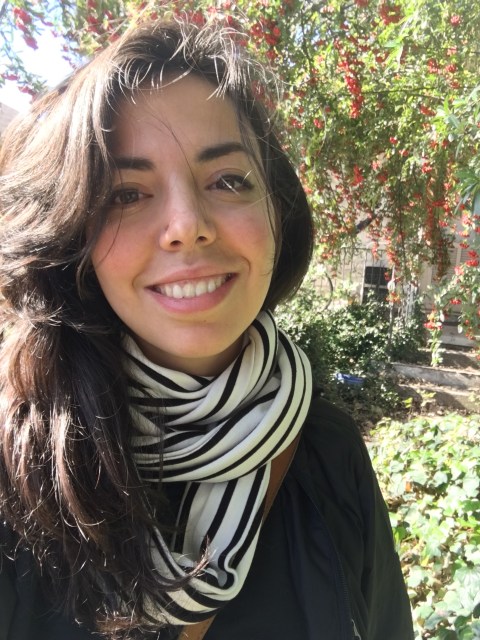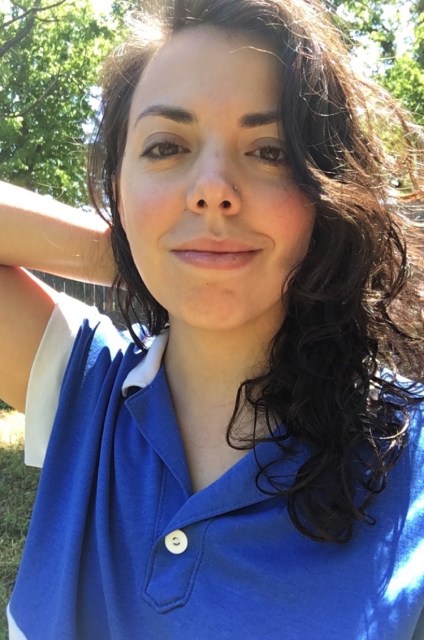 Direct sunlight is your best friend or your worst enemy, and it all just depends on where you're positioned in regard to it. One of my favorite selfie techniques is to look like a golden baby angel by placing the sun directly behind your head. When done correctly, you get a really nice, even light on your head and your hair will shine like magic sparkling filament. Or, some nice J.J. Abrams lens flare. If you are a person with hair, use your hair to your advantage here, because it will be lovely and shining. (I've mostly seen this on femmes, but I have a strong inclination that this would look amazing on a nice butch coif as well. All you sexy bois out there, please investigate and report back).
Make sure you've got the focus on you (as it should be) and not on the bright greedy sun or you might get something not super useful for hookin' in cuties on your Instagram.
I also just have the HDR filter on at all times and pick the better one: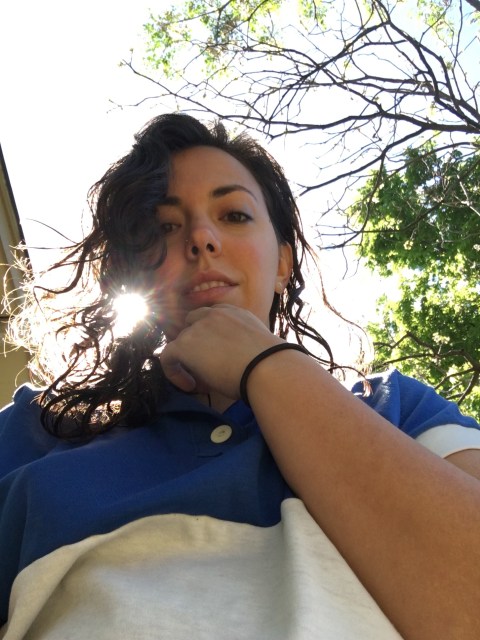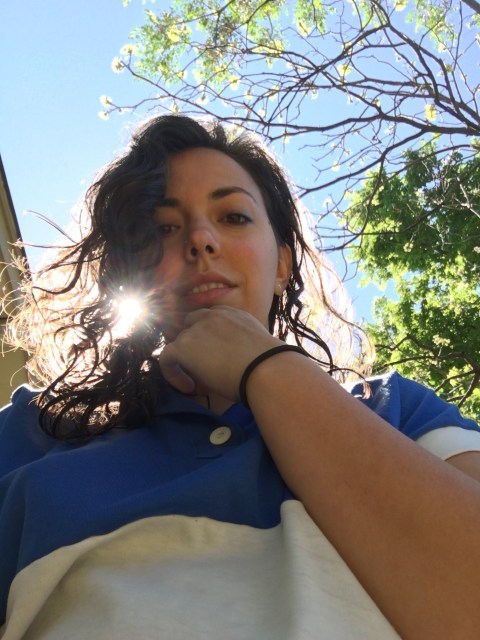 These pictures were actually accidental but it shows how HDR interprets highlights and lowlights pretty well.
Another thing I do, if you're like me and you hate your chin because it wrinkles every time you close your mouth, or you have that one weird tick in every photo that drives you up a wall: use the snapchat bar to say something cute and slap that shit right over it. Emoji also work well here for covering up weird parts of your hair (or just being that much cuter).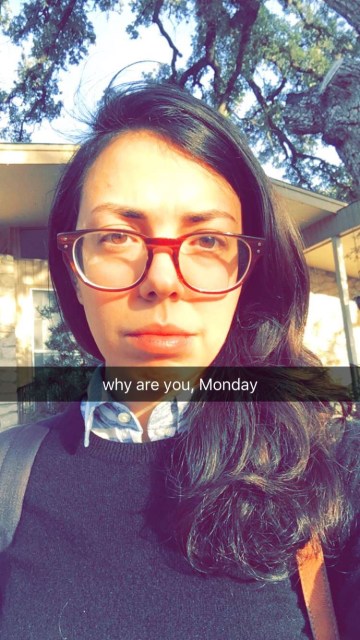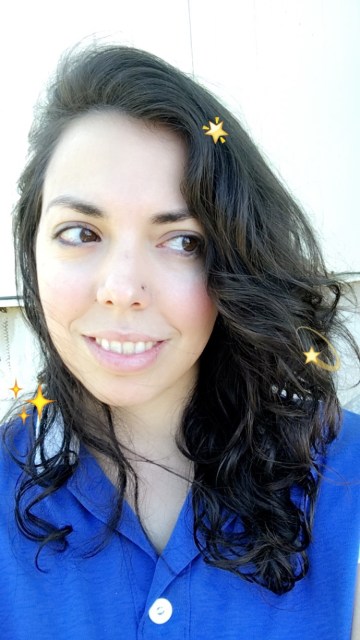 Good luck out there, lovelies, and shine bright like a diamond.
---
Kayla's Tips
The Looking Down/Closed Eyes Selfie
Why would you want to avert or close your eyes in a selfie? To show off your eye makeup of course! I intentionally close my eyes in about 70% of the selfies I take because, hey, those smoky shades and winged lines take a lot of work. Sometimes looking down and off to the side looks even better than just closing your eyes, because you end up looking the perfect combination of moody, thoughtful, and mysterious.
The Lying Down Selfie
I work from home, so I spend a lot of time in my bed. I know, I know. You're supposed to have a designated work space in order to increase productivity. Well, my bed is my designated work space. And I recently discovered that taking bed selfies can be great and not necessarily thirst trappy (but hey, if that's what you're going for, more power to ya!). I usually opt for the lying down selfie when I want to look super chill. As with all selfies, it's all about finding your angles. I usually fuss around with my hair a bit so that it falls in a way that looks good on camera. Just be careful not to drop your phone on your face. It hurts.
The Cat Selfie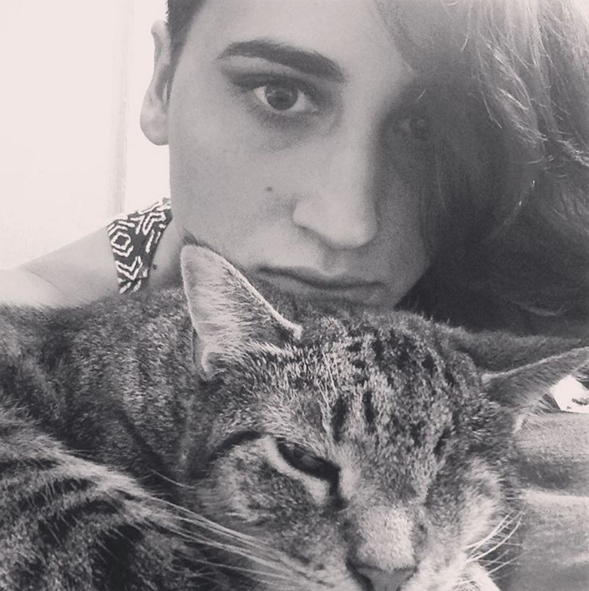 The most important thing about taking a selfie with a cat is to make sure the cat is a more-or-less willing participant. Cats that like to be held and picked up are the best for selfies. Remember: It's a cat. It's not going to necessarily listen to your direction. But I've found most cats tend to automatically look at the screen when a phone is in front of them. It probably has something to do with light, but I choose to believe cats love to take selfies as much as we do. Cats lounging in sunny spots are totally selfie-ready with all that natural light. They might even end up upstaging you.