This is the one post I never wanted to write. After three seasons and 51 episodes, the CW has cancelled Batwoman. Here's the announcement from Batwoman show runner Caroline Dries:
Just got the sad news that #Batwoman will not be seeing an S4. I am bummed, but full of gratitude. What an honor to make 51 episodes. So many inspiring, brilliant people contributed to this series. Thank you producers, cast and crew. Thank you, fans! We love you. ❤️

— Caroline Dries (@carolinedries) April 29, 2022
There will be a lot of speculation in the days to come, just as there has been over the last months while fans anxiously awaited news for a renewal. The CW is in the middle of a drawn out sale of its network, which certainly has complicated the renewal process for many of its shows. Batwoman wasn't the network's highest rated (though it's worth noting that Batwoman had higher ratings than two shows that were already granted early renewal, Nancy Drew and Riverdale) — but in a streaming era it's always hard to gauge how much network ratings factor, writers' rooms and stars often encourage fans that after they're done watching live to stream the next day on the CW app. But honestly, all the armchair post-game analyzing won't matter much anyway.
What matters is that Batwoman was a shining beacon of what's possible in Black queer storytelling on television. The first Black lesbian superhero character to lead her own show. The first love story between two Black women to lead its own show. Period. And it's gone. And there are no words for that kind of hurt.
Last night on her Instagram Live, lead actress Javicia Leslie (Ryan Wilder/Batwoman) said of the show's potential renewal that "whatever's meant to be will be, in the most beautiful way. We've done it already though — that's the great part. We've made this history. Ryan will always exist. Sophie and Ryan will always exist. Their love will always exist."
That, of course, is true. Once a ceiling has been cracked wide open to let in the sky, it can't be all the way closed back off to darkness. Once lungs have been filled with fresh air, they can't go back to surviving off dust alone. And Black queer fans looking to see how we love and fight and survive, and yes become our own heroes — we've survived on dust for far too long. Ryan Wilder was sunshine. Gotham might be night, but she was like walking into daylight.
Javicia Leslie, as a Black queer actress working in this industry, knew that more than most. When Batwoman was recast at the start of Season Two, following the departure of Ruby Rose in Season One, many white fans were less than receptive. No. I'm the Black Editor-in-Chief of a queer website on the day that the first Black lesbian superhero show (and one of the very few Black-led lesbian shows in television history) was cancelled so I should just say it — Javicia Leslie faced sizable racist backlash. It's been documented. And no actor should have to put up with that (other Black stars of CW shows, many of whom have built community with each other, have also discussed the difficulty of fan interactions online while fulfilling work obligations). So that's the first thing.
But with time, those fans did fade away. With time, Batwoman became a safe haven for Black queer nerds looking for a home in a comic book pop culture terrain that is often centered around the needs and wants of white people. "Wildmoore Wednesdays" and Batwoman' s third season created a fandom the likes of which that we've never seen in the media landscape before now, one that was normalized around Black queerness.
In December, before Ryan Wilder and Sophie Moore were officially put together on screen, but well into their courtship, Leslie tweeted "As a kid, it was so rare to see romance between two black women on screen… to see a reflection of myself, and other women I know."
Rare doesn't begin to describe it. And I'll be honest — a lot of what I have right now is anger. Because Ryan was the first, and first's are never easy. The decision was made to cast a Black Batwoman in the summer of 2020, in the middle of uprisings against state sanctioned anti-Black violence in this country. Javicia Leslie was given the job to helm a brand new character, in an established show and a beloved comic book property, in the middle of a once-in-a-century pandemic. And in so many ways, she was supported. There were fans who uplifted and supported Javicia, other Black actresses on the network stood together in solidarity, the writers' room created an entire world for Ryan that was her own, fully Black and fully herself, going as far as casting the legend (there's no other description) Robin Givens as Ryan's mother in the its third season. We took to calling Ryan "our Batwoman" — and we all know who our is. Replacing Kate Kane's straight haired red wig for Ryan's curly Afro was, in and of itself, iconic.
Still. It took HBO Max, the Warner Brothers streaming network, two years to update the cast of Batwoman on its service — as late as February of this year, it still listed Ruby Rose as top billing. Ryan Wilder was never quite incorporated into the comics with the same ease as other CW-first superheroes. If you google Batwoman right now (as I did before finishing this article) Ruby Rose's Kate Kane is still roughly half the images, even though she has not appeared in the role since the first season. It's hard to choke down those small signals of what more could have been done to set Batwoman up for success in the wake of the show's cancellation — to put your money where your mouth is, if you say you want to support Black talent and storytelling. It's hard to know that being a Black queer fan is a little like walking with a pebble you can't shake from your shoe. All the small ways the media landscape reminds you that you're not the intended audience, even in your own home (and make no mistake, Batwoman was our home). There's still so much further to go.
Anger, I suppose, is ultimately a stage of grief. It's one that I hope to push past. So if I could take a moment, I'd like to tell you what Ryan Wilder and Sophie Moore meant to me — beyond their historic record breaking relationship, beyond the minutia of how the television sausage gets made, just me — a Black queer woman who watches tv in her sports bra after a long day of work. Because I hope that this is also their legacy. That this is what we remember.
When I was in third grade in the 90s, my cousin was obsessed with X-Men. Because he was my older cousin, and we spent every day after school together, I became obsessed with whatever he was obsessed with. Which meant I also fell in love with the X-Men, more specifically (because… I am me) I fell in love with Storm. The X-Men were my first comic books, my first trading cards, we watched the cartoon every day and could quote it to each other. When I asked for a Storm action figure that Christmas, my mother looked for one everywhere. It was impossible to find her. It felt like she didn't exist.
When I was in my twenties and first coming out of the closet in the late aughts and early '10s, being a television obsessed nerd, I started devouring queer stories. Every Black queer character I saw, no matter how thinly drawn or poorly written, I etched into my skin like a memory. And not a one of them ever had a love interest that looked like me. The L Word (which, if you're reading Autostraddle, you already know, but for everyone else who stumbled here — is a foundational text in lesbian television) had only two Black queer characters in its original six-season run to begin with, and it took them over a decade later, during the show's reboot, to finally show a Black relationship.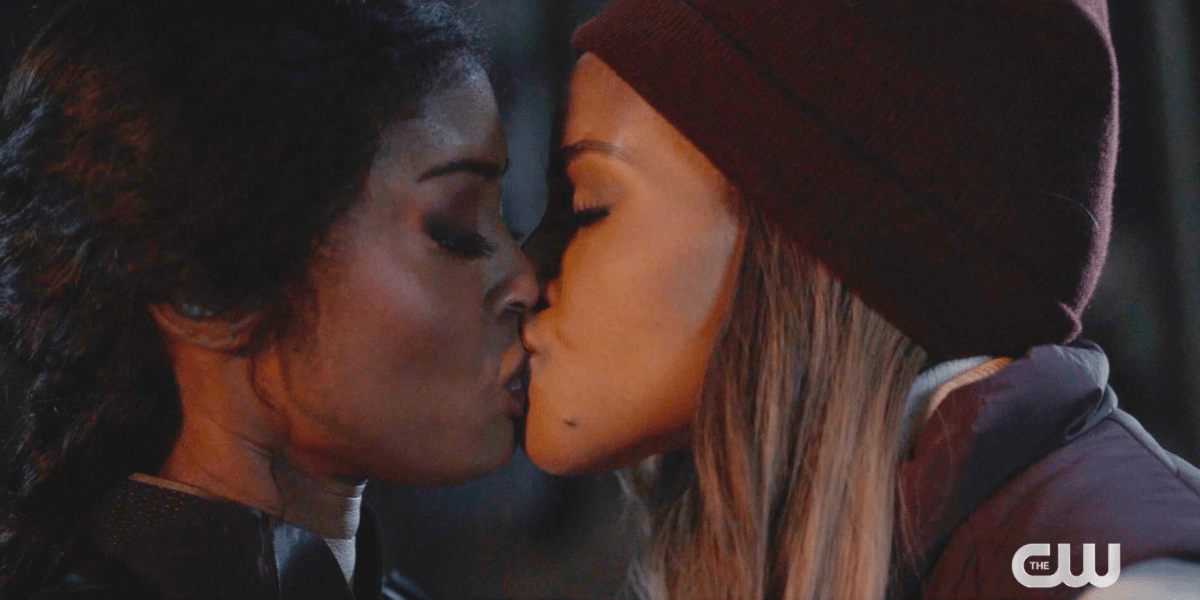 I always have to take the long road when spelling things like this out, because otherwise when I say I was in my mid-30s before I could regularly and dependably see two Black women in love together on my television screen, you will think I'm exaggerating or being dramatic. When I tell you that I cried when Ryan talked about the exhaustion of being a Black woman expected to save the world, only to be comforted with a kiss by a Black woman who loved her, really loved her, who had fought her own family's homophobia to be save herself and knew exactly what that exhaustion means (I did not have enough space to give all due credit to Meagan Tandy's Sophie Moore in this piece, but she deserves), you will think that I'm doing the most. And you know what? Maybe I am doing the most. Maybe this entire hazy reflection of the trials and successes of one superhero show and its Black woman star is messy and all over the place. Maybe I am taking up too much space in my grief.
But maybe it's because I wasn't given permission to take up space begin with.
I don't often get the chance to write about Batwoman and the indelible way its left me, how it's worked its way into the marrow of my bones. Usually we leave that to our regular Blerd-in-Charge and Batwoman recapper Nic, who had this to say to fans of the show after learning about its cancellation:
"If you've read any of my recaps, then you'll know I'm not often at a loss for words, but this one is hard, fam. My heart aches for the untold stories; for the unapologetic and oh so Black Wildmoore love we won't get to see grow; for the change Ryan could have continued to bring to Gotham; for Mary and Luke and Alice's journeys. In season two, Batwoman became a new show. It became a show for 'us.' So while I understand the complexities of television as a business, it's hard not to take it personally when they take away another diverse show. The thing about us though, we're not going away. We'll follow the cast and cheer on whatever they do next, but one thing remains true: Javicia Leslie and Ryan Wilder will forever be our Batwoman. "
Amen, and peace be to Gotham.