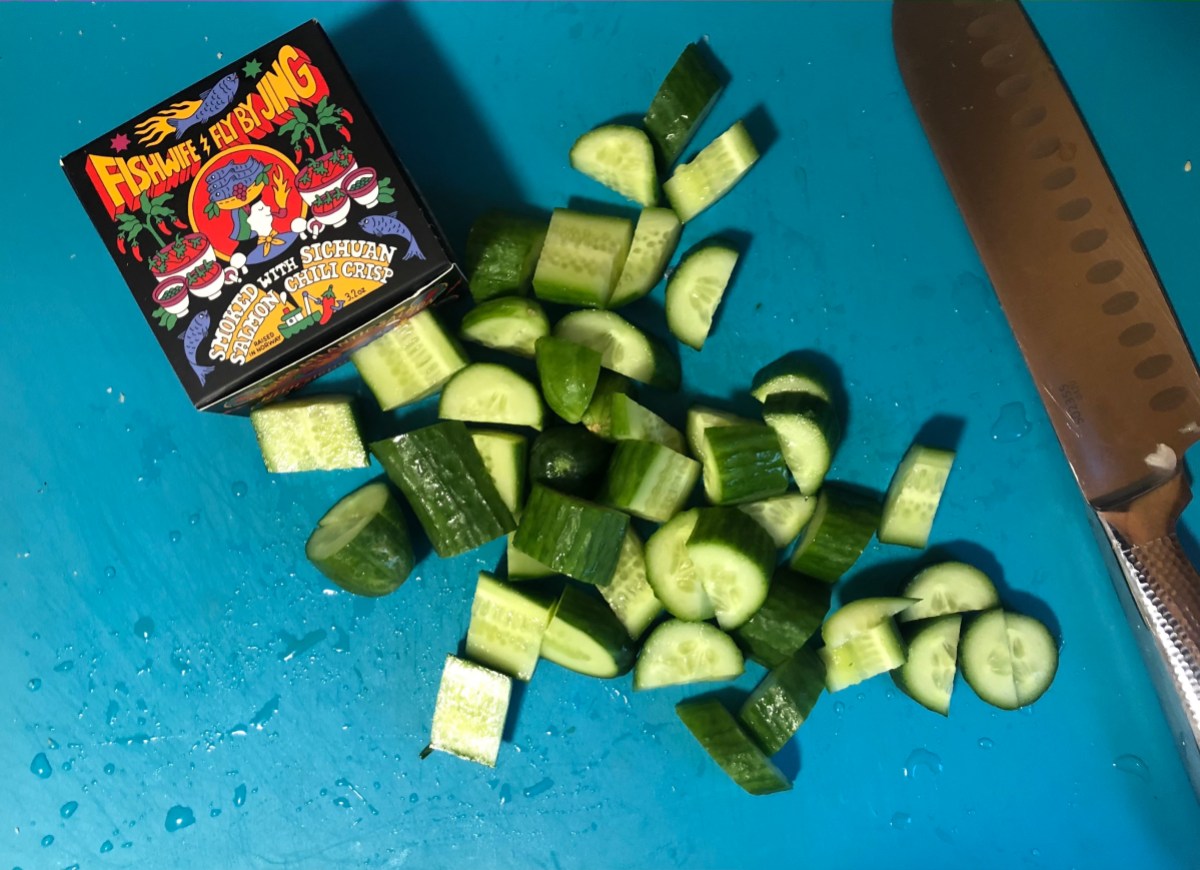 As I've mentioned many times on the site by now, in the fall of 2021, I moved to a new city with my partner where I knew basically no one and where my partner knew less than a handful of people. When we picked Miami as our first place to really build a home together, we assumed we'd meet people through the arts, writing, and queer communities that exist here.
Then, of course, we couldn't do that. It turns out it's difficult to make new friends when you can't really socialize outside of your home.
But gradually we've finally been able to let folks into our home. I love hosting. I love feeding my friends. And as we've begun to socialize more, make new connections, and reunite with long-distance pals, a new ritual has organically emerged on the little balcony where my girlfriend and I spent so many months just the two of us. I call them Fish Parties, originally dubbed by my friend Becca who, as a Pisces, is particularly qualified to dub such a thing. At its surface, Fish Party is just an intimate gathering of some of my friends at my place, featuring seafood (mainly tinned fish!), natural wine, local beers, and citrusy cocktails. But Fish Parties are about more than what we consume! Fish Parties are friendship!!!!
The first Fish Party was born of Becca's first time visiting me in years. I wanted to do a casual cocktail hour with a bunch of dips and small plates all built around tinned fish around sunset. And I wanted to merge old friends with new ones, introducing Becca to one of the couples we've become close with down here in Miami. Fish Party 1 was a hit, and I repeated it again a few weeks later. By then, Becca was gone again, but I took pictures of what I'd be serving this time and sent them to her, because the spirit of Fish Party is such that you can absolutely be a part of it from a distance.
So welcome to the Fish Party column. Sure, it'll be about reviewing various tinned fish products and providing some loose recipes/guides for how to best enjoy them (I'm thinking occasional drink pairings, too?!). But it will also be about more than that, about friendship, my relationship, finding small joys in life, building a new life in a new place, lesbian domesticity, and social rituals.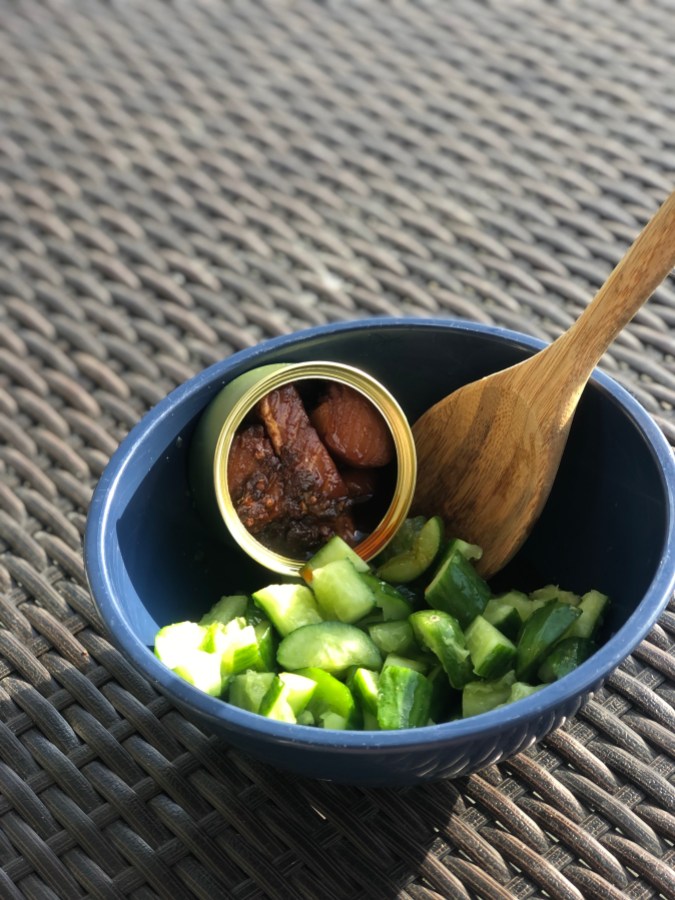 When two of my favorite trendy Instagram snack brands — tinned fish purveyor Fishwife and chili crisp king Fly By Jing — posted that they would be teaming up for a collab, I thought I was being pranked. Or, since we're talking fish here, I suppose I felt baited.
I was not alone. Again, these are verrrrryyyy trendy brands. For a while, it felt like every other ad in my Instagram story feed was of Fly By Jing's tingly chili crisp glopping onto a fried egg or an ice cream cone (the brand is very adamant that its sauces go on everything). And Fishwife is oft-mentioned in the whole "tinned fish is Hot Girl Food" thing — which, yes, if you didn't know is a thing. And as a hot girl who eats tinned fish, I very much identify with the joke.
If I'm being honest, I actually tend to prefer grocery brands of chili crisp like Lao Gan Ma, but the Fly By Jing Zhong sauce is a staple in our pantry, and I could absolutely eat it by the spoonful. It's the first time I've ever considered signing up for a subscription for a sauce.
If you want to read a quick primer on tinned fish in general, check out the first installation of my It's Time To Get Into snacking series, which focuses on canned and tinned fish that are available in grocery stores.
Okay, so the collab. Specifically, the product is Fishwife's canned smoked salmon brined in Fly By Jing's Sichuan Chili Crisp as well as olive oil, sea salt, garlic salt, and brown sugar. The taste? SALTY. In the best way. There's just enough of that numbing, savory spice lended by the chili crisp to meld the overall flavor into something balanced but deep, standing on its own but also ripe to combine with other flavors. The first round sold out, but it's available again for pre-order.
I want to say a $40+ price tag (the sticker price is $39, but it does not include shipping) for three standard-sized cans of salmon is not worth it, but fish fam………..it's absolutely worth it.
Here's the thing: As with a lot of products and goods, the better and more ethical the sourcing, the more the price tends to go up. You can read more about Fishwife's approach to sourcing its fish in Vogue's profile of the company, which touches on the relationships the founders have built with independent fisherman.
I personally am a firm believer that the best approach to keeping a tinned fish collection in your pantry is to mix-and-match more affordable grocery store brands with some offerings from the more stylish and pricey smaller companies. I often use the former for dishes where the fish might not be the leading star or recipes that require using more than one can — things like dips, big salads for dinner parties, etc. I also like those grocery store brands for when I'm just having a quick tinned fish snack at my desk. And then I tend to use the latter for more ~special occasions~ like to add a pop of fishy flavor to a decadent cheese plate or in a colorful rice bowl or almost as a banchan served alongside something hearty like grilled meat or hot pot.
Fishwife x Fly By Jing is a perfect example of a special occasion tinned fish. It's the perfect example of a food that embodies everything Fish Parties are about. I knew I wasn't going to try Fishwife x Fly By Jing for the first time by myself. I wanted to try it with friends.
Fishwife x Fly By Jing is meant to be eaten on the weekend, with a glass of wine or a cold beer or an extra bubbly seltzer, watching the sun set or a sheet of rain clouds roll in. I'll tell you exactly how I ate Fishwife x Fly By Jing for the first time: at a round table with my girlfriend and two new friends, surrounded by more food, a bottle of rosé just opened. It was — and I cannot stress this enough — the perfect weekend treat.
If you do decide to order some Fishwife x Fly By Jing, I don't think you should be too precious about it. You don't have to plan the perfect dish or the perfect moment to eat it. Fish Parties sound extravagant, but they're really not. I enjoy throwing them together, and I don't overthink them. At Fish Parties, the food is served basically indoor picnic-style. It's not a formal sit-down dinner. I load up our table with a bunch of bowls and platters of food, condiments, side dishes, etc., and we just eat casually — sometimes not even at the table but on the couch so we can look out at the ocean and be closer to the record player for when it's time to flip the record.
Fishwife x Fly By Jing is a special treat, but any day can be special, especially when the people you're with are making you laugh between mouthfuls of fish.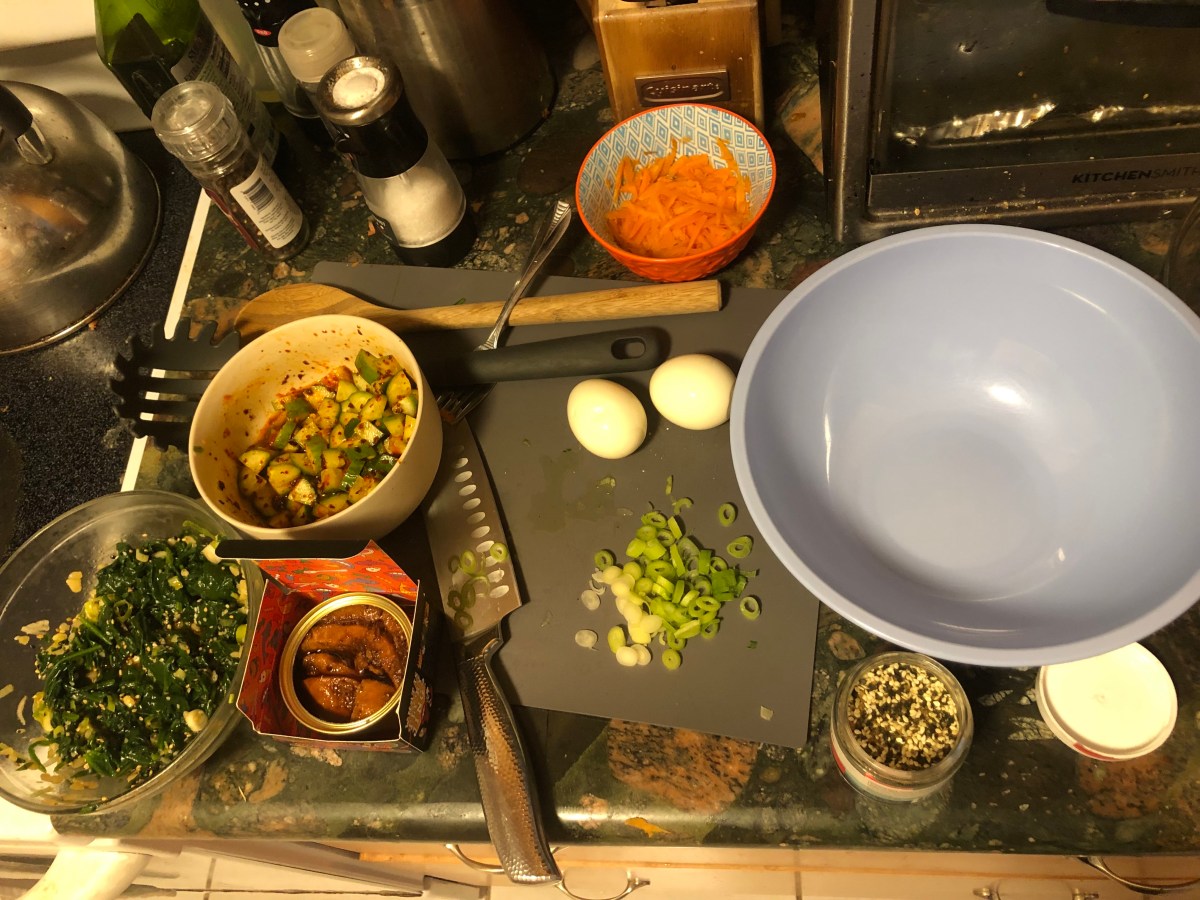 Here are the three ways I've eaten my Fishwife x Fly By Jing. As I'm sure you'll come to realize as this column progresses, my approach to "recipes" is pretty loosey goosey, not structured like formal recipes but rather more like your aunty telling you how she makes something, you know? But I'm happy to answer any clarifying questions in the comments!
Smashed Cucumber + Smoked Salmon
This one's real easy. Get some cukes (I like the buy the mini kind), roughly chop them into large pieces, add them to a bowl, and then use a wooden spoon or potato masher to smash them and release some of their juices. Pop the tab open on a Fishwife x Fly By Jing can and dump the whole thing in. Make sure you really get all that oil in there. You could, honestly, leave it at that if you want. But I also added a splash of rice vinegar, chopped scallion, and more chili crisp. Minced garlic and chopped fresh chilies would also be a good addition if you want a little more bite.
Smoked Salmon Rice Bowl
While sushi cooked in my Instant Pot, I whipped up some easy, flavor-packed rice bowl toppings. I shredded some carrots and put them in a small bowl with some rice vinegar, warm water, and salt. That went in the fridge.
Then I boiled water, threw in basically an entire bag of spinach, and removed the spinach after only about 15 seconds and put it in an ice bath. I drained the spinach, squeezing out the excess water as much as possible, and roughly chopped it before adding it to a bowl with some sesame chili oil, toasted sesame seeds, chopped garlic, and salt. That went in the fridge, too.
I made a couple jammy eggs (boil water with some salt in it, drop in eggs, set a timer for six minutes and thirty seconds, take them out and immediately put them in an ice bath).
I made some smashed cukes using essentially the same recipe above minus the fish.
Once the rice was done, I sprinkled some Barnacle Foods furikake on it. Then I added the jammy eggs sliced in half, the pickled shredded carrots, the spinach, and the cukes. In the middle, I put an entire can of Fishwife x Fly By Jing. Then I added more chili crisp, chopped scallions, and a drizzle of gochujang. Lots of flavors, but the fish does not get lost, because like I said: It stands on its own!!!
Straight Out The Can
Self-explanatory!!!!! But here's a tip: Once you've finish, grab a hunk of bread and sop up that oil left behind in the bottom of the can.
---
So listen, no, this is not going to be an everyday tinned fish. Or even an every week tinned fish. But it's absolutely an ideal weekend treat. A special little salty burst best enjoyed in close proximity to a body of water. It's great for a Fish Party, which is really just a way of saying Fishwife x Fly By Jing is meant to be shared with someone you care about. 🐟🌶💗