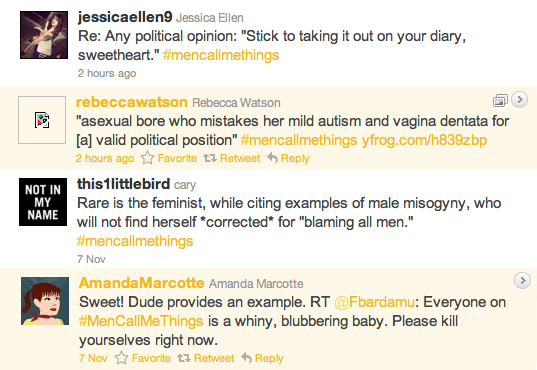 You're not the only one whose inbox is occasionally flooded by unsolicited nastiness. It turns out that almost all women are targets of a special kind of Internet bully–the misogynist.
Brendan O'Neill's essay in The Telegraph was the last straw for Sady Doyle, who decided to publicly  take on anonymous online sexism. Because, really, why do people talk the way they do, especially to women, when they're hiding behind a screen? Sady thinks it's all part of a plan to scare women into shutting up, and I'm pretty much with her on that one.
"Sometimes, there isn't actually that much difference between someone saying 'I want to rape you with a chainsaw' and someone saying 'I hope you get raped with a chainsaw.' If the first comment contains information that leads you to believe the person can find you, you report it. But often, it doesn't. It's just someone sending you some words, in the hopes that the next time you sit down to write, you'll remember that yikesy chainsaw-rape thing and think, 'you know? Maybe this isn't such a great idea. Maybe I don't need to say this. Maybe I'll piss someone off, and maybe it will be more than I can handle, and you know, maybe my thoughts on this topic just ARE NOT IMPORTANT ENOUGH for me to risk the headache/fear/irritation/distress/panic attack I know I will get.'"
Of course, she points out, actually calling a spade a spade is practically begging to get called a hysterical woman. Because, you know, aren't we always asking for it. Being the badass that she is, Sady launched the Twitter hashtag #mencallmethings. Before you argue that tweeting isn't exactly revolutionary, let's talk about what's going on here. When you have angry men who really really want to silence women, talking–even on Twitter–can be pretty loud.
The Internet puts a lot of discussion that was once private into a public space. This applies to "men calling us things," in that attempts to silence or denigrate us are now a pastime that can be shared by large groups of people in a public domain, with little to none of the consequences, even if they are only social, that might occur in a private space. But it also means that we have a platform to talk about it, and to call attention to our own marginalization. Misogyny is nothing new and neither are stories about it. We can still chat over needlepoint or plot the dismantlement of the patriarchy in consciousness raising groups, but now we've also got the Internet. We make friends, create spaces, and share ideas with people from all over the world–something that makes me happier than I can put into words. I can only imagine that the fairly permanent place that women's voices are claiming in online discussion is threatening to the type of men who call Amanda Marcotte a "whiny blubbering baby" and suggest that she kill herself. Because while the things you can read about in #mencallmethings and the fact that it's such a frequent phenomenon in the first place are reprehensible, it's also a sign of the times. The vitriolic and hateful responses are a reaction to a scary and irreversible social change — the fact that women now say what they want, and what men call them for it can finally be a response, albeit an awful one, and not the whole conversation.
Trolls are everywhere, but women are usually subjected to a special, gendered and sexualized form of silencing. Women get dismissed as unimportant because we're meant to be sex objects, not human beings. We're either sexy–who wants to listen to a hot girl when you can just look at her?–or ugly–and why would anyone care what some busted chick has to say? Deciding that our opinions and our stories matter regardless of that is a political action in and of itself; the men who call us gendered slurs and suggest that they wouldn't mind our violent deaths is a reaction to the fact that our voices don't work in their paradigm, but also a reaction to the fact that we've clearly decided we don't care about that anymore.
Sady cites Rebecca Solnit's "Men Explain Things To Me" to explain the frustration women encounter when, er, talking. "Most women fight wars on two fronts, one for whatever the putative topic is and one simply for the right to speak, to have ideas, to be acknowledged to be in possession of facts and truths, to have value, to be a human being."
What's you're best/worst contribution to #mencallmethings?