Lizz's Team Pick
It happens to everyone: the drink/music mismatch. Maybe you're at a club dancing to Lady Gaga but for some reason you find yourself enjoying a full bodied Syrah. Maybe, on the other hand, you're sitting in the dark on the floor of your apartment with your girlfriend and ten cats listening to Al Green and drinking Jagerbombs. It's just wrong. Luckily, three Bostonians fixed all that at Music Hack Day Boston 2011 with their amazing new website Drinkify. What's the pitch?
Drinkify automatically generates the perfect* cocktail recipe to accompany any music.
*May not actually be perfect.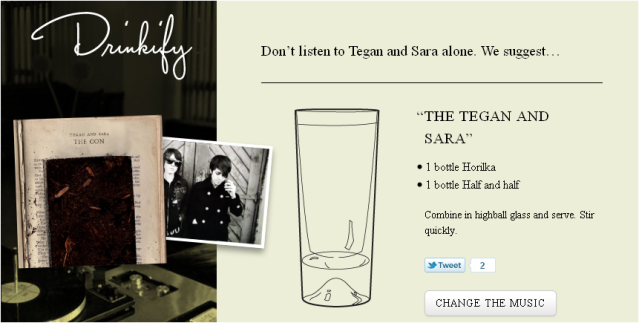 That's right. You type in a musical artist and Drinkify automatically spits out the perfect drink. Now, apparently Drinkify uses The Echo Nest and Last.fm databases to connect genres and tempos with drink types, but as far as I'm concerned this is just magic.