Here at Autostraddle dot com, we have a lot of desires. Some are secret, some are scandalous, and some can be bought online, wrapped in cute paper, and gifted to us for the holigays. Just saying. Here's our ultimate team holigay gift guide, detailing our desires that money sure can buy. Maybe they'll mirror the desires of someone in your life and you can draw inspiration! Maybe you're going to be the one who steps up to buy Laneia that cake stand.
---
Vanessa, Community Editor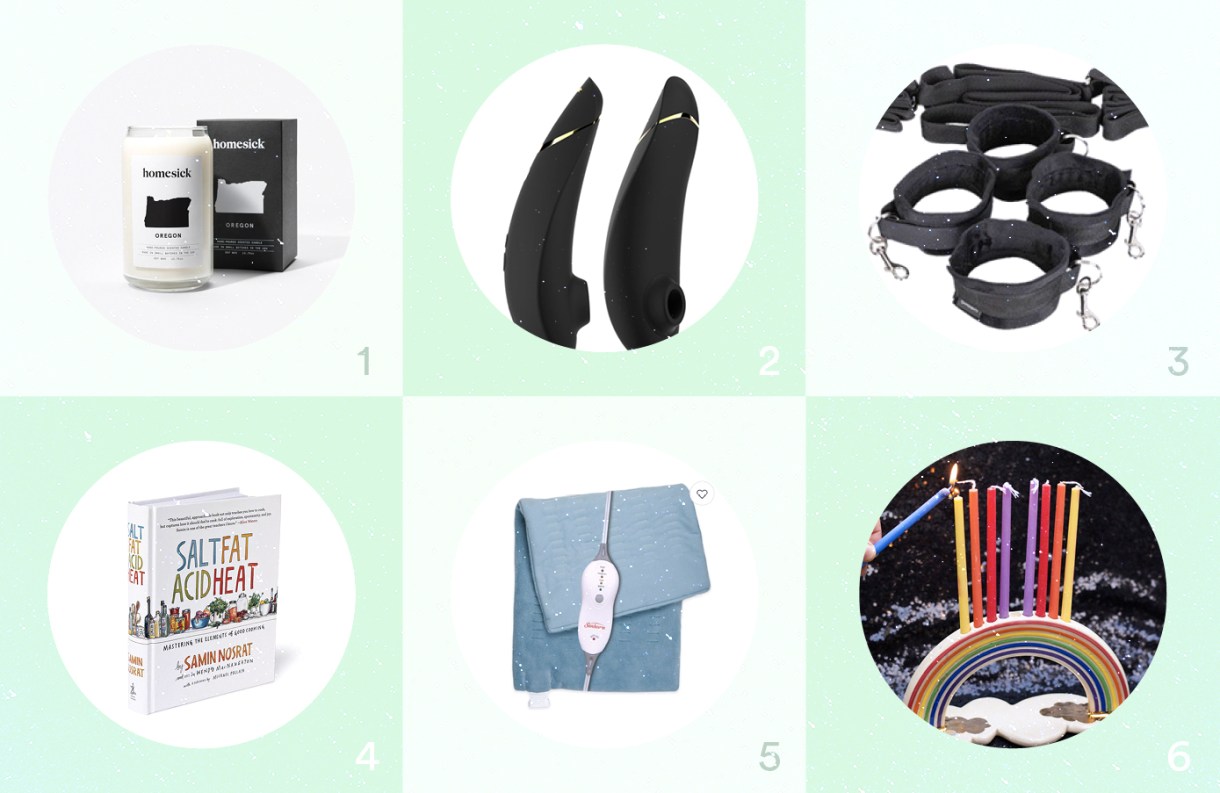 1 / Homesick Candle: Oregon ($29.95)
2 / Womanizer Premium Clitoral Stimulator (in black, please) ($199)
3 / Under The Bed Restraints ($69)
4 / Salt, Fat, Acid, Heat ($35)
5 / Heating Pad ($21.66)
6 / Rainbow Menorah, handmade by Portland based queer femme ceramic artist (and, full disclosure, my best friend) Alex Simon of @makegoodchoices (prices vary)
This is the first holigay season in eight years that I am single and the first holigay season ever that I am living alone, and I am mostly happy about both of these facts. This is also the first holigay season in four years that I'm not living in Oregon, and I am less happy about this fact. I chose these particular items for my wish list this year because they will either: help me orgasm (solo or with dates), help me be cozy in my new solo space, or help me pretend I still live in Portland. I'm also accepting air miles, Alaska Air gift vouchers, and hot kinky one night stands, but it's hard to add those to a gift guide and link them, ya know? (PS: My 30th birthday is on December 21, aka Winter Solstice. Just FYI.)
Heather Hogan, Senior Editor
1 / Frostbeard Studios candle ($18)
2 / Fountain pen case ($39)
3 / Twisbi Diamond 580 fountain pen ($65)
4 / Tealyra tea mug with infuser ($19)
5 / No Mud, No Lotus: The Art of Transforming Suffering ($15)
I love candles, especially in the winter because they're cozy; plus, carefully chosen scents boost my mood. For example: Frostbead Studio's Headmaster's Office, which smells like a fireplace and cedarwood and lemon! (Rainy Day Reads is another favorite; it's fresh rain, ginger, and lavender.) Last year I got a starter fountain pen and have loved it so much and used it so much! Now I'm ready to level up to a higher end beginner pen like this Twisbi. I'm going to for sure need a case to house my pen collection (of two pens, and space to grow). Tea! I drink so much of it! Little prepackaged satchels are easiest, of course, but there are a lot of loose leaf teas I'd like to try if I had the right supplies, like this handy and simple infuser mug. Finally, this is the only Thich Nhat Hanh book I haven't read, even though lots of meditation people say it's the best one. I would like to read it in the light of a snuggly-scented candle while sipping tea I crafted by hand like a magic potion and occasionally taking notes with a pen that writes like butter.
KaeLyn Rich, Staff Writer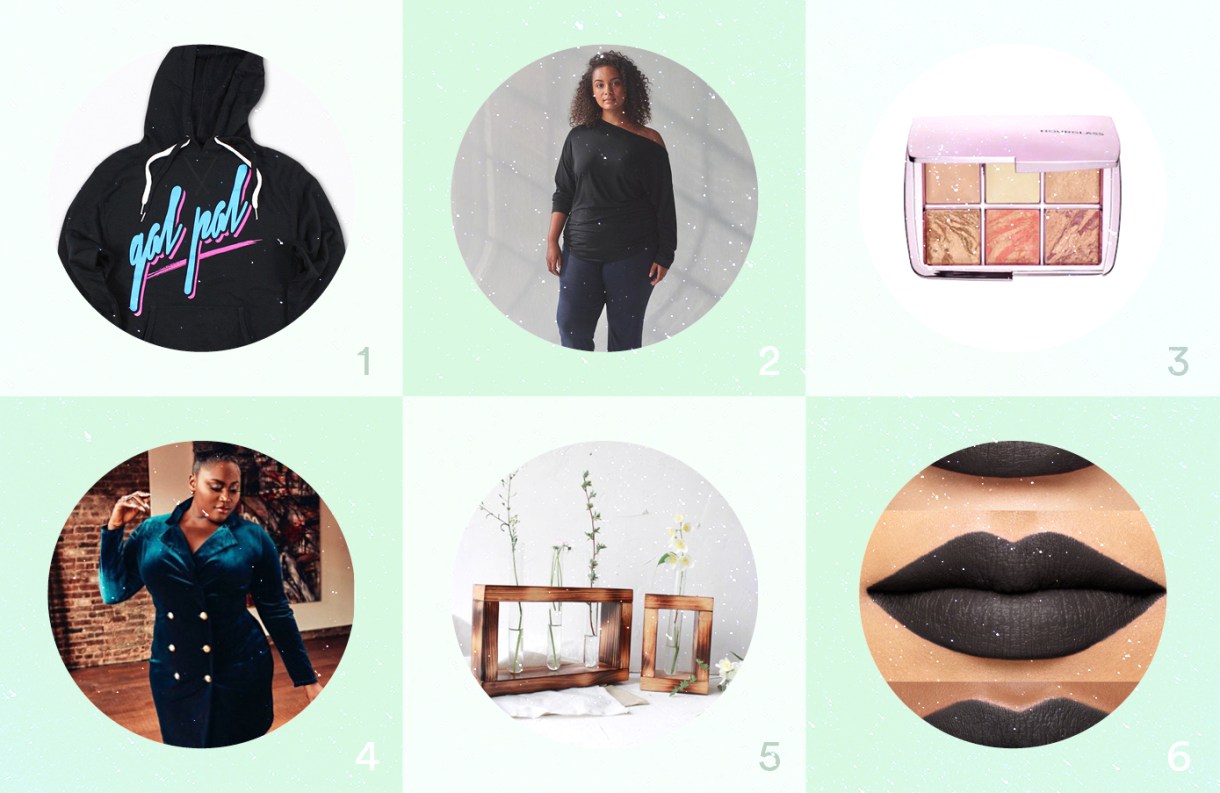 1 / Gal Pal Hooded Sweatshirt ($48)
2 / Universal Standard Dolci Top ($50)
3 / Hourglass Ambient Lighting Edit Volume ($80)
4 / Danielle Brooks x Holiday Charice Velvet Blazer Dress ($64.95)
5 / Test Tube Bud Vase ($34)
6 / Nars Powermatte Lip Pigment in Paint it Black ($26)
Real talk this Gal Pal sweatshirt is the best! I have it already in the mustard color that was the only option when it first came out. Remember that? Anyone? Anyway that OG sweatshirt is still in rotation, but black is really more my color palette (because I'm a mess and it's harder to see / remove stains from and also I just like dark colors). So first and foremost I want my fav sweatshirt with the double drawstrings (dreamy!) and the thumb holes (have mercy!) in my life in black please. Speaking of dreamy details, I love love love love the whole Universal Standard lounge collection. I'm really into comfy clothes at this point in my life, especially if they can double as FASHION with the right accessories. This top looks so comfy and comes in many sizes and I could even get it oversized if I wanted to, if I felt it in my mommi soul. This top, oversized, with a pair of fleece leggings and shoulder-grazing earrings and chunky black booties. *swoon*
I am lazy femme in so many ways and one of those ways is my really minimal, but also super aggressive makeup routine. Aggressive in that I want you to visibly be able to tell I'm wearing makeup because that's the whole point, IMO, and I love a shimmery highlighter. I want to wear it with a dark berry pink lip and a sharp AF cat eye! Did y'all know that Danielle Brooks has a line with Fashion to Figure? This sexy velvet blazer dress is part of the holiday collection! It looks so soft and comfy and also like sharp hard femme perfection for my office holiday party! I am into this test tube as bud vase thing even though it seems very hipster, but also wood and glass and flowers – I'm sorry I'm so here for it. Last, but never least, I really want to try out Nars Powermatte lip pigment. I need a new black liquid matte. I've been using a Limecrime one I bought eons ago, but I know that can't last forever because YIKES. I just want a black matte lip that will stay on all day and night! Is it too much to ask?
Carmen Phillips, Associate Editor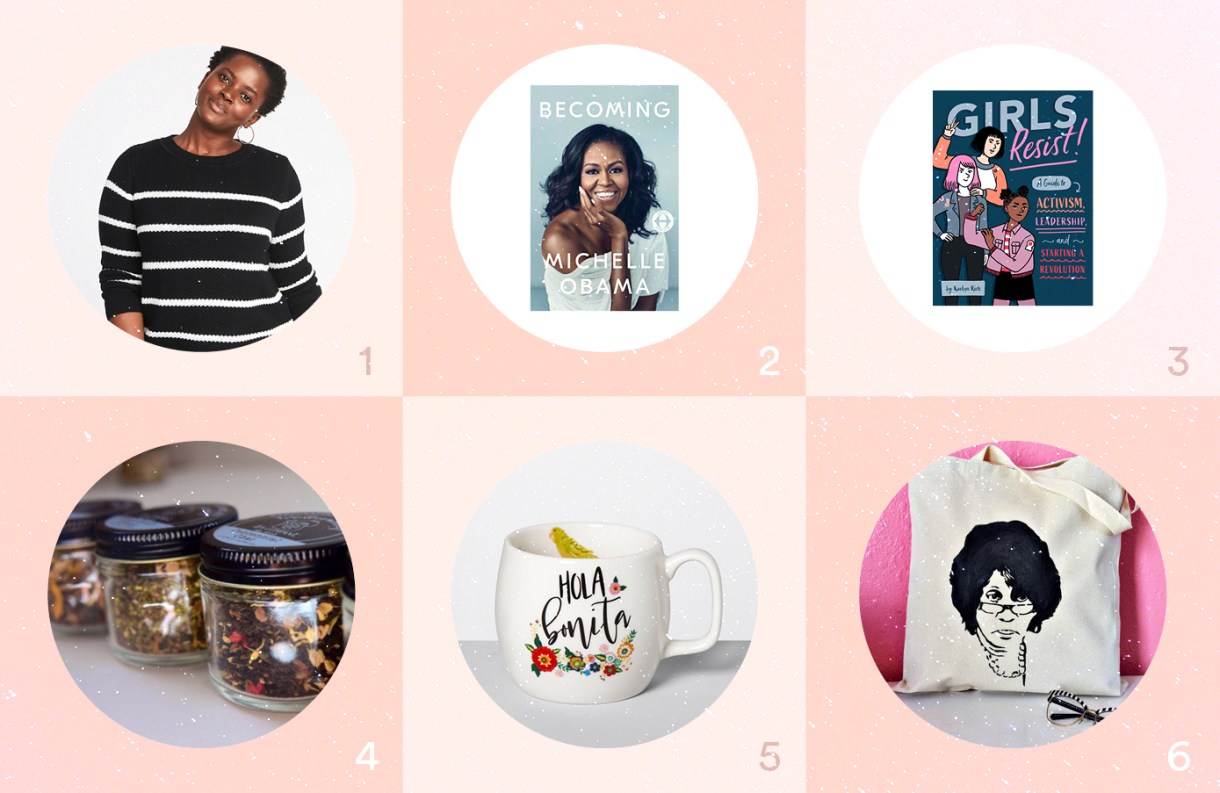 1 / Warm! And Cozy! Sweater, sizes 1x- 4x ($37.99)
2 / Becoming by Michelle Obama ($32.50)
3 / Girls Resist!: A Guide to Activism, Leadership, and Starting a Revolution by KaeLyn Rich ($14.99)
4 / Organic Loose Leaf Tea Sampler ($17.25)
5 / "Hola Bonita" ($5.99)
6 / Maxine Waters Tote Bag ($15.30)
KaeLyn Rich was perhaps too humble to ask for her own book for the holigays this year, but I am not! KaeLyn wrote a book called Girls Resist! and THAT BOOK IS AMAZING! It's directed at tweens and teens, but I am here to tell you that as a full adult human who's always interested in becoming a better, more efficient, and stronger activist – this is a perfect How-To Guide! I'd recommend it to anyone. Speaking of "resistance reading," I can't wait to get into Michelle Obama's Becoming. Given her massive popularity, there's a chance that someone in your life feels the same way!  Do you know what kind of bag would be great for toting around an activist's handbook and Michelle Obama's memoir? One with Congresswoman Maxine Waters' face on it! Whew, I'm going to be the hottest babe in the coffee shop.
Once upon a time, I used to love loose leaf tea, but somehow I got out of the habit. This year, I want to return! It's amazing to me how quickly you can taste the difference between loose leaf and pre-bagged tea, even though it's not much extra work (or money!). I love a cup of tea during these long winter nights, and dammit I'm ready to invest in those little routines that make my life worth living. (Pro Tip: If you are buying loose leaf tea for someone who doesn't already own some, consider spending a few bucks on a strainer as well.) I have loved this mug for over a year already. Add in a cozy, chunky sweater, hand me my book, and I am set for the night!
Alexis, Staff Writer
1 / Abbott Vol. 1 by Saladin Ahmed ($17.99)
2 / GameShell Kit ($159-199)
3 / Black Fingerless Gloves ($34)
4 / Heavy: An American Memoir by Kiese Laymon ($26)
5 / Not Asking For It Unisex Tank Top ($29.95)
6 / Sony PlayStation 4 1TB ($299.99)
In my mind, I'm gonna be making all kinds of video games (because I made literally one baby bitsy room and I am PROUD). I missed out on the whole GameBoy craze somehow? I'd like to recreate these good times for myself. My dad and I used to play NBA2WhicheverK all the time and it is one of my most favorite memories and that little *playstation* intro is still one of the things that makes my heart very light. My cousin is really into video games and wants one for Christmas so I'm gonna get him one but also… I want one. I've tried the PC gaming, it really isn't working for me. It makes me choose between gaming and working. I have to keep working, so I'm behind on my games and also I just really miss my PlayStation 2.
You see how these tank tops come in different colors? I legit just want ten of the same shirt in different colors so I can wear them all the time, not unlike the cartoon character version of myself I've always aspired to be. I have no idea why but for the last couple of years, my grandma bought me fingerless gloves for Christmas and my birthday? I love them, but also since I miss her extra much I'd also love to have these. Finally, when it comes to books, I'm just really ready to be in Saladin Ahmed's world. Just his tweets have me excited for this book and LOOK THE MAIN CHARACTER IS BLACK HOLY SHIT. I've loved Kiese for years but this interview about his book has me SOLD:
It's like what my mom always used to say, "You gotta be twice as good as white folks,wp_postsand I'm just like, "But they're not even that excellent. Why are you trying to tell me to center some people that aren't that excellent in my estimation?"
THAT'S NINE HUNDRED AND TEN GOOD REASONS TO GET THIS BOOK THIS PERSON KNOWS HIS SHIT!!!
Riese, Editor-in-Chief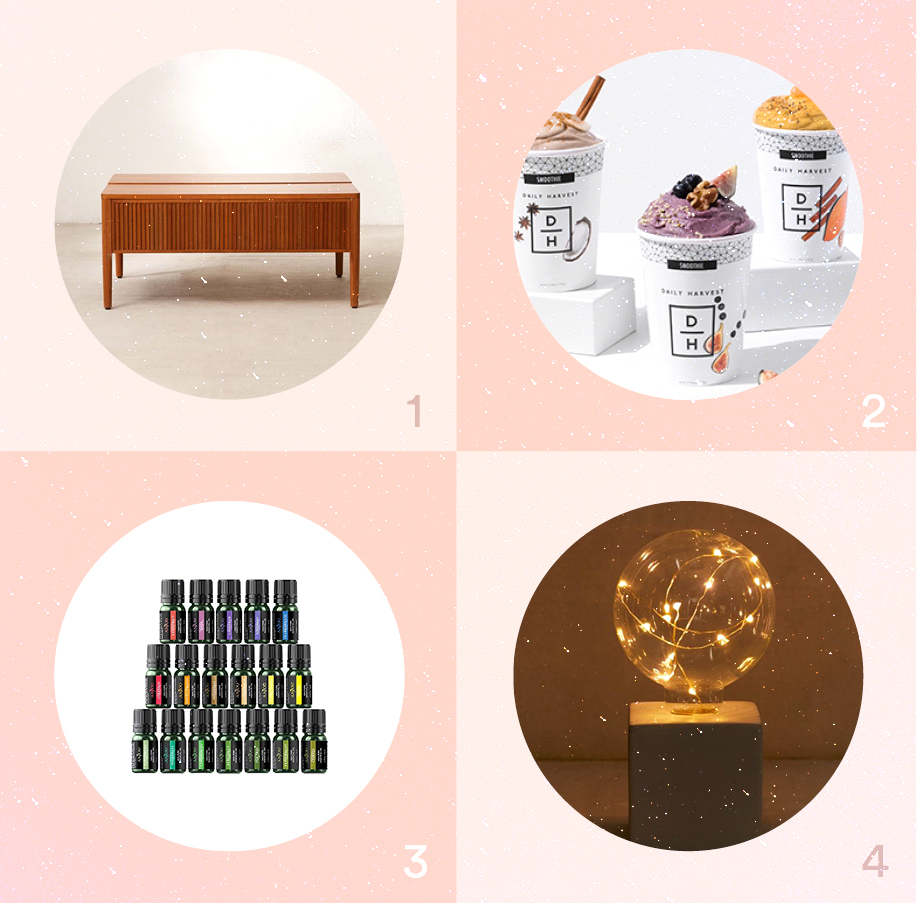 1 / Naya Pop-Up Coffee Table ($399)
2 / Daily Harvest Subscription ($167.76/month)
3 / Anjoi Essential Oil Gift Set ($22.99)
4 / Brittany Firefly Concrete Table Lamp ($26)
These gift guides are always hard for me because all I ever really want is like, services rather than items? Like I want manicures and facials and haircuts and massages and someone to do my laundry and my hair and to deliver food to my home! Harvest is super healthy and single-serving but wow, so expensive! Right now our coffee table is a storage chest and it's stained on the top in weird ways and sort of an eyesore — but this coffee table is beautiful, has storage, AND has a pop-up tray to make it easier to eat on (perfect, since I frequently eat upon it). Also, I'm running really low on essential oils for the diffuser, that's just a fact of my life I'm sharing with you. On a related note, lighting is important to me.
Kayla Kumari Upadhyaya, Staff Writer
1 / The Gravity Blanket ($249)
2 / Leather Gloves ($49)
3 / Chunky Beach Sweater ($60)
4 / Kitchenaid Stand Mixer ($379.99)
5 / Masseducation Vinyl ($23)
6 / Faux Fur Coat $190
Am I going to channel Theodora Crain in those black leather gloves? Absolutely. Do I need a weighted blanket because I'm hoping it'll cure my late-night anxiety and insomnia? Hell yes!!! But do I also think that all of my problems could be solved by a chunky beach sweater or an espresso-colored Kitchenaid or something else equally Mommi? Look, I haven't felt good in a long time and I think all of the above would make me feel, at least on a superficial level, good. Well, the Masseducation vinyl will probably make me cry a lot, but that's okay, too, because maybe after I can just disappear into a massive fuzzy coat!!!!!
Casey Stepaniuk, Contributor
1 / The Black Tides of Heaven by J.Y. Yang ($15.99)
2 / Dr. Edith Vane and The Hares of Crawley Hall by Suzette Mayr ($17.95)
3 / King of Scars by Leigh Bardugo ($19.99)
4 / Noteworthy by Riley Redgate ($9.99)
5 / Not Your Sidekick by C.B. Lee ($16.99)
6 / My Favorite Thing is Monsters by Emil Ferris ($39.99)
7 / Record of a Spaceborn Few by Becky Chambers ($16.99)
8 / Sovereign by April Daniels ($14.99)
9 / Vow of Celibacy by Erin Judge ($15.95)
10 / What It Means When a Man Falls from the Sky by Lesley Nneka Arimah ($16)
You will not be at all surprised that every single one of my wish list items is a book. And that they're all queer books to boot! Let me break them down really quick for you: 1) Asian epic fantasy with real cool stuff about gender and queerness; 2) this Black Canadian satire about academia is supposed to be equally The Haunting on Hill House and Alice in Wonderland; 3) the next book in Bardugo's dark YA fantasy Grishaverse series, hopefully featuring one of my fav characters from the last duology, Nina; 4) more YA, this one about a contemporary bi girl who crossdresses to sing for an all-boys choir; 5) a superhero / science fiction YA with a bisexual Asian protagonist fighting bad guys and kissing girls!; 6) Actually I've already read this mindblowing queer coming of age / Holocaust mystery graphic novel done entirely with ballpoint pens — I must own it; 7) the latest book in Chambers's character- and relationship-driven science fiction series with super thoughtful alien species; 8) the second book in Daniels's great YA series featuring a lesbian trans superhero; 9) the bisexual rom com of my dreams; 10) a collection of Black speculative short fiction; I was introduced to one of the incredible stories through Levar Burton's short story podcast.
Carrie, Staff Writer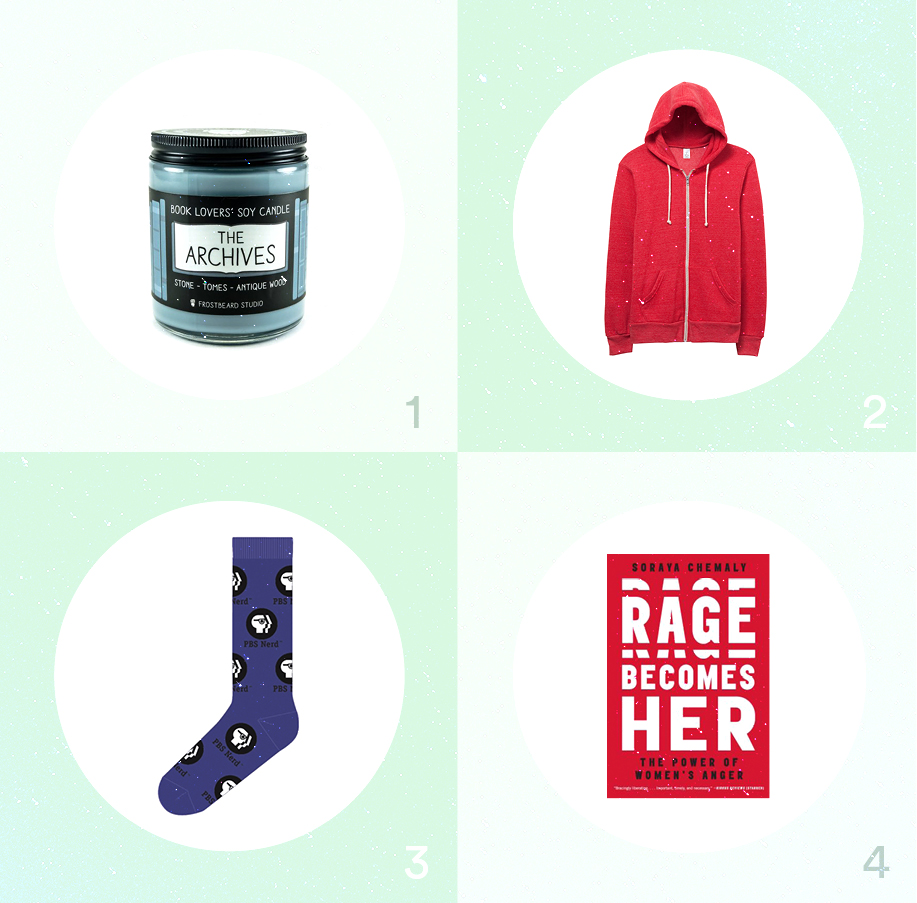 1 / Frostbeard Studios The Archives Candle ($18)
2 / Alternative Apparel Rocky Eco-Fleece Zip Hoodie in Eco True Red ($58)
3 / PBS Nerd Trouser Socks ($17.99)
4 / Rage Becomes Her by Soraya Chemaly ($27)
I'm facing down my first full winter on the East Coast (as of this writing, it is officially snowing in DC) and ready to embrace coziness like never before. Lately I've used candles to liven up my apartment, and find that they actually help with my anxiety quite a bit too. Something about pleasant scents makes me feel safe. The Archives candle promises "stone, tomes, and antique wood," so I'm confident it'll fit the bill. I've been longing for a solid red zip-front hoodie ever since I finally had to lay my "well-loved" one from college to rest, and I think this is the year to commit to the Alternative Apparel Rocky. They make my favorite sweatpants; I trust them to get it right. The PBS Nerd Trouser Socks are an obvious winner, plus my survival mechanism in this truly bizarre place is to embrace the parts that make me feel like I'm in a PBS special, so. And as we all know, there's nothing like righteous anger to keep you warm at night. Rage Becomes Her is therefore the ideal companion to all of the above.
Natalie, Staff Writer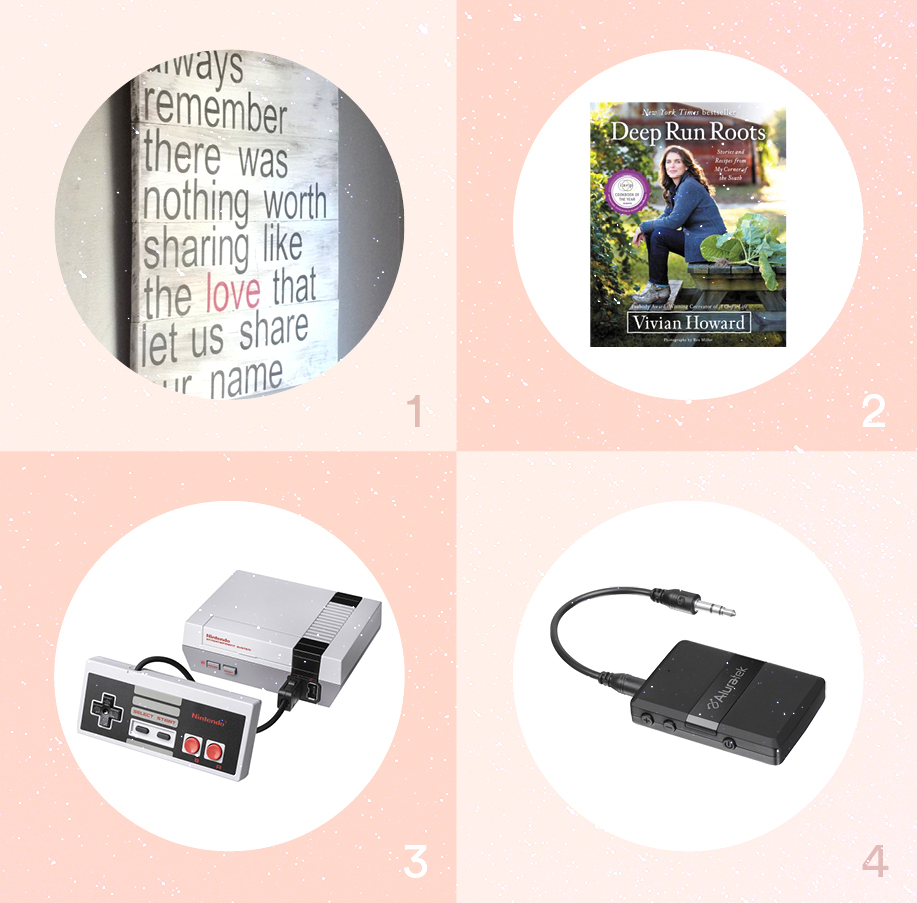 1 / Avett Brothers Lyric Art ($62)
2 / Deep Run Roots by Vivian Howard ($45)
3 / NES Classic Edition ($60)
4 / Aluratek Bluetooth Audio Receiver and Transmitter ($40)
A couple of weeks ago, I had a need to cook this chicken and rice dish that my dad used to make for us. The North Carolina air had just started to chill and I wanted my favorite comfort food to welcome the new season. When I tried to describe the dish to a friend, I couldn't. "Chicken and rice" dishes are fairly ubiquitous and vary spectacularly. Then I happened upon a recipe from Vivian Howard that described this quintessential dish better than I could. Since then, I've been poring over Howard's recipes, and I hope I can do more of that with her cookbook. The wall art (featuring lyrics from North Carolina's Avett Brothers) and the NES Classic are just extensions of that Vivian Howard induced nostalgia.
(And, of course, the bluetooth transmitter will help me indulge in that nostalgia without disturbing anyone else.)
Stef Schwartz, Vapid Fluff Editor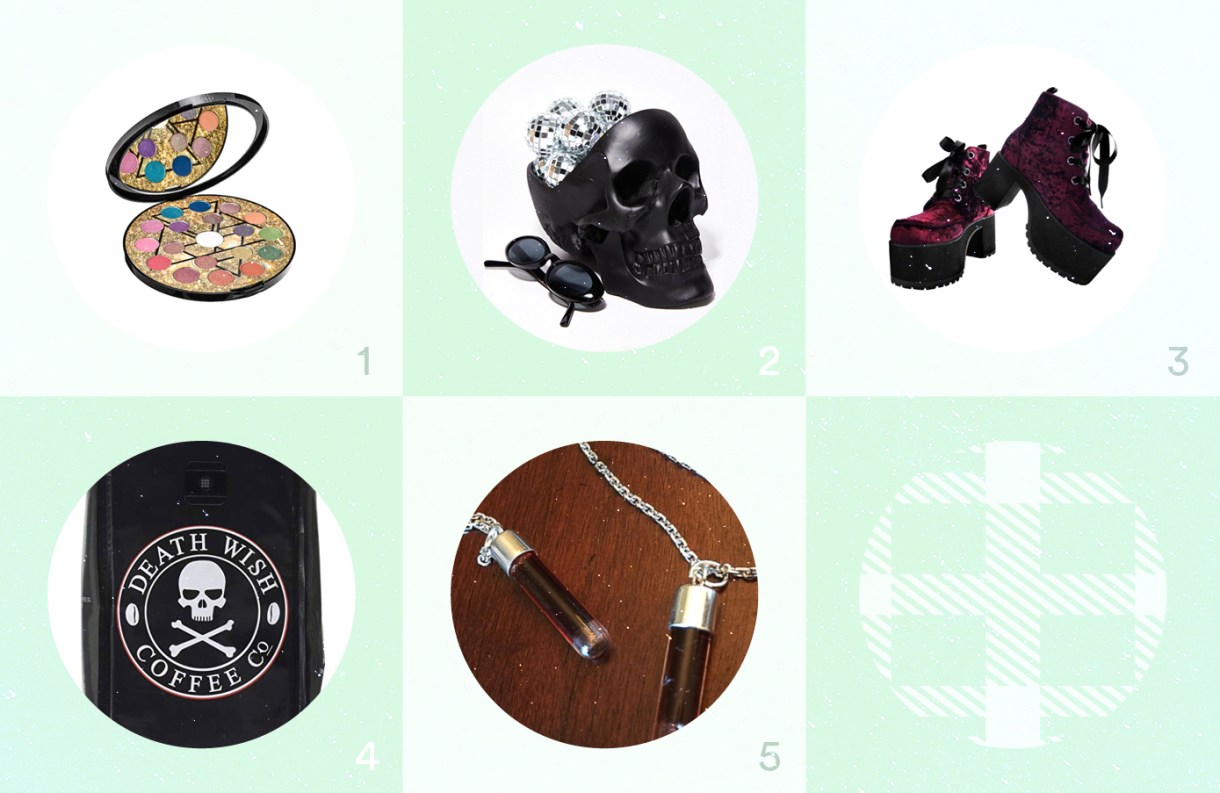 1 / Urban Decay Elements Eyeshadow Palette ($52)
2 / Skull Stuff Holder ($24)
3 / Burgundy Crushed Velvet Nosebleed Boot ($79.97)
4 / Death Wish Whole Bean Coffee ($37.98)
5 / Sterling Silver Blood Vial Pendant Kit ($85)
This year, instead of pretending I'm going to strike a realistic balance between work and life, I'm leaning into it. I had some sort of revelation while watching Queer Eye about changing the things I have the ability to control and learning to accept the rest. It hasn't been easy, but I'm glad I've shifted towards this new perspective. Listen, I'm gonna be at work all the time whether I like it or not and I'm gonna try to look and feel better while I do it. This mostly involves a lot of boring wardrobe and physical maintenance upgrades I'm not going to get into, but I definitely can't pull any of it off without sick glitter eyeshadow, right? Bonus, it's Urban Decay and none of it's tested on animals. Following that theme, I also definitely need crushed velvet platform boots made with zero animal products, either for the A-Camp Family Band or just to stomp around my apartment. Keeping my personal space organized helps me feel centered when things are crazy, so obviously I need a black skull to keep stuff in (guitar picks, most likely). I rely heavily upon caffeine to stay alive, and the world's strongest coffee has saved my life more than once. I've gone through two bags in the last few months and always need more. Lastly, if you don't send the girl you like a necklace containing a vial of your own blood, are you even really a Scorpio?
Valerie Anne, Staff Writer
1 / Angry Lesbian Enamel Pin ($10)
2 / Studded Boots ($70)
3 / Pizza Rolls Not Gender Roles T-Shirt ($29.95)
4 / Jean Jacket ($79)
5 / Distressed Unicorn Hat ($19.99)
Ever since The Election (you know the one) I've taken to slowly but surely changing my wardrobe to just scream "Feminist Killjoy." I've always worn my heart on my sleeve, but now I also want to wear my anger there, too. I want anyone who sees me to immediately know what I'm about, you know? Also I've been desperately seeking a jean jacket to put all my enamel pins on since my very first A-Camp (and am always buying more enamel pins despite not having one yet). I also recently learned that I'm really into caps?? I don't like calling them "dad hats" or "baseball caps" because I'm not a dad and don't care about sports, but I recently got a Brakebills University hat from the Magicians folks at NYCC and I'm obsessed. So I want more, and this one is not only my favorite color with my favorite creature on it, but "distressed unicorn" is extremely my aesthetic right now. It's like my own personal brand of angry lesbian, and I think it would be the perfect thing to top off this outfit.
A.E. Osworth, Contributor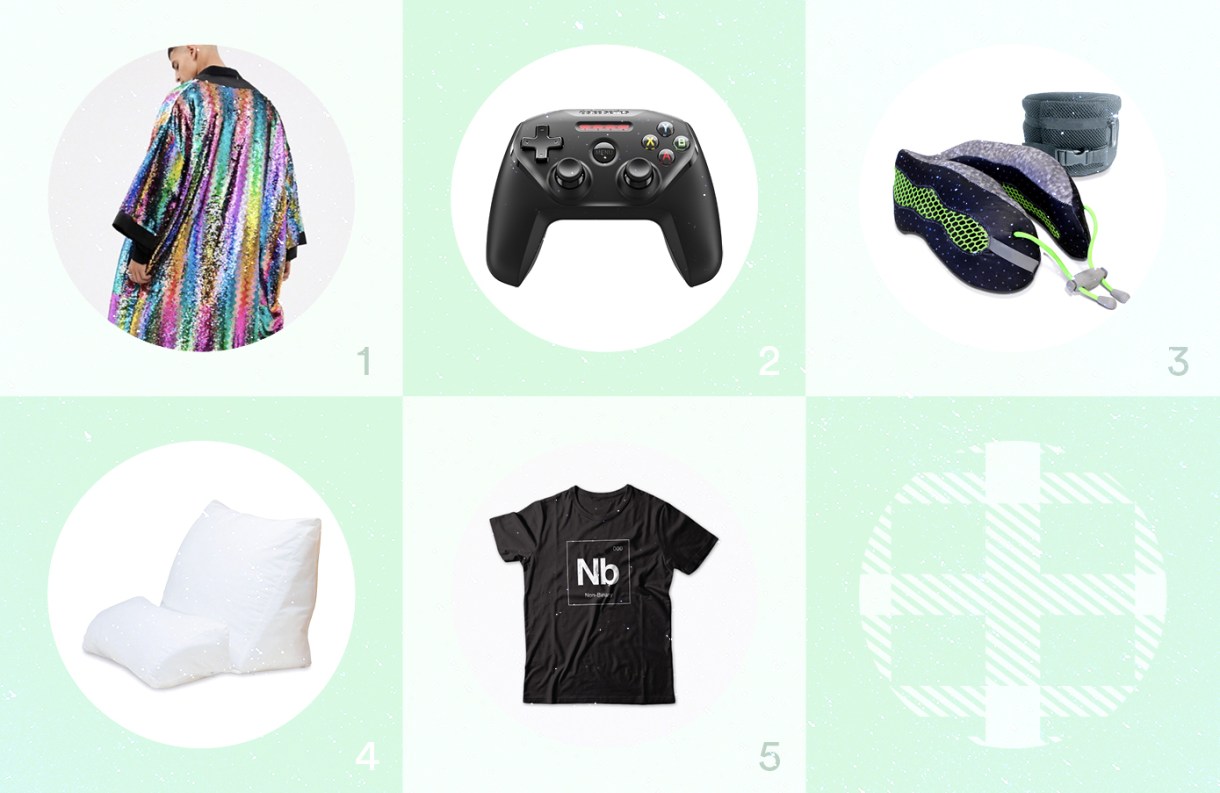 1 / Rainbow Sequin Kimono ($143)
2 / SteelSeries Nimbus video game controller ($50)
3 / Evolution Cooling Travel Pillow ($60)
4 / 10-in-1 Flip Pillow ($50)
5 / Nb tee shirt from Autostraddle ($25)
I'm getting top surgery in January of 2019 and I'm a huge weenie and I'm super terrified! I don't like doctors or pain or acknowledging that I have a body. To get through this Trying Time where I have big ole holes in my skin and the ever-present knowledge that my nipples have been on a table somewhere, I'm leaning into convalescence as an activity, an aesthetic and an era; having something to focus on is better than descending into terror every five minutes. And my convalescence aesthetic, I have decided, is Ambrose Spellman from The Chilling Adventures of Sabrina. I've spent a lot of time looking at brocade dressing gowns, but to be perfectly honest I want to get even gayer than Ambrose, so I found one that's all sequins over at ASOS that I want super badly. I plan to basically only play computer games for four weeks, so a pair of Mac OS compatible controllers (so my wife can join in) and a bunch of Steam games will serve as much-needed boredom busters while my arms are basically useless. For the first couple of days at least, I won't be able to lay down (not even to sleep!) and I've been told a travel pillow is clutch, as well as a reading pillow for lounging without accidentally getting yourself stuck. And lastly, I want one of our brand new Autostraddle Nb tee shirts to be the first thing I pull over my head when I'm allowed to do that. Now if only someone would come clean my apartment for me, I'd be just peachy.
Laneia, Executive Editor
1 / Bennington Cake Stand ($70)
2 / Chloe Nomade ($76)
3 / 2019 Wall Calendar ($28)
4 / Honey from a Weed by Patience Gray ($40)
5 / Stalogy 365 Days Notebook ($24)
6 / Eco-Fleece Jogger Pants ($54)
Let me tell you what I want to do with this fancy cake stand: fill it with chocolate croissants, which I will eat each morning for the rest of my days. I'm not 100% sold on this scent by Chloe, but I'm really trying find a signature scent and probably you can't find that scent without trying at least 15 of them, right? Seems right. I'm upgrading my office area (so slowly) and I love this simple wall calendar and want to look at it every time I wonder to myself, what day of the month will it be tomorrow? I just need this Patience Gray book, period. I've tried to meditate in the mornings but it never takes, and I end up more stressed and defeated, so I started physically writing whatever's in my head for half an hour instead. It clears my head and organizes my thoughts, and this notebook would be perfect for this kind of writing because of its spine (and it's got 365 pages, so). Which leaves us with these joggers, which I think you'll agree would be perfect for wearing while I glance over at a calendar to see what the date is so I can write it in my notebook before journaling about the latest chapter of Honey from a Weed that I just finished, all the while smelling gorgeous and eating a chocolate croissant.
Rachel Kincaid, Managing Editor
1 / Instant Pot ($69.99)
2 / Fear Indexing the X-Files ($12)
3 / Bathtub Caddy ($29.99)
4 / Creepy Brass Eye ($48)
5 / Jade Roller ($29.99)
6 / Signet Ring ($35.95)
In previous years I have discussed in the confines of this gift guide my desire to spend the winter inside, warm, reading books about ghosts or UFOs, preferably either in a bath or a robe, looking pretty but actually being visually perceived by no one. I am a very consistent person and nothing about this has changed. Ideally I would be relaxing in hot water with a glass of wine, using this bath caddy to read my illustrated deep dive into the X-Files, at all times. I can't speak to the actual skin benefits of jade rollers — I only found out recently they were even supposed to have "benefits," I thought we all just liked rubbing smooth cool things on our faces — but the idea of using one every night feels very luxe, very satisfying. I've been wanting a heavy gold signet ring to add to my daily jewelry rotation of "one necklace and some gold rings"; I'm not sure yet how this large evil eye decoration figures in to my life but it feels like a good investment. Finally, while I resisted wanting an Instant Pot for a long time because it's so obviously made for painfully practical kitchen people like me that I was irritated by it, it's time to admit I do want to pressure cook a bunch of lentils and also make rice. We are who we are!
---
Design by Mika Albornoz