Welcome to Autostraddle's swimsuit and summer guide! We've been hard at work putting together looks that we hope will make all your queer dreams come true. Really, we think this is going to be your best summer yet. But we're burning daylight, so let's dive in!
Instead of focusing on the entire season – which can sometimes feel overwhelming and unrealistic – we've cultivated our looks, tips and affirmations around The Secret Queer Beach Party. To us it combines everything that's great about summer and being queer: sunshine, friends, and a space all our own. And with looks ranging from Bratty Femme, to Gender Non-Conforming Haus Boi, to Fat Femme, to MOC #1 Dad, we hope this guide will be a helpful jumping off point for a whole spectrum of presentations that we know aren't always reflected by our current state of fashion. These looks work in a range of sizes for a variety of body types, and feel free to mix and match to your heart's content! Let's keep this live in the comments with your tips and links!
---
Utility Femme – Erin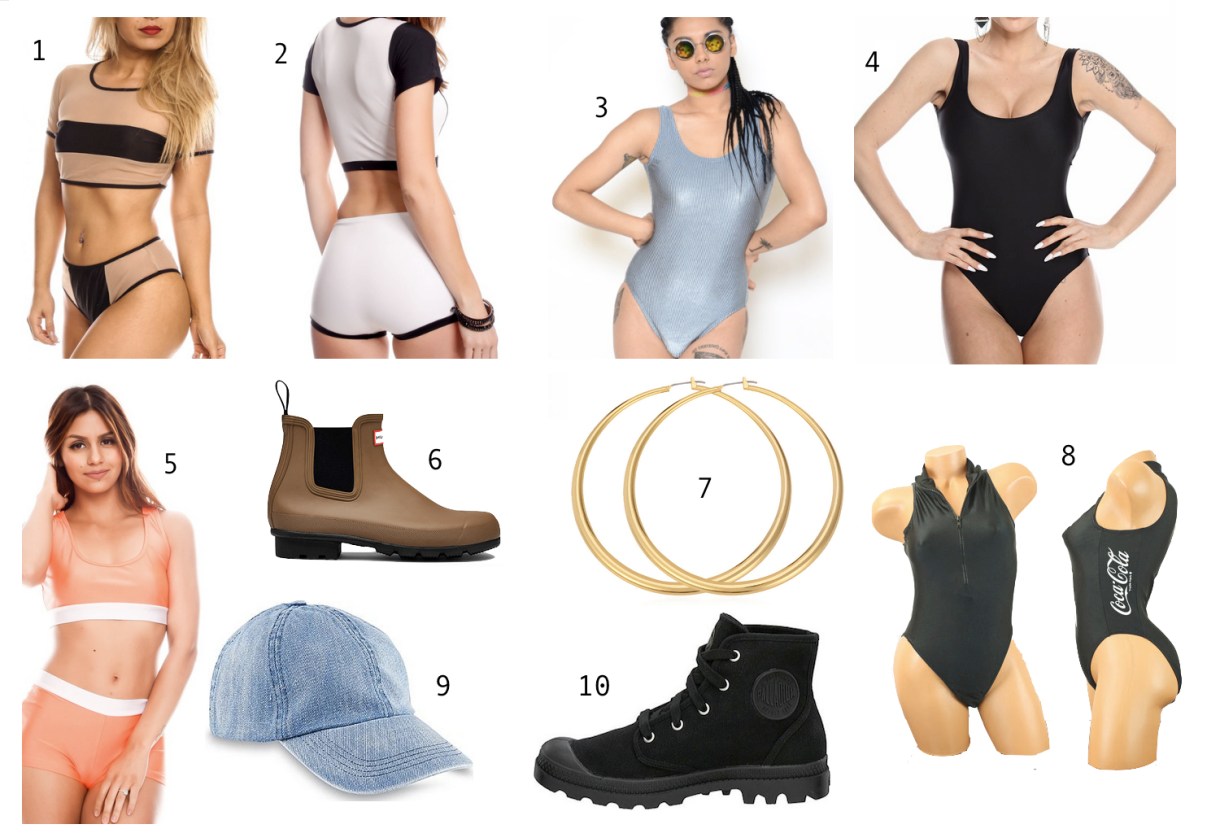 1. Black Mesh Short Sleeve Two Piece ($22), 2. White/Black Short Sleeved Two Piece ($27), 3. Vintage Metallic One Piece ($33), 4. Black Low Back One Piece ($22), 5. Orange Sleeveless Two Piece ($20), 6. Dark Sole Chelsea Boot ($145), 7. Hoop Earrings ($10), 8. Vintage Scuba Style One Piece ($89), 9. Denim Baseball Hat ($10), 10. Palladium Pampa Hi Boot ($55)
To me Utility Femme is a dedication to aesthetic without a commitment to a lifestyle. It's about containing multitudes! Which means at this party I'm probably going to be made up but still getting in the water/moving around/possibly playing A Sport but also doing some heavy lounging, so I want suits and shoes that'll allow for that. With that in mind I typed a mix of keywords into Google like short sleeved, scuba-style, mesh, simple one piece, and ankle boots with rubber soles. I found some great stuff from Lollie Couture, and Etsy is another great resource for minimal vintage pieces you can easily accessorize. The best part about these items? I know every on of them can be thrifted. The short sleeved bathing suit top might be hard to find in that form, but guess what! Go to the athletic or swim section and look for a top with material that's thick and taut enough that you can craft your own out of. No rules!
---
Gender Nonconforming – Alaina, self-identified Haus Boi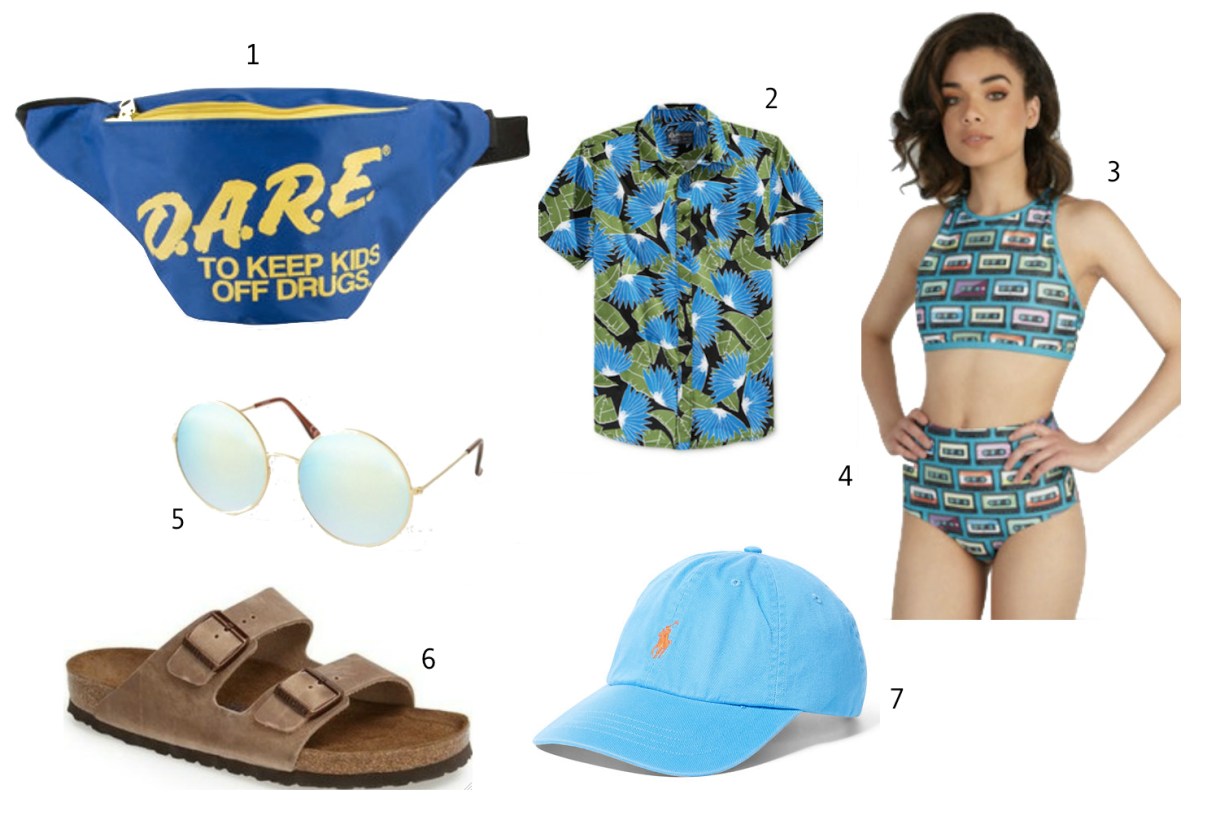 1. DARE Fanny Pack ($20), 2. American Rag Tropical-Print Shirt ($25), 3. In Tune with the Tides Swimsuit Top ($31), 4. In Tune with the Tides Swimsuit Bottom ($40), 5. Round Sunglasses With Blue Flash Lens ($23), 6. Birkenstock Suede Sandal ($135), 7. Twill Baseball Cap ($30)
My go-to look for the beach is part dad on a Disney vacation, and part "2 güd 4 u". That means comfy, oversized shirts that protect my delicate shoulders from getting too much sun, a fanny pack for fruit snacks, bandaids, aloe vera gel, and other beach appropriate accouterments and a punny two-piece that shows off my favorite assets. I always go for the two-piece; more opportunities for working on my tan and easy removal is always a plus. I'd finish off the look with a baseball cap I stole from my best friend's ex—she didn't need it— some mirrored sunnies to scope out the cuties, and my favorite, most walkable sandals. A fancy-free fun frolic for all.
---
1. Swimmee ($48), 2. Nike Roshe One ($76), 3. ASOS Sunglasses ($13), 4. Football Porthole Practice Jersey ($18) 5. Tomboiers ($30)
I've had make shift sports bra / shorts combos for a couple of years and before that I just never went to the beach / pool / etc. I probably spent at least a decade not even trying.
I like this suit [from Outplay] because it's not particularly feminine and it's not particularly masculine. I realized very recently that something I dislike is how feminine I look when I'm naked. I ALSO don't want to look hyper masculine, so it's a confusing spot to be. I love my body and I feel really comfortable in my body when I have complete control over how my body is presented to the world. If I have the clothes, underwear, shoes, swimsuits – whatever – then I feel really good and love how confident I feel. I've had to work super hard to get to this place where I have a shitload of confidence and it was even more difficult because I (still) haven't seen anyone on TV or in movies that dresses exactly how I would like to dress. The clothes (especially swimwear) have been really difficult to find, but always worth it. On top of the confidence and feeling good about myself parts, Outplay also had great customer service, responding to emails super quickly and being perfectly candid with me. I like how tight it is because, I'm used to being worried that my boobs will fall out or my shorts will fall down.
[See Dannielle talk more about why she loves Outplay's androgynous swimwear here.]
---
Fat Femme – Bevin, AKA QueerFatFemme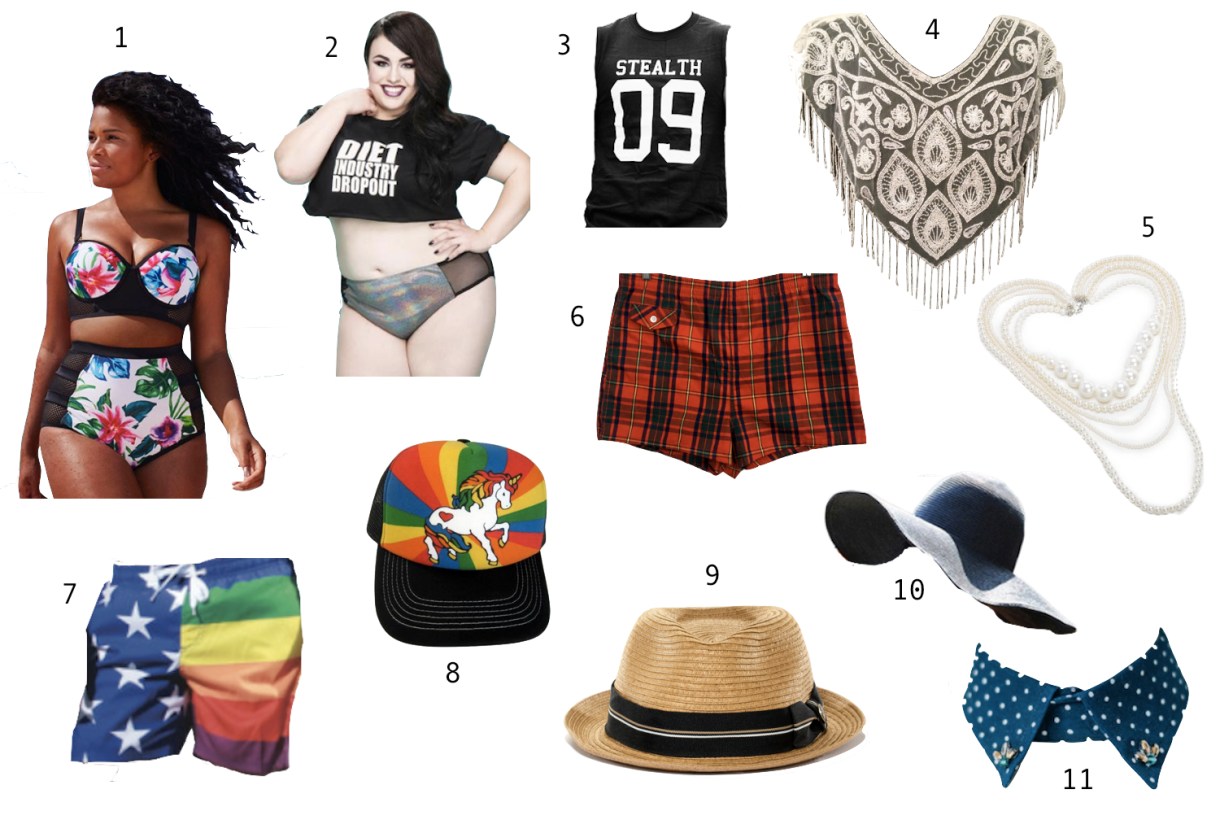 1. The Queen E/F Underwire Bikini ($69), 2. Diet Industry Drop Out Tee ($19), 3. Stealth Muscle Tank ($10), 4. White Beaded Collar ($39), 5. Pearl Cluster Necklace ($10), 6. Vintage Swim Shorts ($20), 7. Gay Pride swim trunks ($23), 8. Unicorn Trucker Hat ($14), 9. Goorin Bros. Trumpet Straw Fedora Hat ($50), 10. Large Brimmed Straw Hat ($6), 11. Detachable Beaded Collar ($38)
I don't know about you but when I go to queer events I like to really doll up. My Femme identity is very important to me and I love to perform with and for other Femmes and other queers. Whatever dolling up means for your gender performance(s), I've compiled some ideas of how to fancy up your bathing suit!
In terms of clothing options, I love supporting small businesses and repping identities! Original Plumbing's Stealth muscle tank is hot, especially when paired with a set of really wacky swim trunks. My Diet Industry Drop Out crop top is amazing and I love wearing it to queer events! It looks amazing as a beach cover up or over a pair of bikini bottoms. For plus size swimmers, I love GabiFresh for Swim Sexy. The whole line is wildly hot. And why not finish off an outfit with some Gay Pride swim trunks?
Accessories are great for every size and gender and vault an outfit to the next level. Around the neckline the white beaded collar/shawl over something like a teal bikini would be incredible look, you could do some amazing gender blending using the detachable collar, and of course no mermaid is complete without layers and layers of pearls. Hats tend to be less fatphobic than standard clothing, so whether you want to dapper up in a straw fedora, get flamboyant with a unicorn trucker hat, or make a bold statement in a big, floppy hat, you really can't go wrong.
I leave you with this – your body is already secret queer beach party ready. You and your body are worthy of love and style exactly as it is right now, today. Dolling up and wearing a special outfit is a confidence booster!
[Bevin's tip for late night beach parties: LED hair extensions, shoelaces and glasses!]
---
Masculine of Center – Abby, #1 Dad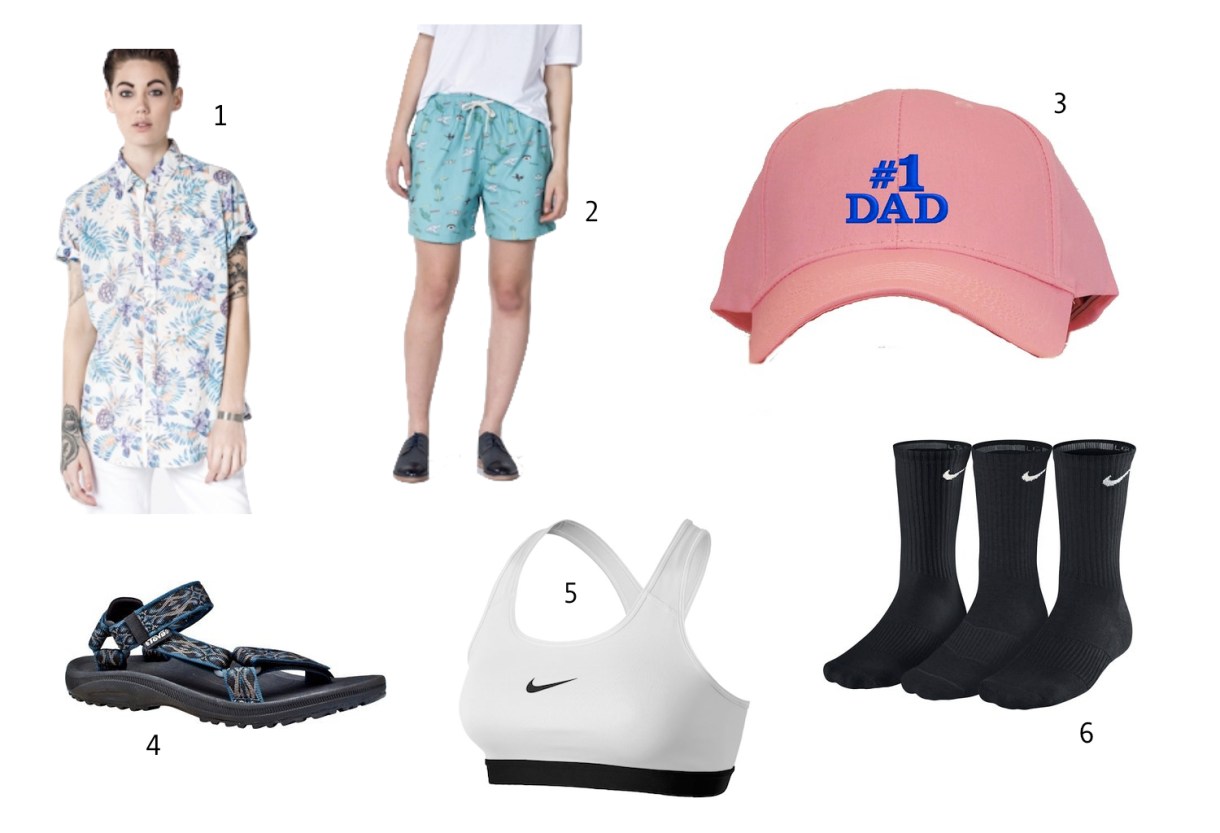 1. Patterend Button-Up from Wildfang ($48), 2. Floaty Trunks from Wildfang ($56), 3. #1 Dad Hat ($15), 4. Teva Sandals ($34), 5. Nike Sports Bra ($25), 6. Crewcut Nike Socks ($20)
Put on some Jimmy Buffet, because you're a #raddad ready for a #radsummer. Showing up at the queer beach party, we're talking clashing patterns, pastels, and everything just a tad larger than it needs to be. Even though you're the one who is going to take beach volleyball just a little too seriously, you'll also keep up the beach puns and grill going all day. Being so multi-faceted, you're going to need some sweat-ready socks with those decade-old sandals. For actual swim action, the ol' trunks and sports bra combo is always a solid choice, and luckily fashion is catching up with that option! Top the 'fit with the backwards hat you gifted yourself, and you're ready to roll! Be the dad you want to see in the world. I'm already proud of ya, pal.
---
Bratty Femme – Cecelia
1. Paneled Crop Bikini Top ($59), 2. Paneled Crop Bikini Bottom ($49), 3. Rainbow Cloud Print Swimsuit ($65), 4. 'Weird' Swimsuit ($94), 5. Pink Heart Choker ($22), 6. Peach Hat ($32), 7. Pom Pom Earrings ($23), 8. Rainbow Zip Backpack ($73), 9. Pink Cat Eye Sunglasses ($30), 10. Jelly Sandals ($20), 11. Fur Slide Sandals ($40), 12. Chunky Platform Sandals ($49), 13. 'Bondage' Themed Nail Wraps ($11), 14. Unicorn Trim Sunglasses ($25)
It's queer party season for this Bratty Femme, and you know what that means! I'm not getting in the water, and you can't make me. Do you think I spend an hour every day working on a perfect contour and highlight combo so that it can wash down my face in public? No. This is my personal Bratty Femme nightmare. Luckily, there are so many other fun things I can do in proximity, including: looking cute, taking selfies, playing tunes as the queer party DJ, dancing, drinking, doing my nails, kissing mega babes, etc. I do about 90% of my shopping at thrift stores, but when I do splurge on good quality, unique pieces I only shop for three brands: Jaded London, Lazy Oaf, and Monki. These are European and London-based (aka Femme Heaven) brands that, luckily, carry a large amount of their collections online through ASOS. They aren't cheap, but if you splurge on a piece it will reward you in a lifetime supply of "you are my femmespiration" compliments. Remember, Bratty Femme: you're so cute it hurts. Use your beach side lounging to put that charm on display.
---
Dapper –  Andi
1. Pride Tank Top ($34), 2. Work It Out Tank ($30), 3. Color Block Swim Tank ($25), 4. Tailored Fit Board Shorts ($46), 5. Zip Front Swim Top ($64), 6. Flex Deck Shoe ($75), 7. Silver Plated Cuff Bracelet ($19), 8. Original Boat Shoe ($65), 9. Cabana Stripe Swim Trunks ($145), 10. Reader Sunglasses ($8)
A queer beach party means I need make sure every part of my outfit should stands out. I need tailored shorts, shirts that'll make people want to take selfies with me, sunglasses that are going to make me look great in those selfies, and crisp shoes. Then if it gets too hot, (ahem) relief is a zip away.
---
Tomboy Femme – Riese
1. Sweetheart Bralette Bikini Top ($78), 2. Adidas Slider Sandals ($35), 3. Raw Edge Short ($23), 4. Metallic Contrast Bikini Top ($25), 5. Relaxed Short Roll Hem With Rips ($57), 6. Vita Tank ($17), 7. Metallic Bum Bag ($19), 8. Cropped Hoodie ($28), 9. Adidas Trefoil Hat ($16), 10. Stitch & Pieces Tie Front ($24)
This is just me doing your feet a favor by building an entire look around Adidas sandals because they're really comfortable and I'd like to do everything I can to bring them back into style.
1. South Beach Boy Short and Top ($19, $24), 2. The Wild Tank ($40), 3. Drop Armhole Playsuit ($32), 4. Curve Control Swimsuit ($52), 5. Mesh Bikini Top and Bottom ($42, $35), 6. Raw Hem Denim High Waist Shorts ($49), 7. Vintage Cowboy Boots ($300), 8. Plunge Bandage Bikini Set ($45)
You wanna look sexy but not if it involves uncomfortable shoes or aggressive bikini waxes.
1. Curve Underwire Bikini Top and Ruched Bikini Bottoms ($26, $23), 2. Tomboy Femme Shirt  ($22), 3. Glitter Print Romper ($49), 4. Power Lounge Shorts ($47), 5. Metallic Silver Sneakers ($47), 6. High Waist Roll Hem Shorts ($44), 7. Nautical Stripe Bandeau Bikini Top ($57)  8. Scissoring Tank ($22) 9. Scuba Bikini Top ($86), 10. Scuba Swimsuit ($49)
This is for the lady who wants to be sure she doesn't get hit by a car on the way to her secret party.
---
Classic Butch – Angie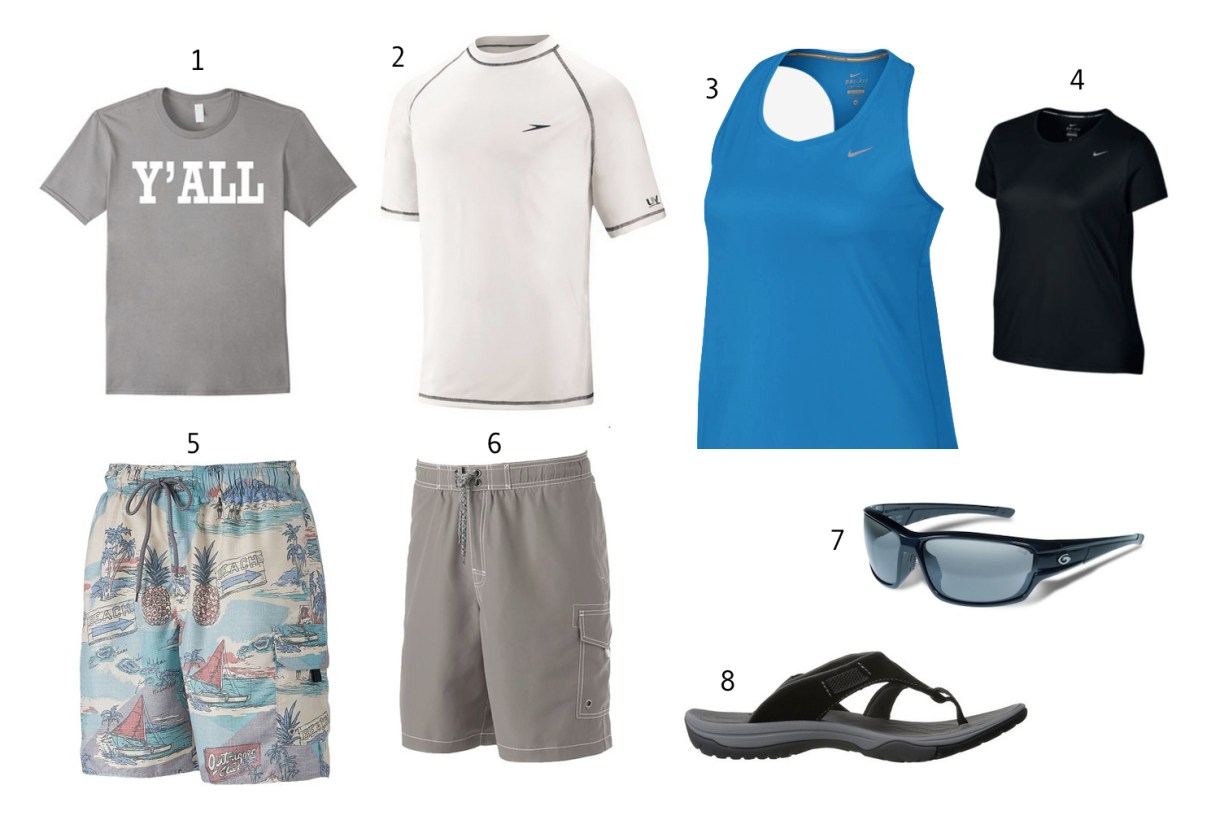 1. Y'all Tee ($18), 2. Easy Swim Tee ($34), 3. Running Tank ($35), 4. Short Sleeve Running ($34), 5. Tropical Microfiber Trunks ($20), 6. Solid Swim Trunks ($20), 7. Havoc Sunglasses ($45), 8. Merrell Flip Flop ($41)
If I'm going to a party on the beach I'm going comfy! I like Nike DriFit shirts and rash guard tops because they feel secure and are great for the heat, plus they dry easily. Throw in some board shorts and some sturdy sandals and I'm ready to go.
---
Alright, party starts at 3, see everyone out there!