"What makes a good coming out story?"
That's the question that's hung over this entire contest since we began and it's one that I've been thinking a lot about recently. Personally I've always been a fan of emotional coming out stories like Bianca's tearful confession to her mother on All My Children… not because I saw my own experience reflected — my parents' response to me coming out was the rhetorical equivalent of a shrug — but because it offered an external representation of everything that I'd been grappling with internally.
With the addition of the CLASSICS category, I've been wondering about how our expectations of what makes for a good coming out have changed. When I was one of the 42 million people watching Ellen's puppy episode, I couldn't have imagined a world with Elena Alvarez's coming out story — which spans the entire first season of One Day at a Time — was even possible. Is the future of coming out stories on television extended story arcs like Denise on Master of None or, as we come out to a more accepting society, are we going to see more subtle coming out stories like Kate Littlejohn on For the People or the titular character on Abby's? What's the future of coming out on Spanish-language television after Juliantina has made such an indelible mark? What do you think?
Or do you not care at all and just want to see which coming out stories have earned a spot in our Final Four? Okay, okay…
Remember: you've got 48 hours to summon all the fandom to Autostraddle to select the two competitors for the Best Coming Out story. Feel free to revisit my earlier write-ups — Classics, Baby Gays, GROWN and International — and the video links (where available), if you need some help making up your mind.
We'll be back next week to announce the competitors in the National Championship!
---
In the CLASSICS region, the battle between the #1 and #2 seeds lived up to every expectation; I watched this week as the lead volleyed back and forth between Ellen and Santana. The GLEE songstress has had an impressive run in the tournament but ultimately met her match. Ellen Morgan managed to fend off two L Word alums in Carmen and Lara and then bested Santana Lopez in the regional finals. It's interesting to think about Ellen Degeneres: last year, she retook the stand-up stage in a comedy special called Relatable, which, in some ways only emphasized how un-relatable she'd become. But here we have the groundbreaking "puppy episode," which audiences still find so relatable.
Ellen will take her #1 seed into the Final 4 and into a match-up with Alex Danvers of Supergirl who, miraculously, beat out Wynonna Earp's Waverly in the regional finals of the GROWN region. I thought for sure that the #FightForWynonna fandom would carry their favorite to victory — after all, they'd managed to survive challenges from three fan favorites: Kat Edison, Rosa Diaz and Petra Solano — but no such luck. Perhaps I should've anticipated Alex advancing to the Finals. After all, one thing I've learned about March Madness is that its hard to sustain a fandom over multiple instances of voting: the better scene usually does win out in the end. The same fate befell Wynonna Earp in last year's contest.
#1. Ellen Morgan – Ellen vs. #4. Alex Danvers – Supergirl
---
While I may have seen the International regional finals match-up between Valentina Carvajal and Juliana Valdés on Amar a Muerte coming, I freely admit, I had absolutely no idea which of the girls would win. On the one hand, you had this great coming out scene with Valentina coming out on national television, thwarting efforts by others to out her and asserting that she has nothing to feel ashamed of; while, on the other, you had Juliana standing up to her own mother — putting her body between Valentina and physical danger — and affirming her love. How do you even choose between those? Somehow y'all did, though, giving a narrow victory to Juliana, who moves onto the Final Four.
To advance to the Finals, Juliana will need to upset the most formidable competitor in the field: the Baby Gays regional champion, Elena Alvarez. After dispatching Willow Rosenberg in the Sweet 16, it seemed like a given that Elena Alvarez would be the last of the baby gays standing but even I didn't anticipate that she'd do it so handily. Nia Nal's success in the early rounds had me convinced that television's first trans superhero would give Elena her first real test, but it was not to be… Elena won easily and now has to be the prohibitive favorite to win it all.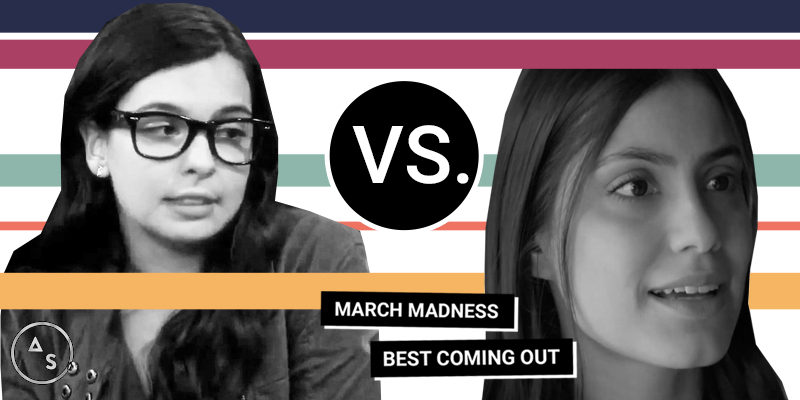 ---
Oops! We could not locate your form.