Happy Friday, we have exciting news to announce! Autostraddle's second virtual community care week, Shelter In Our Place 2, is taking place next week on Instagram – and you're invited! From Monday, 5/25 to Sunday, 5/31 we will be providing 100% free queer programming to help us feel connected as a community. It's going to be really, really, really good.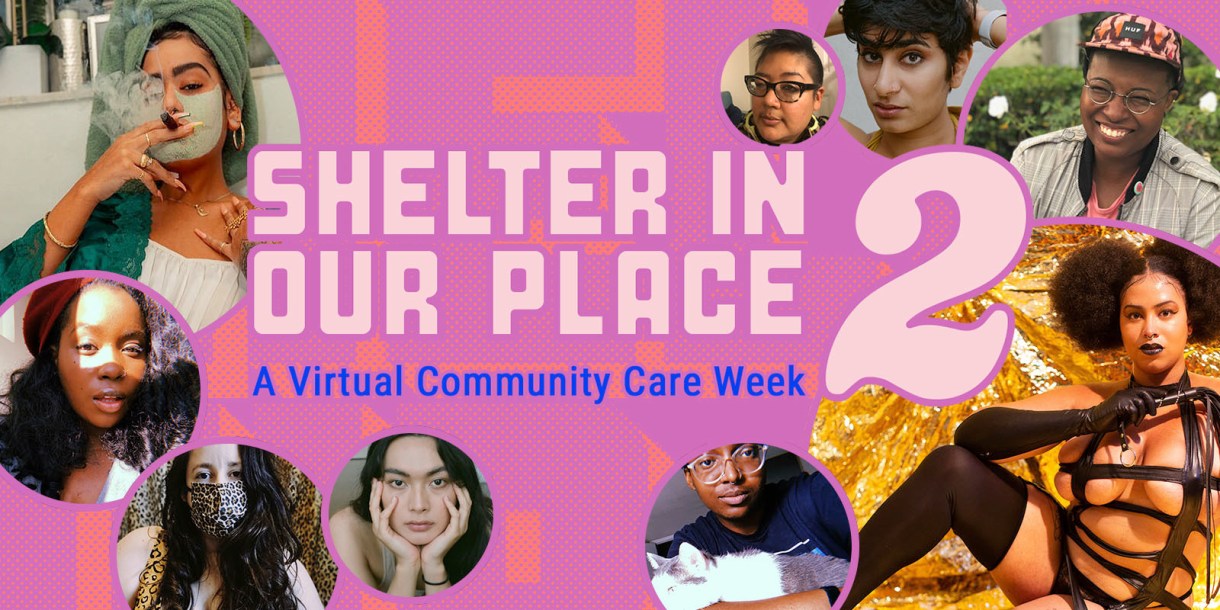 Autostraddle's Shelter In Our Place was first created in March 2020, aka approximately 450 years ago, when shelter in place orders went into effect almost everywhere in the United States and different levels of stay at home orders were implemented in most countries around the world. We felt sad, scared, lonely, and isolated, and we wanted to find a way to connect with our community even as we couldn't gather in person. Enter: a virtual community care week! We spent the week hanging out on Instagram live, learning yoga and how to bake challah, talking sex toys and cocktails and queerantine haircuts and parenting through a pandemic, and enjoying AMAs with Gaby Dunn, Grace Lavery, and Jenna Wortham, just to name a few. It was a truly fun time, and honestly, fun is hard to come by these days, so that was pretty incredible.
When we hosted our spring fundraiser, one of the perks we promised was a second round of Shelter In Our Place if we reached our $75,000 goal – which we surpassed with your generous donations. And so here we are, back again with an incredible roster of Autostraddle team members, internet personalities, and queer community members to hang out with you during our second virtual community care week. This time around we're baking with cannabis, playing Animal Crossing together, hanging out with baby goats, and making delicious brunch. We're chatting about wellbeing beyond the binary, watching a live rope tie, and creating personalized home workouts. And we have exciting guests like Fatimah Asghar, Andrea Lawlor, Gia Fagnelli, Karmenife X, and many many more! I truly cannot believe how lucky we are with this schedule… prepare to be very, very excited and very, very invested in Autostraddle's Instagram account starting on Monday 5/25!
Participating in Shelter In Our Place 2 is easy: most days we will have a morning and evening live event, which will take place in real time on our Instagram account and which will be available to watch for 24 hours afterwards. We have three (!) baking/making sessions this time, and we'll post the ingredients for these events one day in advance so you can gather them together and follow along if you desire. We will also have AMAs in the afternoon – we'll post a question slide a couple of hours in advance – and we have a few very special late night offerings, too! Make sure to check out the time of each event on the schedule (all posted in EST, so do your time zone math accordingly!) because they're slightly different on some days. All of this action is happening on Instagram, so if you don't have an account and have been contemplating making a burner to watch your crush's stories, now is the time!
Without further ado, here's the full schedule for Shelter In Our Place 2!
SHELTER IN OUR PLACE 2: A VIRTUAL COMMUNITY CARE WEEK
MAY 25-MAY 30, ALL TIMES LISTED EST
MONDAY, MAY 25
11 AM: Queer Kids' Stuff with @lindzamer
4 PM: AMA: Chill Out with @asgharthegrouch
8 PM: Sex Work Stories: An Honest Convo with @xoai.jpg and @seewun
TUESDAY, MAY 26
2 PM: Rope in Real Time with @daemonumx and @saraelise333
4 PM: AMA: Wellbeing Beyond the Binary with @themshealth
8 PM: Baking with Cannabis! with @stm.l.a and @thatkamala
10 PM: Late night Toy Chat and Q&A with @lisaspliffson
WEDNESDAY, MAY 27
11 AM: Selfie Booth Crafting with @mollyktadams and @vanessatakesphotos
4 PM: AMA: Sex & LDR Relationships with @internationalmisterpleather
8 PM: Animal Crossing Live Play! with @mermaidqueenjude
10 PM: Fat, Erotics & Embodiment with @they_rly_let_themselves_go
THURSDAY, MAY 28
1 PM: Water Sign Salon with @loveloaf_ and @thatssopisces
4:20 PM: AMA: Holistic Healing with Cannabis and Herbs with @_lunita
8 PM: Kinky Queer Talk with @thejustinecross
10 PM: Late Night Erotica with @anderlawlor
FRIDAY, MAY 29
1 PM: Chesa' Time: Snack and Dance with @tendervirgofarts and @guma_gela
4 PM: AMA: Kickback with @thefawz
6 PM: Queer Community Shabbat with @onetableshabbat and @vanessatakesphotos
SATURDAY, MAY 30
11 AM: Saturday Brunch Babes with @palombinagoods
7 PM: Baby Goat Therapy Hour at Moxie Ridge Farm with @hennessie
10 PM: Pole Request Live! with @giafagnelli
SUNDAY, MAY 31ST
11 AM: Coffee at the Crib with @baristabehindthebar and @ayoshelli
4 PM: AMA: Work(out) from Home! with @bbpapi
8 PM: Klub Deer DJ set with @carlytron and @bishilarious
---
Shelter In Our Place 2 launches on Monday at 11am EST, and we can't wait to see you there.