This week on The Real World Ex-Plosion, Ari actually got some screen time.
The episode starts out with drunken revelry turned movie night, and that can mean only one thing: Ari Worship.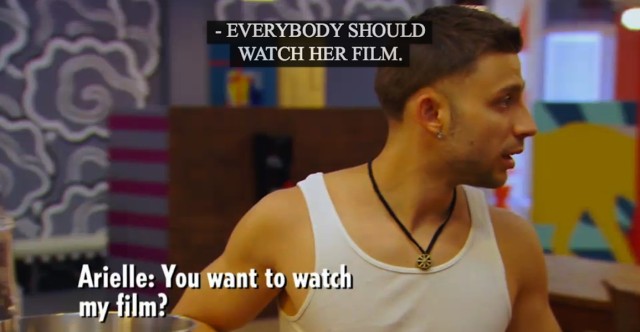 When her roommates get to see her crazy good short The Anniversary, the reaction is expected.
And so is Brian's when she casts Jenny and Cory as stand-in actors in her new, sexy installment, Open Call.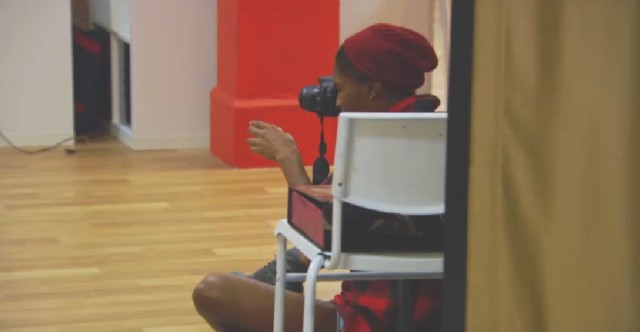 The outlets for Brian's weird emotions are a recurring theme in the episode, in which Jenny also lands a new job as Go-Go Dancer at a local club to make ends meet at home – and I'm not talkin' the RW haus. He tries to confront her about it later, but he's also coincidentally dressed for a kink festival.
Eventually, they come out swingin' at the Fetish Festival.
And after they go home, Ari and Ashley continue the art of eroticisim. Duh.
Later that night, Jenny pulls out all the stops and gets ready for her hausmates to join her at her first night dancing at Infusion.
She does a'ight.
When Brian tries to fight with her about himself and his weirdo feelings toward women who dance for money later, things get heated, so the next day, the roomies all get classy and cool down in Napa Valley. Tom ends up getting too drunk and cursing and Jenny wears an insane sunhat.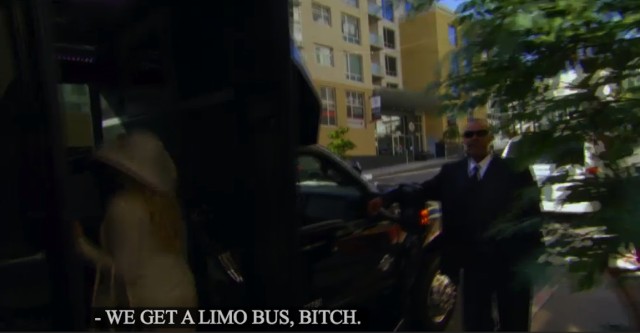 Eventually, Ari ends up filming her movie. The rest, I think, will be herstory.
These are the questions you had for Ari Feature Film Fitz.
This Week's #AutoAri Q&A
On Film
What made you intrresting in film? #autoari

— Jade Johnson. (@jade_dominique) March 27, 2014
@itsarifitz what made you want to become a filmmaker? #autoari

— Krystal M (@KMQ17) March 27, 2014
What made you want to start making horror films?☺️ #autoari @itsarifitz

— jess hinton (@jess_marh) March 27, 2014
Have you always liked horor films or was it something in particular that got you interested them? #AutoAri @itsarifitz

— xlvo☮ (@Rih_IsLIFE) March 27, 2014
I've always been a storyteller. Film allows me to tell stories in the most visceral way possible. Once I finally discovered this, everything fell into place.
Horror films specifically because there are no boundaries in horror. Most watch a horror film preparing themselves to be shocked, so I can do things that are well… shocking.
#autoari Will u guys plz try to get Mtv to give y'all a spin off show? U n ash or Jenny n Brian or Jamie n Tom! ♥♥♥ ♥Jay n Jenna too♥ Or All

— Terra Chaney (@libraz83) March 27, 2014
Hey, who knows, that might just happen. Until then, Ash and I are having a lot of fun on Youtube.
@itsarifitz That's cool that you're a big horror fan. What are a couple of your favorites? I love The Shining, Suspiria, Evil Dead and NOES.

— Ralph Hartman (@RalphHartman) March 27, 2014
The answer to this changes almost daily. Fave horror and thriller films right now: Martyrs, Henry: Portrait of a Serial Killer, Popskull, Spiral, The Shining, Funny Games, Audition and Carrie.
@itsarifitz what were you exactly feeling when you first went to shoot that film professionally? #AutoAri

— xlvo☮ (@Rih_IsLIFE) March 27, 2014
I was feeling like a boss! But also incredibly nervous, anxious and excited at the same time.
@itsarifitz When and where do you hold castings for your movies? Any coming up?

— Jasmine Ortiz (@JasmineMOrtiz) March 27, 2014
Everything I've shot outside of Open Call has been with friends who are either actors or talented in front of a camera. The one audition I held was for Open Call where we found Ashley – the lead actress – and that was almost 8 months before we shot it.
Nothing coming up immediately, but will definitely tweet about it when I am.
@itsarifitz Will you mane more Ari Movies? #autoari

— Gascot (@eidamessi) March 27, 2014
Heck yeah! Make sure you're following me on Vimeo and subscribed on YouTube to see what I drop next.
@itsarifitz #autoari can I be in your next film if so I'm willing to come to you.

— briii (@briii_orozco) March 27, 2014
You're so cute. I'll tweet out when I'm casting for my next big thing.
@itsarifitz #autoari how'd you start because I want to start directing a short film/series but don't have a clue where to begin!

— miranda (@mirandahwhite) March 27, 2014
I. TOTALLY. UNDERSTAND. I felt the same way last year. It's so hard to figure out where to start. First thing is start with friends of yours or people that you know that are pursuing film or tv, as well. I learned very quickly it's close to impossible to do this on your own.
Second thing is just start making a ton of stuff. I'm always shooting something, it just hit me early that in order for me to really get anywhere I need to experiment, try things out, develop a style, etc.
@itsarifitz #autoari which camera do you use?!

For personal stuff, I use my own camera (Canon T3i). I shot The Anniversary on a Canon 5D Mark III and for my other films I've been lucky enough to work with a DP – Director of Photography – who have their own equipment.

@itsarifitz did you ever make "open call"? #autoari

— Harryyyyy (@_harrydejesus) March 27, 2014

YEZZIR. Open Call drops April 9th. Check it out.

@itsarifitz when will they come out in movie theaters ??

I genuinely love this question. Not sure, Jimmy but once I strike a sick distribution deal I'll have a feature in a theater near you. Until then, you can watch Open Call online by signing up here: opencall.arifitz.com

Is the film with @jennycdelich & @MTVCoryWharton complete ? @itsarifitz #autoari

— Dr. Nunezღ (@NoelyNunez) March 27, 2014

I actually just used Jenny and Cory as stand-ins, but that film – Open Call – drops on April 9th. You can sign up to watch it at opencall.arifitz.com…

Also, I *did* shoot something with my roommates and I'll put that on YouTube.

"@itsarifitz: got questions about my films or my work as a director? hit me w an #autoari" how long u been making films ?

— Greg.Or.Ree (@GoldenGreggy) March 27, 2014

Strange to say, but only a year now.

On The TeeVee

#autoari @itsarifitz is jenny really as beautiful as she looks on tv?

— PlanetGlamtr0n (@DragRaceFan888) March 27, 2014

Even more.

#autoari @itsarifitz what book is Tom reading???

— Vanessa (@Vanessa_Cato) March 27, 2014

I think it was Catching Fire, lol.

.@itsarifitz how fun was it to go to Folsom with everyone?! #autoari also how many gay bears came up to the 3 musketeers? #toogood

— Zed Aleph (@bbfemme) March 27, 2014

Best. Moment. Ever.

The guys actually handled it pretty well. It was above all of our heads tbh.

#autoari So next week we get relationship updates right?

— Terra Chaney (@libraz83) March 27, 2014

Yezzir.

@itsarifitz do they only show the bad things about brian?i never see any good things outta him.. Maybe 1 good thing the whole time #autoari

— Josie Coolen⚓️ (@josiecoolen1) March 27, 2014

@itsarifitz do u feel like they gave Brian a bad edit??? #autoari

— Brendan (@TheBrendanV) March 27, 2014

Answered this on Twitter because the tweets were getting so bad about my homie, Brian but… here it is again: "Honestly, @BrianTWillJr is one of the most genuine dudes I've ever met. Hate how that can be overshadowed."

What was it like, watching that whole thing unfold from the back of the van? @itsarifitz #autoari

— Lane Marchant (@LaneStreet) March 27, 2014

Hilarious, but then again I was pretty wasted by that point.

IMO, the guys just needed to get into a boxing ring and work it out. As long as there was no unfair advantage and both were safe… felt those two needed to work out whatever tension they had towards each other.

#autoari what was it like living with Drake… i mean Brian.

— Nebruary 91st (@TheMentalist__) March 27, 2014

Ha! Cory and Brian are both Drake…. or nah.

Would you consider doing another reality show? @itsarifitz #autoari

— Ari Fitz jr. (@AriFitzjr) March 27, 2014

@itsarifitz if you had the opportunity would you participate in reality tv again? #autoari

— Biju (@Obiwan92_) March 27, 2014

Sure, but on my terms.

What was the weirdest thing you saw at the parade?

A naked older man saran-wrapped to a pole by himself. No friends around, just him standing there, stuck…

@itsarifitz are Jenny and Cory Hooking Up Again? #AUTOARI

— Kendra (@myloveishim7) March 26, 2014

Honestly, not sure.

Ari & Ashley Sittin' In A Tree

"@itsarifitz: WHO GOT QUESTIONS FOR ME? only one more episode after this. hit me with that #autoari" r u n ur girl still together?

— Valerie (@VYglecias) March 27, 2014

Are Arielle and Ashley together still? #autoari

— Shtara Richards (@TaraElizabeth26) March 27, 2014

;]

@itsarifitz What makes you and @missashc now stronger that before? #autoari

— Ari Fitz jr. (@AriFitzjr) March 27, 2014

@itsarifitz do you regret breaking up with ashely and once you guys got back together did the breakup make you guys stronger? #AutoAri

— xlvo☮ (@Rih_IsLIFE) March 27, 2014

Ash and I have so much mutual respect for each other, the show only strengthened that. No matter what… she's my prototype of what a lover, friend, woman should be. No matter what.

@itsarifitz now that you've experienced the show would u have rather fix your relationship with @missashc without the show? #autoari

— Ari Fitz jr. (@AriFitzjr) March 27, 2014

Great question, Jr! You asked better questions than mommy. First thought is "no." She and I got so close on the show because of the wildness around us. I think it only cemented what we had.

Personal Sh*t

@itsarifitz what's ur race? What r u mixed with? #autoari

— Kim (@KimKimmytweet) March 27, 2014

Proudly mixed with Black and African American.

@itsarifitz would you rather live without your bun or without your favorite pizza topping? #autoari (I'm early)

— Brenda De la cruz (@madebyanthem_) March 26, 2014

OMG. OMG. OMG.

I'll keep @ArisTopKnot and she'll order a pizza.

@itsarifitz who are your favorite bands, musicians, etc? #autoari #influences

— THE mrs. (@wifeycarpenter) March 27, 2014

That's such a hard one. Right now, I listen to anything on Majestic Casual. Cannot stop playing "Real" by Years & Years . Also, SZA is permanently on repeat right now.

I actually made a soundtrack for MTV. Check it out!

Our Winner

Every week, Ari will pick her fave question out of the bunch and we will reward them with lavish prizes. This week's winner, @mirandahwhite, is getting STICKERS!

Get Into It!

Each week, you can tune in to new episodes of The Real World and tweet your questions for Ari Fitz, raging queer, using the hashtag #AutoAri. ( We can only guarantee that tweets sent during the initial screenings of each episode will be included (10PM EST/PST and 9PM CST) in each week's roundup.) Whether you're curious about her films, what she's eating in the fifth scene, the music that hot tub montage was set to, or how she gets her hair to look damn good, feel free to dig in and pop a question. The next week, we'll post Ari's answer to every single question here on Autostraddle.

In the meantime, you can follow Ari and Autostraddle on Twitter. (And me!)