This week on The Real World: Ex-Plosion, Ari and Ashley kept their cool in the midst of the ex-plosion itself.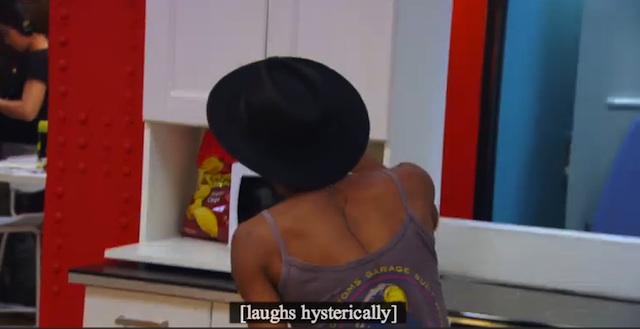 While the rest of the cast was alternately crying tenderly in the window (Jenny's ex, Brian), drunkenly flinging themselves on their ex (here's lookin' at you, Tom), or speaking in an oddly high-pitched voice reminiscent of a murderous doll (Cory's ex/ Lauren), they were having a grand ol' time.
Most of the episode circled around the drama between Jenny, Brian, Cory, and Lauren, as well as Hailey, Jamie, and Tom, as well as every other straight couple on the planet. Jenny even tried preemptively to get Brian kicked out of the house. Ari showed up like, "Oh, excuse me, is it a man you're trying to destroy? Count me in."
It wasn't MTV's fault, though, that while everyone else was feeling emotions Ari and Ashley were just hangin' out doin' them. Lesbians have this break-up thing down to a science, after all, which Jenny noticed while Brian cried softly to himself.
Honestly, eventually shit just got weird.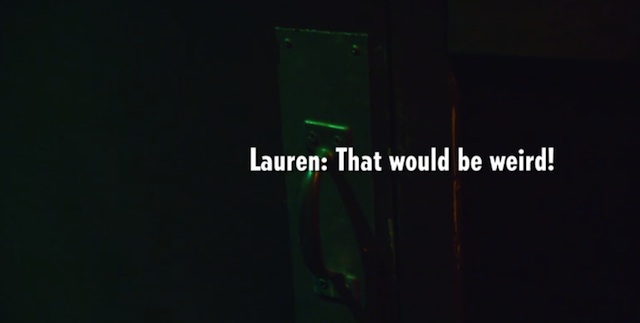 Shit also got real. 
By the end of the episode, nobody was having fun, I had forgotten what Ari Fitz looks like, and even Tom wanted to cry.
The good news is, though, that Ari still looked fly.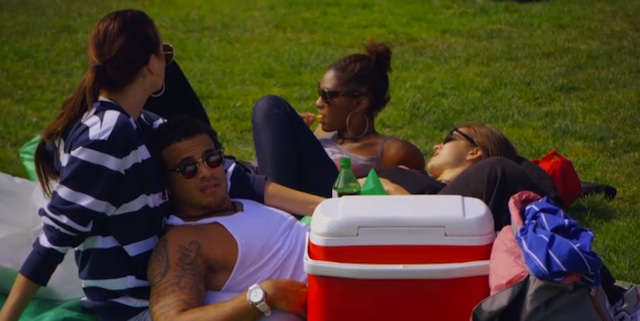 Here are the questions you had for Ari Laughing Hysterically Fitz.
This Week's #AutoAri Q&A
Storytime with Ari Fitz
https://twitter.com/katlynjM/status/431274818999422977
Funny story! My mom used to watch a lot of cartoons and there's this one called Thundarr the Barbarian and she loved the Princess, Ariel. She stole the name and changed the spelling.
#autoari @itsarifitz Do you have any horror projects in the working ?

— Mona Samone Fanpage (@_Monafam) February 6, 2014
I do! There's so much coming up. Biggest thing to watch out for is the film I shot while living in the house, it's called Open Call and will drop soon!
@itsarifitz If you could co-write with any filmmaker in the world, who would it be? #AutoAri

— Jasmine☁⚡☯ (@jasmine__aac) February 6, 2014
Honestly I'm fangirling hard for James Franco. I just think the man's mind works unlike anyone else's in the industry. But a dream collab would be a horror project with Adam Wingard or an awkward dramedy with Issa Rae.
#autoari where do you see your films in 4 years ?

— quese (@Rih_IsLIFE) February 6, 2014

Love this question! 4 years from now, they'll be cult classics and college students will reference them for film classes. Maybe not 4 but very soon. :P
@itsarifitz as a filmmaker, who's behind the camera portraying stories, how's it feel 2 hav ur story portrayed? How accurate is it? #AutoAri

— ILLY MUSE (@iLLysWeb) February 6, 2014
Now that, my friends, is a winning question!
My gut response is great. I don't feel edited when I watch the show, the things I say I would normally say. Part of this is because I didn't edit myself when I lived in the house. I wasn't playing a character, I wasn't taking on a role. I was just ya know… Ari.
As a filmmaker and storyteller, I'm fascinated by reality shows. I learn so much about character from watching them, especially now that I've experienced it firsthand.
https://twitter.com/upandbeyondd/status/431279946703851520
@itsarifitz @missashc haha do u ever want kids?

— Sho (@cshorty9297) February 6, 2014
I do, actually. I want two to three kids.
So can you and Ashley be my lesbian Godmothers or nah? @itsarifitz #Autoari

— Desireé (@Songstress87) February 6, 2014
@itsarifitz #autoari are you currently taking applications for more godchildren? 🙋

— Erin (@erinmullyy) February 6, 2014
YESS! We have a few openings for godchildren. Come to the Bay and hang with your godmothers. We'll prob have an event in March, so just follow us to find out when.
On Ashley / Exes
@itsarifitz #autoari why are you all still super close with your exes?

— Mary Jūana (@sarahc0c0) February 6, 2014
Wait… you aren't? Here I was thinking that was normal. I think it's really tough to let go of a first love, just my two cents.
https://twitter.com/ShortPerson_LOL/status/431266021467754496
Perhaps a little. I think I would do the same thing, tbh. I love me some Jamie, but why is she SO nervous that Cameron would show up if she doesn't have any feelings towards him. *shrugs*
https://twitter.com/MLaRose3/status/431264442391986180
https://twitter.com/Countrylover614/status/431264764623618049
Okay so one ex actually gets possessed by the devil, but you have to wait to see that because boyyyyy….. That might actually be the finale episode.
https://twitter.com/upandbeyondd/status/431270089049243648
Temptation was strong to go out and party, so I just took her with me. Ash and I have a very open, honest, comfortable relationship. We can have fun when we go out and if I like a girl, I'll flat out tell her…. "hey babe, that girl is cute".
#autoari has the show made you and Ashley closer or nah? Lol

— quese (@Rih_IsLIFE) February 6, 2014
Or nah…. I kid, I kid. Of course, we went through a lot together in the house. It only made me have more respect for her, better understand her, etc.
So what happened to the person your ex was dating? #autoari

— Gia (@_GianninaLeon_) February 6, 2014
Yeah about that…. I don't know, I don't care. Lol!
Haha, obviously I wasn't a fan of her.
On Bein' A Teevee Star and The Real World Et Al.
https://twitter.com/neila_domingo/status/431273563233210368

@itsarifitz #AutoAri did the tension in the house feel like too much at times?

— Kimmy!! (@kimmyk7373) February 6, 2014
Duuude. Yes. I'm still tense. You could feel it at all times. I'm happy I had my work to distract me, otherwise I would've lost it.
https://twitter.com/Chelsea2N6/status/431250449291677696
It was awkward at first, but you just get used to it. I'm so used to just doin' me anyway… I was like, "fine you want to watch me do my thing, no problem. Just don't get in my way" ;)
#AutoAri first thought on Tom's ex Hailey?

— Leeann (@heyitsleeann_) February 6, 2014

She looked like a sweet little delicate flower, which is hilarious because Jamie seemed so tough to me.
@itsarifitz how many different subway sandwiches did you try this season? Lol #autoari

— moswen alram (@marlatheboss) February 6, 2014

Ha, too many!
@itsarifitz did you end up liking any of the exes #AutoAri

— hals 🤠 (@haleygarcia70) February 6, 2014

Nah bruh…
#autoari how many of your "cousins" actually knew you before this show thoe??

— +hindi-truthrecords+ (@TheMentalist__) February 6, 2014
LIKE FA REAL. I have a lot of new "cousins" since the show aired, lol.
https://twitter.com/HeisAidanD/status/431271432405143552
Pretty in-depth actually. Gangs were formed… "OG's" vs. "Newbies". All of the OG's just didn't think it was fair to have to share our time with our exes. We came to the house to do us, ya know. Unfortunately, we realized it wasn't survivor and we couldn't just kick people out.
@itsarifitz WHAT IS @bwillMTV's DEAL!? he's all over the place? love? hate? douche? #realworldexplosion #autoari

— Sejal (@sejly03) February 6, 2014
Smh, I don't know. I think he was just embarrassed by the whole Cory-Jenny thing and wanted to flex his ego, but like you said… he did it first.
@itsarifitz why hasn't Brian changed out of that sweater since he moved in #AutoAri

— Bryan W. (@bryanthemeerkat) February 6, 2014
The swag levels were low in the house all season long… deep sigh, even my own.
@itsarifitz Which girl on the show would you date or found attractive ? #AutoAri

— Naim (@jaria1998) February 6, 2014

Outside of the stunning Ashley… probably Jenna.
@itsarifitz who was your least favorite? #AutoAri

— Rach 🤍❄️ (@rachey_rozay) February 6, 2014
This is funny given the answer above, but probably Jenna. Just didn't connect with her like everyone else.
@itsarifitz omg who's pregnant? #autoari

— deje ✨ (@SpeakEasyBitch) February 6, 2014
Keep watching.
#AutoAri How does it feel being the peace maker of the season?

— moswen alram (@marlatheboss) February 6, 2014
It's funny because I didn't intentionally want to be the peace maker, but it's awesome everyone felt so comfortable coming to me.
Team Jamie or Team Haylie? #autoari

— Jessie DiRobbio (@JessieDiRobbio) February 6, 2014
Why it gotta be a competition tho?
If I had to choose… I gotta hold my girl Jamie down. She and I got so close so quickly.
@itsarifitz do you like living with new roommates #AutoAri

— Tyler Adamczyk (@tadamczyk_) February 6, 2014
Absolutely not. 2 showers, 2 bathrooms, messy-ass people. 7 women with their periods all synced. 4 guys with the worst toilet aim ever. It was gross. Now add to that everyone being so emotional and you have one very sad Ari.
#AutoAri After Real World would you consider doing the The Real World Challenge shows??

— LiveEveryMoment (@mavsgrl31) February 6, 2014
@itsarifitz If given the chance, will you do The Challenge?? #AutoAri

— Steve Jr. (@DwayneJay) February 6, 2014
Not something I've really wanted to do, but who knows.
@itsarifitz what was is like being the most badass roommate in the house? #AutoAri

— Candice (@candicemv) February 6, 2014
https://twitter.com/neila_domingo/status/431288181615755264
Neila is so freakin observant. Those were our microphones. I made sure I got a guys necklace, because the girl's mics didn't feel quite right.
Also, @itsarifitz what's the biggest misconception about being on a reality show? #AutoAri

— ILLY MUSE (@iLLysWeb) February 6, 2014
That it's a glamorous thing. Yeah we went out, we got bottle service but we were broke like most 20-somethings, we had to make our own money, we had to clean our house (which never happened)…
The only glamorous moments were those we made for ourselves.
Our Winner
Every week, Ari will pick her fave question out of the bunch and we will reward them with lavish prizes. This week's winner, @iLLysWeb, will be getting "You Do You" stickers!
Get Into It!
Each week, you can tune in to new episodes of The Real World and tweet your questions for Ari Fitz, raging queer, using the hashtag #AutoAri. ( We can only guarantee that tweets sent during the initial screenings of each episode will be included (10PM EST/PST and 9PM CST) in each week's roundup.) Whether you're curious about her films, what she's eating in the fifth scene, the music that hot tub montage was set to, or how she gets her hair to look damn good, feel free to dig in and pop a question. Within 48 hours of the episode, Ari will answer every single one here on Autostraddle.
In the meantime, you can follow Ari and Autostraddle on Twitter. (And me!)