Argentina legalized same-sex marriage today, making it the first country in South America as well as the first country in all of Latin America to do so (Uruguay and Colombia allow civil unions, and Mexico City allows gay marriage). It's quite cool how they did it — it isn't actually a special dispensation for queers. The language of the law will be changed to "couple" so that the definition is completely open; everyone will have the same rights, as far as marriage is concerned:
This includes the right to adopt, which was one of the most controversial aspects of the proposed bill, inheritance, pension rights and other rights relating to social security. (@bbc)
Basically, they solved a huge chunk of the problems facing queer couples these days, in one fell swoop. But it wasn't easy. It apparently took quite a fight to get this to happen, especially because the country is largely Catholic.
After 15 hours of debate, the Senate voted 33 to 27 in favor of the measure, which was sponsored by the government of President Cristina Fernández de Kirchner. For weeks, she waged a bitter war of words with the Roman Catholic Church over the measure.
The church organized large protests throughout the country on Tuesday night involving tens of thousands of opponents of the law. Some senators criticized the Senate leadership on Wednesday for not allowing a vote on an alternative bill to authorize civil unions for gay couples.
I'd like to shake Kirchner's hand or maybe share a beverage with her. Her official statement on the decision was "This is a positive step that defends the right of a minority." I wish more people in America/the world thought that way. Also her cabinet chief posted on Twitter about the decision, saying "Same-sex marriage is law in Argentina. Don't worry, be happy," which is really adorable. Also I just learned that Kirchner's husband was president of Argentina before her, so in my head she's kind of a Hillary Clinton figure, which is a nice idea to have in my head.
Most importantly, Ricky Martin is excited: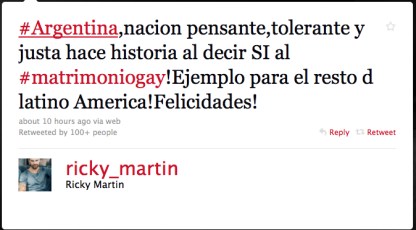 Here's what the opposition had to say:
Argentina's Synod of Bishops thundered out similarly: "This is not private matter or a matter of religious choice, this is a reality rooted in the very nature of humanity, which is male and female." And Cardinal Bergoglio, in a fresh declaration, prophesied that "if approved this law would be a real and dire anthropological throwback."
I'm not sure what he means by anthropological throwback, but it sounds fun! And really, if we're talking about what's going to end the world, I think BP's got this on lock for now.
Check out this photo gallery from The Huffington Post with pictures of all the happy couples 'round the world and then check out this handy map from the BBC that color codes the world to tell where you should move:

Do you have this song in your head now because I do: