Apple TV+'s Pinecone & Pony is back for a second season, and I can now officially declare it: the most wholesome queer TV show I have ever seen! The series — which is based on Kate Beaton's New York Times best-selling children's book and features queer story editor Taneka Stotts — follows plucky heroine Pinecone and her sturdy/adorable steed Pony, as they strive to become heroes of their magical village. Pinecone's mentor, Gladys, is a 500-year-old warrior who happens to be queer and married to her nonbinary partner, Wren, the town's magical veterinarian. We met them in season one, and got to spend even more time with them in season two, which is super lucky because the grown-ups are the sidekicks on this show.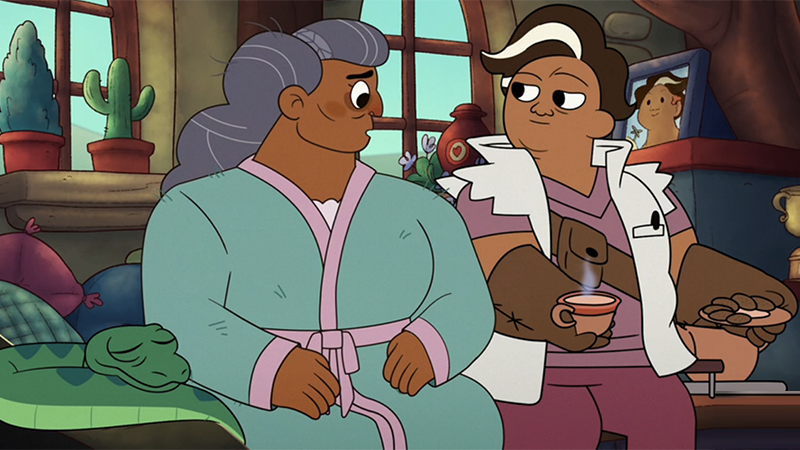 In fact, season two kicks off with a Gladys- and Wren-centric episode, "Hero Soup." When Gladys doesn't show up for her lessons, Pinecone overhears Wren saying that she's home sick. Wren seems overwhelmed with all the tasks they need to do to take care of Gladys and their home and both of their jobs, so Pinecone sets out to SAVE THE DAY! Of course, she thinks she needs to do something super heroic, to give Gladys a get well soon gift that's so good she'll GET WELL NOW, but along the way she realizes that what Wren really needs is some help with their yard work and a grocery delivery. Gladys is hilarious with her cold, scowling and saying she has the strength of 12 giants, while Wren just pats her knee and feeds her soup. It's beautifully domestic and I kind of teared up watching it because it reminded me so much of my own life. Gladys calls Wren "my swan" and Wren calls Gladys "sweet knees," which is — I must say — just as dang cute as Luz and Amity calling each other "sweet potato" ("batata") on The Owl House.
Glads and Wren's relationship is honestly revolutionary, even though the show's not loud about it. Vida's Ser Anzoategui voices Wren, a nonbinary actor playing a nonbinary cartoon character! They're one of the few queer couples I can think of, in all TV history, where both characters are POC, both are older, and both are fat. Gladys wears a breastplate up top and joggers on the bottom, which is absolutely perfect for a warrior who's half a century old! They're also not like so many grown-ups in cartoons, misunderstanding kids and antagonizing each other. They're very, very sweet. Sure, Gladys is bossy sometimes, but she's the leader of the entire village and sometimes they're under attack by mythical monsters! Sometimes your most legendary warrior has to take decisive action!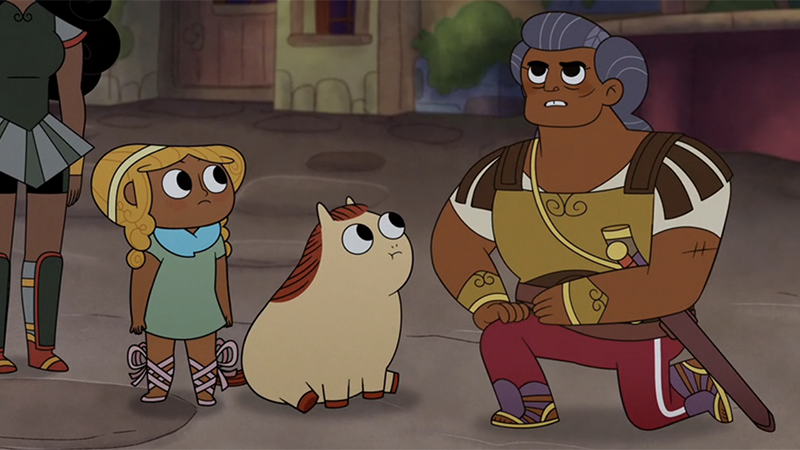 In the season two finale, Gladys does just that. When the Stone Monster of yore threatens to stomp the town to bits during a blood moon eclipse, Gladys sends everyone away so she can defend the town herself. Before Wren leaves, Gladys kisses them! Right on the mouth! Something I never get tired of seeing on cartoons! (Don't worry, Pinecone saves the day; everyone is okay, including the Stone Monster).
These days, when LGBTQ+ kids and families around the country are under attack like it's the 1990s all over again, rare shows like Pinecone & Pony are safe havens, a respite from the constant fear and fighting just to be. A magical hug and a reminder that whoever you might be, whoever you are, you're a warrior!