Over the last few years, sex toy companies and stores have asked us to review their toys in exchange for, you know, their toys. Today we're reviewing the WeVibe Touch!
The WeVibe Touch looks somewhat unassuming – it fits in the palm of your hand, and comes in the same sex toy purple I'm now accustomed to. I had heard excellent things; that it was many people's favorite go-to vibrator, that it was impressively "rumbly" despite its small size, and that it could even work with a harness. These felt like high expectations to meet, but I gamely forged on anyway. And found that, in fact… these are all pretty much true? The WeVibe Touch is a very good vibrator, friends.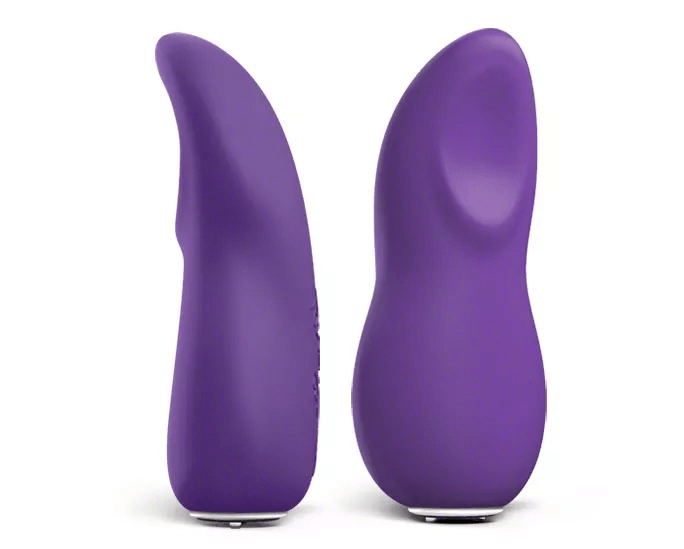 Material: Silicone
Color: Purple
Power Source: USB
Length: 4 inches
Diameter: 1.43 inches
First and maybe most importantly, the vibration intensity: while there's a limit to how high this can really go given the size of the toy and therefore the size a motor can be, this is… very powerful! For a frame of reference, I like very strong vibrators, and usually turn to either a Magic Wand or a Zumio to get off. While this didn't have exactly the same intensity as either of those, it's really strong, and genuinely rumbly. The shape also really enhances your sensation options – the business end of the toy, which has a sort of cupped surface that extends into a gently rounded point, offers a few different points of contact; the cupped area is great for directly stimulating the clit, but can also be tilted so that an edge gives you more concentrated vibration, or the very tip of the toy can be used to target a specific small area. The concave design of the cupped area also offered another advantage: whereas you may not get the same big intense rumbles as, say, the Magic Wand, the concave design makes it easy to really sort of press the toy into your pubic bone, which can feel really great for stimulating all the nerve endings that extend inside your body and amp up the rumbly vibrations.
While all vulvas are different, I can say that the shape of the Touch is really ergonomic to mine personally. When held with the bulbous end of the toy in the palm of your hand and the tip pointed down toward my toes, it's easy to control the cupped area and tip, which is cool; if you turn the toy around, though, it also fits very neatly into the (at least my) entire vulva area, and while the vibrations are still strongest at the tip near your clit, there's also an overall rumbly sensation that's really nice. This also gave me some insight into why I've heard from several people that this is a great vibe to use with a harness; although I'm currently quarantining, duh, it's easy to see how this could slip under a strap-on easily, and the ergonomic shape would mean even with the impact of fucking I wouldn't feel bruised or jabbed by it.
My one complaint with the shape, which is maybe less a complaint about the WeVibe Touch and more of a complaint about the physical laws of the universe, is that positioning the Touch so that it fits along one's entire vulva means that the bulbous end of the toy fits right over the vaginal opening, which means it precludes using a penetrative toy at the same time — or at least, if you want to use a penetrative toy you have to actively hold the toy in position pointed down, rather than letting it hang out and vibe or perhaps anchoring it with a forearm while using a penetrative toy. Is there any way around that? Probably not, but a dream deferred nonetheless.
Fairly par for the course for this family of vibrator, the Touch has eight modes; the first four are straightforward vibration, starting at the lowest intensity and building up to the highest, at four; the others are all vibration patterns, ranging from "tease" to "cha-cha" and offer the range of pulsing or wave-like sensation you probably expect if you've used a patterned vibrator setting before. All of the settings are blissfully quiet, a truly impressive noise-to-intensity ratio
The vibe is controlled with one button, at the bottom of the base, which both turns it on and off and cycles through settings. While I initially didn't love the button placement, it grew on me, and makes sure that you aren't accidentally changing settings when you hold the toy or press it against the body; what I loved less and less as time went on, however, is the fact that the vibe will turn back on to whatever setting it was last at. I can see the thinking here that whatever setting you last had it at is probably your favorite, but personally I like to start using any vibe at the lowest setting and turn it up gradually, and in this case if I want to do that I have to remember to cycle through the vibe settings back to the start before I turn it off. It's not a huge barrier, but it also isn't necessarily what one wants to have as a to-do list item immediately after coming.
I'm not sure if the WeVibe Touch will end up being my number one go-to vibrator, but it'll absolutely be in the top three, and might be my favorite external vibrator to use along with penetration – it's so intuitive to hold and position! Every good thing I've heard about it is true, and I'll be paying the recommendation forward for a long time to come.