As a lesbian, there's nothing I love more than camping. There's something magical about waking up with the sun and feeling that special blend of "I am One with Nature, the Mother Who Nurtures Us Allwp_postsand "Mother of God, my back feels like a bag of potato chips.wp_postsPlus, it's the only time you're really allowed to eat a plain hot dog on a stick! But now that there's a global pandemic and many of us live in big cities without cars, it has become increasingly difficult for queer people to experience the Great Outdoors. Therefore, I decided to compile my own guide to camping indoors, such that lesbians all over the world might be able to ruin their lives in order to achieve a tiny measure of outdoorsiness. So here it is: your very own guide to bringing the outdoors inside!
Find a nice campsite.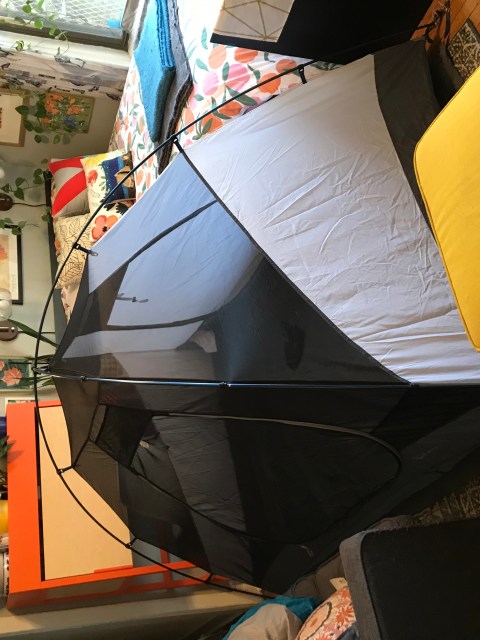 The first step of any indoor camping trip is finding a suitable place to set up your tent. I had to spend a few minutes scouring my apartment before I found the perfect campsite, which turned out to be my entire fucking apartment. As you can see, my entire fucking apartment features abundant vegetation and is located close to several sources of fresh, potable water. "If it comes down to it, I can eat these houseplants to survive," I declared, assembling my tent directly on a smooth patch of a rug I bought from Target. I also put the rain fly on my tent, because it was 76 degrees on the day I decided to go indoor camping and I guess I just felt like sitting inside a hot tent and gently suffocating.
Anyway, camping inside is a lot like camping outside, except that if you hammer stakes into the ground you'll lose your security deposit. It's best to nix the stakes and instead just let your tent kind of go flying when you bump into it, which you will, especially if you live in a studio that was designed to comfortably house 1-3 cartoon mice and not a 31-year-old lesbian and her 2-person tent. Be sure to have some essential indoor camping supplies nearby, such as seltzer or wine, because you will lose control of the tent poles several times and you will ending up yelling "WHY am I setting up a TENT in my HOUSE, I should have gone to MEDICAL SCHOOL instead of following my dreams like an IDIOT" and that's just something that everyone who wants to go camping inside is going to have to deal with!
Get some authentic camping snacks.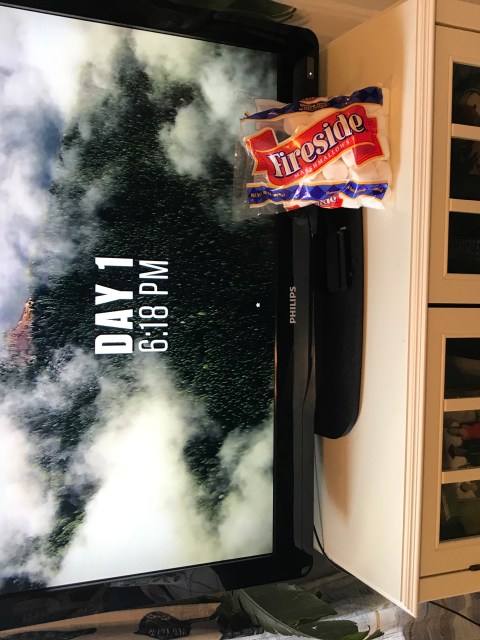 Normally when I go camping, I just make a bowl of stuff (doesn't matter what) and douse it with hot sauce and it's the best thing I've ever eaten. This is pretty easy to replicate indoors. It was less easy for me to make the camping favorite s'mores indoors, as 1) s'mores require fire, which is one of my greatest fears (fire is like a fast-moving shark that can survive on land), and 2) I didn't have any graham crackers. Instead, I tried to replicate the authentic s'mores experience by watching Alone (which is a show about people trying to survive in the woods) and eating marshmallows straight out of the bag in my tent.
As I enjoyed the sights and sounds of men being injured in nature, I heard one of the contestants on the show say, "This is the longest I've had to go being unarmed." As someone who is almost always unarmed, I thought, wow, what a sentence!!! I armed myself by grabbing a steak knife from my kitchen drawer and just kind of holding it for a minute. Then I put the steak knife back and grabbed another marshmallow. Feel free to employ whichever combination of candy and weaponry makes your indoor camping trip feel authentic to you!
Take in the view.
This was the view from my tent. "Hmm," I thought. "That's not very outdoorsy."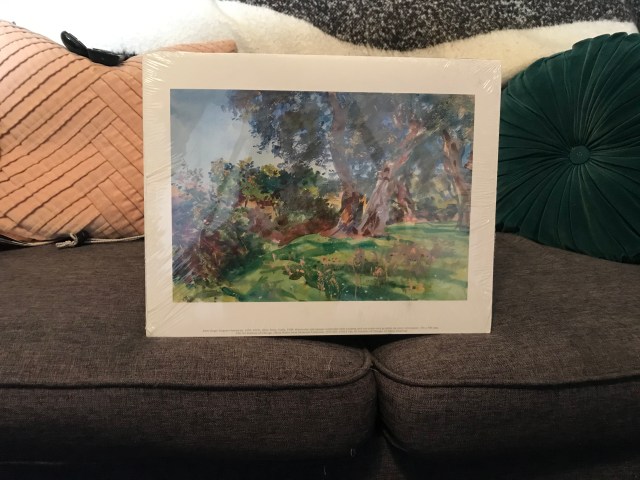 Much better! As you can see, I found a print I had bought from an art museum a few years ago and never got around to framing and propped it up on the couch. Then I stared at it for a while, admiring the trees and the quality of the paper. If you don't have any loose pastoral art conveniently lying around your home/campsite, try staring at an outdoorsy Instagram account, or write the word "nature" on a piece of paper and stare at that for a while. Paper comes from trees, so it counts, baby!
Go for a hike and check out the wildlife.
Give yourself some time to explore your indoor surroundings! I took a nice long hike from my campsite to the window immediately next to my campsite and took in all the sights and sounds I could. I love hiking because it gives me a chance to ponder life's big questions: does my cat know what recycling is? Why do people still have couples' accounts on social media? Is that a bear?! No – it was just a bunch of employees from the dispensary next door taking their afternoon smoke break right outside my window. Phew! I put all my food in a bear bag and suspended it from the ceiling, just in case. (It's all still up there, four days later. I can hear the bears scratching outside my door, desperate to touch my knives and eat my marshmallows. They sound so strong and smart! Please help!)
Put your cat in a tent and watch her fucking lose it.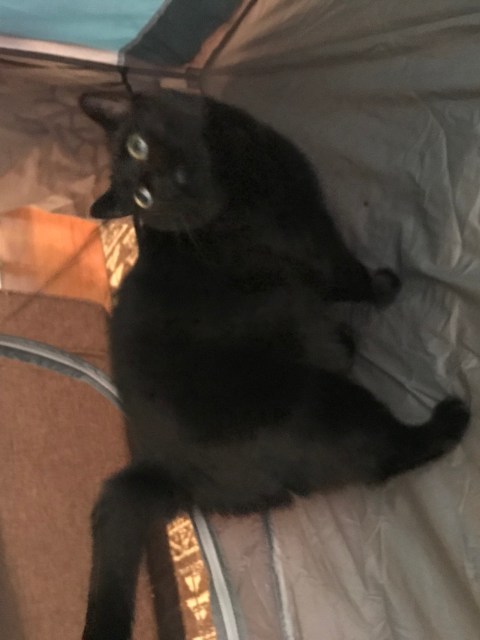 Look, I know this isn't a good picture, but it certainly captures how my cat Meryl felt about being thrown into a tent for the first time in her young cat life. I kind of thought she would sit down and nibble politely at a marshmallow with me while I told her a ghost story, but instead she went nuts and started scratching at the tent until I let her out, and then she darted under my bed and hid there for a long time. To be fair, if an enormous lesbian constructed a gigantic nylon cocoon in the middle of the only room I had ever lived in I would be salty about it, too, so I didn't take it personally. Indoor camping pro tip: cats are tiny lions and they have no patience for our bullshit. Upon further reflection… maybe skip this step?
Leave no trace.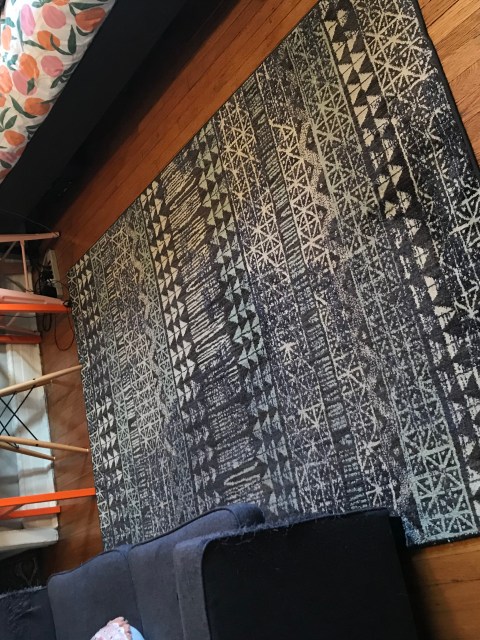 Remember: leave your campsite just as you found it! When I was done with my camping trip, newly covered in marshmallow goo and cat scratches, I packed up my tent and put it back in my closet. I put the marshmallows back in my cabinet. I laid down on the ground and coaxed Meryl out from under the bed, where she was scrolling through Redfin, looking for new homes in which to eat her prescription food in peace. It had been a good camping trip. I would certainly rank it as one of the top ten times I sat down on the ground and ate marshmallows in my apartment.
Overall, camping indoors is fun in a sad kind of way, like leaving a soccer game when you're a kid and knowing that you have school tomorrow. Not only does indoor camping lack a connection to nature, but it's also pretty isolating and weird to sit alone in a tent in the middle of your house, even if you do manage to crack a beer in there (no comment). In terms of COVID coping strategies, it may be healthier to try going for a walk in your neighborhood and then just eating some marshmallows in bed. But for those of you looking for a taste of normalcy during an abnormal time, what the hell: set up that tent and go camping! Eat fifty hot dogs on sticks! Life is very silly and you simply cannot eat enough marshmallows! Have fun camping inside! Happy trails!